March 25th
and we have the cutest, fattest Robin I ever have seen! Spends his spare time "tuning up" sotto voce, as he KNOWS spring is around the corner, despite our Antarctic conditions right now. I took this photo through my office window where he is sitting on the bird food container and he can clearly see me. I gradually moved the camera towards the window, but this is the nearest I could get before he flew. I am hoping he stays all summer as they have a beautiful song that reminds me of England where there are SO many of them.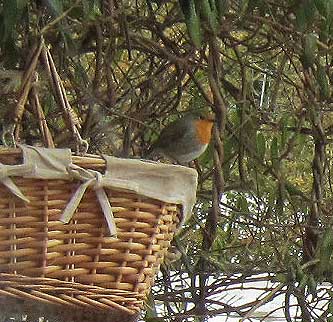 March 23rd
Freezing cold and still it snows - when not blazing sunshine - and here is the delicate sunset yesterday!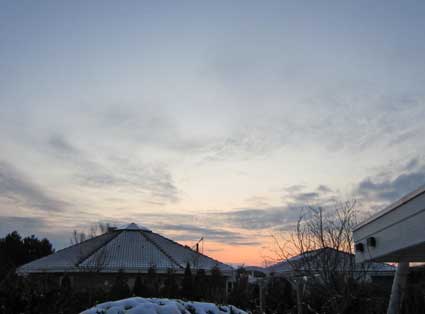 Read this true story and have a good cry: www.spanieljournal.com/smcclure.html

The 20th of March - and two days of snow - here is 8 cms but later on it was 10cm. We are all sick of it!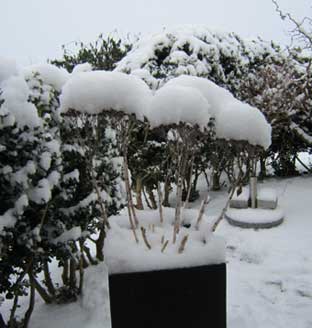 The 18th of March
and the most terrible storm wind outdoors and made a little video of how I amuse the dogs at hard times like this (even though they still run around the house outside for exercise as described below!)
www.youtube.com/watch?v=ctXqYkJkQIc
I have a very bad chesty cold at the moment, so some difficulty in talking, breathing and using the camera with one hand only!!!!

March 17
can you spot the extra pair of legs? Whereever Timmi sleeps, Racey is always to be found beside him!
Racey adores big, gentle Timmi! But Timmi wouldn't mind if Racey dropped dead!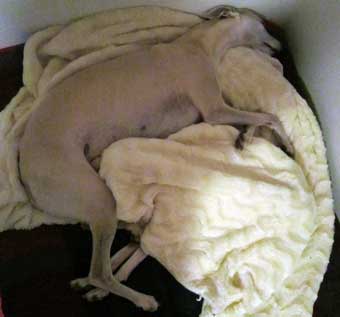 March 14
and it snowed ALL DAY yesterday so all my pretty flowers are frozen and buried ...here is the scene at 9am this morning: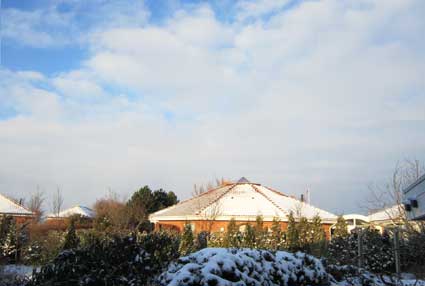 Below, the same morning view but now the 13th of March and taken from indoors due to the constant snow falling. So bleak.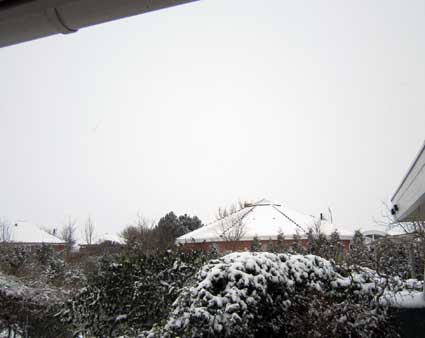 The 10th of March
and we never cease to be amazed at the setting sun and not least, the sky over our neighbour-at-the-end-of-the-garden's roof!
(They have an 8 sided house with glass at the top that shines down into the centrally placed kitchen. He designed and built it himself!) See here: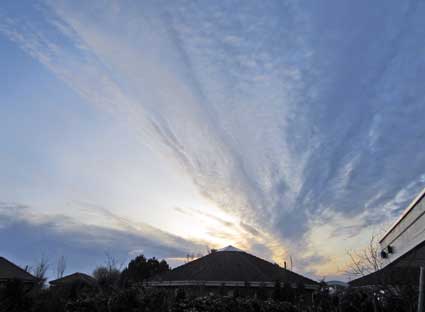 The extreme easterly winds, (now 4th day and we are so sick of it), have combed and carded the woolly clouds so this is the view from the kitchen window last evening around 6 pm!

The 9th of March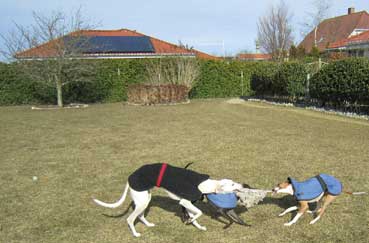 and a howling gale wind and several freezing degrees makes it as bitterly cold as if we were at the North Pole. (Snow is on it's way too, ugh!) The dogs need their coats even when running, as the wind just instantly blows all their body heat away. Here they are playing tug of war on the hard frozen grass (that will soon be SO lush and green!) - and you can see how hideous the neighbour's solar panels are, dominating the view on what was once a nice red roof. But never mind, it's all in a good cause!
4th of March 2013


and the dogs are running around the house in the midday sun! Very difficult to photo. I send them on their way through a side gate on the right, then rush into position on one knee to photograph. (The left gate can just be seen fixed open.) Due to the inevitable delay in the shutter reaction on digital cameras, I have to press as soon as I spot their legs moving under a bush dashing around the corner. This gives the possibility of the shutter opening as the dogs rush past me. So here are the best shots. They soon learned I was stationed behind a flower pot and started coming towards me instead of going past!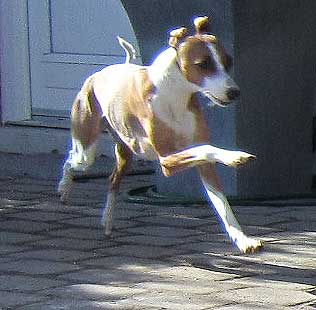 .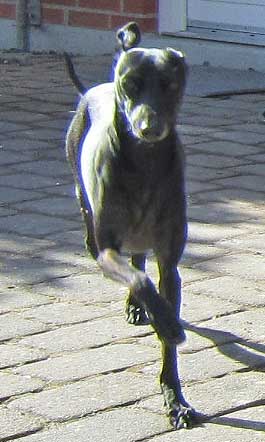 .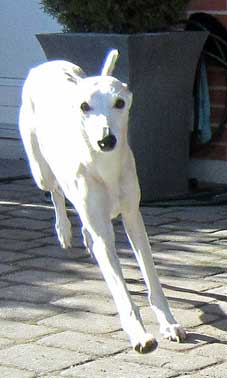 Below: The neighbour's cat sunning itself after an inspection of the new sun-cell heating panels that were fixed up during the weekend! Ugly as sin to look at, but a growingly popular supplement to everyone's electricity bills here in Denmark.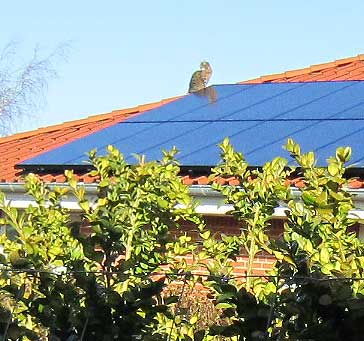 The 1st of March
and the sun's out and now so strong that I was sweating on the dog walks this morning ! My aconites have opened for the first time: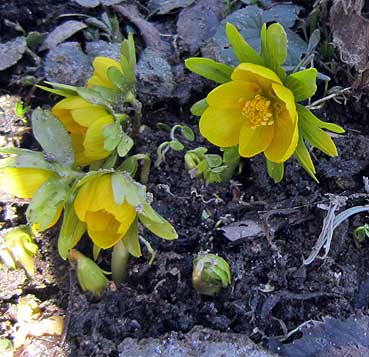 Above: they are still dirty from the earth and melted snow. Such a pretty, early spring flower.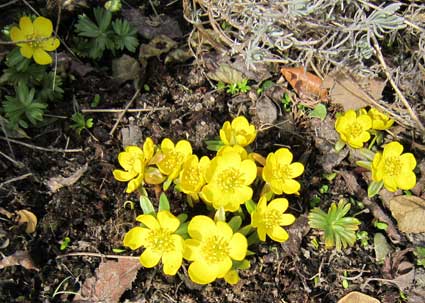 .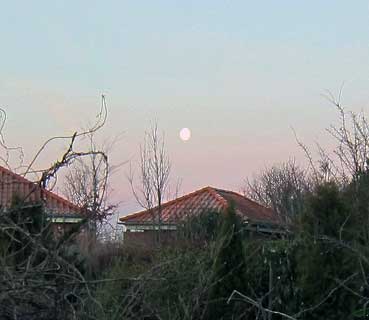 The almost full moon early this morning over our neighbour's frosty garage roof! Below: My grandson of 13 made this fabulous birthday cake for his little brother of 1 year and his father 36 - both born on the same day!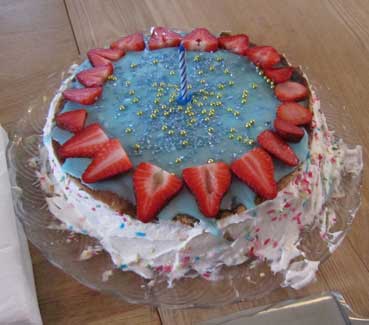 Tuesday the 19th.
Spring IS on the way - again - and aconites have forced their "sunshine heads" up through the snow and ice! They are the first spring flowers, closely followed by snowdrops - and boy are we desparate for this sign of life after the long winter!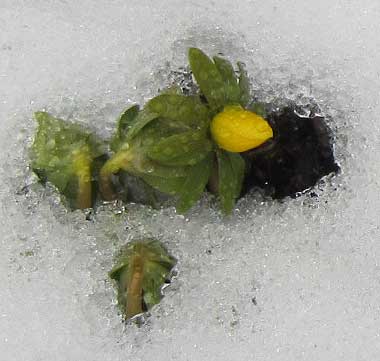 -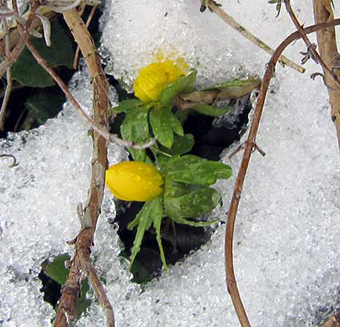 Monday the 18th.
An unusual walk today. Brace yourself for a gory story!
Coming towards me down the road this morning was a magnificent hare! The biggest and most beautiful specimen I have ever seen - and I've seen a few in my life – Denmark is full of them. Timmi took some seconds to realise what it was, he was just as amazed as I was. I often see them playing in the fields alongside where I walk, but never coming up the grass verge beside the road between all the many houses and gardens. So I coughed loudly and it stopped in it's tracks and saw us for the first time. Then it casually hopped across the road and disappeared into a garden, whilst Timmi had a barking fit with frustration!
When I got to where it had been, there were fresh blood drips in the snow.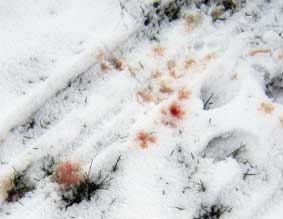 .....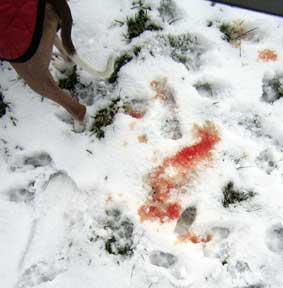 I followed the blood drips some 70 meters or more, around a large grass play area for children. If the animal stopped, the blood was really bad but as it moved on there were many small drips sprayed around. I got tears in my eyes thinking this poor hare must have been shot? The amount of blood in all was so much, the animal was bleeding to death, I felt sure.
Then the blood drips ceased and Timmi and I carried on the walk.
On the second walk of the day, now with Dasher and Racey who have a large area to run around in as they run on 5 meter long flexi-leads, they showed me that the blood was even down our road, and opposite our gates there was a large scattering of feathers and a clump of feathers with bloody skin attached – and also a pool of blood in the snow on our little round-about. I have now come to the conclusion, that early this morning, a car zoomed around the bend and down the steep slope past our house and hit a crow that was in the road. The crow lost about a half inch square patch of skin and feathers on impact plus many other feathers and landed in the snow on the island. (Hence big pool of blood here.)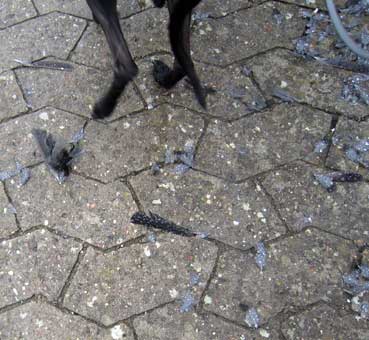 .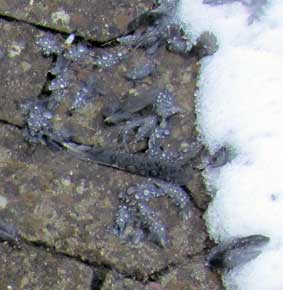 ..

Left: Only part of a mass of feathers including wing feathers - with rain drops on them. Right a small patch ahead of my shoe with bloody skin attached.
From here it has hopped, unable to fly, back up the road and all the way up the path to the children's area where I first picked up the trail. I followed the trail around but never found the end or any injured crow, not even tho' the dogs were keen to help! However, we have many cats!!!! I am just glad it was not the beautiful hare. No photo of him although I had the time, because it was snowing lightly, big wet flakes that have now turned to rain..
17th Feb. 2013:
This week was the school winter holiday and we had two fun days with our oldest grandchild:
Racey is VERY long, with his back legs on the bed and front ones on David! He's just given a wet lick!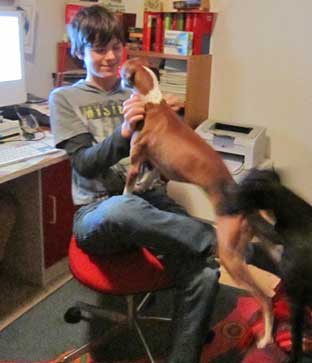 .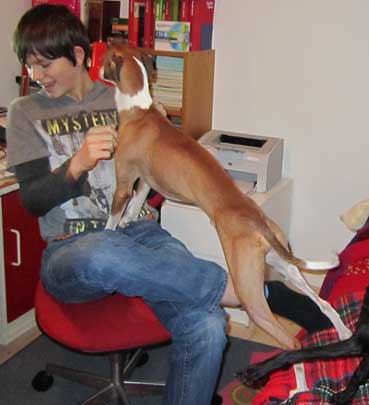 Evenings we played first Monopoly. (An English verson my mother bought some 30 years ago, where you buy buy parts of London - and still going strong.) Then the next evening a different one that's nearly as old: "Go for Broke" where the aim is to LOOSE all your money! This one is harder, we are unfamiliar with it so it leads to many lengthy discussions and constant referring to the rules. Here is a funny photo of Svend and David discussing things. Needless to say, David won both times!!!!! He's been playing Monopoly since he was 5 and we had to help him a lot then of course, but now we both have to really mind out or he's quickly got the upper hand!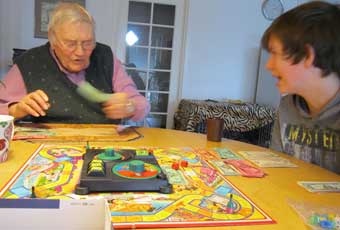 - and OF COURSE he had to get in Dasher and Racey's cage! This cage works like a magnet on children! Dasher LOVES sharing but Racey is more cautious and had to be bribed! Timmi was inside too but I was too slow photographing him. (I was preparing our dinner at the same time!)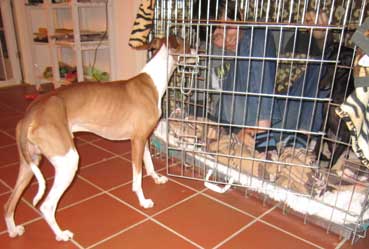 -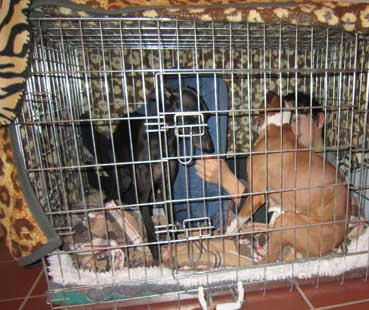 14th Feb.
We wake up to the most incredibly thick layer of frost over everything. Truly wonderful to see - but after an hour or so, it was all gone again.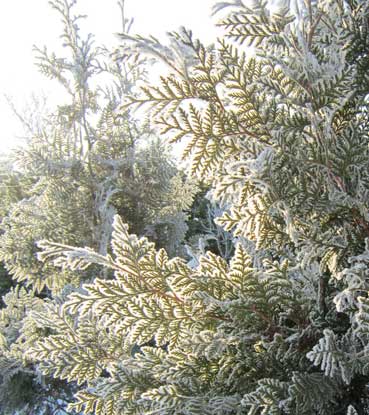 .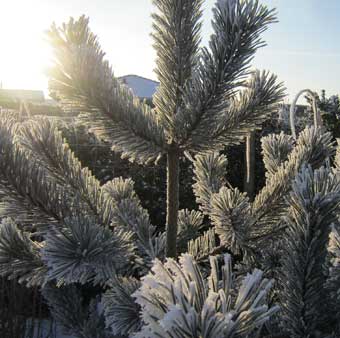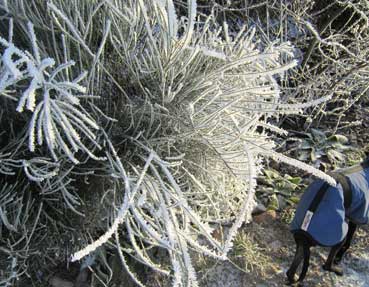 .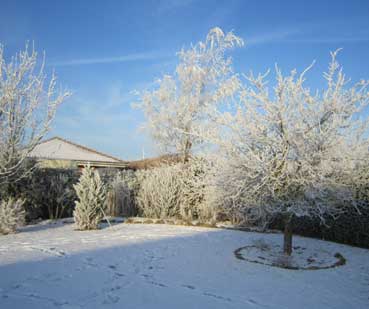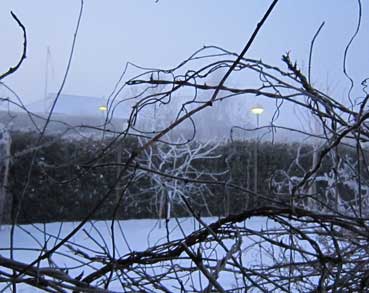 This one was taken earlier with the street lights still on...

Racey looking elegant as only Italians can!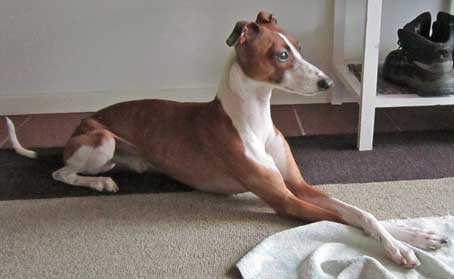 11th February: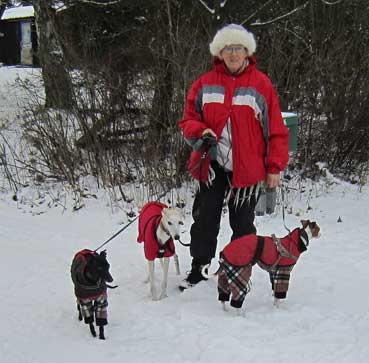 Above: This is the road!
Went again to see if all was OK with my brother-in-law's summer house as now he's working in Sweden for 3 months. We walked the dogs all the way around "his" lake - completely frozen over and beautiful in the sun!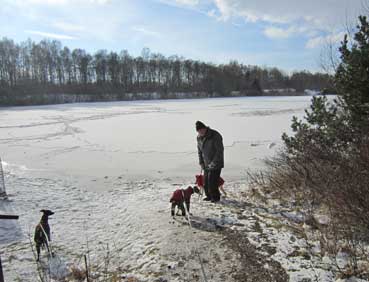 -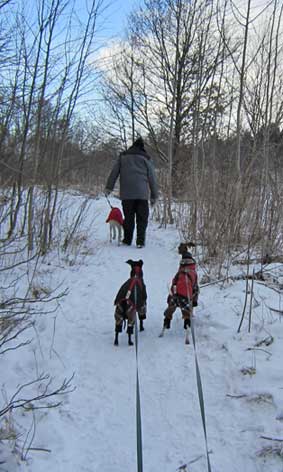 The weather was cold (minus 5 C) but sunny and no wind.

The 7th of Feb.
We had lunch with some friends 2 days ago, who live just round the corner to our old house and their snowdrops are very advanced: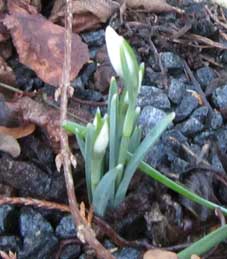 Just need some days of sun... and below, another shot of my favourite view of the distant sea from the 6th of Feb.
The snow had melted, but more has come... groan...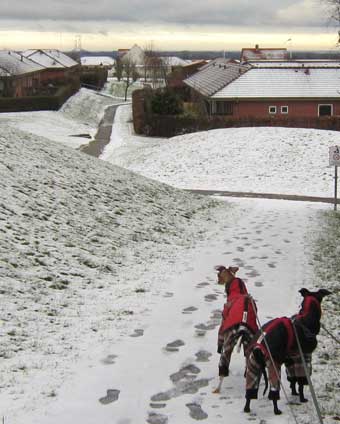 The 3rd of February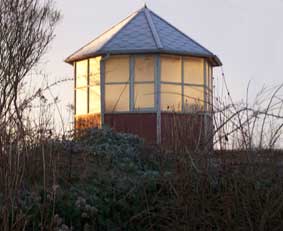 ... and my friend on the island of Fyn has again photographed the sunrise showing up the frosty windows of her little summer gazebo! See also further below, the 18th of Jan. (I don't think she got up quite so early for the one above!!!)
(4th Feb. and my friend has just pointed out, that it is the SUN which is up earlier, not she who is late, ha ha!!)

2nd of February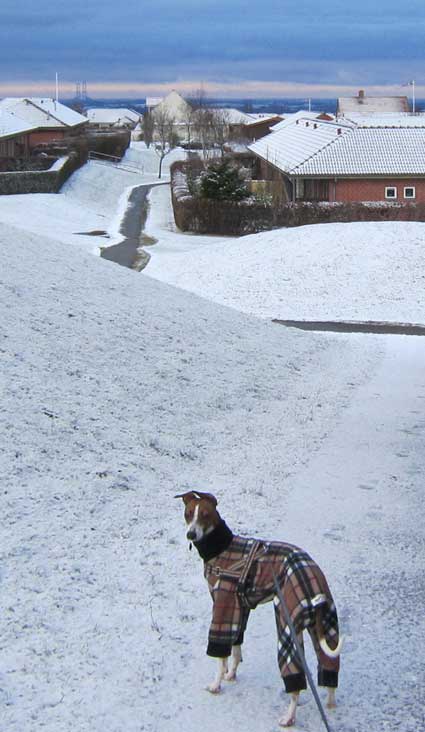 ...more snow again and a snow filled sky with orange in the distance over the sea...if you have good eyesight!
You can also see the bridge to the island of Fyn. Top left to the right of a white flag pole.

1st of Feb. - and I'm glad to see the back of January and look forward to the spring, which is only around the corner - but takes "forever" in Denmark! This morning, in a patch of weak sun, two mosquitoes flew groggily past me - but half an hour later, it was snowing big flakes! (All melting of course, as it is plus 6 degrees.)



Here is the scene on the sofa last night where Racey rests his chin elegantly on Timmi's tail - looks so funny!!
The 31. of January
and we have had such "high" temperatures, (plus 6 C seems sweating hot after weeks of minus 6 or much more!) so that all the snow has melted double quick and helped by a day of hard rain all yesterday, our garden has turned into a small lake!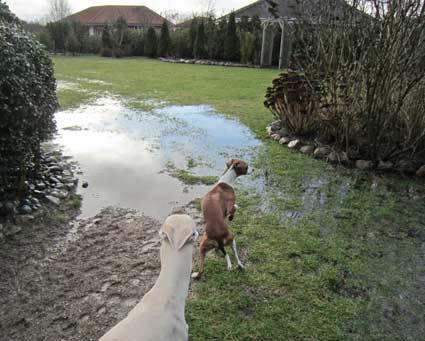 My poor dogs have to run through this sheet of icey water 10 times, 3 times a day, so they are real "tough guys" and not the wimps that some italians are, ha ha! It just takes a bit longer to exercise them since they walk rather than run, to avoid being splashed! (I have a huge job washing and wiping them down afterwards.) However, spring is on the way! We had some sun this morning and out came a tired looking ladybird, (apparently feeding off the dropped bird food) - and the aconites are about to "raise their heads", which are still trapped below in the earth. They look like bean sprouts! See photos below: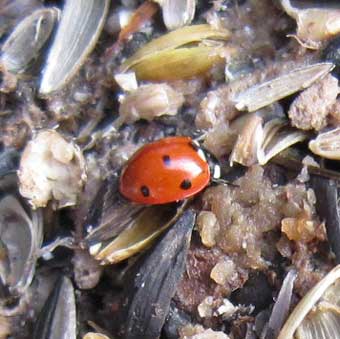 .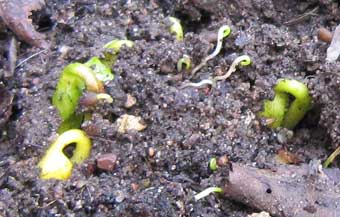 I shall be closely following their progress!

The 28th of January 2013:
An entertaining phenomena! A man's footprints in the snow have compressed to ice and are all that's left after a quite a thaw from minus 6 C degrees to plus 4 C this morning! First photo with Timmi and some feeble sun. (We are walking towards the east.) Second walk and photo with "the little ones" and now it's turned into another gloomy day, ugh!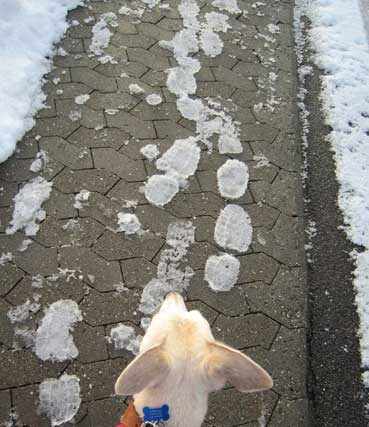 .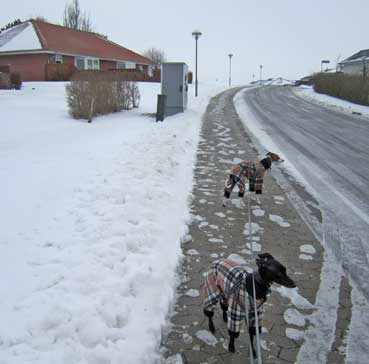 18th Jan.
Photo below taken and sent to me early this morning by my friend on the Danish island of Fyn, (sometimes known as Fynen to the rest of the world), who has a view over the sea from her high garden. Here is her little "summer pavillion" with all the glass windows frosted up with the cold, (it's minus about 10C/50f here right now,) and the most wonderful sunrise lighting it all up!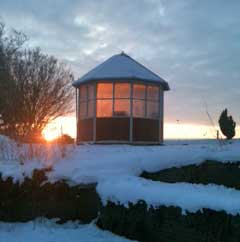 A pleasure to see as we have only grey, snow-filled clouds over here!

17th Jan.
Two people have asked me about their dog's bald stomach and "thin" hair at ears, knees, neck etc.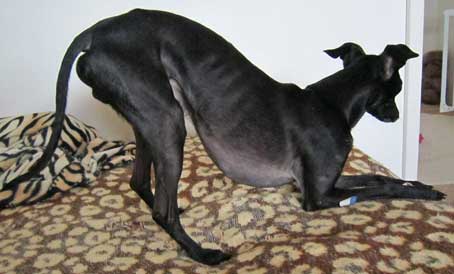 No dog illustrates it better than Dasher. His skin colour is silver all winter, so it really shows through his finest hairs as he is jet black. And yes, his stomach is as good as bald, like SO MANY short-haired sighthounds - often there is hair but you need a microscope to see it. See behind his ear as well. In the summer he looks much better as his skin tans to a very dark brown, so the contrast between hair and skin is almost nothing. Greyhounds, Whippets and not least Italians have very fine hair and no "woolly underneath hair" for warmth, such as the majority of other breeds have. What you see, is all they've got!!! I have taken this photo today, so you can see how "threadbare" he looks. THIS is why they need coats in varying degrees of warmth and protection all winter - but the coats have a tendency to wear away at sparse areas of fine hair, making matters worse! So long as the dog's back hair looks good, healthy, dense and shiny, then it is alright. Any doubts, then change to a better brand of dog food and/or add a fish oil pill once a day for say a month or two, alternatively, a teaspoon of olive oil in their dinner for a while. Many brands of dog food are mean on fats as fat quickly goes rancid and gives problems keeping food fresh. (Leading to addatives/preservatives that aren't all of them good for the dog, so the less of them the better.) So you can add your own "oils" as above, if necessary and only in the winter months.

Wednesday the 16th of January:
Timmi always "tries it on", he's full of artful tricks.
Whippets are fantastic actors and if they have something to tell, they REALLY make the point in no uncertain way.
Also, they always exaggerate! Yes, it IS bitterly cold right now and yes there IS a lot of salt sprinkled on the pavements to make sure we humans don't slip and slide around. I use the paw-cream to protect the dog's feet in snow and ice and I also walk them on the grass verges and other open spaces to avoid using the salted paths, so very rarely do they walk on any salt and if it's bad, I carry them over the area. But Timmi this morning made SUCH a scene out of walking along.
I tried to hurry him so he (and I) could keep warm. He was well wrapped up and also I do take each paw when it's held up pathetically, clean out any grit and salt and warm it briefly in my hand - and usually this helps.
But after 5 minutes of dragging him along and him showing me that ALL FOUR feet were in AGONY (and apparently his legs were half paralysed as well!), I turned back and thought: Oh well, let him stay at home as he is, after all, an old dog.
When we stepped through our gate, I immediately let him off the leash in our driveway – and how I wish I have filmed this, as the total contrast between the dog who was just seconds earlier in distress at every step and limping so exaggeratedly, now trotted forward beautifully, gliding along as if I was showing him in the ring where he would have gained praise for gaiting so well! Suddenly, there wasn't a thing wrong with him!
How they can act pathetic when they want to! Of course he must have felt SOMETHING under his feet, but he sure made it seem like he was at death's door.
The two "little ones" , who I took out straight afterwards, didn't seem to notice a thing, thanks to the paw-cream and only walking on (snow covered) grass!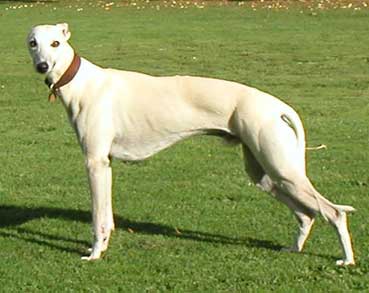 A summer photo showing his athletic lines!
Another thing that Timmi does, is try to cheat when all three have to run 10 times around our house.
He either stands on the other side of the gate I've just closed, even though I always walk a bit away to encourage him to run off, or he walks just a little way down, so when the two little ones have overtaken him and raced the whole way around the house in a few seconds, (they LOVE the game!), he comes trotting back in the hopes I'll give him his piece of biscuit reward for doing nothing.
Well in this extreme cold it is hard to wait for him while he realises we are NOT coming through the gate so he can cheat and stroll back, so I call his bluff and go indoors with the other two who HAVE run around – and we wait in the delicious warmth.
Finally, he sees there's no escaping it and he runs around and off we go again with the game.
I had to do this three or four times today before he realised he can't win, that he HAS to come around and not stand waiting all alone in the cold. Once he gets going, he's running happily around at a fair speed, tail waving and thoroughly enjoying it.
This way I keep them all in good training through the winter, so when spring comes and we start Lure coursing again, they are already in top condition! But Timmi just HAS to try it on and see if I will fall for his laziness!

Tuesday the 15th!
Below, even more snow on top of yesterday's - so I barely can see where the path is - but not quite so cold, so the trouser suits were enough! See how the naturally long-sighted Italian Greyhounds have spotted a dog owner in the far distance! They have eyes as like binoculars! To the right is a new sign telling dog owners to pick up after their dogs - but some fool is protesting by leaving their bags dumped up against the sign... how stupid can you be? Clearly someone not used to clearing up and carrying it home! There are still too many owners who don't do it, it's disgusting.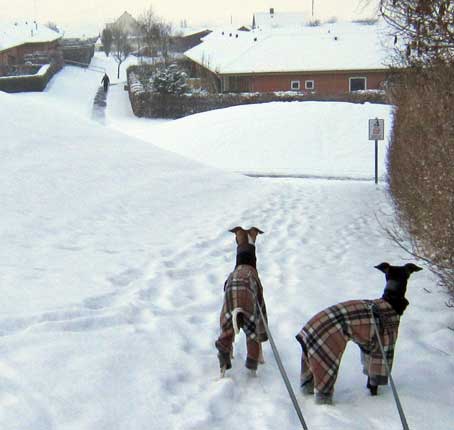 Monday the 14th:
Snow again - and so extra freezing cold, that the little ones needed two coats on today. I don't know how we would manage without the trouser suits that warm their thin legs...to order yours, click here.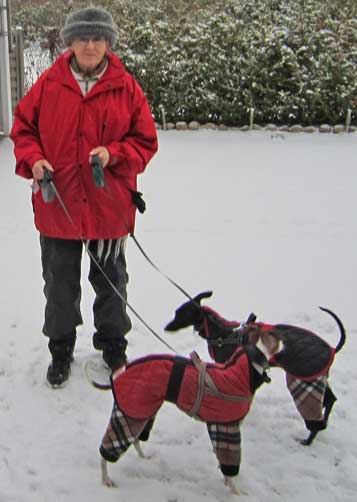 Below: Whippets do not like Italian greyhounds! Despite the breeds are "look alikes"- they are VERY diffeerent in mentality and the Italian greyhound is by far the most extreme elegant of all dog breeds - but Whippets are mostly kind and tolerent creatures, so they put up with the more restless and excitable sighthound friends for my sake! If it was up to Timmi, no one would ever lie on him or greet him in the typical over-boisterous Italian way. He has given up the battle to make them respect him more and tries to pretend they don't exist.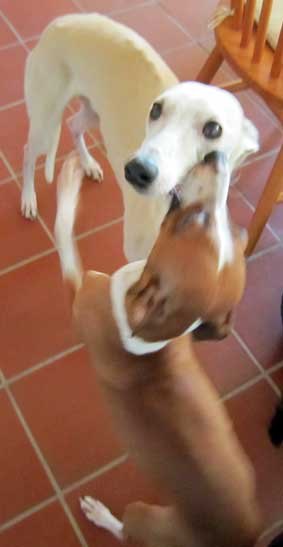 .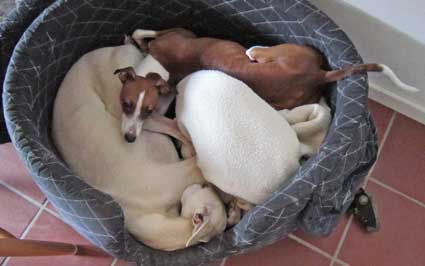 Left: Racey greeting Timmi, whom he loves! Right: A really twisted lying postion - and there's a thick cream blanketknotted up in the bed as well!


Tuesday 8th
We went for a romantically misty walk around the lake after seeing if my brother-in-law's summerhouse was ok, as he is in S. Africa right now! The dogs really enjoyed all the new smells! The temp. was 6 degrees C.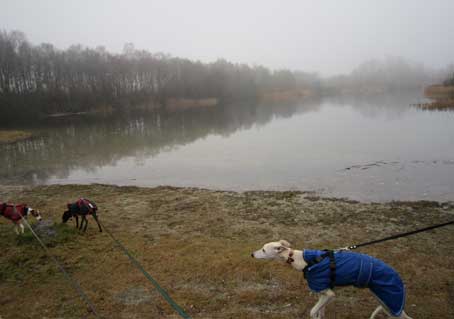 .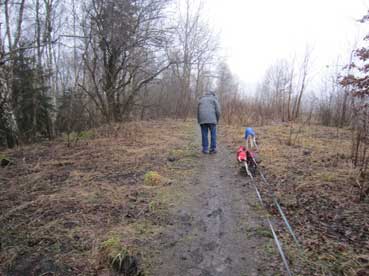 Saturday the 5th of January 2013
Well we survived the terrifying firework shows to celebrate the New Year in Denmark! We were lucky this year as 5 of our 6 nearest neighbours were out! (I dread to think how next year will be when it's their turn to host the party!)
Timmi has never been afraid of all the fireworks exploding all around him including the window-rattling loud bangs, the worst of which are illegal here but this doesn't stop them! You would think he was totally deaf to look at him!
Dasher was very afraid – at times, but able to forget in between - not a complete quivering wreck like our Dee Jay used to be, or miserable and clinging like Magnus was. He did sit on my lap most of the evening and this helped!
Racey was taking his cues from Timmi it seems and was very curious, listened and looked mystified yet not directly scared.
Unfortunately for him, he had a bit of a "bad tummy" and was forced to go out and "do something" about several times during the evening, and there he squatted good as gold while the fireworks exploded all around him.
So we don't have to worry too much about HIM! We never go anywhere any more as we are so concerned for the dogs welfare. It's no fun see ing them suffer.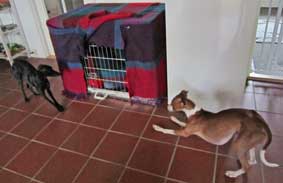 .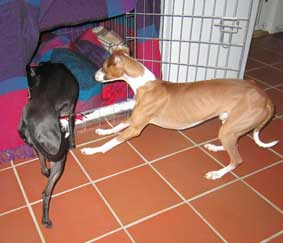 Today our Grandson visited – and true to form, made a bee-line for Dasher's cage (which is also Racey's now).
Race was too nervous of this invasion of space but Dasher loved it and even Timmi crammed in as well, bribed by tit-bits!
It looks impossible, our Grandson is SO tall now...and yes, he's in there with the door locked in the first picture!!!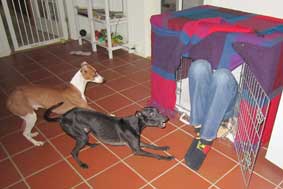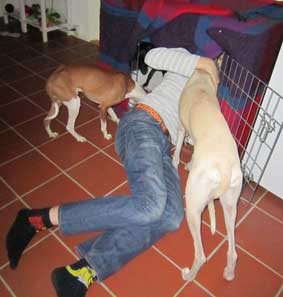 .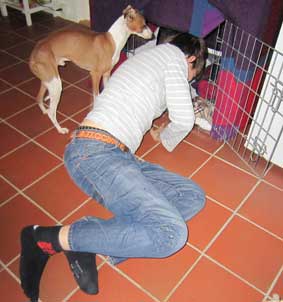 Would you believe that all that boy could get inside this cage - AND Timmi and Dasher?!!!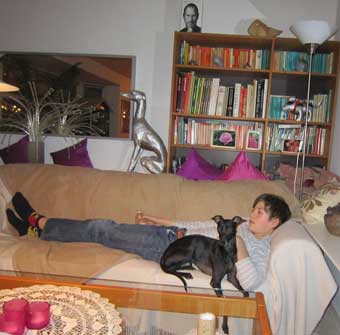 On the sofa stretching his legs out afterwards!