1st of January 2012 and I start a new blog page: Click here for the new "sighthoundblog12":
---
29th of December
December is nearly over and we STILL have summer flowers in the garden, plus I saw a Ladybird!!!! Unfort. the camera focused on the hedge, but you can just see it.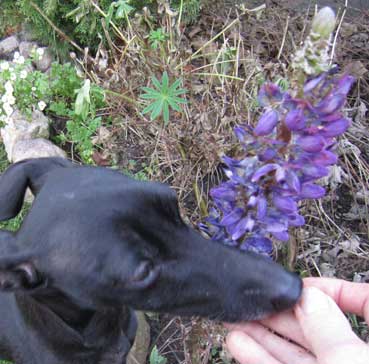 -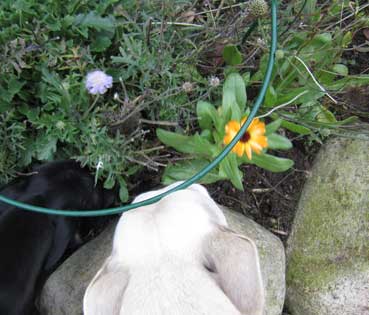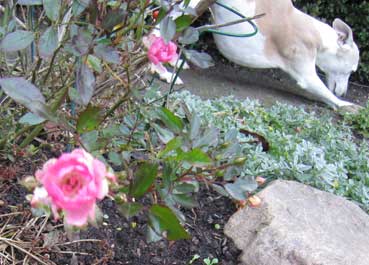 -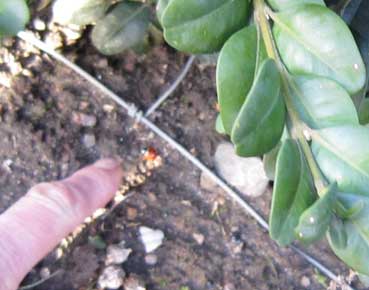 28th of December
This is how to use your friend as a comfy 38 degrees warm lounger whilst you casually chew a bone!!! (See bone by right paw!)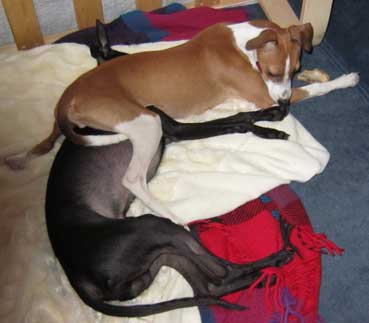 .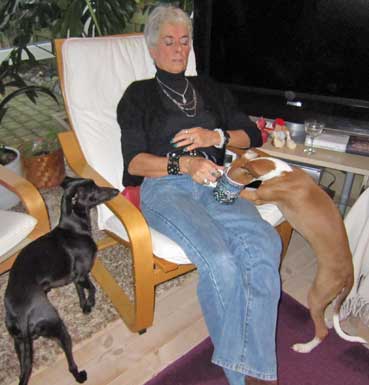 Friend to lunch today and Racey suddenly gets a taste for coffee (Irma's best Java) - just hope he can sleep tonight! Don't worry, he's never having coffee again!

26th of December
Racey just LOVED his first Christmas - all those extra people to cuddle him! Here are two: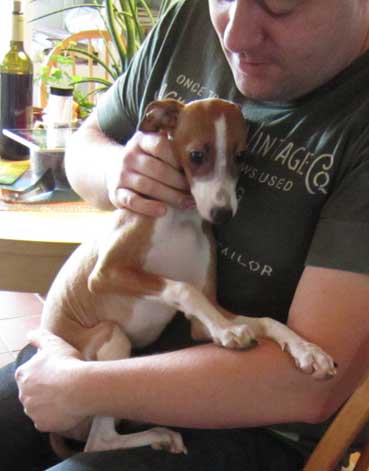 -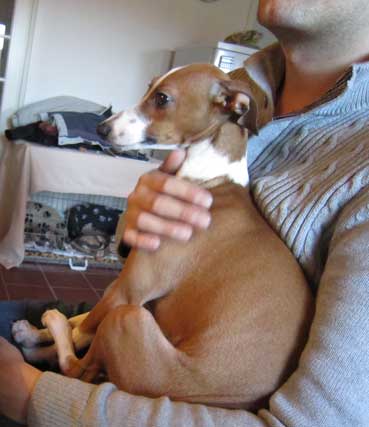 (Don't worry, Dasher had his share of love as well!)
Timmi the Tea leaf (tea leaf is rhyming cockney slang for thief!) lived up to his name! First he stole a large piece of salmon directly from the plate waiting to be served while my back was turned - and serve him right, as it was stuffed with Danish "foamed" horseradish (luckily I had some left over in the fridge!) - then later on he stole from a plate of home-made marzipan and nougat candies, when we all left the room for a moment!!!! The others cracked a few nuts and ate a few grapes - which we gave them!

Warning!!!
Commercial dry dog food swells up in the dog's stomach. Always test before feeding your dog, if you try a new brand. This is what I do: I take two particles of the new food and put one in a small bowl of cold water and the other I just leave alongside on the table top. (Out of Timmi's reach, of course, ha ha!) This new brand I am trying right now, based on salmon, swelled up to a shocking nearly four times the size! See here after 3 hours:


You should bear this in mind when feeding your dog, because what looks like a very modest portion, can swell up to 2-3-4 times the size after a few hours and make your dog vomit some up to relieve the pressure.
At the very least, it will give your dog a lot of discomfort - at worst he/she may throw up the entire meal. Therefore, with ANY brand of food, you need to know exactly how big the meal will become in a few hours time - and cut the quantity given down to an appropriate amount. This is probably a major cause of overweight dogs (not to mention the possibility of bloat and torsion). People fill up their dog's bowls with a portion that ALREADY looks "the right size" in their eyes according to their dog's stomach but not allowing for the fact that whole lot actually becomes, say 3 times larger during the course of the evening, while they are relaxing in front of the TV! We all know how dogs are "opportunists" and eat whatever they can whenever they can, so OF COURSE your dog will stuff itself to the eyebrows like it's the last meal ever - with any food you put in front of it - only suffer badlly for it later on - so best to to regulate according to the known "swelling point" - which varies a lot from brand to brand!!!
23rd of December
I am writing this due to complaints from several friends,who say that too many days have passed with no entry in Dasher's blog!!! Not that I have the time due to Christmas preparations.... On Monday Racey hurt his right leg. He was racing at top speed after Dasher, who he can't of course catch (but he's not far behind!) and he gets very angry (ready to kill!) because he can't bare not being as fast and gives it all he's got - so I tried to get them inside but on the patio it seems, he banged his front leg hard on one of the metal supports to our sunroof. He was in great pain and an examination didn't show anything but I later found out it was the joint at the top of the pastern - where the "growth lumps" are, so must be very painful indeed. Tuesday he knew to keep quiet, obviously it hurt a lot, which was good because he hardly played and he limped and slept a lot. Wednesday he was brighter but still limped but often ignored the pain to play a little. Of course no walks or exercise - we did our best to keep him quiet. Thursday MUCH more lively - and today he's just gone crazy making up for lost time. I took him for a very short walk. Here he is watching me today wrapping up some presents in a guest room. He is wondering what I am so busy with! I have already given him the cardboard tube from the wrapping paper to play with.



We (I) eat a fair amount of peanut butter and Dasher loves to lick out the empty jar! Here he is having a good go. He can always hear when I am scraping out the last bit and comes running to "clean" the jar as far inside as his tongue can reach!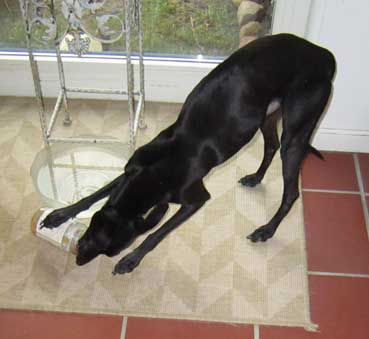 17th of December
Poor Magnus trying to have a peaceful sleep on the sofa yesterday evening, while we watch tv. First comes Dasher and leans up against him, then Racey has to clamber ON TOP! I was laughing so much but trying to make it soundless, so I didn't disturb them while I took photos, so Dasher's ear went up to check what the funny wheezing noises were!!


.


.



Racey wasn't comfortable at all so he crawled along and ended up on Magnus's head, even putting a paw over his eyes - which I didn't get. We have SO MUCH entertainment from seeing how they lie together!

16th of December
Onslow came again this evening just before 4 pm so it was still light - tho' getting dark FAST. He wasn't interested in the milk, which I've heard they like, but loved two "Frolic" dog food pieces! He is not afraid of me - only the dogs, who go berserk. I know this will guarantee he comes again and we have discussed taking him for a short walk and releasing him in a small wood near here, but can't bring ourselves to ruin his chosen life's rutine - and what if he crossed a road and got run over? So we are no doubt lumbered with him for ever. So might as well have some fun feeding him in the winter - far too mild to hibernate and there aren't many slugs and woodlice and the like around right now. He might even be a "she" and return in the spring with some cute "scrubbing brush" babies!!!

-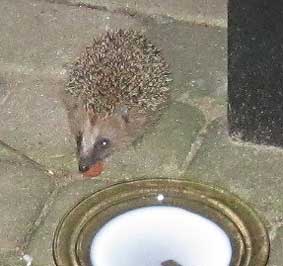 Left: The dogs are watching intensely! They were ready for their afternoon exercise so I took Onslow up to the kitchen garden near the compost containers, so I could hurry back and let them out before he returned!
PS Reply in Danish from a friend who has her own hedgehog visitors:
Pindsvin skal IKKE have mælk, men vand! Kattepiller er glimrende; men hundepiller må vel også kunne bruges! Når den ikke er gået i hi endnu, er det nok, fordi den ikke har spist sig huld nok til endnu, og det er heldigvis stadig mildt. Mine to har jeg ikke set længe, så de ligger nok i komposten eller sådan et sted og sover. Du har sikkert masser af steder i haven, hvor den kunne overvintre; men ellers sælger Danmarks Naturfredningsforening pindsvinhuse. Det er ikke meget andet end en trækasse, så Svend kunne lave en selv!!! Prøv at gå ind på deres hjemmeside! www.dn.dk/Default.aspx?ID=3663
Lisbet

15th of December
This is a "one man's bed" - one of two in Dasher's cage, but suddenly I noticed they are BOTH squeezed into it! Typical italians, they have to be on top of each other or VERY tightly close together!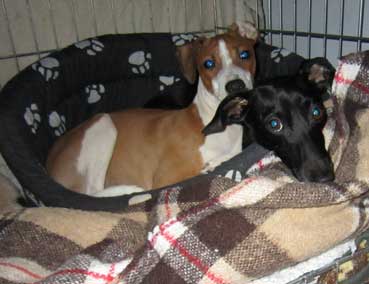 12th - 14th of December
Racey is getting more and more elegant! (He's 4 calendar months old now.)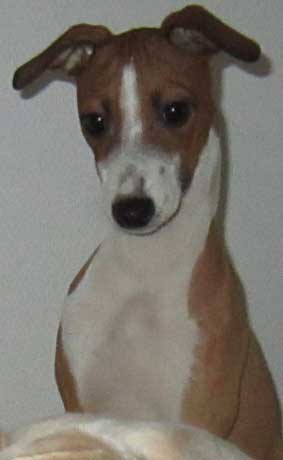 -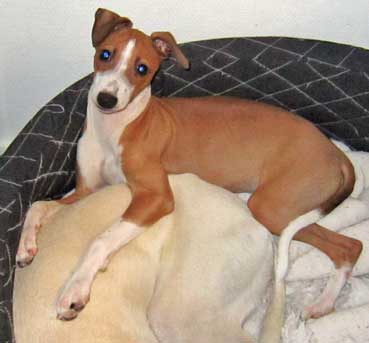 8th of December
Dasher gets a new coat all the way from Finland! Inspired by seeing a Finnish friend's IG "Chico" (seen on the blog in the spring) with his most warm and practical coat, (and bearing in mind how last winter was SO cold and went on forever, so his winter coat got very worn), I asked where I could get one the same? So after a week or two, a lovely surpise this morning and here he is modelling it! Thank you Nina! (Let me know if anyone else wants a "Finnish Special"!!!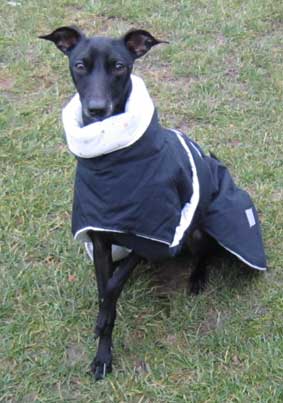 -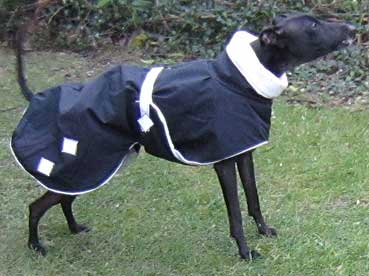 Here he is posing and right: Barking at the neighbour's dog.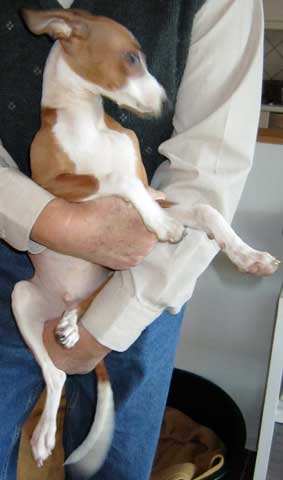 -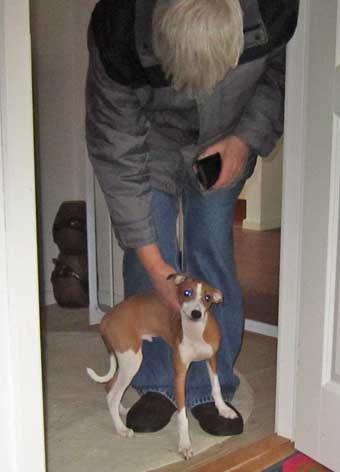 The dogs get their nails cut today! Dasher by our patented method of liver paté spread all over the top of a box put on the table and I trim while Dasher licks like crazy and Svend holds him tight - and (left picture) Racey was trimmed by me with Svend holding him up like this - he barely noticed what I was doing, but here he is fighting to get down again. Picture right: Svend has just come home and Racey is getting a "hallo" neck massage!!! See how tall he is getting.

4th of December - evening:
The pesky "junior" hedgehog was just outside the back door when I put Racey out this evening. It sends the Whippets into a hysterical fit, (so the neighbours who go to bed early because of their jobs, probably leap out of bed with shock) and since it curls up and stays put, I think they would bark until they collapsed - if we didn't carry them indoors, one at a time!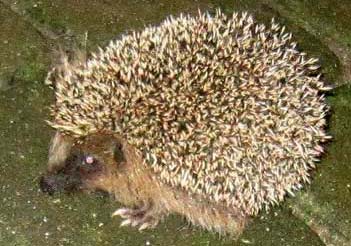 However, THIS time it was only one amazed puppy who wasn't sure and wasn't even going to steal back the puppy food I put there for it - too wierd a creature! They snort and snuffle scarily too!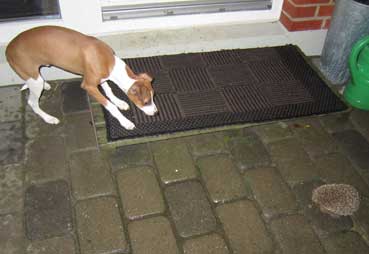 .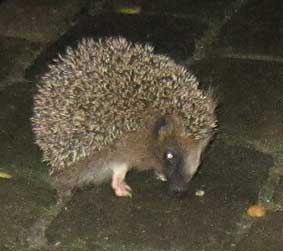 It did eat 2 pieces of "Science Diet for small puppies" - with great difficulty chewing!!! Then rushed off leaving the rest.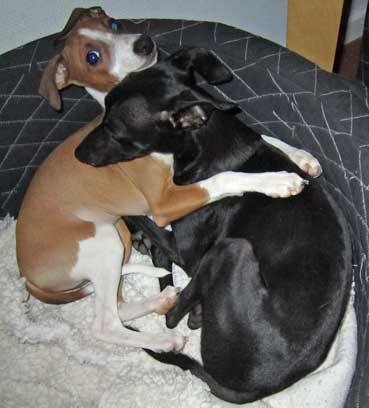 Under the kitchen table: "Can't we have a private moment together without that darn camera flashing away...?"

4th of December
Timmi always loves dramatic injuries that turn out to be nothing! Well, yesterday, after the evening running game and eating his dinner apparently fine, he later on gets out of his bed with a terrible limp on right front leg, (the one where the toe came out of joint 2 years ago). So I examine. His toe is fine, but he held his leg out at a peculiar angle so Svend thought it must be broken but I saw that he could very slightly support himself on it. Of course, the more fuss one makes, the more a Whippet lays on the "acting sick" because they are born actors and revel in the extra attention! A simple, tiny injury becomes near life threatening if one makes TOO much fuss!
Then I felt his upper leg all over and found it "crackled" peculiarly under the skin – just like the toys one gets for babies (and dogs) where some plastic is sewn inside so the toy "crackles interestingly" at the touch. I cannot imagine what the crackling sound could come from? Everything else seemed normal, tho' perhaps the leg felt hotter. (The other leg does not crackle.) After an hour or so Timmi was able to walk gingerly on it and later in the evening, appeared to be cured!
However, there is still some "crackling" up and down his "upper arm" this morning when I press, so he isn't allowed to run – just in case. If anyone has experienced an injury that "crackles" under the skin like this (or like there's air inside the skin) please let me know as it's complete mystery to me. Email me

PS Evening of the 4th: Timmi's been fine today but no exercise. Found this via Google: http://forum.greytalk.com/index.php/topic/251228-crackling-sound-in-leg-after-small-injury-emphysema/... and another examination with a magnifying glass has revealed a tiny "stab wound" behind and towards his "wrist" - so air HAS got in! He may have trodden on a dead branch sticking up in a flower bed...that's a relief as it seems it's just a question of time and the air will disperse. You learn something every day!!! PPS Two days later and he was fine and no more "crackle"!!!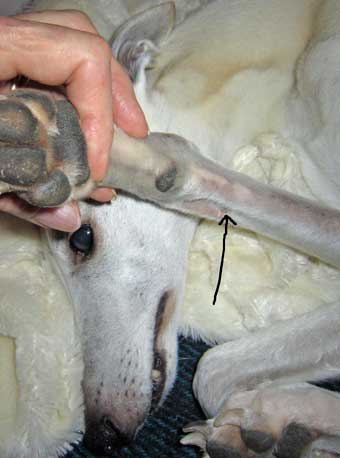 3rd of December
I gave Racey a chew bone, the only one left - although old bones lie around all over the place, (so we twist our ankles at times) and of course Dasher wanted it. So they played a noisy game teasing and chasing and stealing it from each other in turns. Then along comes Timmi and grabs his chance just as both their backs are turned. So it went all quiet, I investigated and found this scene on the office bed: Timmi chomping on the now deliciously flabby bone, while the other two lie so comically behind him waiting in the faint hope that they still had a chance...but he ate it all!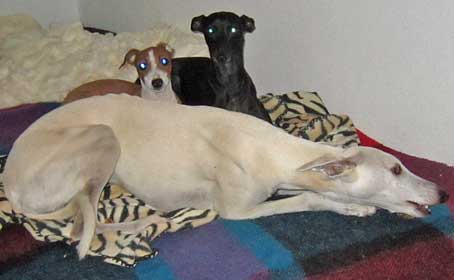 2nd of December
Christmas is over us so time to get out Dasher's Father Christmas jacket from last year! It brings a smile to everyone's face and nearly causes cars to crash!!! Here we are just about to leave for a walk - in damp, but mild weather: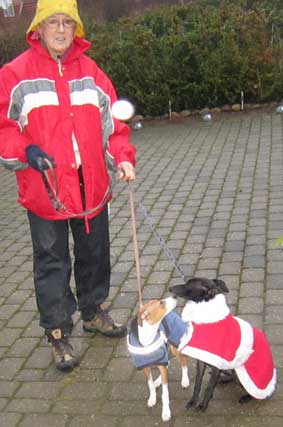 30th of November
Racey is a "people dog" and greets everyone like he's been waiting for them the whole of his life! Here, he's just delivered a big wet kiss to our son!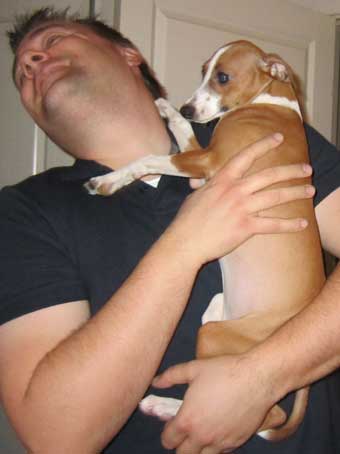 Below: In my office - he's growing more and more elegant - and Dasher doing his mountain goat act!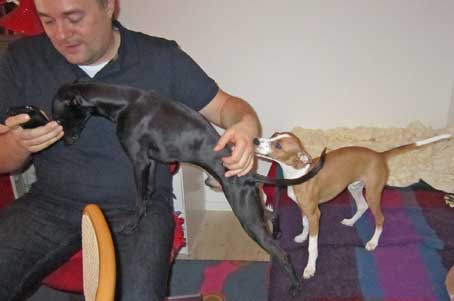 .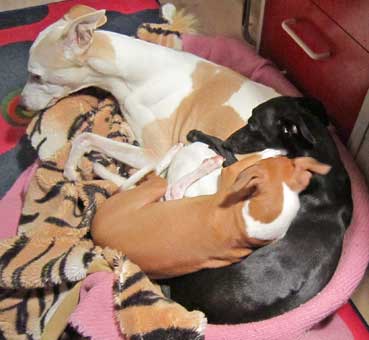 Magnus just before getting up in disgust! "Can't they see there's not enough room for THREE of us???" This bed is very popular as it is just by my feet!

29th of November
To keep Racey OFF the guest bed in my office, (so he wouldn't break a leg jumping down), I had piled extra mattresses on top to made it very high. The Whippets have loved getting peace and quiet from the little terrorist, who couldn't reach them up there! (All the cushions are off the settee for the very same reason! Better be safe than sorry!) But two days ago, he suddenly found he could spring up! So now I have taken everything off again, so it is as low as possible - and he can take the jump down ok. (It is a very low bed.) You can't be too sure with Italians and their fine-boned front legs - while they are young. So here are all 4 lying together for the very first time!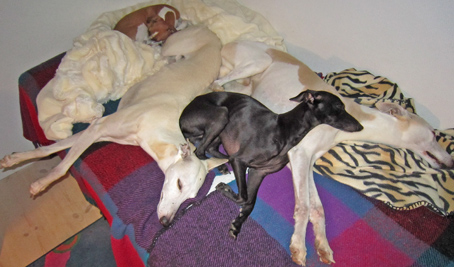 24th of November
- so dark and misty at 10 o' clock this morning, that the lights at the back of the Nursing home were still on and glowing eirily!




22nd of November
a very welcome few hours of sun this morning!
Racey shows off his new "Togs for Dogs" showerproof coat - so he matches Dasher and they look really smart together!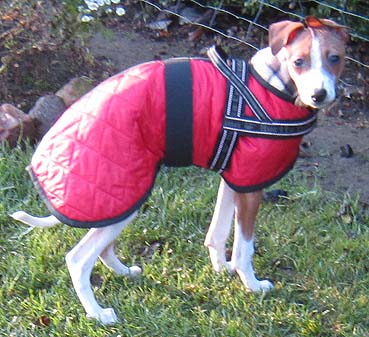 -

Left: Ready for "walkies" and wearing his "headscarf ears"!! Right: Stepping out in style!!!
Underneath: His feet are as big as Dasher's see here, but his head is half the size - where will it end??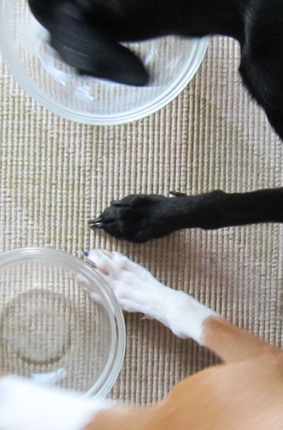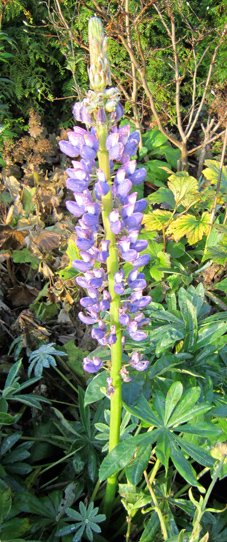 -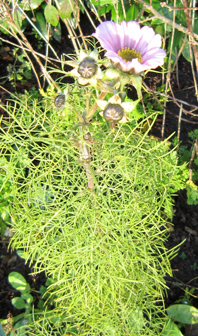 -


I must show you! We have midsummer flowers in November still opening due to the long, mild and sunny autumn - so here are plants normally from June/July repeat flowering and photographed this morning! Left a Lupin, in the middle a "sown from seed" Cosmos that has been struggling for weeks to open and right: Foxgloves - it's unheard of in November!
---
21st of November, very misty weather, here's a cobweb of "crystal jewelry"!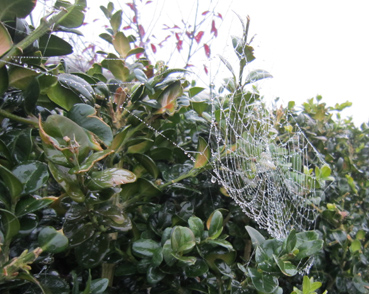 A lovely surprise this morning! His cute and practical sweater and one fleece-lined quilted raincoat (still to be photographed) came in the post today all the way from England - and so fast! Made by "Togs for Dogs": http://www.togsfordogs.net/18.html thank you Helen, they are a perfect fit and just what he needed. Here are some photos of the sweater: (I'll get more in due course but at the moment it is difficult to keep up with his fast rate of growth!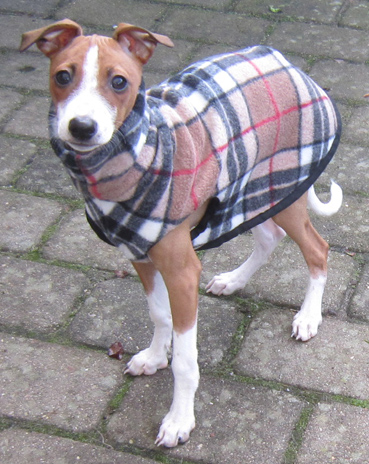 -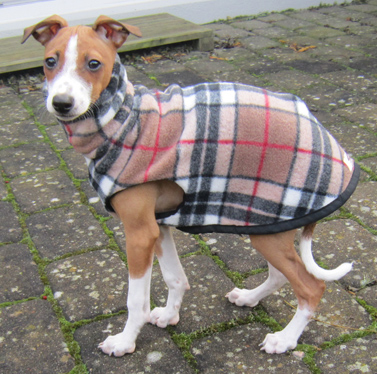 "Why all this sudden interest in me???"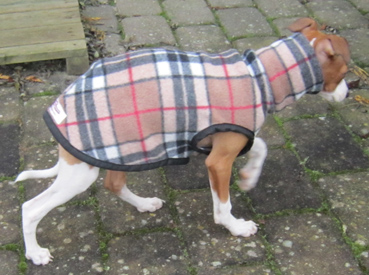 -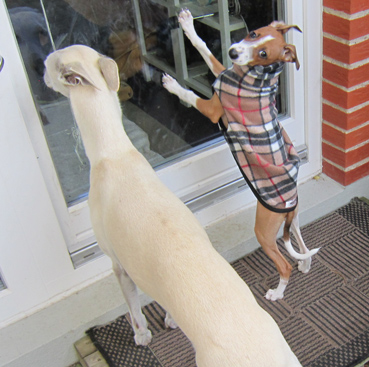 "Just get those photos taken quick so I can get inside again!"
New video: www.youtube.com/watch?v=yYYDwqasMgM
Normally Racey is shut inside with a special chew bone whilst we, three times a day for a few minutes, let the adult dogs race to and fro in the garden. They get good exercise and it makes them look beautiful and ready for a day's coursing at any time! Racey is still far too young. However, this afternoon we had a good laugh as he was outside and joined in. He ran well! But it is not something we will do often as puppies and young dogs must beware of being over- exercised or tempted to run more than they would during normal play. No hard training for them! But it was a laugh for a few minutes! See him for yourself on the link above.

---
20th of November:
We go to our grandson's belated 12th birthday get-together on the 5th floor (no elevator!) in Copenhagen City. Racey went up all flights of steps himself, no problem. (He didn't fancy going down again later though!) He was cuddled by nearly everyone and he is willing to go home with anyone who calls!!! Here are some pics. He just wanted to go to sleep - and did succeed in the end. The red fleece is from the breeder and he loves it and recognises it as what he wears when going to sleep.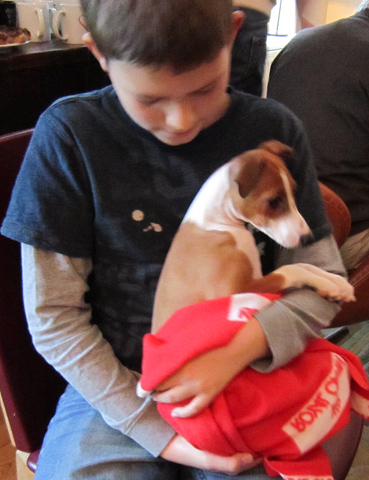 -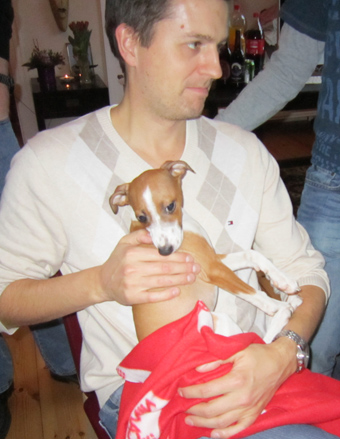 Grandson and son!
Our oldest son getting a face wash!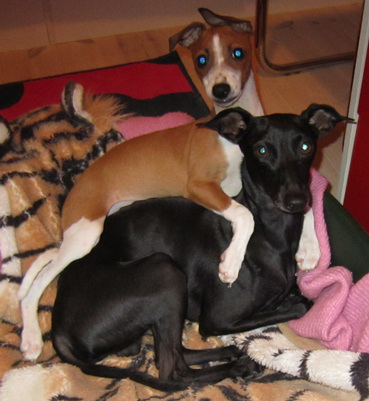 Back at home, this is the scene at my feet in my office! Best friends....that is until they try to share a bone!
---
Email me
or go back at any time to my
sighthound.net start page
.
---
19th of November:
At last! NOW I have finally got a photo of young Racey lifting his leg! He's done it occasionally for some weeks and now he does it more regularly, also when out on dog walks. He is 14 weeks tomorrow and I have never had so young a puppy who knew to do this. Whippets can be up to 6 months old before they figure it out. When out on a walk, Dasher would hold himself until he got home again when he was young. Not so Racey! (Magnus is patiently waiting his turn!)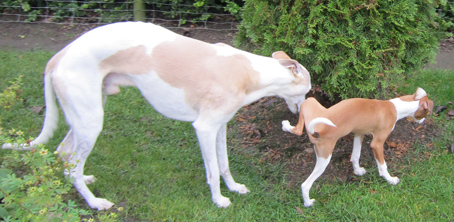 ---
16th of November:
Racey is totally fit and can now go on walks again. Yesterday, for the first time, I went the longer walk that Dasher does, and not a shortened variation. Here they are! Racey is growing so fast, he has grown out of all his clothes - but more are soon on their way from England! From "Togs for Dogs":
http://www.togsfordogs.net/18.html
(See Dasher's warm raincoat to the left!)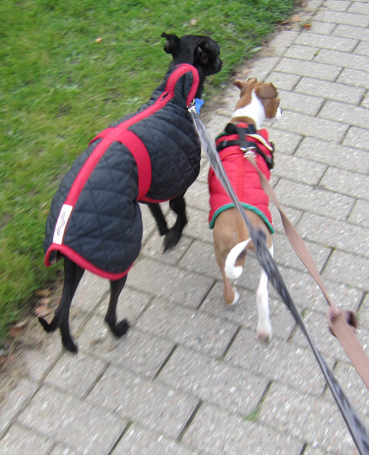 Racey also went to the vet. and got his "cocktail" vaccination against several serious dog illnesses. He was pronounced fit and well after a health check-up! He weighed in at 4.1 kilos and 28cm at the shoulder. (Dasher at same age, was same weight but already 31cm at the shoulder. But then he is a big dog at 41cm.) Racey gets another "booster" in a month's time and then again in a year. The vet affirmed that there are a lot of sneezing dogs and other illnesses at this time of the year.
If any owners of his brothers and sisters ever read this - I would love to hear from you!

13th of November:
Racey is so well now, you'd think he was on drugs! He has played more or less non-stop the wildest games - and Dasher is feeling better too, so he joins in! They fly to and fro between the rooms and the kitchen
at break-neck speed
and then do the "silent wrestling" act. We feel quite tired watching them, amazed at their sudden energy.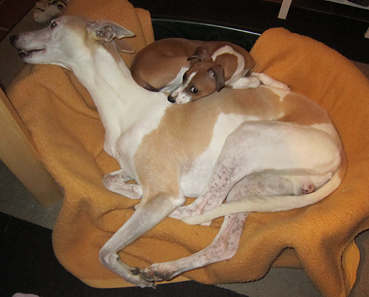 This is one of the reasons Whippets don't like IG's - IG's just HAVE to always sit ON TOP of them and trample around for ages before settling! Here is Magnus putting up with it because he's a kind dog.

12th of November:
Just had some worrying days. The dogs have not had "Kennel Cough" but "Kennel Sneeze"!
First Magnus who is 11, sneezed and snorted violently out of his nose unusually much for about 4-5 days, before suddenly Timmi had a snorting go and then Dasher a little, so I twigged on that this was not some kind of cancer in Magnus, (one always worries with older dogs) but a virus infection. So I monitored them closely.
After about 10 days, Magnus is now completely fit and never really seemed to feel ill. Timmi has only had a few snorts and sneezes for a handful of days and is now ok and he also seemed his usual self throughout too,
but for the last two days, Dasher and Racey have clearly felt bad. They have doubtless had a small temperature too.
They have slept an unusual amount, been unwilling to go out (but I insist anyway, wrapped up in coats!) and hardly played. Their appetite was fine and no signs of infection like "sleep" in the corners of their eyes, breathing normal – and NO COUGHING just sneezing.
I have never experienced this before after about 37 years of dog ownership – tho' I have experienced Kennel Cough many years ago. However, a friend has recently seen her dog be ill in the same way – and you can Google "sneezing dogs" and find there is such an illness.
Today, Racey, our biggest worry as he is only a puppy, has declared himself fit with a capital F and played endlessly today like he's making up for lost time - and we can't recall hearing him sneeze either. Meanwhile our star dog, Dasher, is clearly still under the weather, so he's hardly had any exercise today and acts a little lifeless and sneezes occasionally – but he is better than yesterday. So they are getting over it –
phew!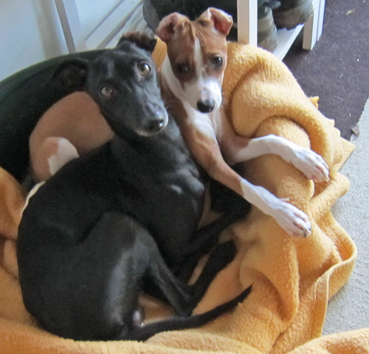 The two patients wearing their ears wrong and feeling low!
7th of November:
Short video of Dasher playing with Racey in the garden. Racey is so much smaller, lighter and of course not so developed in his physique at only 12 weeks - but he seems to manage well considering. Good exercise too!
www.youtube.com/watch?v=sNwqc_VT9m4

5th of November:
Poor Timmi! When Racey came, Timmi accepted him but would not share his bed with him. After a couple of days, Racey was often found in Timmi's bed and Timmi growling occasionally has no effect, so Timmi has given in and now see this latest photo taken today, Racey has even crept under his leg! Both Whippets are extremely tolerent - because they know he's a baby - but I think they will get stricter when he grows up. However, by that time it's too late!!!!!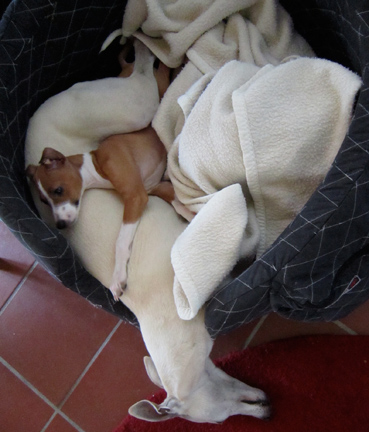 ---
2nd of November: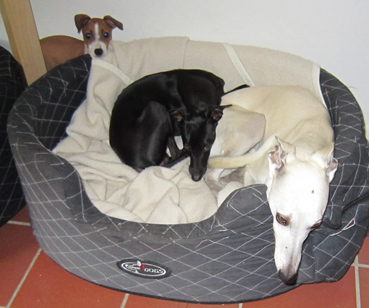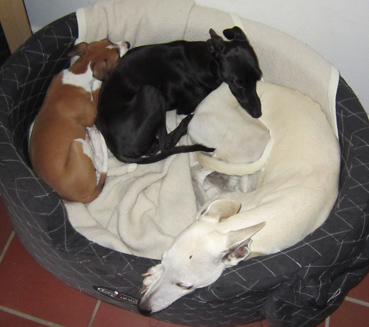 "Is there room for little me?" .........."of course there is, if you don't jump on top of them, but creep in quietly"!
---
1st of November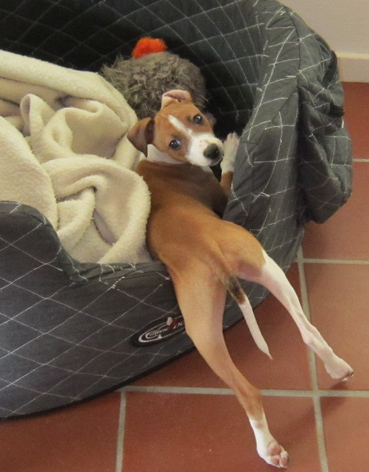 "Did someone call me?"
Some of you may wonder: How is the nightmare of house training a puppy going?
Well it is going amazingly well. There are many days with no accidents indoors at all and the worst we are up to is just one, entirely due to me "relaxing on the job"!
Not that he asks to go out
- yet - but because I practice my own advice to others: Outside after sleeping, eating, drinking, playing and just in case if "some time" has passed – oh, and also if he goes around as if looking for something. He does it all on command – even when we are out somewhere strange, which can otherwise be a problem as many pups are fussy and will only do things in their own garden in the early days! But this "cleanliness" is because I watch him like a hawk, not because he asks.
However, today, at only 11 weeks and 2 days, he did ask this afternoon! I was amazed and so pleased. He threw himself repeatedly up at the glass door to go outside and fretted and I heard and of course I immediately went outside with him and he "went" straight away! (At this stage it is imperative that one goes outside
together with the puppy
, no shutting it outside all alone!) So I am really proud of him – although we have months ahead of us before he is totally trustworthy like the other three, but he now knows he can ask – and will be heard! More importantly, he knows WHERE we want him to do it. He also often lifts his leg! I have never seen this so early and Whippets can be up to 6-7 months before lifting a leg! Anyone else heard of a pup lifting his leg to pee so young?
30th of October
Today we went to lure coursing at Jørlunde - with the best grass areas ever. A drab autumn day that tried to rain, but we all had fun anyway. Unfortunately, due to the damp, I only got one run on video, Whippets Monty and Dandy, where Monty found the last tight turn at top speed too hard, so he overshot and ended in the carpark and ran back to the hare that way and surprised us all just as we worried that he had fallen!
http://www.youtube.com/watch?v=bdrfID_O7pI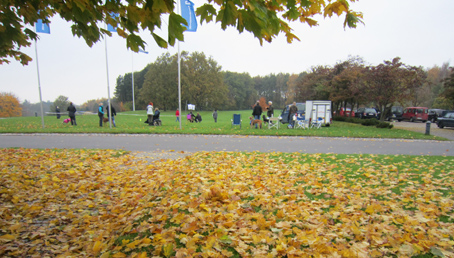 Everyone wanted to cuddle Racey - who loved the attention (he'll go to anyone who speaks to him!) and he only wanted to get out of the cold wet grass! Dasher's run went well, but I didn't press the button, so the camera didn't record. I was very handicapped with Racey sitting inside my jacket.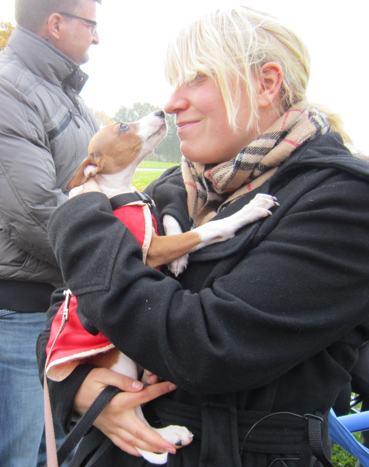 -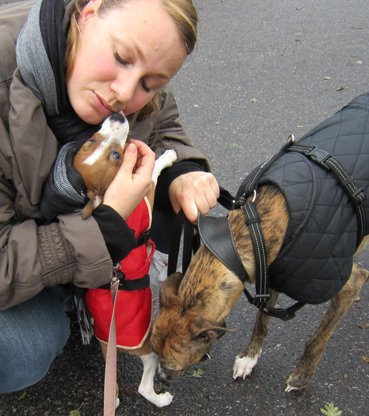 -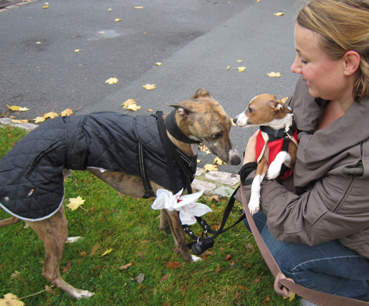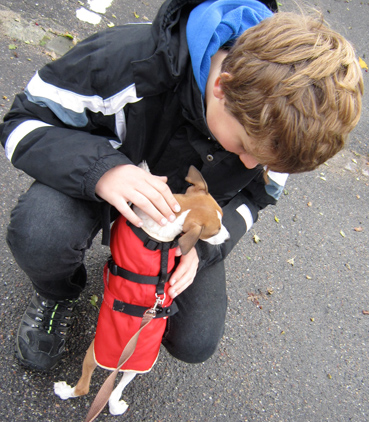 -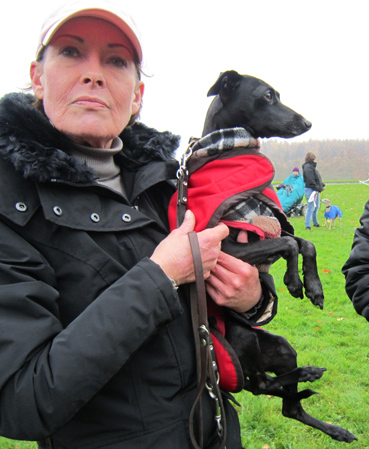 Here to the right is Dasher's sister Sally - who also runs like the wind!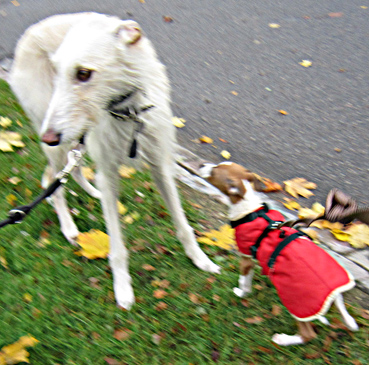 -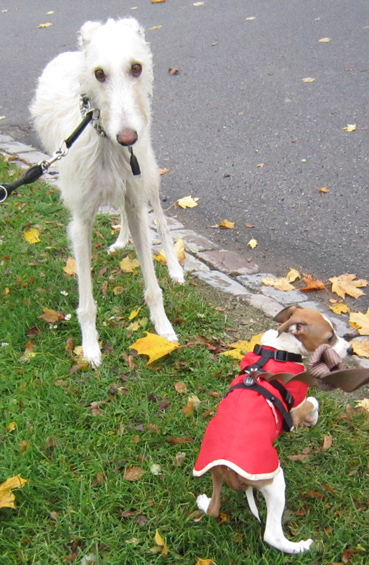 Racey and a kindly Galgo - see his face: the Galgo is clearly saying: "do I really have to stand here with this thing"?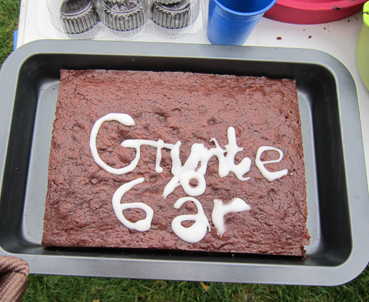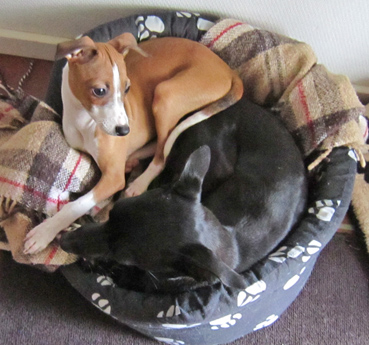 One of the many cakes was a chocolate birthday cake!!! Afghan "Grynte" is 6 years old.......Back at home warming his feet on Dasher
---
28th of October
A video from a few days ago showing how well Dasher and Racey play together. Due to the size difference, it is tough going for Racey and we always watch closely - ready to step in before anything happens, but so far so good, touch wood! This is the kind of mad games that IG's will and NEED to play. This is why it is important not to have bigger dogs in the house, as no way could they - or even Whippets - play like this with a tiny puppy, no matter how careful and considerate the dog. Yet Racey has a big need to play and learn the "Doggy Code of Rules" and how to bite gently and so on. He could never learn this on his own. www.youtube.com/watch?v=QC28gQ8HaKE
27th of October
A good amusement for Racey: The lid from an empty a jar of peanut butter with just a hint of peanut inside and he spent a very long time shoving it around all over the kitchen floor as it turned over he was unable to turn it back - so he worked at it for ages! Dogs love peanut butter! Right a photo of Timmi allowing the IG "pests" Dasher, (licking his ear) and Racey, (trying to sleep), share his favourite bed!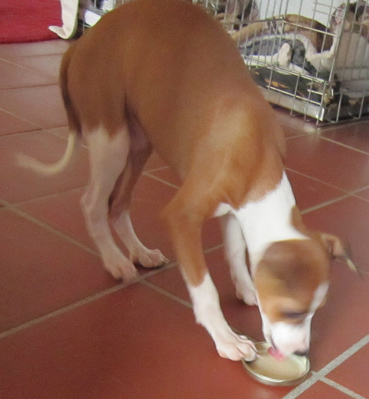 -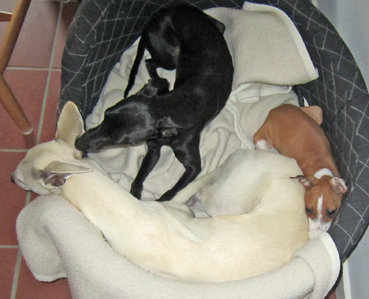 Below:
Didn't I say that our neighbourhood has too many cats for comfort? (I am collecting photos of them all.) Well here you can see, they even spy down on us from the neighbour's roof! Photo taken this morning. (I already have this cat in a previous shot the 9th of September.)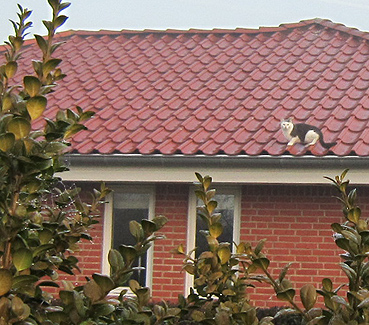 ---
24th of October
A neighbour's daughter and her friend popped in to see Racey yesterday - and he loved them although he really wanted to sleep!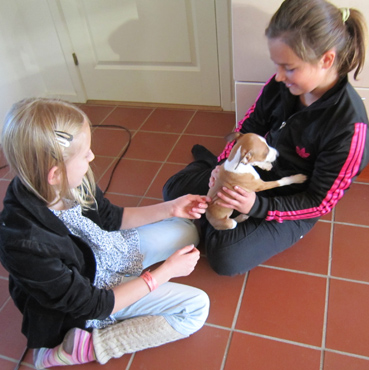 See a short video: www.youtube.com/watch?v=NfKHAArfzag
23rd of October
See his ears - so funny. When I took my first IG "Gucci" to the vet's for a puppy vacc. and he stood back and studied the ears that were sitting like a kind of hat on top of his head and asked: "Are his ears quite normal?" I laughed and assured him that this is how IG puppies look when they are worried - or just wondering! This is rarely seen in an adult dog. Maybe the head and ear form have changed too much. Until then, it's hilarious!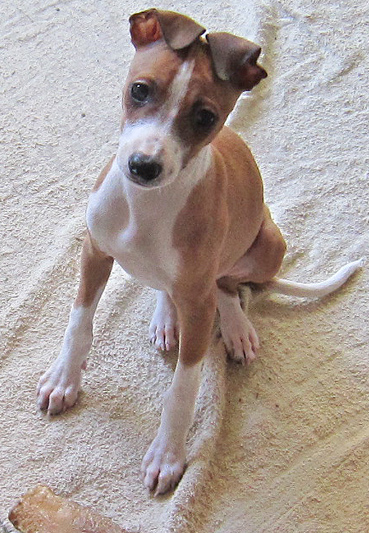 "What shall I do now, mom???"

20th of October
See all 4 dogs in the garden - the Whippets are so kind about his cheeky, puppy ways.
http://www.youtube.com/watch?v=-RGGQb2ZA6c
Here's a video of the litter just before they all went to their new homes!
www.youtube.com/watch?v=F7rBuEnRegY
19th of October
A beautiful sunny day and we drive with Dasher and Racey towards Copenhagen, first to our friend who owns Kris og Nardo (seen on earlier blog photos) so the dogs can meet each other and Racey can get a new member of his ever growing fan-club...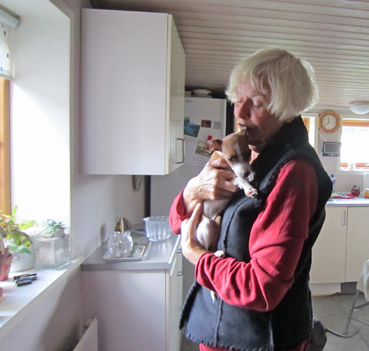 .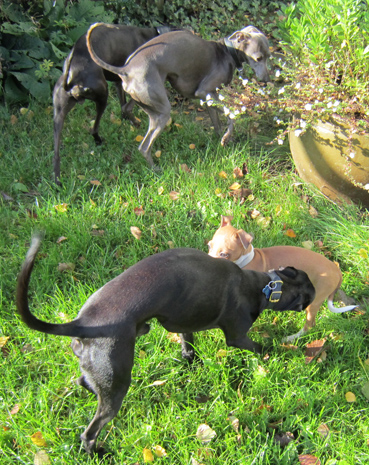 -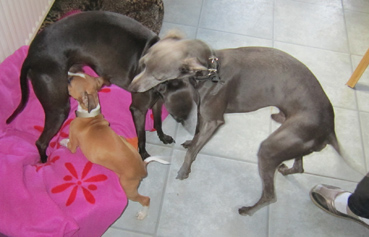 Left: Kris og Nardo at the top of the pic.while Dasher is checking out Racey like he's saying: "Gosh, are you here too?" - as he isn't used to being together with Kris og Nardo AND Racey too! Right, Racey checking out Nardo in the kitchen and getting into their bed!



Then we drove on the the Dansk Kennel Club's "headquarters" to get Racey registered properly in Denmark and his papers in order - and also registered in the National Dog Register for ALL dogs in Denmark. All dogs must be registered here by law, whether with or without a pedigree.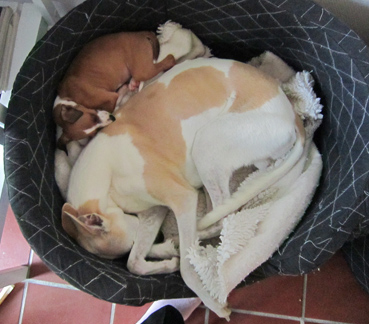 in the evening...

17th of October
Another sunny day and here's Racey in the big garden!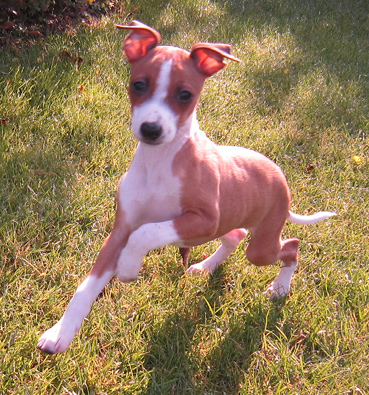 He's already changed dramatically in the few days we have had him and is developing so fast, we are amazed!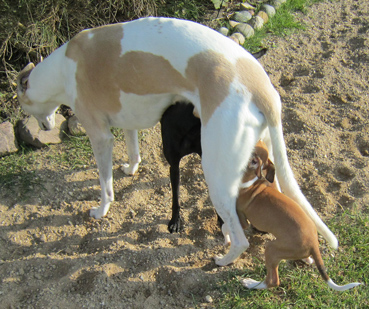 .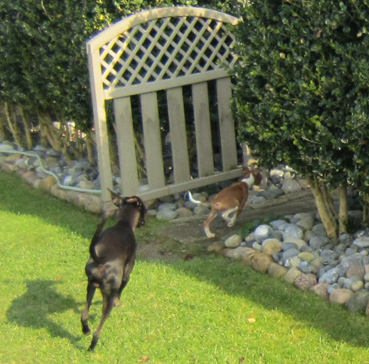 Left, the Whippets are so kind and tolerant to a breed they basically find quite annoying. Here Dasher and Racey have started a mad game and are "fighting" in between Magnus's legs while he goes on sniffing like he hasn't noticed anything!!! Suddenly, Racey decides he wants to go back inside!