Wednesday the 9th of September
Video from the lure coursing demos last Sunday, described below:
www.youtube.com/watch?v=2Omf_WhVVyM




Monday the 7th of September
I had a wonderful day out yesterday!
Up at 5.30 am and out of the door with Dasher and a travel bag at 8.15. (A 5 minute walk to the bus stop can take much longer with a dog in tow!) I had two busses and a train to get to Roskilde where they were holding a huge 2 day event for horses www.storehestedag.dk/Default.aspx?ID=2457
but also all dogs welcome and the Myndeklubben, (The Sighthound Club of Denmark, which I am a member of), were doing short Lure coursing demonstrations in the middle of all the hubbub of loud speakers, dogs and horses.
My first time on public transport with a dog.
I had read that small dogs travel free if in a bag on lap and larger dogs must be on floor and cost a child's ticket.
So a while back I got a travel bag in black plastic that a dog just sits inside. Here he poses at home: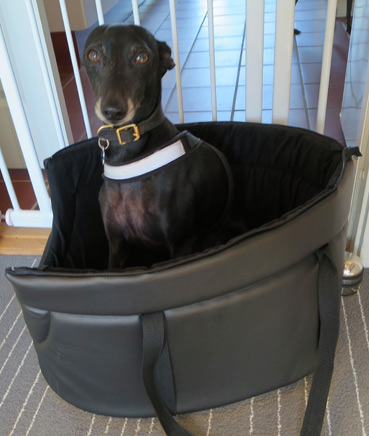 I staggered up the deep stairs of the first bus with Dasher under my right arm, a spare finger gripping a handle of the dangling bag and my travel card in the other hand ready to be wirelessly read by the stander with a blue wireless "reader" lamp that's on all busses....... I greeted the lady driver and explained I had read the rules about a dog travelling free in bag on lap.
She gave a me a long lecture about he should be IN the bag already, otherwise the other passengers might think he'd run loose around the bus, but she would let it pass as there were so few at this hour! All said in a nice tone of voice, but NOT a good start. Dasher, who is totally used to travel in cars was on "red alert" with all the new sounds and the odd bang and crash! But he quickly saw that everything appeared to be under control and that he could lick my face from sitting in the bag!
I managed to get off the bus OK at our station and then a short walk down two flights of steps (Dasher is good at steps!) - and along a tunnel under all the train lines, up two flights of steps to the platform towards Copenhagen and had a short wait, him in bag on my lap in the glass-sided waiting room.
Getting on the train wasn't easy as the steps are really steep but I managed ok and found a seat and he relaxed as we glided along. The ticket inspector hardly glanced at Dasher when he checked my travel card with his "reader" and rushed off before I could say that I had read the rules etc. - so I'm not saying a word in future!
Then I had to find the next bus at Roskilde and this big station there is a nightmare if you don't know it. After many more flights of stairs up and down and going the wrong way out to the road so even more flights of stairs back again, (luckily plenty of time before the bus went to do all this) then finally at the 212 bus stop I met a couple with a Beagle also going to the Store Hestedag and Dasher and the Beagle became good friends and spent the time mucking about while we waited.
The driver was barely looking at our dogs, though I always exchange a "hi" with them, who are usually very pleasant.
He kindly called out when we were there and I found the way easily. I could get in free as I was participating and got an armband to prove it!
Dasher ran 3 times in all as did most of our dogs but I didn't film him. Will make a video of many others. The public were visiting together with their dogs of all kinds and we encouraged them to let theirs have ago at lure coursing and many did a good job whilst others never understood what was wanted at all, much to the amusement of the bystanders!
Below my friend's two Italians, mother and daughter of 5 months, were very amusing to see together with a Great Dane!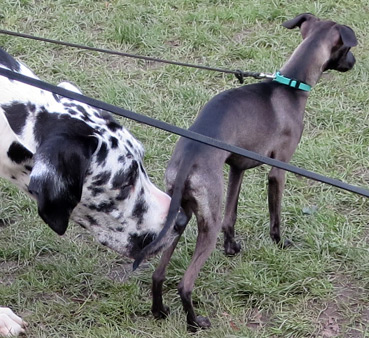 .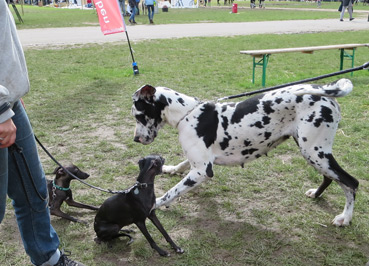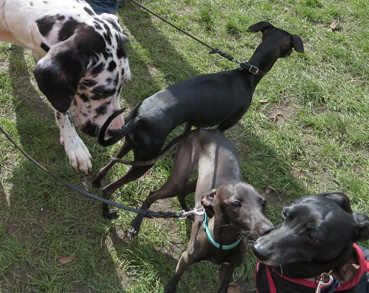 .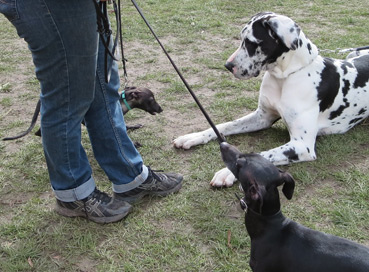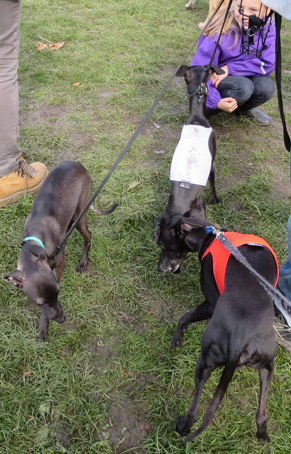 A Saluki ready to go and Dasher is jealous as he is standing watching all the others! Right the end of one of Dasher's runs.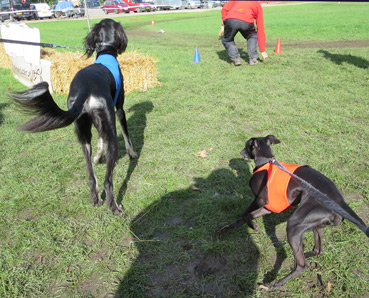 .
---
Saturday the 5th of September
Spotted some deer on the doggy walk this morning.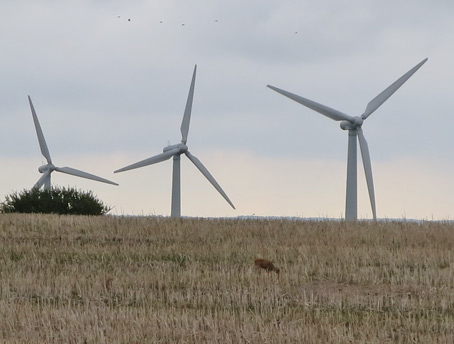 The corn has been cut in this field.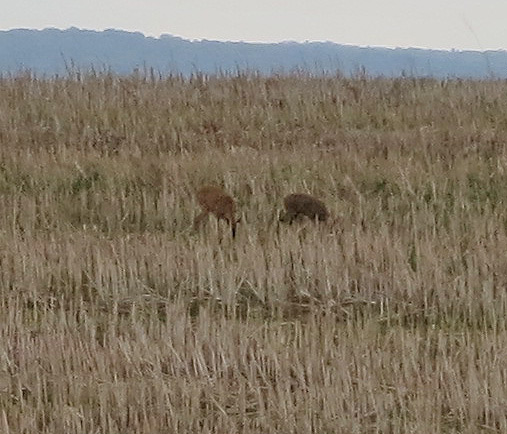 Solo doing a show pose in the sun Friday - right ear flapped back. He's just had dinner, so a heavy stomach!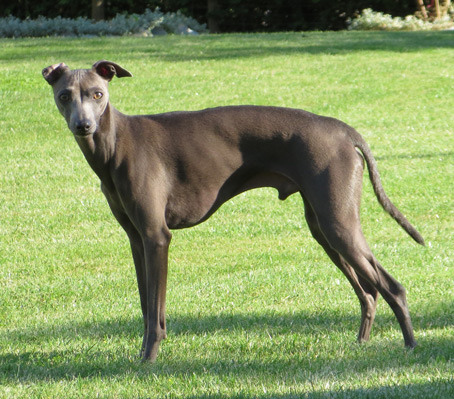 Waiting for me to kick a ball with his ear twisted.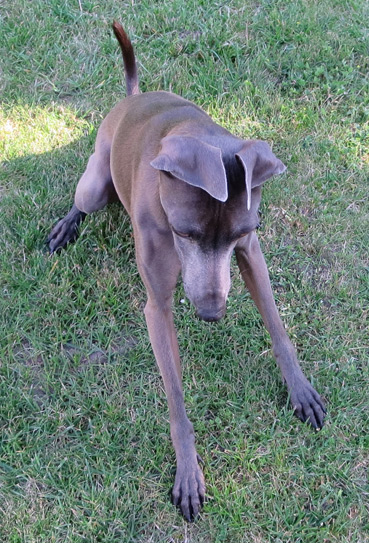 .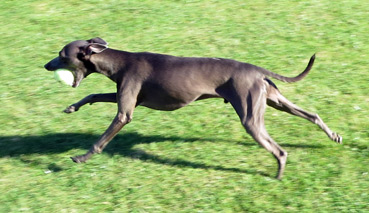 I throw or kick it and he is very good at fetching - when the mood takes him. Dasher doesn't get the point of fetching at all!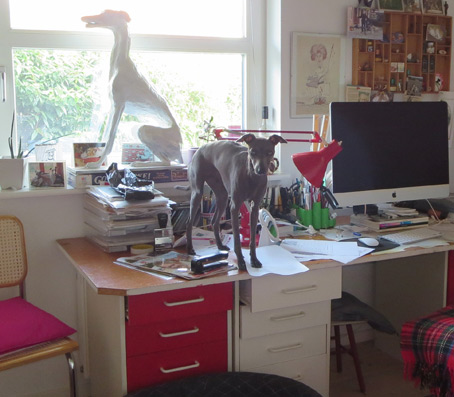 Ugh, he's up on my desk again to check it out for "stealables"!
---
Tuesday the 1st of September
Went on Sunday to lure coursing in the pretty little village of Rækkende and had a fun day. Rain had been forecast but whilst it drizzled en route, it was dry, warm and mostly cloudy - perfect for us all - and dogs could be safely left in cars.



My friend picked me up and drove me there with her two Galgos from Spain who filled the back of the car, so there was only room for Solo down between my feet on the floor in front, on a rug! Below: Camino being a "lap-dog"!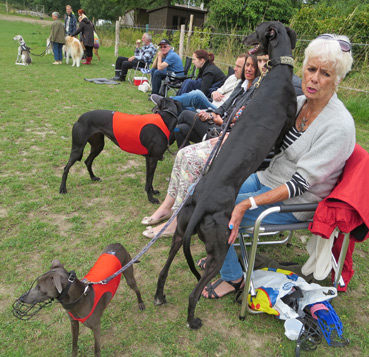 Here below, the female, Karla, a VERY sweet dog, does silly games with Solo in the long waiting time.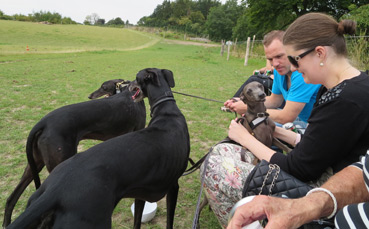 .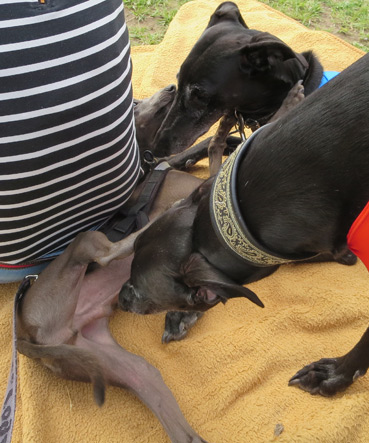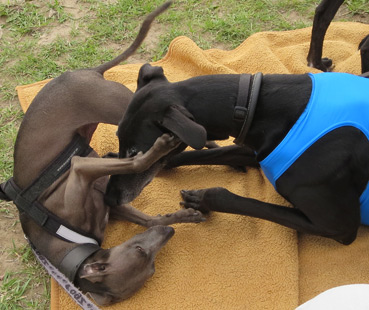 .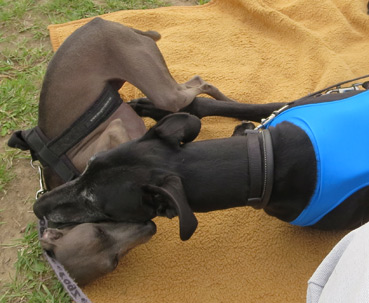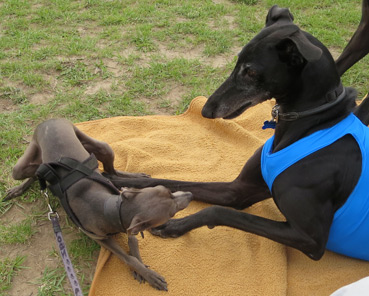 .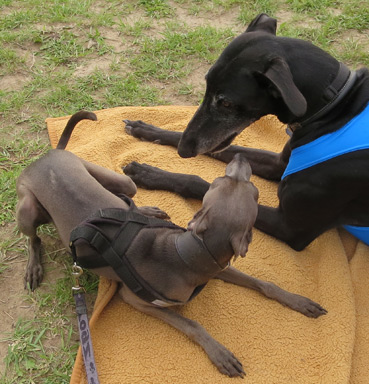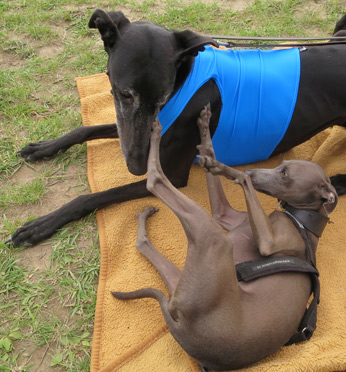 .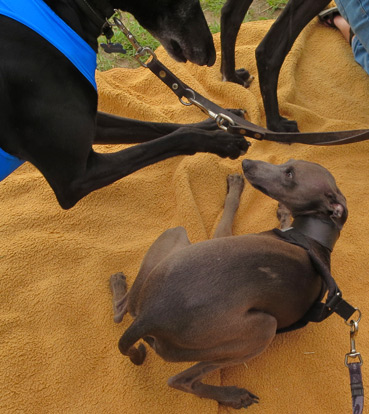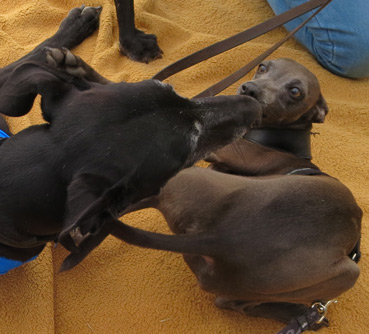 See the video of their coursing runs here:
www.youtube.com/watch?v=3slWiNh7g-Y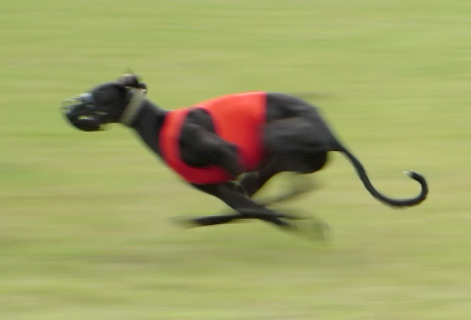 Above, Camino in a shot from the video - he FLIES!
(The Afghan who leapt through a wire fence was quite OK again afterwards, she was only limping because a big tree branch was stuck between her legs in a tangle of hair, so she had difficulty walking!!!)



Above and below, home again and Dasher greets Camino, whom he knows well...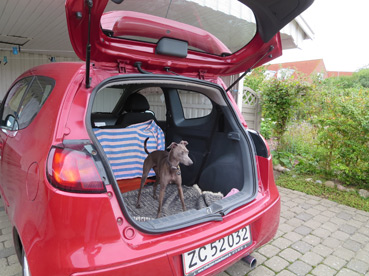 ...while Solo gets in the car ready to go again!
We had a WONDERFUL day - thanks to my friend.

PS The dogs quickly get themselves orientated and work out where the hare/lure will run, so we use various different fields all the year so they don't get too familiar with any one place and also reverse the course after the lunch break.
Never the less, many dogs get so wise, that they can work out where the hare will go, some even know that the plastic coloured cones we use to indicate where the metal reels driven into the earth for the cord to hitch around, (often in long grass) mean a change of direction.
On the very first Whippet run on this video, if you look very closely, you can see the hare actually runs straight ahead of them, yet both dogs turn sharp right!
This is because they already know that the hare MUST stay in the field and will of course turn right being that there's a fence right ahead and to the left, so they cut out the fancy stuff and race to get ahead, which is sharp right, even though they turn away from the hare!! The poor lady operating the hare has a hard job to keep it running ahead of them - but she's an expert!
These and many other ways, the dogs show their intelligence and how they think for themselves rather than just blindly running behind the lure.
New beginners need to learn the art and some dogs never do, but the few with all their hunting instincts intact, can really be very clever and really tax the hare operator's abilities to the utmost!
---
Saturday the 29th of August 2015 - now the 8th blog!
Sitting enjoying a shaft of early morning sun!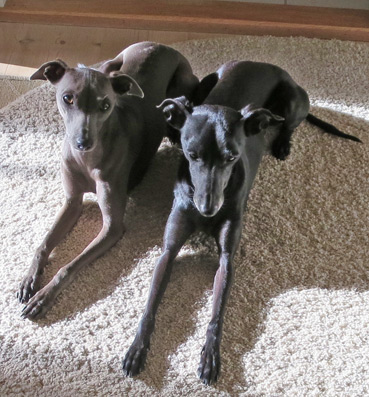 Friday the 28th of August
Plucked this afternoon for our dessert! Yummy!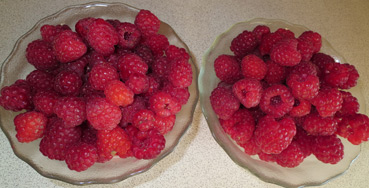 It is fun trying to find all the raspberries often hidden amongst the leaves and hard to spot. Whilst I am searching for ripe fruit I am surrounded by busy bees who are looking for the flowers. Often there are flowers on the same stem as fruit! This particular raspberry Autumn Bliss, goes on creating flowers and fruit until the frosts finally kill it. There are also wasps buzzing around, they want the overipe fruit so they can suck on the juice and ruin them. Each one of us is carefully ignoring the others!


.


Here you can see some flowers extremely low down under my hand, left. and around my hand, on right, whilst fruit in all stages of development sits higher up.
---
Thusday the 28th of August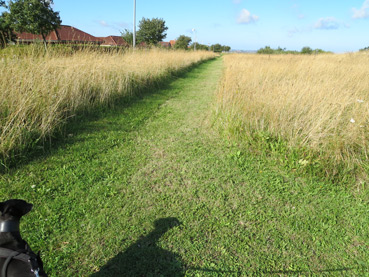 A path in the grass has long been cut running alongside the road at the end of our one, but I take a longer walk and now this morning, "my" path was cut too, great fun to walk along there on the dog walk instead of struggling through a waist high weed patch!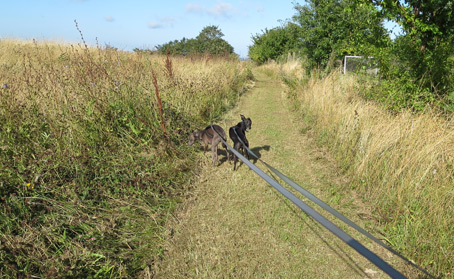 I saw the man who was cutting it and had a chat, apparently it is to enable school children to avoid using the road, but they can now walk to the school along these pathways in the wilderness! Great fun.
---
Monday the 17th of August
The strawberry season has now been replaced by the first of our 3 plums trees to ripen and so after dinner, they dash to grab up the windfalls for dessert!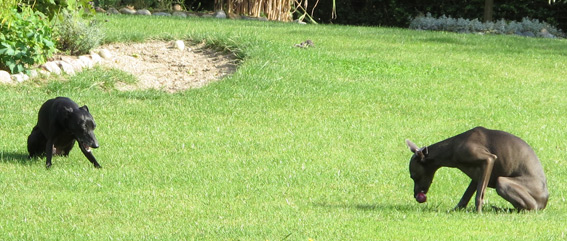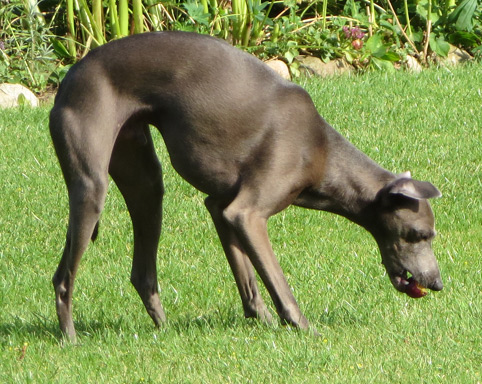 Friday the 14th of August
Fanny's just been collected and the place seems empty - it's like loosing a dog! Even two super-lively Italians can't make up for one Whippet!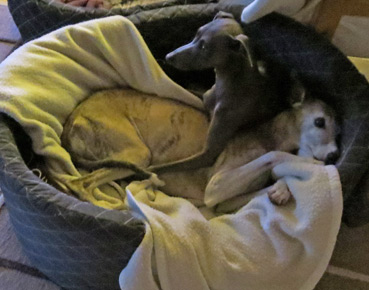 Here she is last night when she threw herself on top of Solo, (her back legs are weaker now, so she sits rather suddenly!) who tried a growl, then stopped as one doesn't growl at "ladies", one is respectful!! So he suffered in silence until his legs probably went to sleep and he was forced to move! Below another picture I found hysterically funny. Again she had flung herself on top and Solo popped up out of the blanket like a periscope!!! ALL my dogs have always burrowed underneath all blankets, regardless of the temperature around them.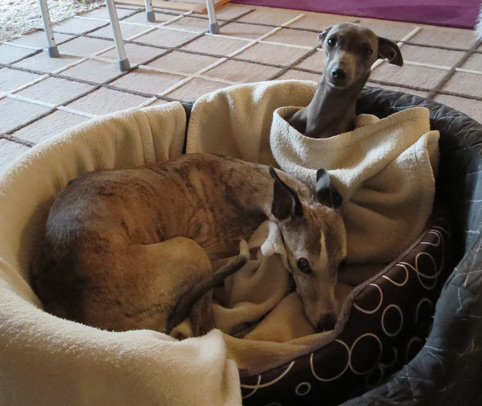 Fanny running again! She loves the game.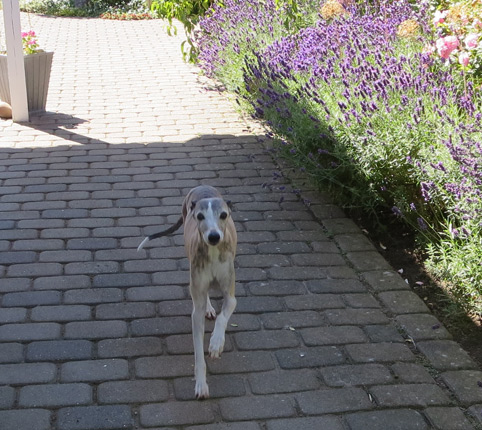 ---
Yesterday we had the most wonderful experience, my night blooming Cereus cactus finally opened a flower in the evening, instead of in the middle of the night. The room was filled with a mysterious perfume and we slowly watched it open into a vertitable "bride's bouquet! In the morning it is limp and shriveling up - there's just one night of madness!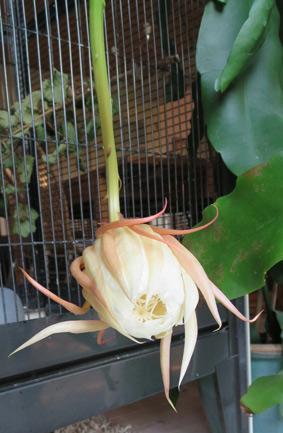 .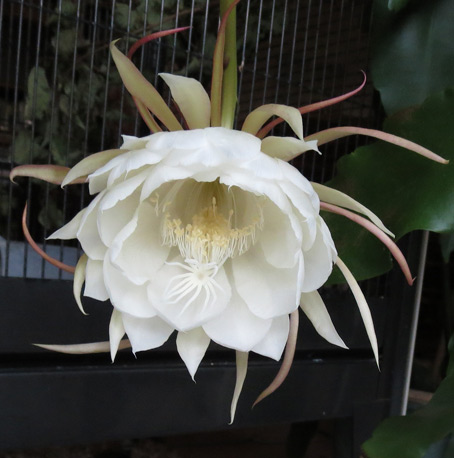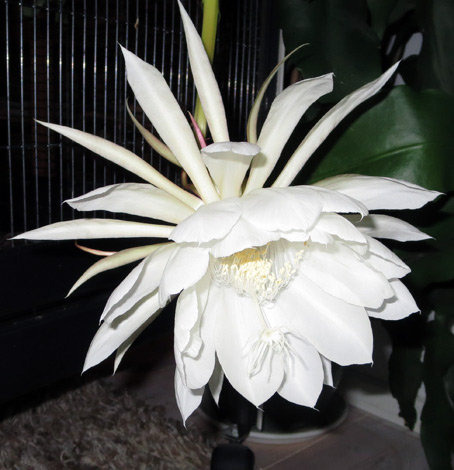 This plant was given to me by a friend who had the "mother plant" and asked us round for coffee in August 2011, knowing one of her flowers would open. As the evening progressed, it slowly opened and we saw it's full glory. I just had to have a cutting! I always think of her when I see and tend to this cactus, as tragically, she has passed away.
---
Wednesday the 12th of August
14 year old Fanny is on holiday here again, just for a couple of days. Here she takes two "rounds", I dare not ask for more.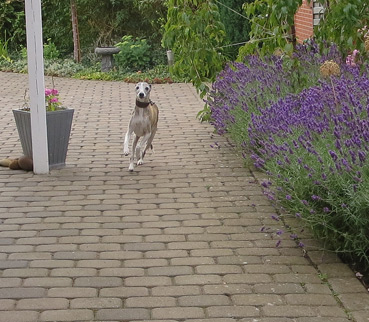 She is exercised and eaten lunch and now wants to sleep. Solo would love to sit with her, but he is too polite - as yet!

.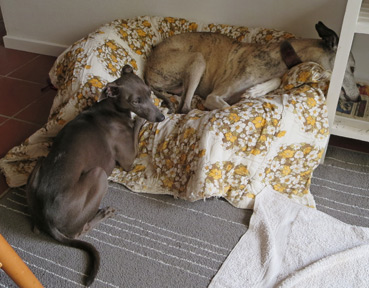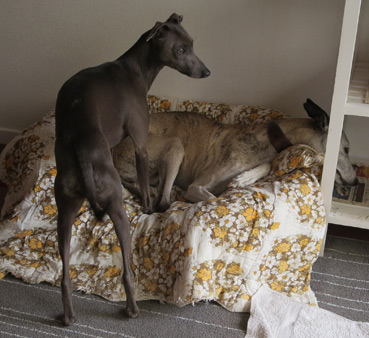 .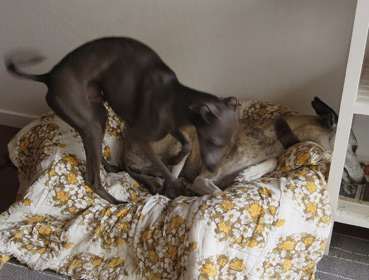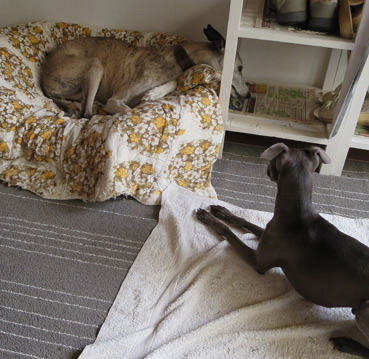 ...but he has to give up!
---
Tuesday the 11th of August
Butterfly on a butterfly bush! So pretty.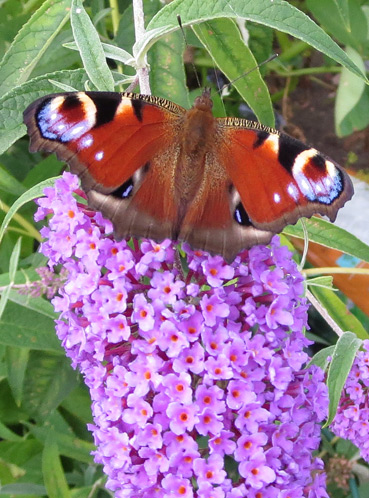 Solo hasn't stolen anything for a long time, so in case we worried about him being ok, he took our favourite biro from the kitchen table top today!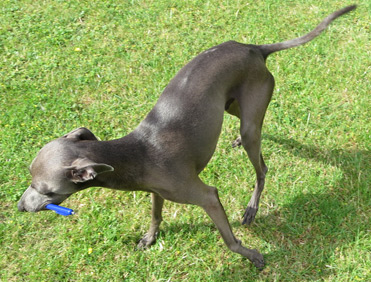 ---
Wednesday the 5th of August 2015 - now the 8th blog!
Waiting for me to attend to them, Dasher and Solo take it in turns to chew each other's head!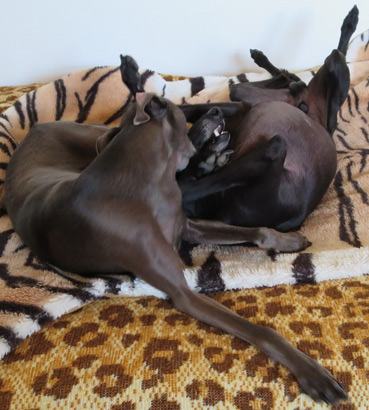 .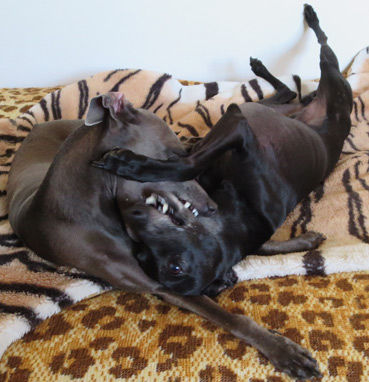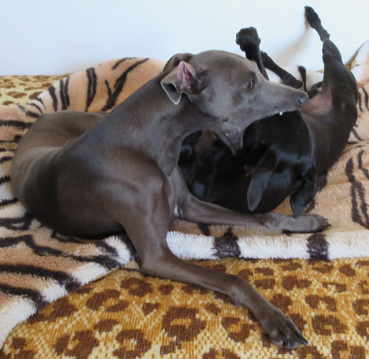 ---
Saturday the 1st of August
Hoverflies are "innocent" little things (and do a lot of good) and at the moment I wade through a field full of waist-high clover and chicory every morning on the dog walk (see below) and see that the flowers are full of them – apart from the usual bees.
They take their time to suck up the nectar, which is apparently SO good, they don't even notice if I stroke their backs!!!!
I suddenly got this crazy idea to stroke them gently - and they never budged!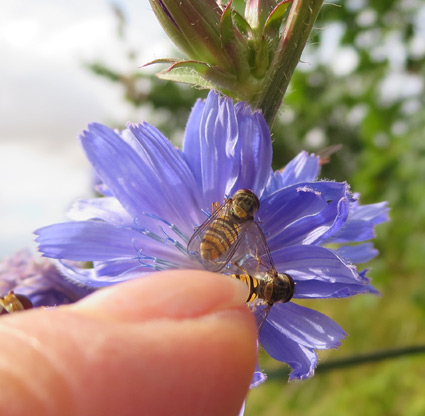 ---
Thursday the 30th of July
We had some friends and their children to lunch yesterday - plus dogs, but I was kept so much on the run, I didn't take a single photo! Unheard of! Great fun though. I will have to rely on theirs. (Oh, found out later that they only photographed the food!!!) We had a wonderful time, despite showery weather. However, I must show you the drawing of Fanny-whippet done by their 9 year old son as a present for me! I think he has, in simple lines captured her "whippetyness" and brindle markings very well.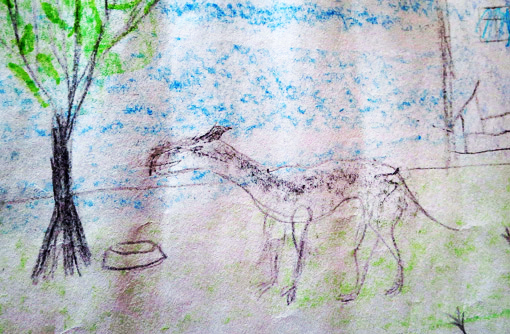 ---
Tuesday the 28th of July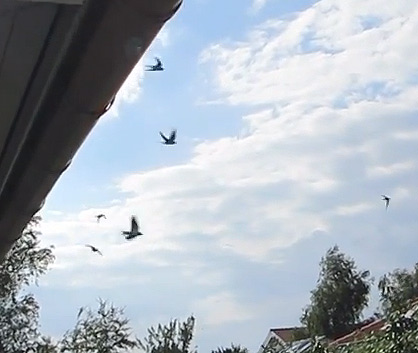 I always love and admire Swallows, their flying abilities and that they can find their way to Africa and back and still nest in the exact same place as last year...here is a short and boring film where they came on a quick visit. They are local birds from the nearby village, the youngsters practising their flying skills and getting in training for the dangerous and long flight to the unknown!
www.youtube.com/watch?v=1FSU8UyfzSM
---
Saturday the 25th of July
29mm of rain fell inside 24 hours yesterday and this morning! (And no, my Grandchild has NOT filled it this time!)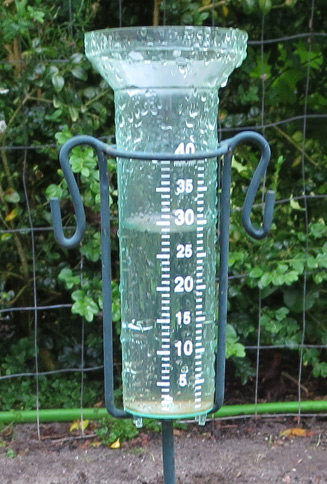 Sunday the 15th of July
It's chickory (not cornflower as I first wrote!) and red clover time now - the blue is unbelievably beautiful.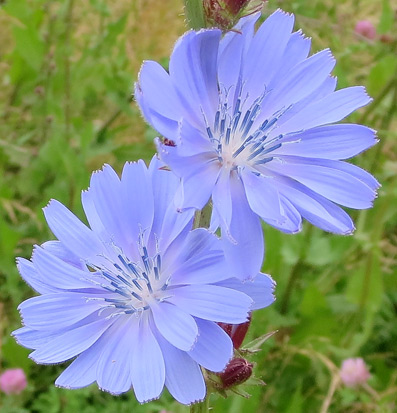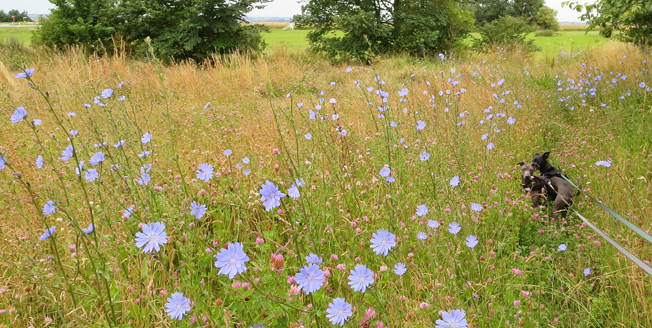 At last a cat photo! I have seen many but not been able to photograph due to battling with two maniacal dogs!!!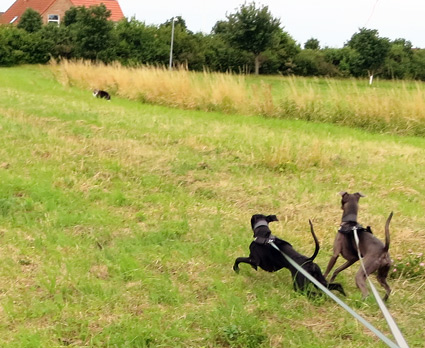 ---
Saturday the 15th of July
A bit of excitement on the morning walk: A very lage hare came racing towards us, saw us at the last moment and turned around some bushes, but I manged to get this shot, with the dogs going berserk! NO chance of zooming in, unfort.


A close-up of the same photo: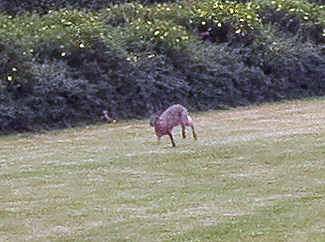 It was nearly as big as the dogs - just shorter legs!
---
Thursday the 16th of July
Some pretty pom-pom poppies!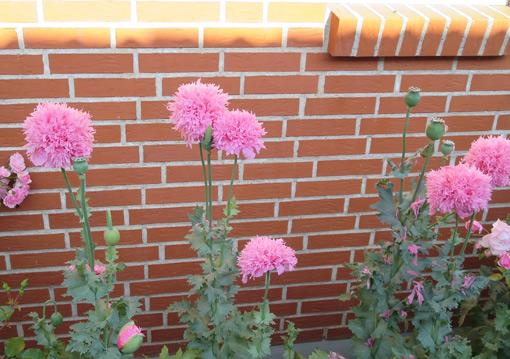 Wednesday the 15th of July


The Blackbirds just love our cherries and eat even as I crawl around underneath picking strawberries. They know and trust me. However, as soon as I got my camera out, Daddy Blackbird lost his nerve, so here he is mid-flight! A lucky shot.
---
Monday the 13th of July
Last photos that will include Fanny, it's a sad thing, but we have delivered her back to her own family now. We are all a little depressed today, not least Dasher and Solo, they are very quiet!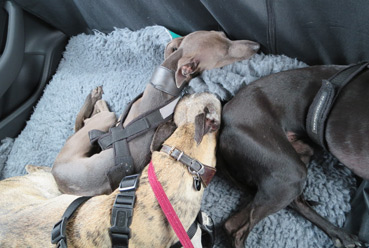 Our oldest son was kind enough to drive us all to Fanny's family where coffee and delicious, home-made muffins awaited. The dogs enjoy the back seat, which is covered in a special plastic dog cover to protect the seats (and prevent the dogs from falling on the floor), on top of this I put a thick fleece blanket for luxury travelling!
Their harnesses are connected to the 3 passenger safety belt click-in places on the back seat.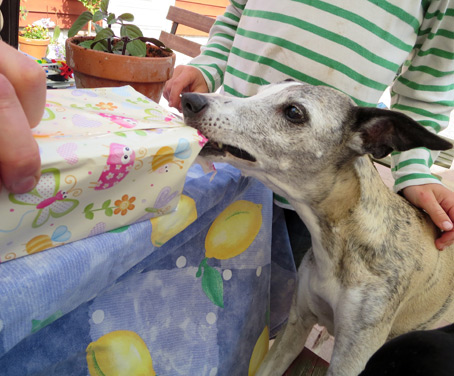 Despite we had already received lovely gifts, the family had found two more presents and even tho' well wrapped in, Fanny's excellent nose told her immediately that this one was a box of goodies for Dasher and Solo so she grabbed it and hung on desperately trying to steal it before we even could unwrap and see what it was!!!
The other gift the family had fallen over on the ferry from Sweden and felt they just HAD to buy it as there was a Whippet on the box - so rare to see this breed anywhere ever, it was a "must have" to buy!! SOOO funny! A wonderful surprise and it now sits on the kitchen table so we can look at it for a month or so before enjoying.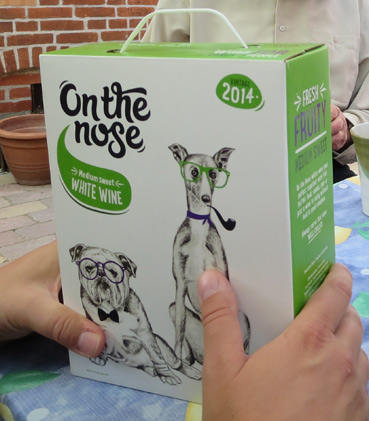 Below, a last goodby with this great picture I must show you of the two oldest sons who had helped us back the car out safely, then they ran around into the wheat field alongside their house and we thought they looked so funny, that my son quickly took this wonderful shot through the side window before we drove off: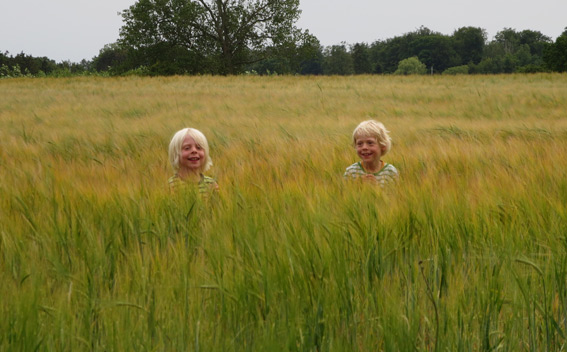 What an unusual summer scene!
---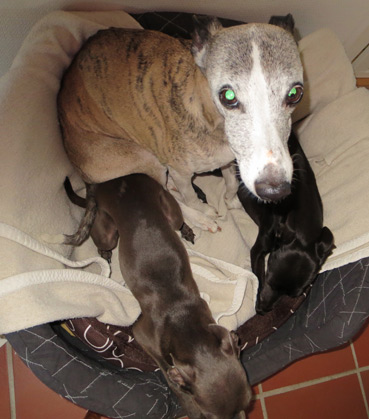 .

She has just stepped in to the bed betwen Solo og Dasher and it's a tight squeeze! They ALL insist on sitting beside me as I eat breakfast. Question is, can she manage to lie down? She moves very carefully.....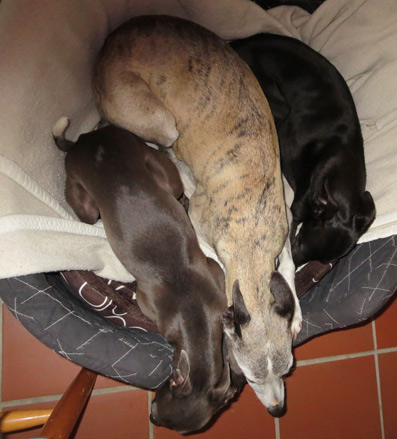 ... and YES! She could just squeeze in!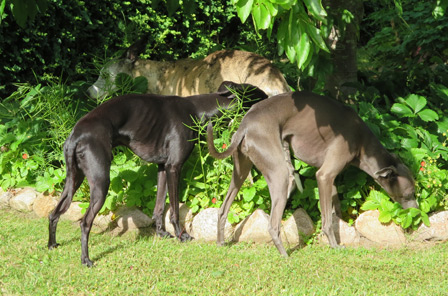 All three stealing strawberries for dessert after dinner a couple of days ago. They are good ground cover under a plum tree so I let them do their thing - our own strawberries are up in the kitchen garden.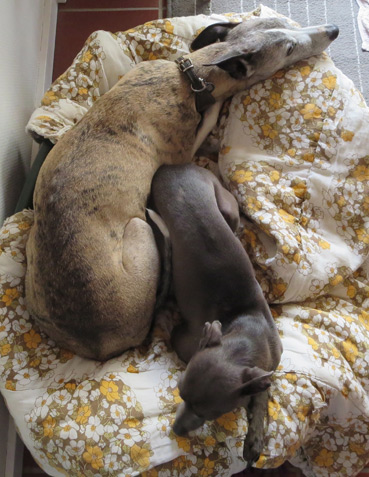 Photo from her last morning here, collar on ready to go..
---
Thursday the 8th of July
See Fanny running around the house for good exercise. She decides the pace. She only runs 4 times in all (3 times a day before meals) but on the film she runs more, as it is made clips from morning, lunch and evening runs! She loves it, but cheats if she can as all she really wants is the 1/4 Frolic pieces they get each "round".
www.youtube.com/watch?v=-t2Rg-HXiiA

Wednesday the 8th of July
Beside me whilst I ate breakfast this morning. Fanny has become more and more my shadow and wears herself out trying to keep tabs on me all day! Mostly I show her where I am or what I am doing - and Svend is with her if I work up in the kitchen garden. Here she is enjoying the sun in the driveway.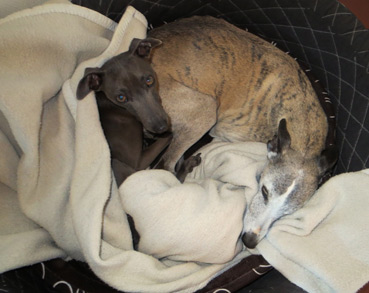 .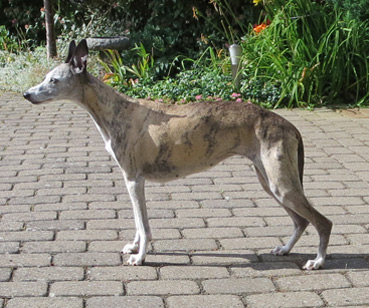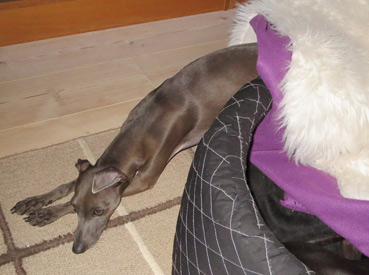 .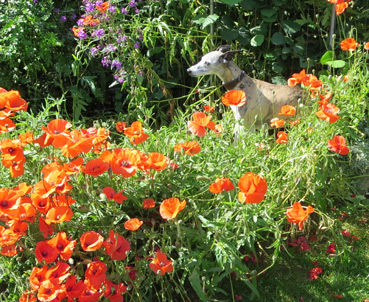 Last night Solo got too hot and gradually fell out of the bed! Right: Fanny in the poppies that have grown up around the dog's toilet area! Fanny eats the odd leaf or two - she wants her opium fix!
---
Saturday the 4th of July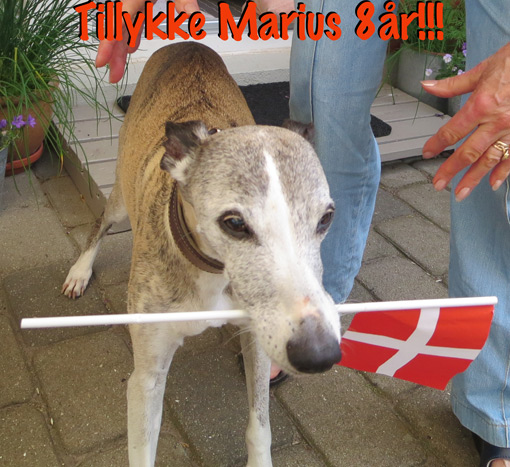 More "Fanny-on-holiday" pictures! Below, on walk this morning.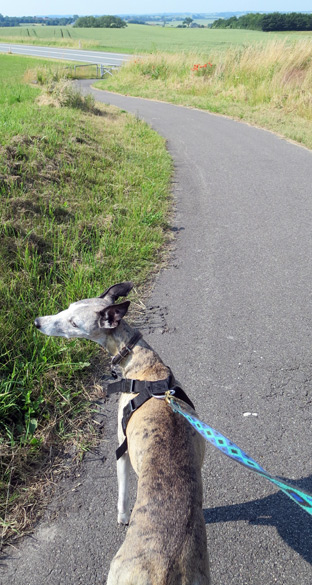 .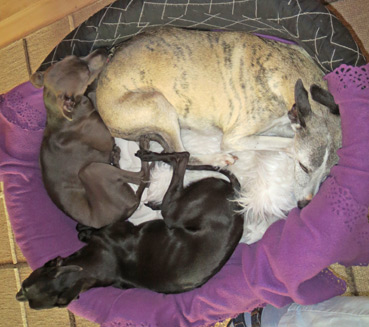 Right: While we watch tv in the evening yesterday.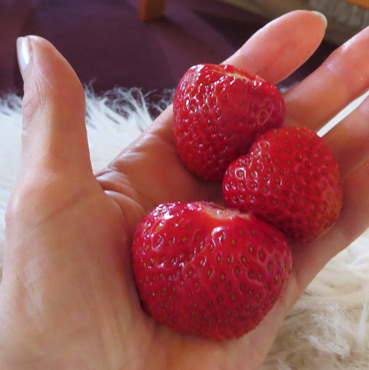 Some of my strawberries are enormous! Below: Fanny is as addicted to Chinese cabbage, as all my dogs for more than 30 years! They get it as "dessert" after dinner and I must never run out as the look in their eyes will murder me! I'm sure the fiber is good for them. (They don't want the green, just the scrunchy white stem.) We eat the green tips in salads.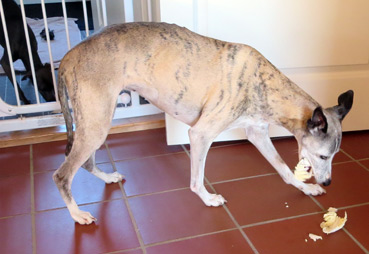 .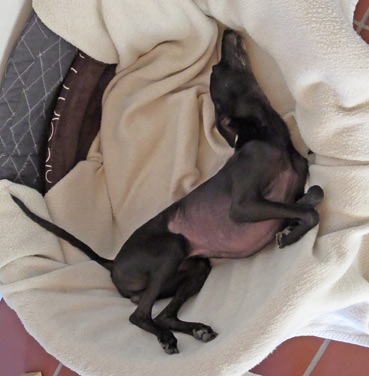 Above right Dasher is shattered after a long hot day and his skin is quite pink! See the temperature at 2pm today. (It was over 33 later on.)


.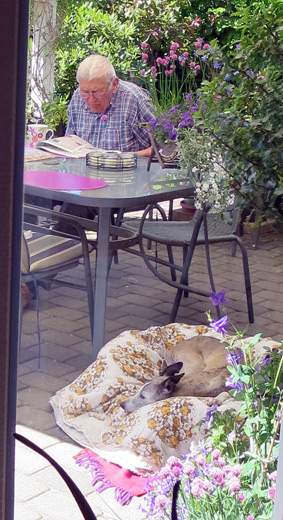 Above right: Taken from inside the kitchen, Svend has a coffee on the patio and Fanny sleeps.
.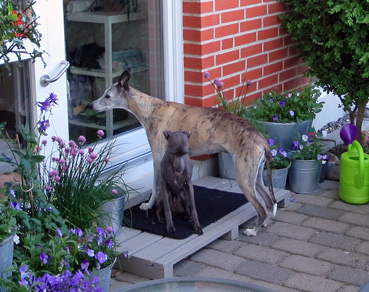 Waiting to go in after the early morning pee!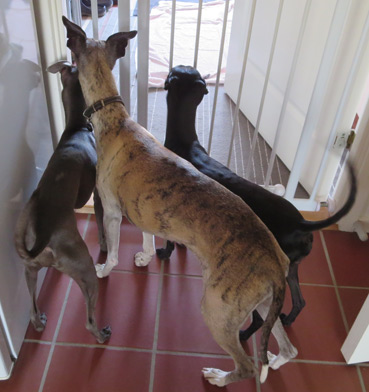 All are agog as Svend is coming home any second!
---
Wednesday the 1st of July
I arrive home after the walk with the boys and there is Momma blackbird, having bathed in our birdbath, re-organising all her feathers standing on our postbox! She's not budging for us, so we have to wait patiently, as she knew we would!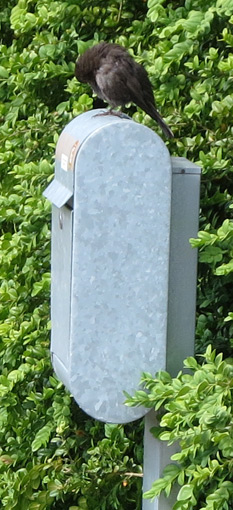 .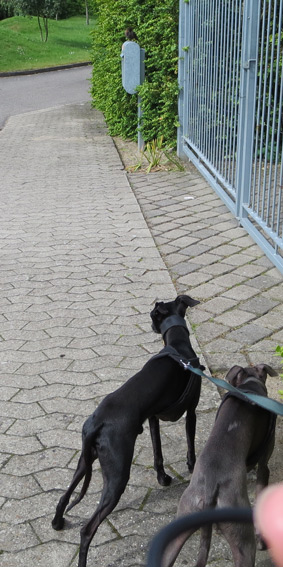 Solo and then Fanny suddenly shot into the flower bed after something exciting! I wait and photograph them coming out - yet another false alarm - luckily!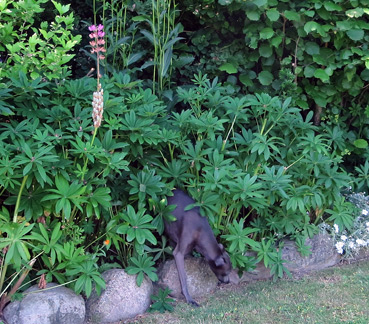 .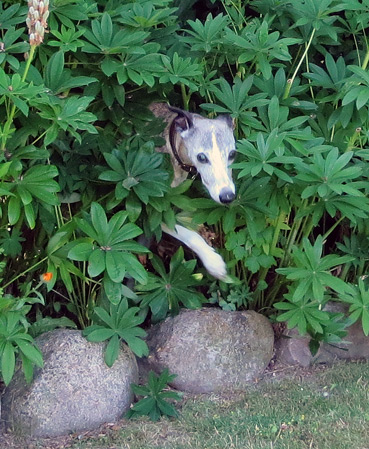 ---
Monday the 29th of June
I am eating breakfast this morning and everyone wants to sit in the dog bed that's beside me.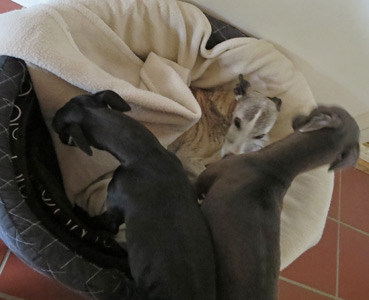 .
Fanny grabbed it first, so the two Italians are very disappointed. Then Solo manages to sneak in, but there's no room for Dasher, who stands a long time with just his front paws inside. I settle him in another bed. It's "visitors come first" here!


Later on, sunbathing on the patio - except that the sun has gone - again!
---
Saturday the 27th of June
Fanny-Whippet's family are on holiday again and so she has her own little holiday with us!
Here she is running around the house with the others yesterday. How many dogs can take this exercise at 14 years of age? She is in good form, back legs just a little rickerty, she's is very deaf and can't see too well either, but this is very normal in extreme old age. She just runs 3-4 times and at her own speed and with enthusiasm - and she's not even breathless!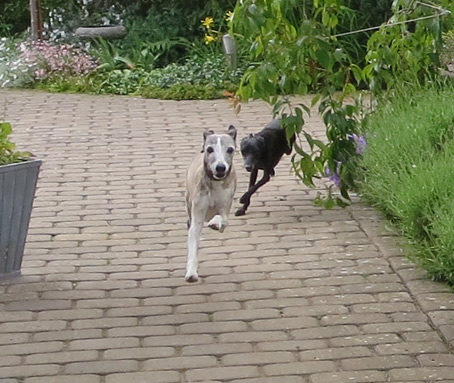 Dinner time and I grated carrots into our salad and the dogs adore the stump. Fanny got the biggest and in seconds Solo had chewed up his and then stole Fanny's right from under her nose, literally and here he is gulping it down under the table!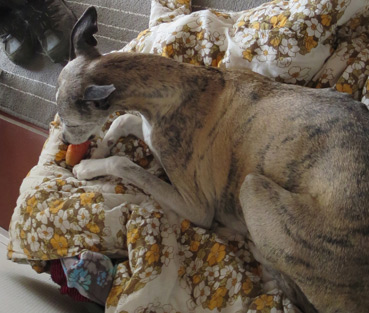 .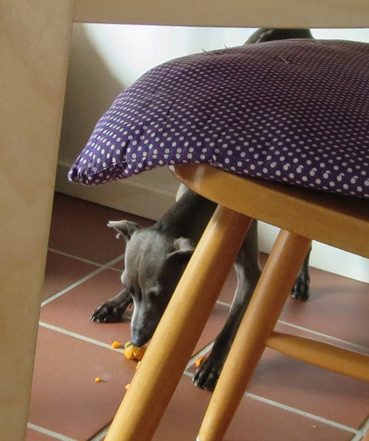 Useless to try and rescue any! Below Fanny and Dasher lie beside me in the evening as I see tv.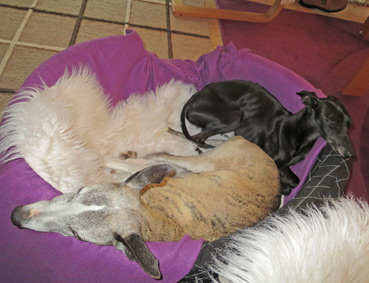 Today family came to lunch. Here, the dogs assist the unpacking of the car!


Fanny is well used to small boys so she's good for a kiss!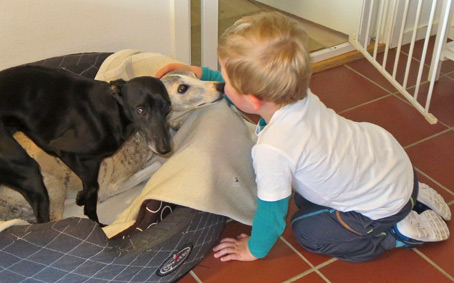 Below Grandchild with my blind canary sitting on his finger! He loves doing this every visit and it's a rare opportunity.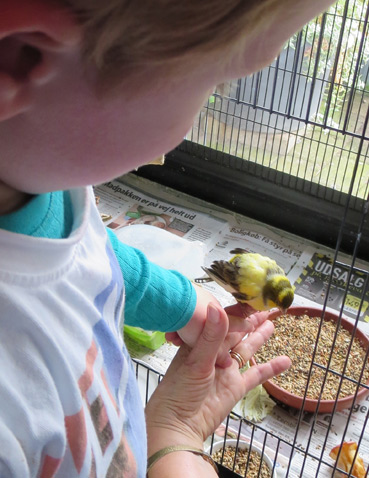 See my rain water measure story below, the 16th of June - here we caught the culprit in the act of doing it again!!!!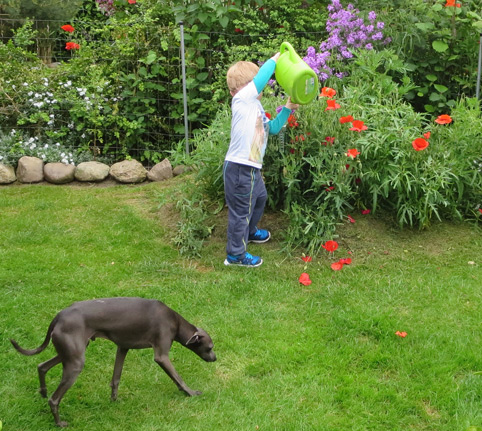 Here are the strawberries we ate - well nearly all of them, rest are frozen down!


I idly photographed this fly sunning itself on the wall yesterday and was amazed at what detail there was - my little camera is very good! Of course I have heavily cropped the picture.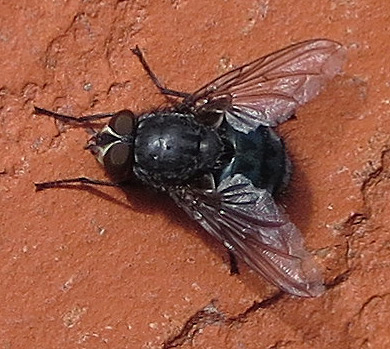 ---
Wednesday the 24th of June
I was waiting at the bus stop this morning – more dreary, dull and cold weather with a touch of rain - when the big taxi-bus that drives handicapped people to the hospital, drove past me, then suddenly stopped dead.
After a few seconds I looked, wondering what on earth was wrong.
It just stood there stuck in the middle of road – THEN I saw why: A mother duck wanted to lead her ducklings across the road! The driver must have spotted her on the verge, see dark blob on right side of the road and so he waited for her. She was scared and unsure at first, hence the long wait and just as I was thinking I would have to go and shoo her over to help the driver, she summoned up courage and crossed the road and I got these two very bad shots.
In the first you can just see the little family by the roadside to the right and second photo she was safely over the road and well to the left in the photo, difficult to see as the road is steep downhill, so get your magnifying glass out!!!
Even the horse looks like it is wondering what's happening!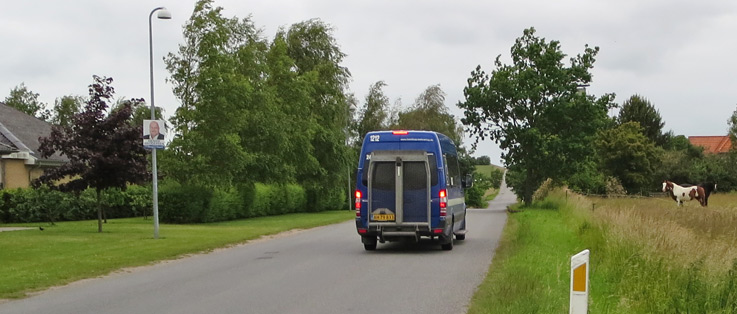 .


---
Yesterday, I plucked the first strawberries - nearly 3 weeks later than last year due to the cold weather and not much sun.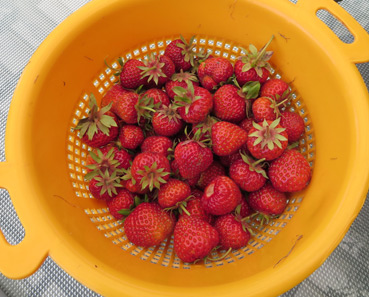 Two more photos of busy bees, we have quite a few different wild bees, I am trying to photo them all.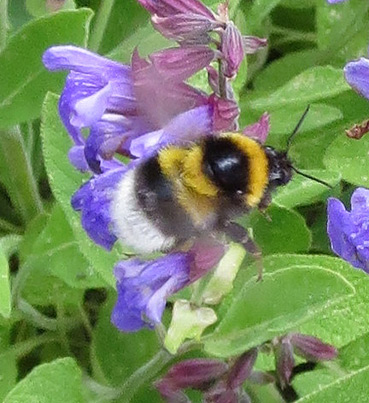 .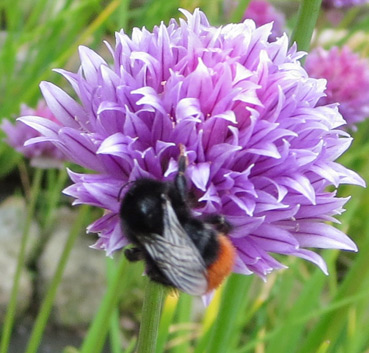 ---
Tuesday the 23rd of June
Hurrah, today we have had Solo 2 years!



Svend says he cannot see anything to celebrate?!!! Joking, tongue in cheek, because Solo still keeps us on our toes: Svend's shoes are always on the move, his wrist-watch chewed to bits and stealing up on the tables, he's even leapt up and stolen from Svend's plate...to name but a few of his crimes but so MANY laughs and entertainment too!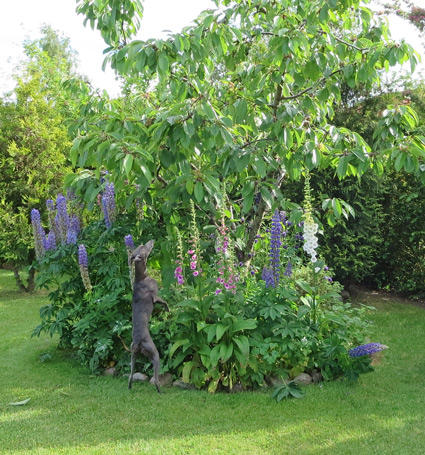 Here is his latest antic, stealing cherries (still green) from the tree. He now plucks them himself. Above, getting a sighting. Below sussing them out. Lastly, leaping up and plucking them!
(Anyone worrying about hard cherry stones in a dog's stomach needs to know that the stone has not yet gone hard at this stage so is easy to scruch up whilst still green!)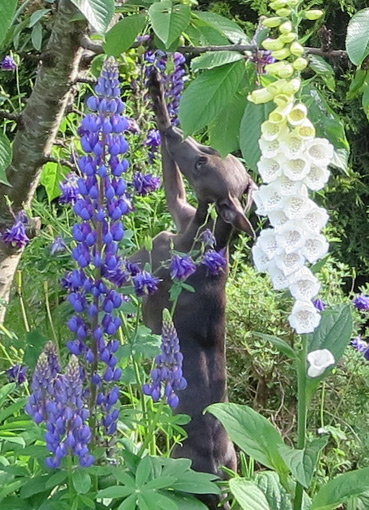 .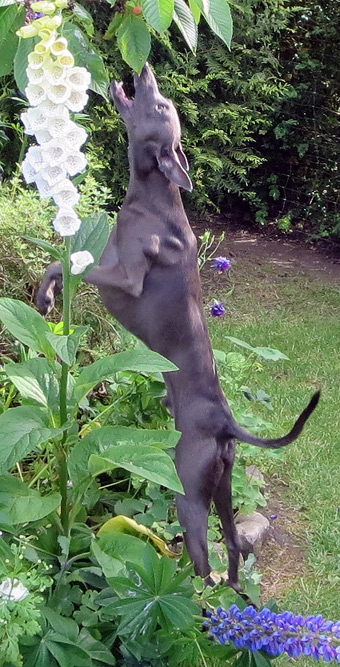 Dasher can't be bothered to eat unripe fruit - he waits until they are ready! Here he is sunning himself as I eat lunch.


No, Dasher is NOT too skinny, this is the way the shaft of sun caught him and maybe he is breathing in?
---
I love chives - the flower is so pretty and my favourite colour, so I even have them in the flower beds! They sow themselves.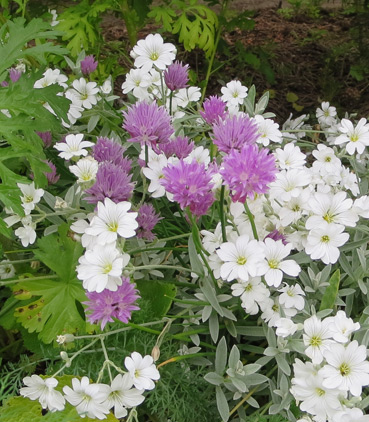 ---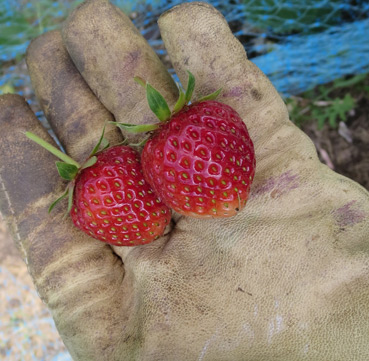 The first strawberries today the 22nd of June - 3 weeks later than last year.
---
Friday the 19th of June
SOO cold here the dogs had to wear coats this morning - it was windy and raining too... we are having a record cold June...


Solo eats the GREEN cherries that keep falling down off the tree! Dasher knows better than to be so stupid.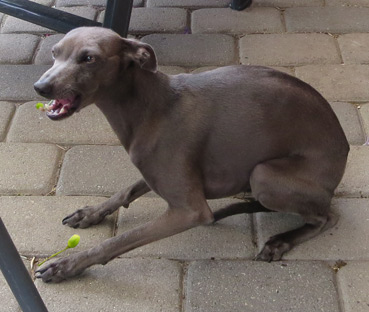 .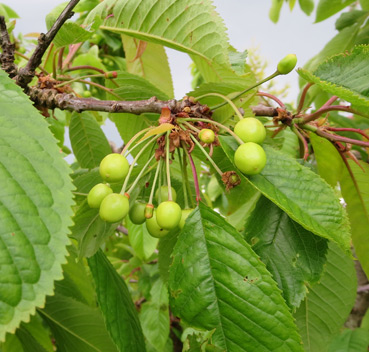 A cardboard box came in the post and of course Solo grabbed a piece as we unpacked: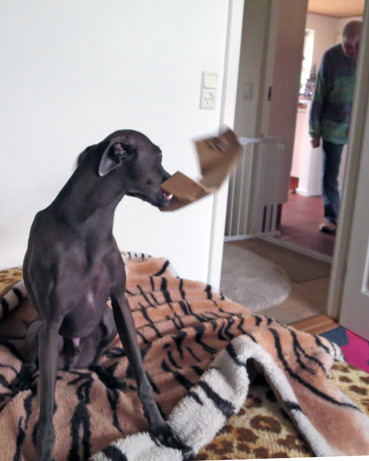 .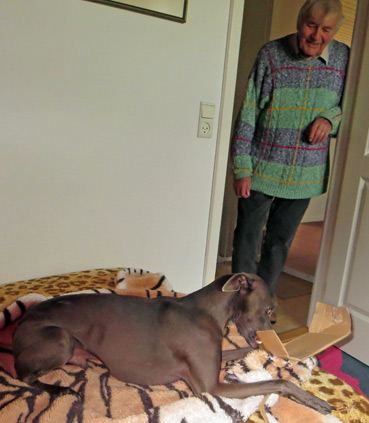 A rare day of sun and Svend's shoe is carried outside again!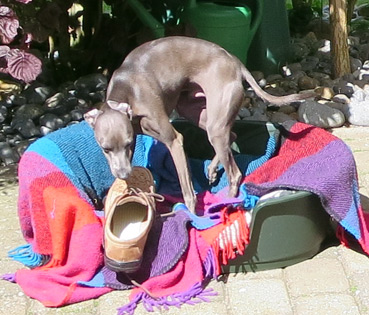 ---
Tuesday the 16th of June 2015
Funny little story
Early one morning on the weekend, I woke up and stepped outside to see it had been raining hard and everything was dripping wet. This was badly needed as the earth is so dry it is cracking open and my strawberries won't ripen, so I was SO happy.
I studied the rainwater measure and to my amazement, it was nearly full up showing 33 mm of rain! An absolute record, I could hardly believe it. (Look closely at the photo, you CAN just see the level.)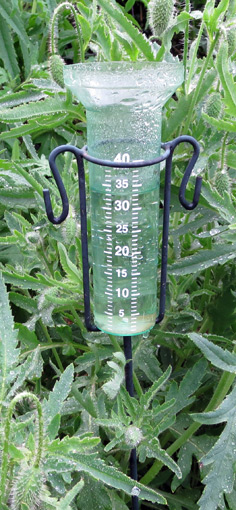 So I immediately asked a friend living nearby with an identical rainwater measurer, (I know this as I gave it to her as a present only the other day!!!) and hers showed only 5 mm. - VERY mysterious and when I later looked more closely, the ground around here was still cracked and dry.
I was just wondering if Svend had filled it up to tease me when the answer jumped into my mind and I laughed out loud and long: My grandchild of 3 years was here with his family to lunch the day before and HAD been spotted walking around the garden with my smallest watering can - no harm in that, we thought - but he has undoubtedly filled the measure up, bless him, not knowing what the real purpose of it is!!!
(I had even entered the record amount in our diary and took the photo as proof!)
Below, you can see the watering can now retrieved from a sidegate plus my innocent looking Grandchild saying "Who me???", ha ha!!! I was nearly fooled!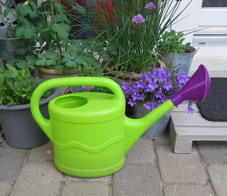 .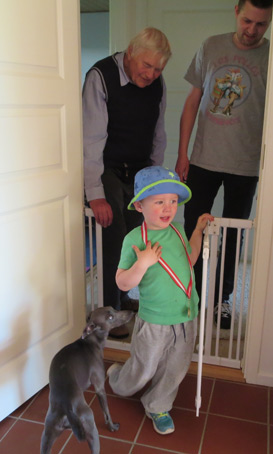 Solo was so dead tired after they went, that he slept soundly for several hours! This because he is good to fetch a tennis ball, so they threw a ball for him many, many times until he was quite worn out!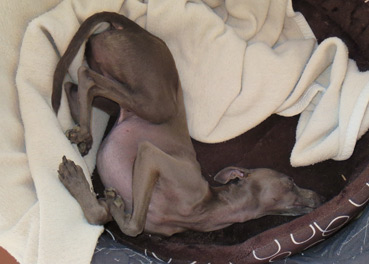 ---
Sunday the 7th of June
Easy-going Bella came on a visit yesterday! She knows how to behave even with hopeless and rude youngsters like our Solo who ran after her barking and saying "Get the hell out of here!" in dog language! She did her best to ignore him.



Here, even Dasher has a bark, but he knows her and also knows she is female, males have great respect for females!!!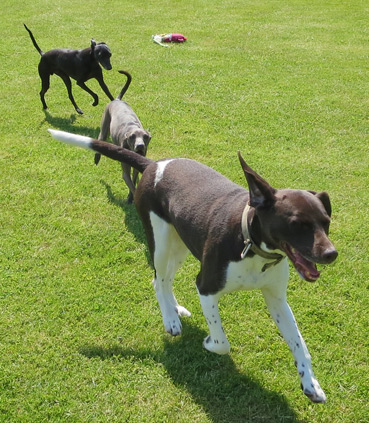 "Everywhere that Bella went, the dogs were sure to go..." as in the nursery rhyme!



But then she did a wee and THAT was interesting and really slowed them up!!!!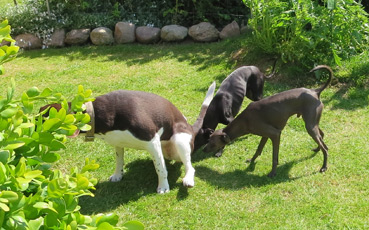 Below, later on as we sat outside in the good weather with coffee and cake, she found one of their old, discarded bones to chew. See Solo, he wanted it real bad!!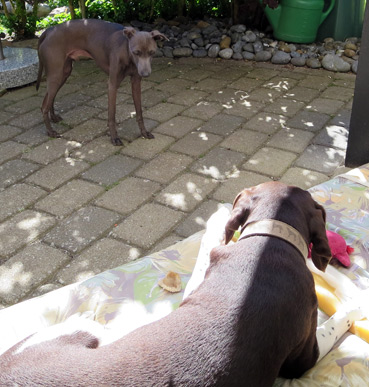 Below, my chives are flowering so prettily in the kitchen garden.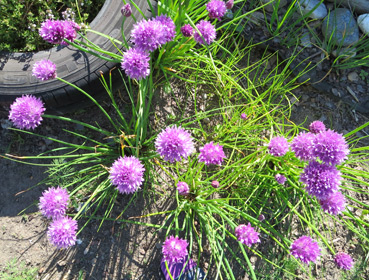 Below, my garden chair appears to be floating in a cloud!!!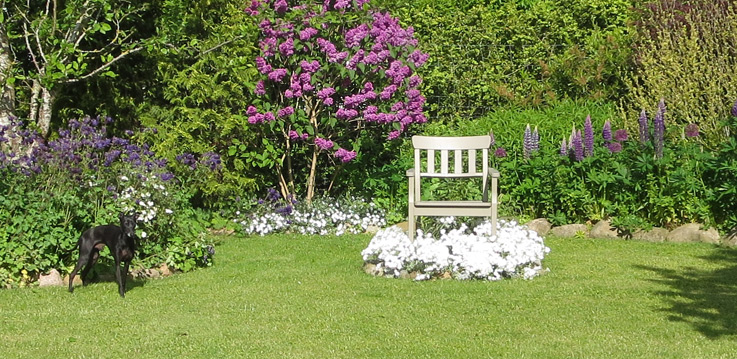 Saturday the 6th of June
The dogs and I just got off the little pathway in time this morning as two ponies crossed the main road and came our way!





Below: Big strawberries on the way, just need some warmth, we've had a very cold spring...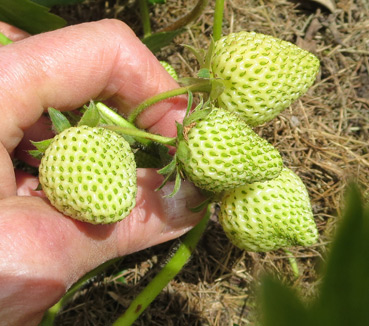 .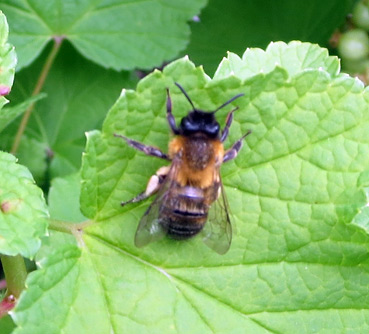 Right: A bee having an afternoon rest!
---
Tuesday the 2nd of June
The nuisance and happiness-ruining Magpies have been at it again: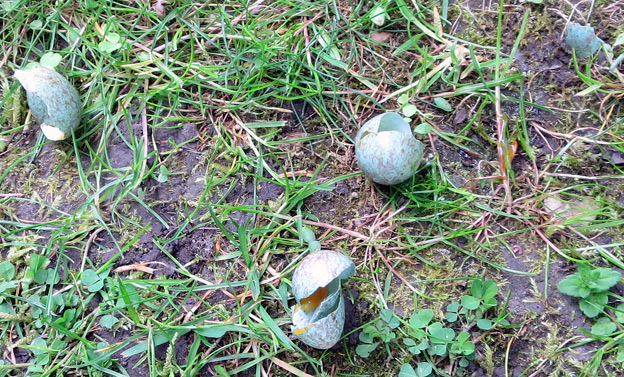 Smashed and eaten - still wet and sticky some poor Blackbird's eggs early this morning.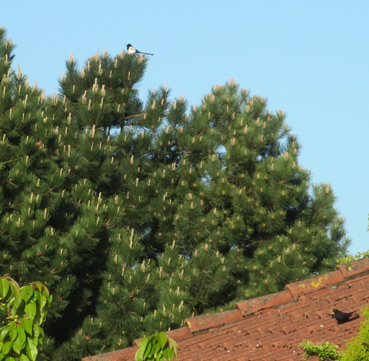 See the baby bird killer spying out it's next victim at the top of the trees? Ugh.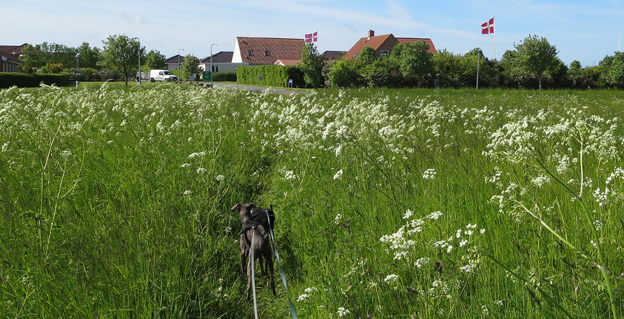 Two flags up this morning - June is a good month for birthdays. The path is so overgrown you can hardly see the dogs!
---
Monday the 25th of May
Unfortunately, our expert bird-killer Solo has discovered Momma Blackbird's new nest in the box hedge at the end of the patio and I have had to protect with a wheelbarrow and wire netting. He gives high leaps and bangs and shakes the whole hedge so it's just before the eggs are scrambled - but the wheelbarrow foils him now.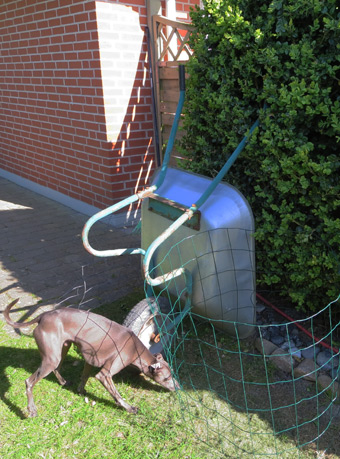 .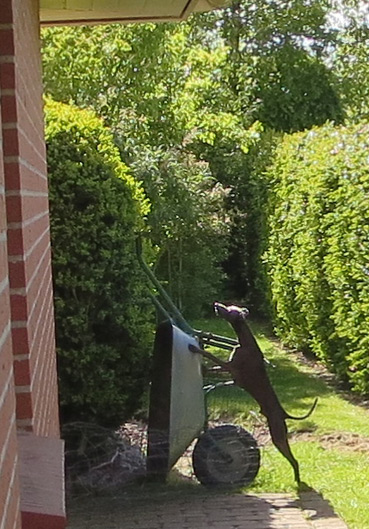 It's lilac time!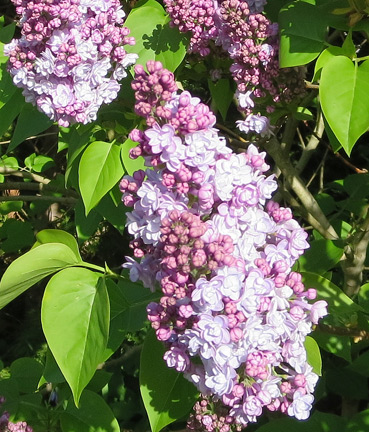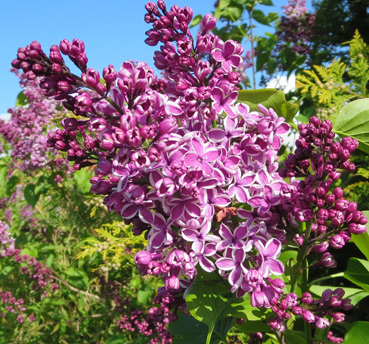 .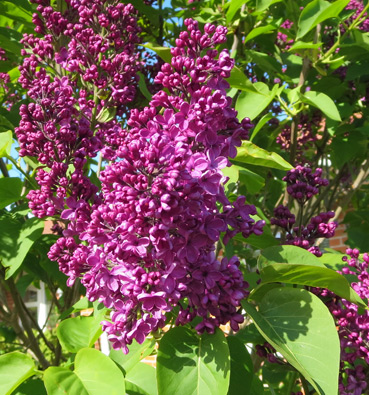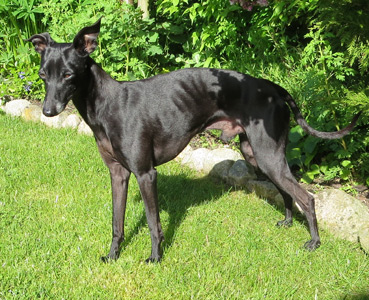 Dasher looking beautiful as I photograph the lilacs. Below action and chasing about.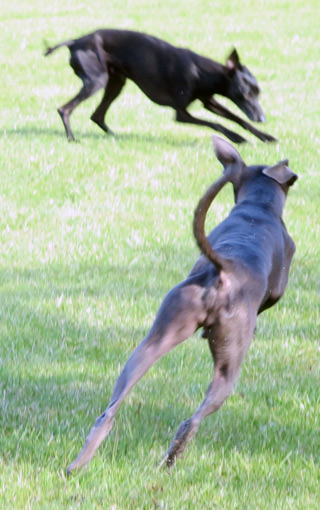 Friday the 22th of May
The apple tree has a record amount of blossom. You couldn't squeeze another flower on!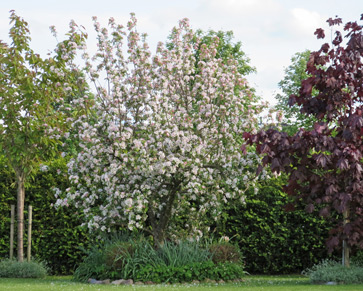 .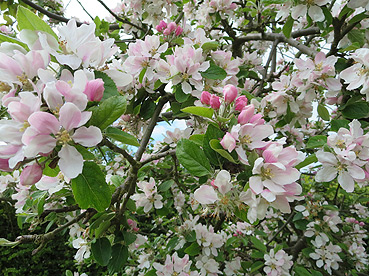 Tuesday the 19th of May
Our guests are unanimous that we have the world's most nature-filled interesting bus stop view to entertain whilst one waits for the bus!



There are always several hares, (the other morning 4 were having a friendly fight!) a Moorhen couple where she is sitting on the nest, two ducks, a noisy Peawit always flapping around screaming and courting his two female partners, a little flock of house martins swooping about after insects and chatting to each other and two horses in the distance held back by an electric wire as half their field has a badly broken down fence. Also various passing seagulls!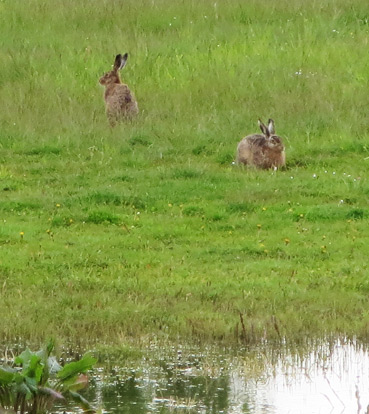 .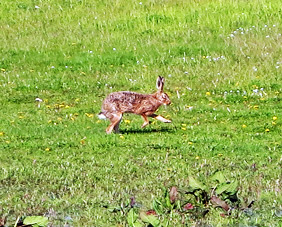 Three hares early one morning plus Peawit.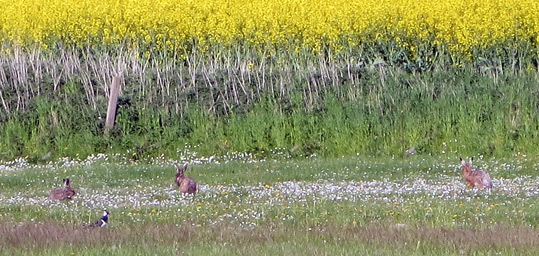 The huge field of mustard and one hare. Below my cousin photographing the dogs sunbathing in the afternoon.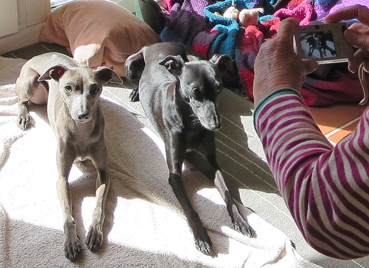 (The cushion behind them is to wedge the door open so it can't slam on a little foot or leg on a windy day. An accident can so easily happen and it's a heavy glass door.)
---
Tuesday the 12th of May
Solo still steals and this time he has unusually destroyed poor Svend's metal watch strap. We couldn't find Svend's watch after he took it off yesterday evening to wash some dishes and we looked everywhere but then this morning I find it on the lawn, all wet from the night dew - but still working!!! Unfortunately, the metal strap is chewed to a million pieces. Here is Dasher checking it out. He would NEVER do anything like this. So Solo is in disgrace - but he doesn't know it!!!!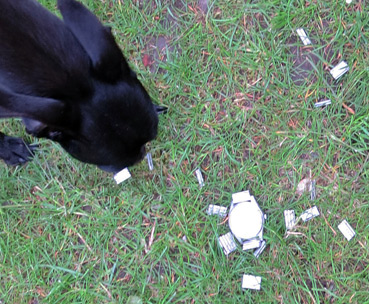 Monday the 11th of May
Tragedy hit a few days ago: Momma Blackbird laid 4 eggs and left is a photo of 2 of them. (They lay one a day in the early hours of the morning.) Then I photograph two mornings after and the nest was shockingly empty, see right.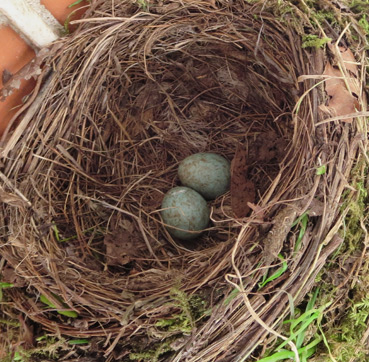 .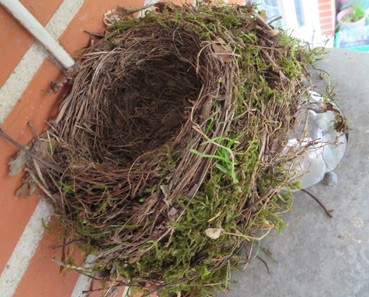 So despite our best efforts, the horrid Magpies HAD seen the nest-building activities, kept an eye and then raided the nest and eaten the 4 eggs for breakfast before we even woke up in the morning. Later on, Dasher showed me where the shells of 2 of them lay on the lawn still all wet and sticky. I am SO upset on Momma's behalf.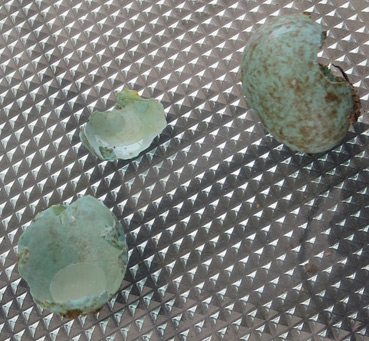 Here you can see how near she was to all of us - you can just see the nest on top of the outside light: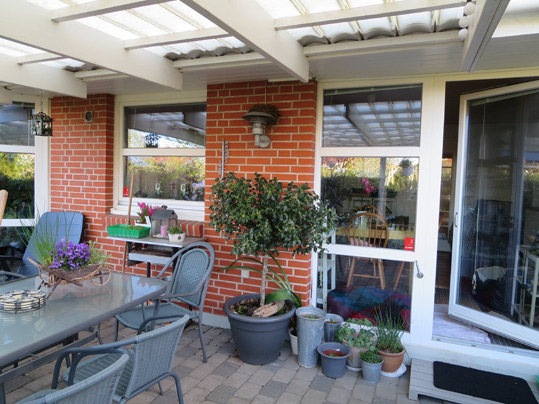 Terrible that we were unable to protect her.
Meanwhile, my brother is staying here from Florida and my cousin from the South of France, so I am kept VERY busy!
Below: Help on the morning walk.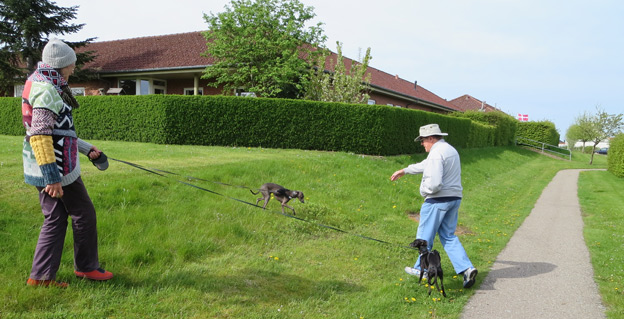 Below: Solo loves my brother!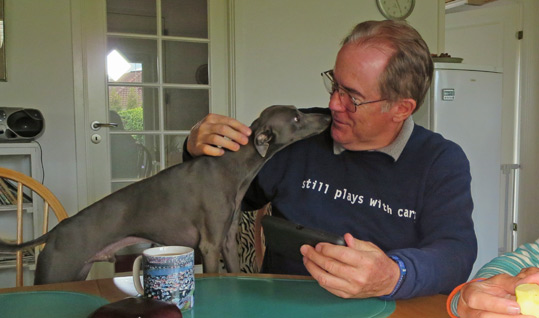 We were 10 for lunch Sunday and here is my youngest grandchild about to hide behind the flower beds with a dog toy he is sneaking off with!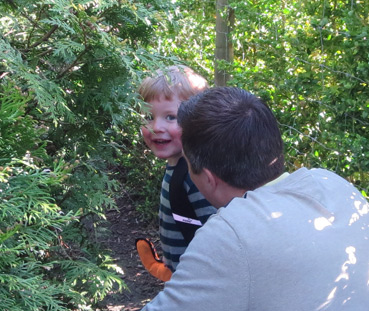 ---
Tuesday the 5th of May
Despite torrential rain and high winds, our oldest cherry tree struggles on - you couldn't squeeze another blossom on it's overloaded branches! Right: The ornamental cherry by the front door - excuse window reflections

.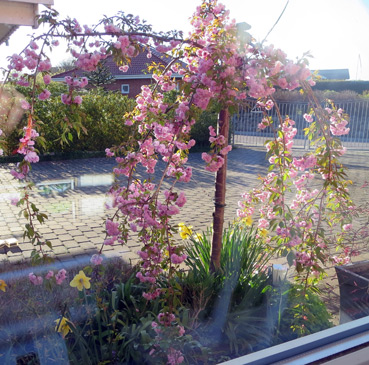 Momma Blackbird has changed her mind! She is now building on a patio lamp by the back door! This time I will let her have her way. She will have to put up with us eating out there just underneath and her swooping over our heads to and fro...


Here she is yesterday morning and this morning - it's not going to be easy.....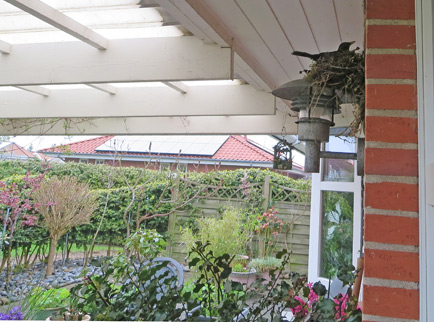 ---
Saturday the 2nd of May
Camino and mistress visited us again last week. Cam found an old discarded bone on the floor and started chewing on it. This woke Dasher up to the fact that it was HIS bone and NOW he wanted it badly...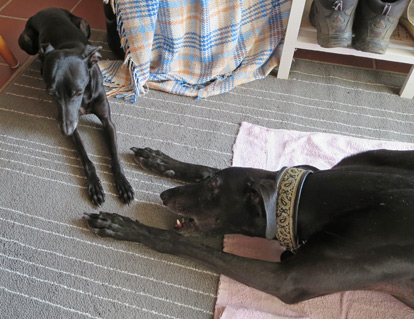 - after ignoring it completely for months!!!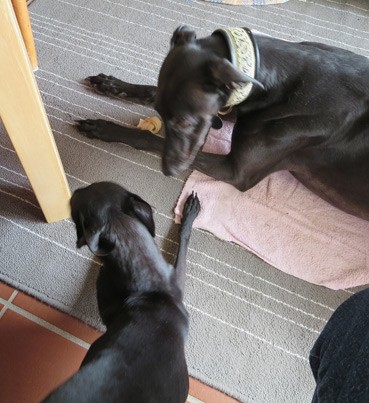 Dasher tries to paw and prod Cam on his back and does all sorts of distracting moves, dancing around him.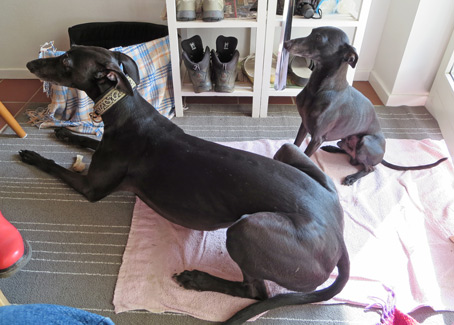 Camino knows it's not his and looks up at his Mistress for help!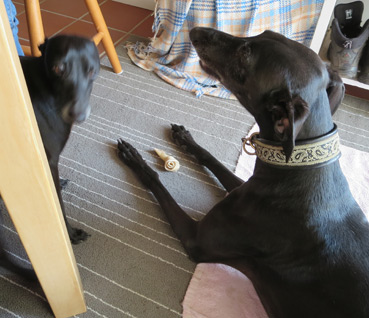 Dasher gets ready to grab whilst pretending to look the other way...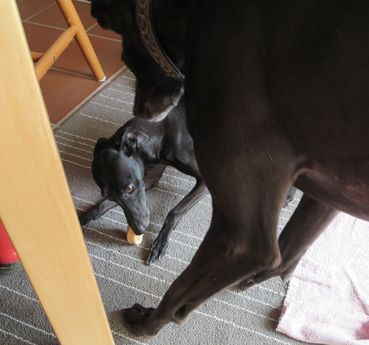 .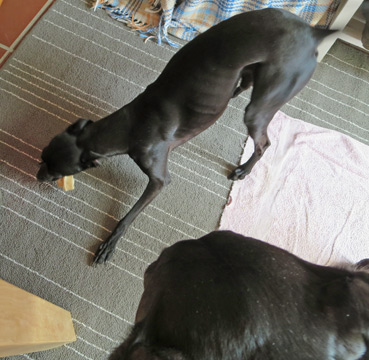 Finally, Dasher grabs the bone as Cam stands back - Cam is on best manners as he is fully aware he is not at home!!!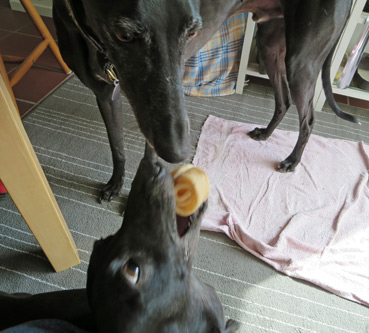 Then Dasher has the cheek to prance around showing off and saying to Cam: "See what I've got and you can't have it, ha ha!" and is really taunting him!!! Cam is surely cursing under his breath but he's a kind, polite dog when out visiting!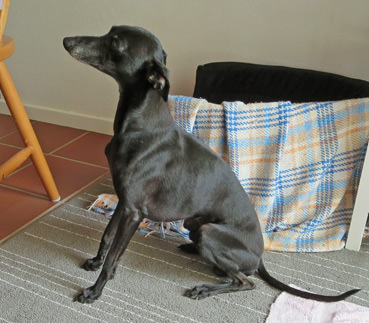 Later: Begging our guest for attention at the kitchen table.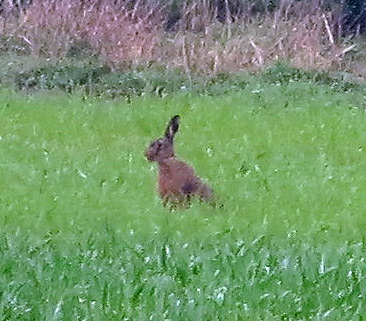 .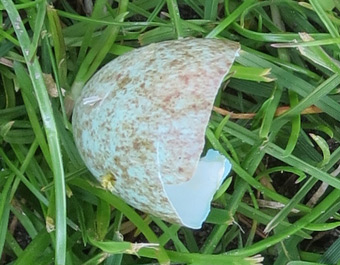 Left: Hare in a nearby field and right: The first Blackbird egg has hatched and the shell tossed away onto the lawn!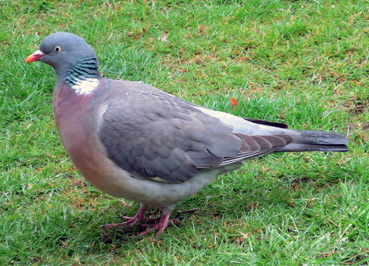 A big fat pigeon on a visit - until he spotted the dogs....

Sunday the 26th of April
I can now see where the nest is! Same place as the Linnet's last year. She has started building today as it rained and this gives slushy, mouldable nesting material of dead leaves and my rock plants. Below, caught in the act!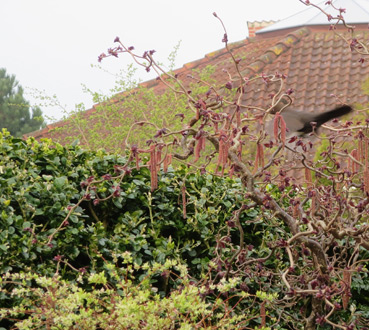 .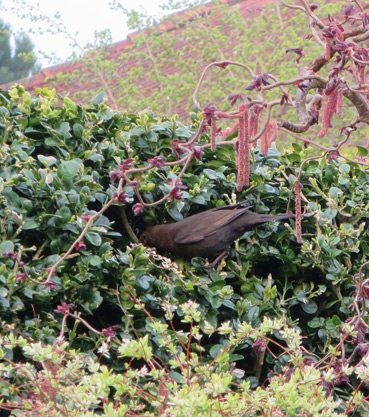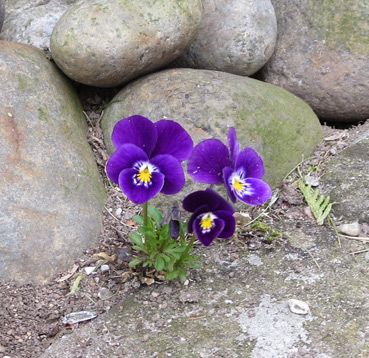 A cute pansy sowed itself last year, survived the winter and now is flowering!
Below, Greyhound Camino and mistress visited us briefly last week.


Dasher is daring him to give chase - and he did chase them both but we had to stop it as for obvious reasons - it's no good big dogs playing with tiny "pencil thin-boned" little dogs. Collisions happen so easily and the "prey" want to stop, whilst the one giving chase is having too much fun to stop...


Below Cam after Solo - see how high Solo is off the ground!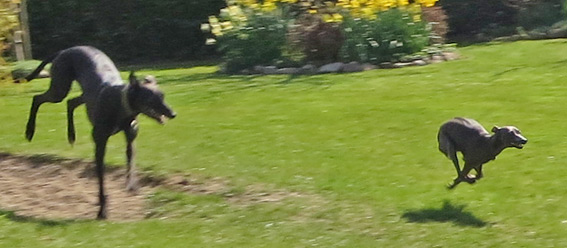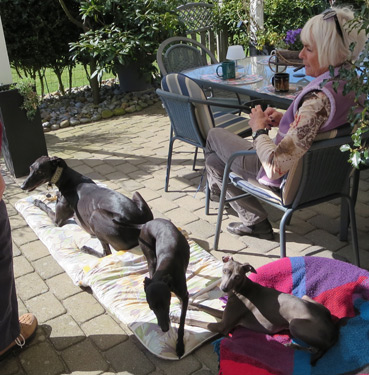 Coffee and cake outside in the sun.
---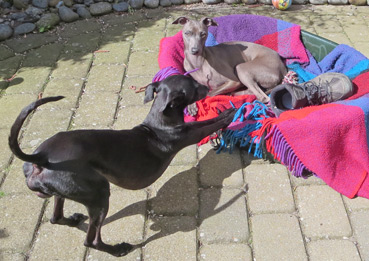 Dasher wants to share the bed but there's no room thanks to Solo stealing a boot!
---
Tuesday the 20th of April
I'm pretty sure Momma Blackbird is nesting in our patio box hedge, just can't quite make out WHERE – yet.
Maybe she hasn't decided either as she – and he – pop in and out from several locations. Also, up at the far end there's a Linnet nesting - they sing so prettily.
They do this even tho' the dogs are out to kill them if they can and we sit out there weather permitting and generally are spoiling their privacy and secretness.
But I think I know why they prefer a dangerous intimacy with humans and dogs rather than being further away from the house: There is a family of Magpies nesting in some high fir trees - high by our standards because some 20-25 years ago here was just farmland - from the top of which, they can spy on all the activities of every single bird for half a mile around. And they do. They keep an eye on where all nests are being built and if hungry, eat the eggs, but mostly they wait until the 4-5 little chicks are getting plump and cute and then one day the nest is suddenly tragically deserted and empty. So I hate Magpies! Pretty as some might think them, they are my enemy as they specially love my favourite small birds for lunch. I clap my hands if they come anywhere near our garden. In this way, birds sense that near our house is a "safe" place to be – just got to be out of the reach of Solo!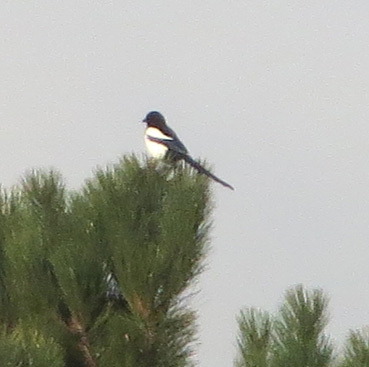 .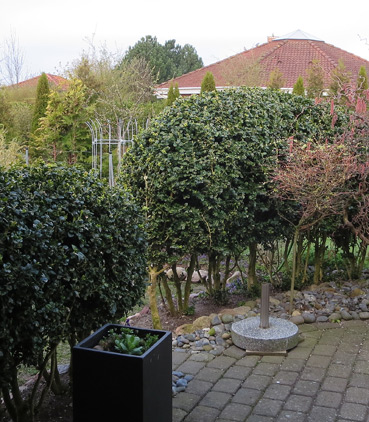 Left, one of the Magpie spies. Right part of our patio box hedge, so dense that birds can make nests we never even can find! In the far distance you can see the fir trees, which I have zoomed in on to show one of the Magpies plotting it's next meal.
---
Monday the 20th of April
I step outside early this morning with the dogs and Momma Blackbird shoots past my face and lands on the patio light. Stays put while I photograph her and watches Solo leaping up as high as he can to get to her. She remains unmoved!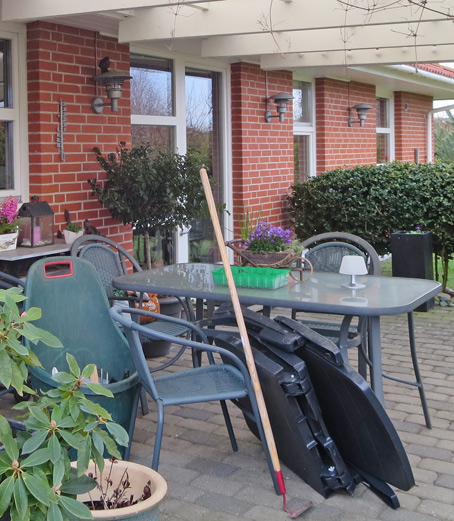 It's a bit of a mess outside as the sitting-outside-season is only just about to begin! Below, a close-up of her, but you can see her above, top left.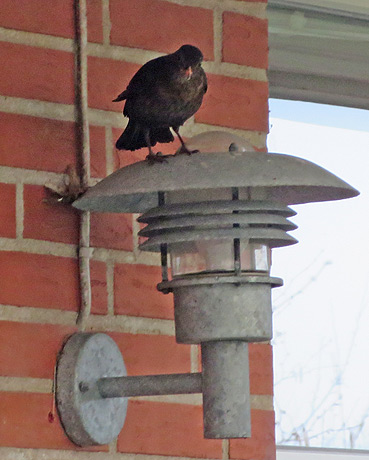 .

Above right you can just see Solo leaping up the wall in vain, giving small shrieks of frustration!



The view on the dog walk this morning, usually more misty due to the sea... the bridge is to the island of Fyn including a long road crossing a small island that is very conveniently just between. In the foreground is a road.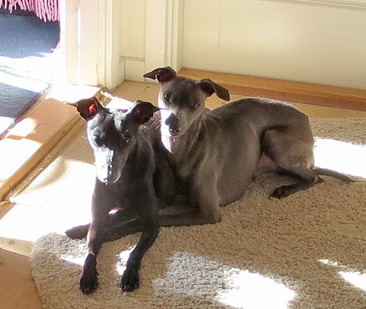 Enjoying the early morning sun! And below, Solo tired out and asleep in the last rays in the evening.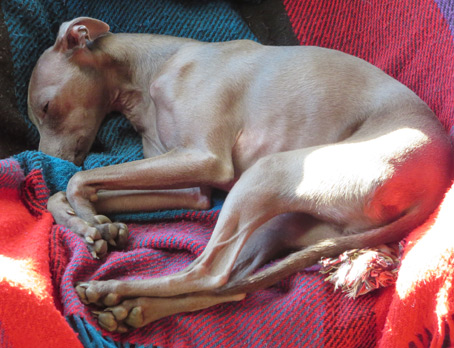 You will never believe this story, but I have had this pretty little sign hanging by our front door for many years, at least 15 - a gift from some American friends. All my favourite colours of mauve and pink! Yesterday morning, a huge Bumble bee came past and actually hovered for some time investigating the flowers as if it nearly believed they were real! I was amazed and didn't take a photo as I never knew it would take SO long time to check them out – I wish I could see through a bee's eyes for a minute or two – but it's compliment to the artist, they nearly fooled a professional flower expert!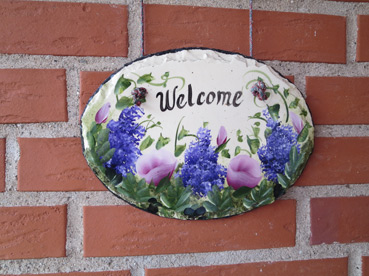 ---
Friday the 17th of April
The dogs always know when we are expecting guests and here they are craning their ears to be first to notice a car coming!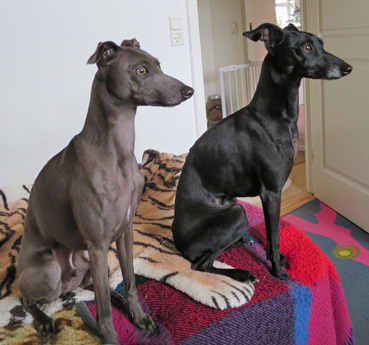 Monday the 13th of April
If we didn't hear the door bell - the dogs will make sure that we do. Listen here to their "wolves in the moonshine" racket:
www.youtube.com/watch?v=irDHzwW-DtU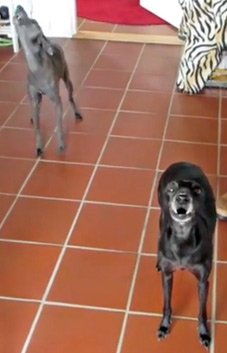 ---
Friday the 10th of April
It's probably going to be a bad year for insects after an exceptionally mild winter - as I was working in the garden, I suddenly realised there was a whole swarm of ladybirds amongst all the weeds I was removing: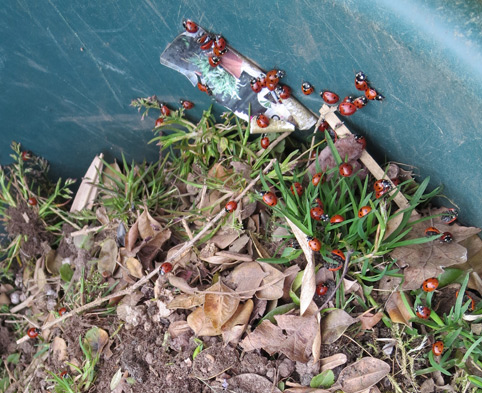 Cute to see and will hopefully kill all the greenfly - but I wonder what other plagues we will have this summer?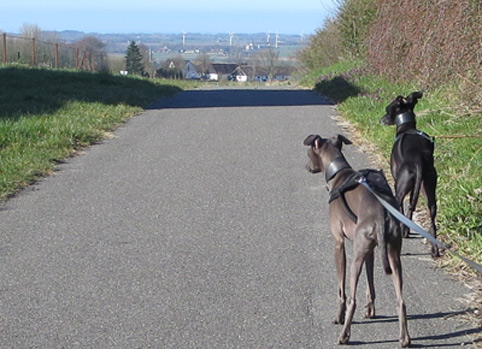 The view at the end of the "path to nowhere" this morning!
---
Tuesday the 7th of April
COME BACK FANNY, WE MISS YOU! A dreadful empty hole in our lives as she was collected today, thrilled to see her mistress again and most unflattering for us to see: She couldn't wait to get into the car! We feel like someone died, it's so strange and empty here after fussing over her for some days, even Dasher and Solo seem very quiet. Whippets are the best breed in the whole world! Here is the last photo taken this morning: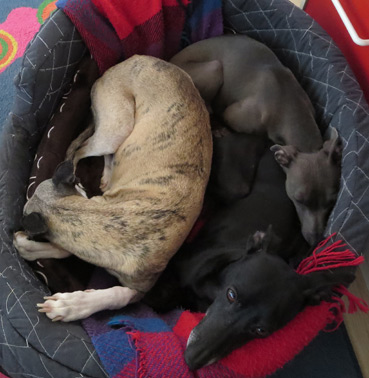 Tomorrow, her family are looking after a mutual friend's elderly Italian female, so Fanny's life will be again filled with a livelier breed! So she won't have time to miss us!

Tuesday the 7th of April
At last, one of all three together beside me in my office. Right: Taken at breakfast this morning.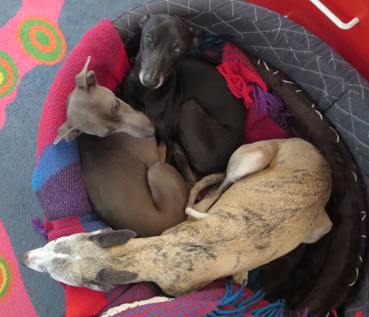 .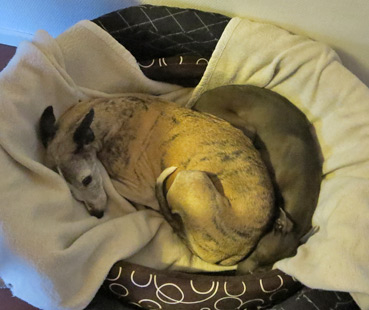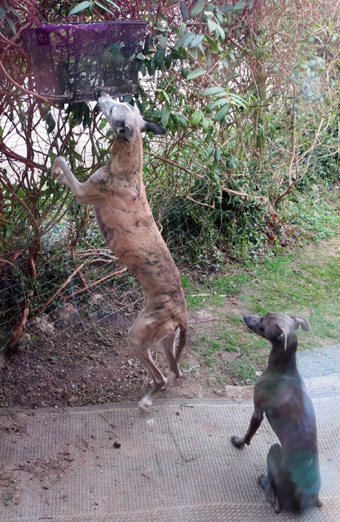 Fanny might have wobbly weak back legs, but she suddenly had mighty power in them when it came to trying to get the bird's food! There's bread in the cycle basket for the Robin, Momma Blackbird and a flock of sparrows. Solo watches, he knows it's hopeless to try. This is taken through a window, so some reflections.
---
Monday the 6th of April
A"twist" of dogs!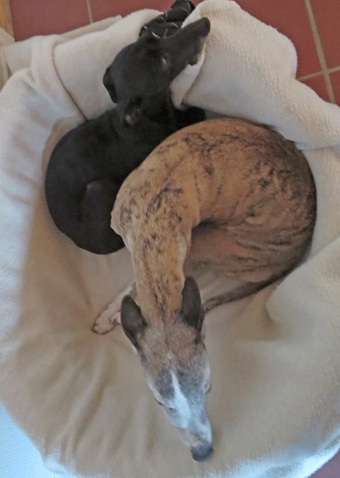 ---
Sunday the 5th of April: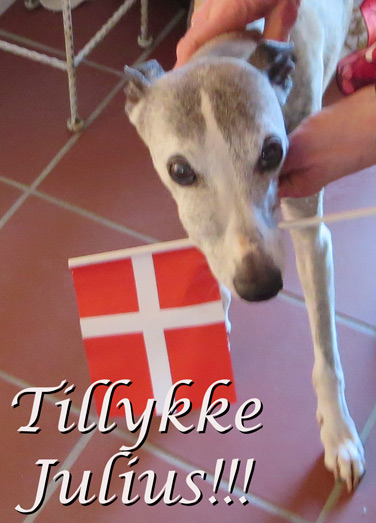 ---
Saturday the 4th of April
: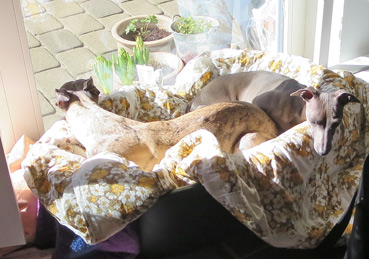 Plenty of sun today, but still cold, so the dogs preferred to sunbathe indoors! However, below you can see, that when Fanny decides to sit in a bed, she ignores any occupant who might be there first! See Solo squashed flat in first picture! Then she grudgingly makes room and he struggles out from underneath, so they agree to share!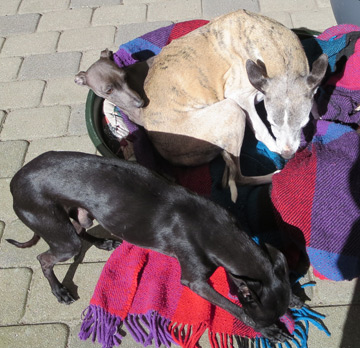 .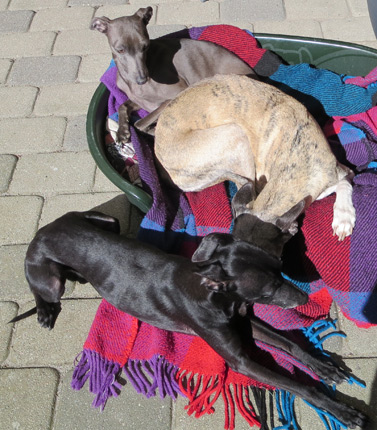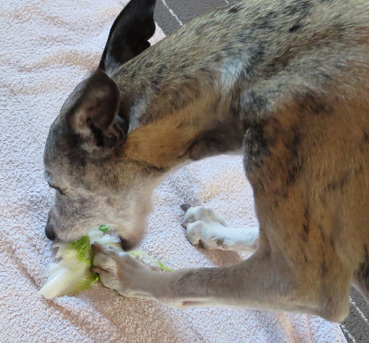 Above: Fanny LOVES Chinese cabbage - which mine eat every day as dessert after dinner! It's the crunchy white stem they go for and maybe get good extra fiber this way? Below: Funny photo, as they keep me company in my office.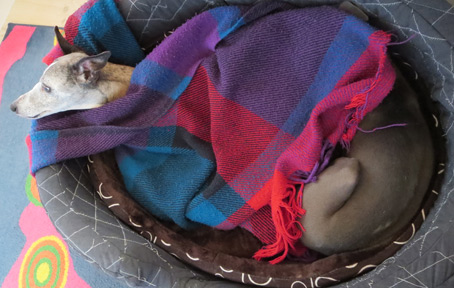 The last crocuses in the evening sun...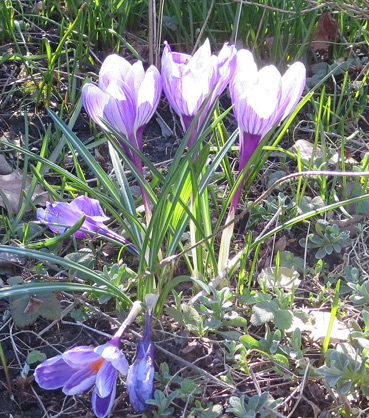 Sunset over the neighbour's house.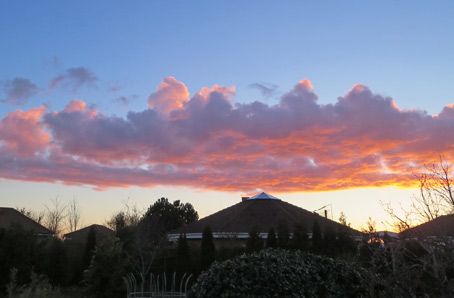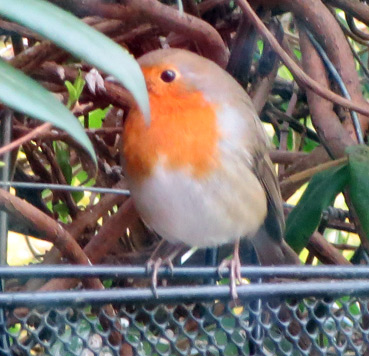 The robin has stayed and is singing a lot, so I do hope he finds a mate, or he'll soon change his mind! This is the first one ever who stayed with us and not just moved on. Must be the whole meal brown toast I put out every morning!
---
Thursday the 2nd of April
Some shots from a day with Fanny!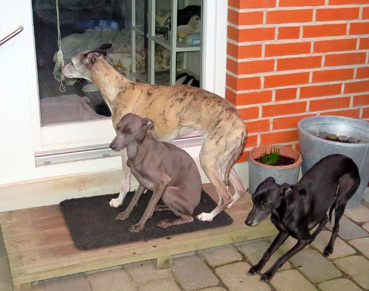 It was cold this morning and they quickly want to go in!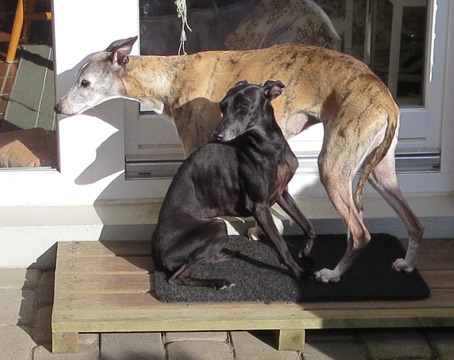 Dasher and Fanny posing artistically this afternoon.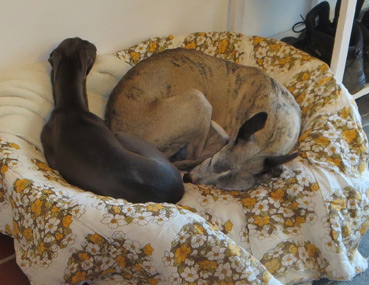 There hasn't been the usual queue to sit with or preferably on top of, Fanny this time. But this morning, Solo tentatively crept in beside her!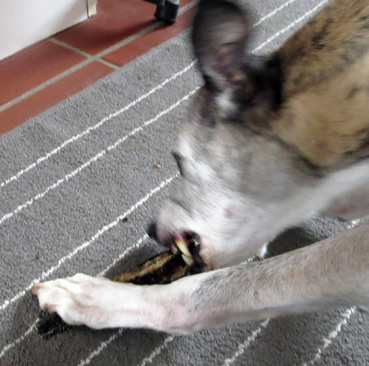 One of the perks of staying here is, that after lunch, they each get a strip of dried tripe to chew on! They love it.
---
Wednesday the 1st of April
We are looking after Whippet "Fanny" over Easter. She is nearly 14 years old and all that's left after the most wonderful era in our life with our last 3 Whippet boys whilst some friends had 3 Whippet girls the same age. We have been looking after each other's dogs for over 13 years. They are all very loving, affectionate dogs, so we love them as if they are our own.
Fanny is mostly blind in one eye (old-age cataract they all get) but manages well, but worse is her almost total lack of hearing.
So sad not to be able to communicate with words, it all has to be sign language. She can hear a soundless whistle tho'. Still, her sense of smell is superb – like a bloodhound's!
I took her for the first walk this morning and she was fascinated at all the new smells every inch of the walk for about 10 minutes, then she thought she was too far from "home" and wanted to go back, but I persuaded her to walk on and as soon as we turned for home, (walked in a circle) she started pulling and we fairly raced along at top speed.
She is wobbly on her back legs - but then in human years, she is about 90 years old? If she was human, she would walk with a walker on wheels! However, she still can do the most beautiful, elastic "elevated" trot acroos the lawn - I could show her in a show ring and she'd win – in veteran class!
She stopped outside our gate although I carefully gave her NO clues, so I am glad to see she knows exactly where she lives – and she also stepped out of the car on arrival, wagging her tail yesterday and knew us immediately.
She grieved when her master left her here, although we carefully don't let her actually see him go. I was worried about her bag of dog food that had got wet and started pouring it into another bag, so she immediately forgot all about him, FOOD was MUCH more important!!!!
Here she is finally relaxing as we eat – she had insisting on standing supervising me doing our dinner – just in case I dropped something by accident! (Although I always feed the dogs FIRST.)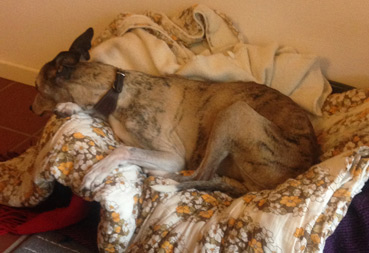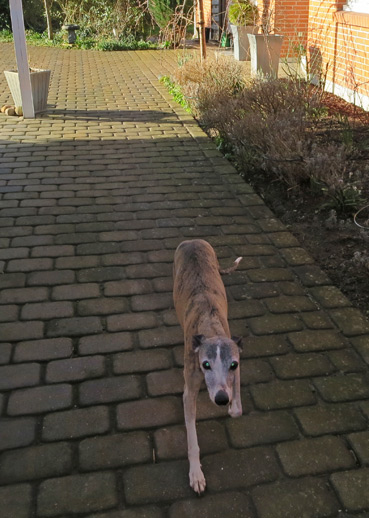 .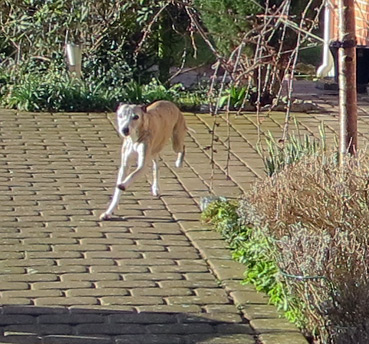 Here she is running around the house with Dasher and Solo - they zoom round at top speed of course, so they have to wait for her. She does 3-4 times only as we must train her up carefully!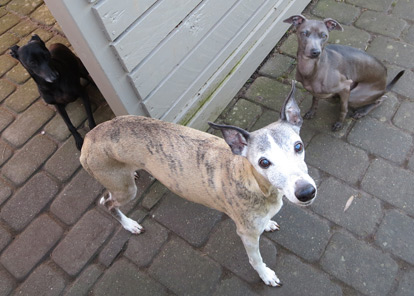 Here they are saying: "Hit with those biccies! We don't run around again until we've had a treat each!"
---
Monday the 30th of March 2015 - and now the 8th blog!
Family to lunch - and if one doesn't engage them in non-stop scintillating conversation - see what they do!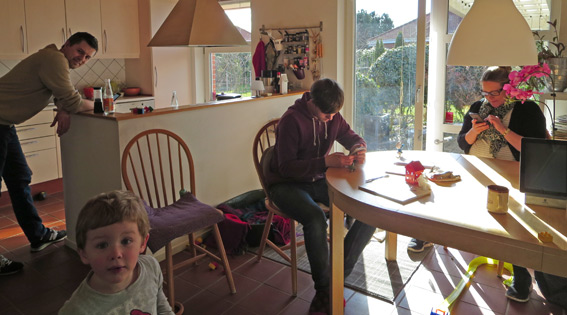 Below, our youngest discovers Solo has EARS!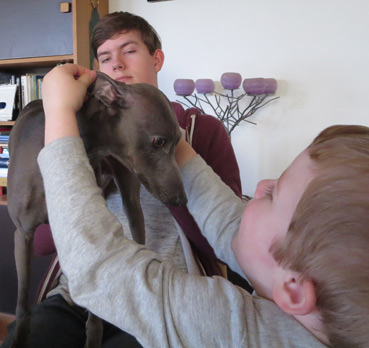 Below, Solo leaps on everyone's lap and here our son is teasing him when lifting him down, but he doesn't mind a bit!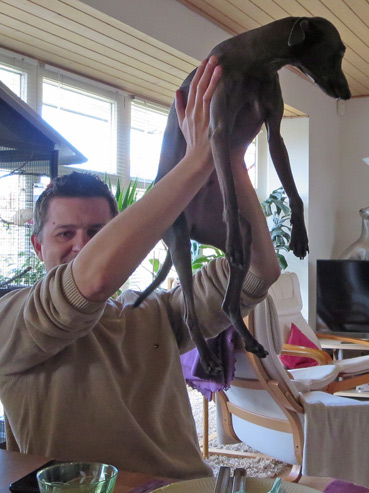 .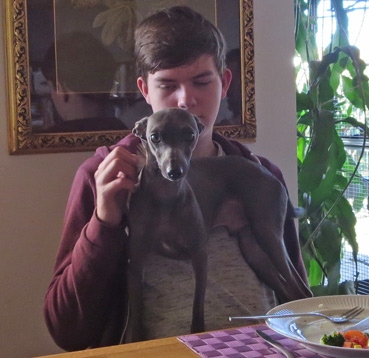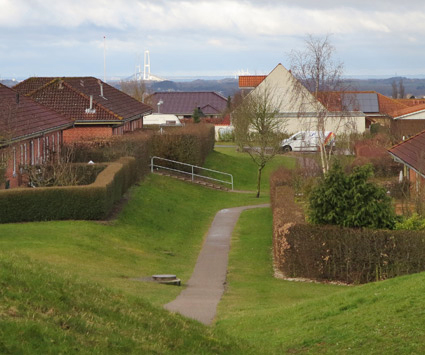 View over the distant sea this morning, the island of Fyn (if you use your imagination!) and not least, the sun is lighting up one of the pylons on the bridge.
---
Wednesday the 25th of March
We have mice! Yesterday evening, one was after the bird food in the cycle basket. I went outside and was allowed to get within about 20 cms with my camera!!! So from now on, I take the basket in at night - ONE mouse is quite enough....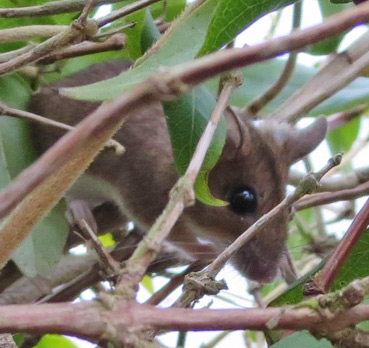 This morning, the dogs found a dead rat! NOT in our garden, but some 10 minute walk away, I hasten to add! Whatever next!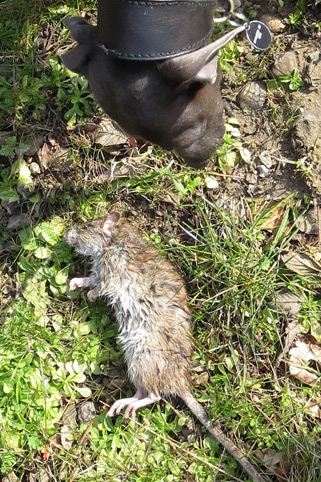 This morning as I ate breakfast, Momma Blackbird suddenly appeared from the middle of the box hedge on the patio - is this the place for her first nest of the year? Ten minutes later, there's Daddy Blackbird, I wonder what they are plotting.....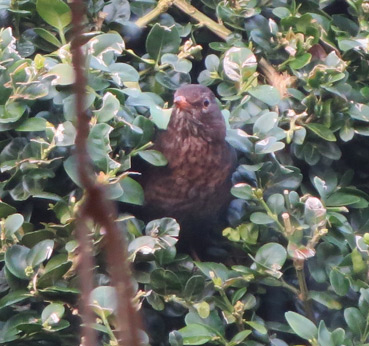 .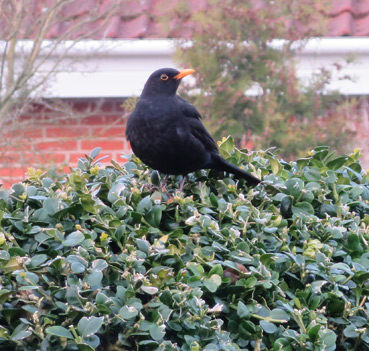 Delicate white Crucuses caught in the evening sun...
---
Monday the 23rd of March
Went to the first lure coursing of the year yesterday! Dasher not running due to the now cured and invisable "mystery neck strain" on Thursday but he took the disappointment very well. Below friends waiting for their turn.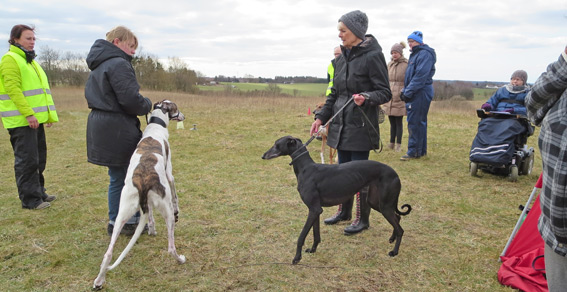 A very short video of Mephisto, Karla (seen above) and Solo's runs:
www.youtube.com/watch?v=xrM2W-_fLcE
Photo's below from the video: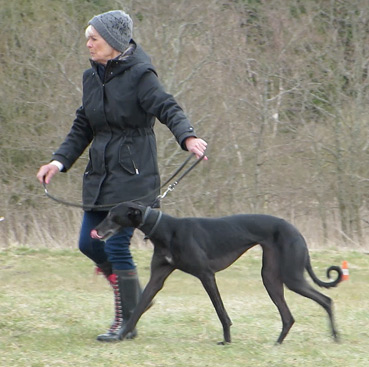 Karla looking beautiful.



Karla takes off - literally!!!



Mephisto takes off too...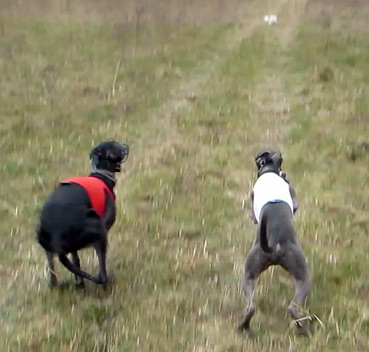 .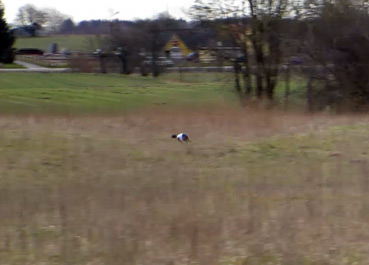 Vincenza and Solo take off after the white hare... and Solo is just a dot running at top speed...
Below, Svend enjoying the cakes and coffee! The weather was FREEZING, only about 2-3 degrees after a frosty night, and the sun too weak to help.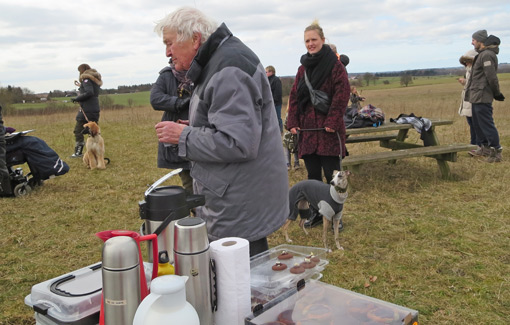 Below left, Dasher with good friend Greyhound Camino and right a new young Spanish Galgo, never tried before, called Karla, is unimpressed by his attentions! ( I will be made a short video, link above, so her owner can see it, as she did not come.)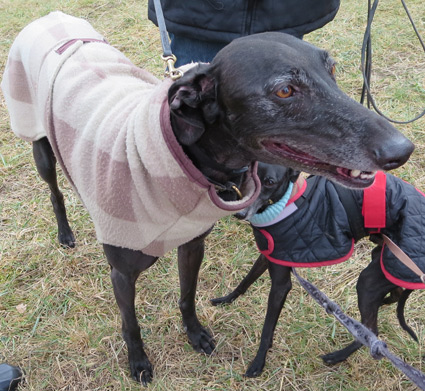 .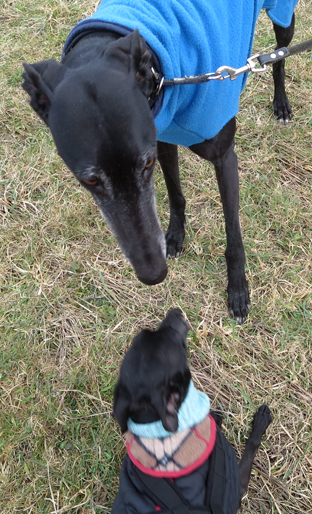 Below: Show Greyhound/Borzoi mix Mephisto is showing where he flew off at the start of his run and dug great clumps of turf up on take-off, he is so powerful! (He's by far our biggest dog.)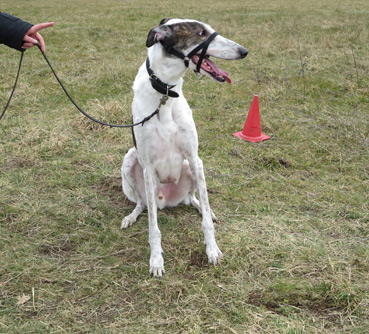 Below: Solo ran with Vincenza in fine style - shrieking all the way round as usual!
www.youtube.com/watch?v=xrM2W-_fLcE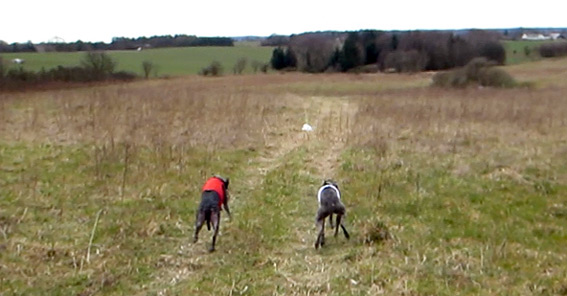 ... but at the first turn, Vincenza is seen leaping high in the air - we don't know but maybe they nearly had an accident, or if it was some bushes and big weeds she ran into, but she lost valuable time so she gave up and ran back to Mum!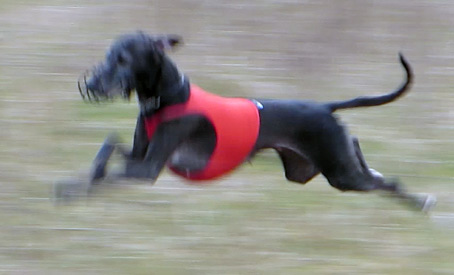 Such a shame, as for once she is in top form and more than willing to run with Solo. Females are so fickle - their perfomance depends so much on where they are in their season.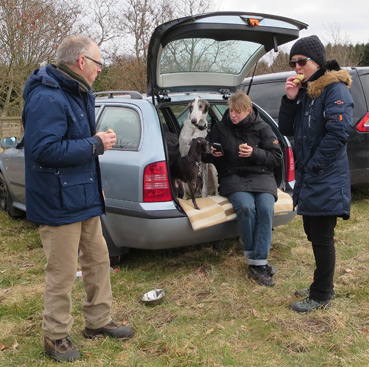 The lunch break! Below tired out after a long day.