March 30th
Our grandson stayed for a few days and all the dogs love him. Here in these two photos, we had just returned from a walk and it was bitterly cold as there had been a frost, so Dasher is wearing his warmest "specially-sewn-by-Dorte coat" and David gets him to "skake hands". The other shows Dasher with a funny face enjoying being stroked!
(That is not a scar on David's forehead but a shaft of sunlight!)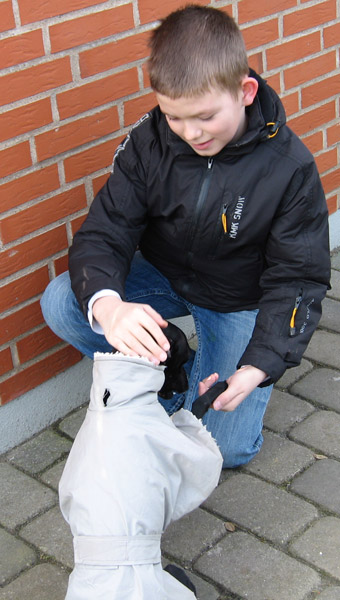 .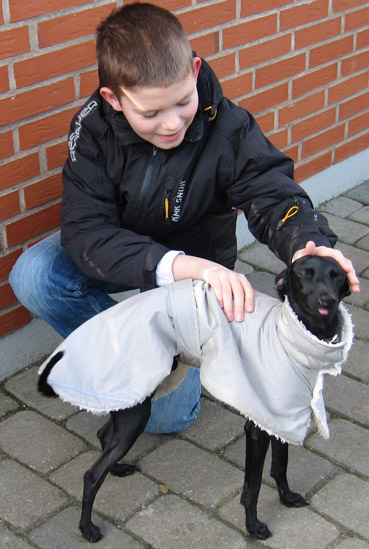 ---
March 27th - last Tuesday we took the three dogs to another beach: Kobaek Strand and they had a wonderful time. Dasher again was more or less (apparently) stone deaf to my calling, and when he DID come, either shot past or wasn't interested in the tit-bit he was SO taken up with examining everything and being "everywhere at once". However, this is typical of a dog who is rarely allowed to run free. The brain is "fully booked" with all the new input of smells and sights etc and drunk with freedom, they make the most of it, only to be very sorry when it all has to come to an end. We must try to come more often - but unfortunately Danish beaches are only open in the winter months and this winter has been impossibly harsh with so much deep snow we couldn't go for months. Dasher is wearing his blue "Togs for Dogs" coat!





Some of the cute thatched summer houses at Kobaek Strand!
---
Lure coursing March 21st
We drove to Dianalund (tak Lone og Bamse!) and had a fantastic time with other sighthound owners! Dasher excelled himself and ran so well, fast and concentrated that we can safely say that "he's bitten" by the sport and I was really pleased. It was wonderful to see him run like that. He has some very good muscles from all the racing in our garden 3 times a day and the laser light on the sofa! He even learnt to sit quietly in the car alone afterwards for a while, amazing! I bought him a tiny wire racing muzzle which he will have to wear when he races against others, so now I have to get him used to it! Here are some pictures. New-comer IG Vincenza had never tried before but she too, flew like the wind, so yet another one "bitten" by the sport! This time, to help the new beginners, there was a genuine and quite bloody rabbit skin to race after!
Thanks to Santi's owner Dorte, here is Dasher's run step by step.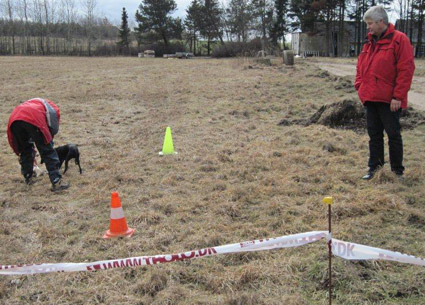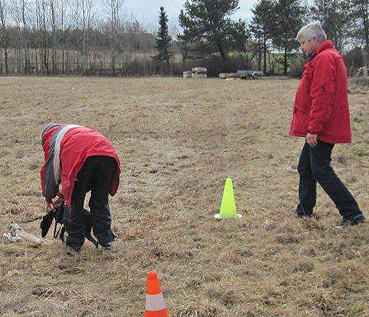 On left I am showing Dasher the "hare" - an entire rabbit skin for once - and trying to make it seem interesting as this is what he's to run after. Right I am taking his leash off and our judge and helper Lars will tap me on the back when I am to let Dasher go. (We used to shout "NOW!" but we have learnt from Sweden, that a tap on the back is best, especially when we are two people releasing a dog each!!!)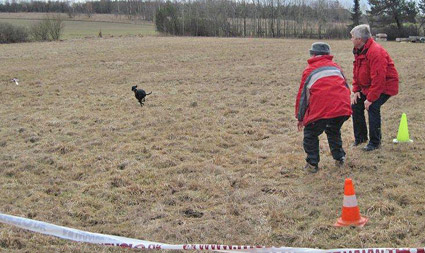 .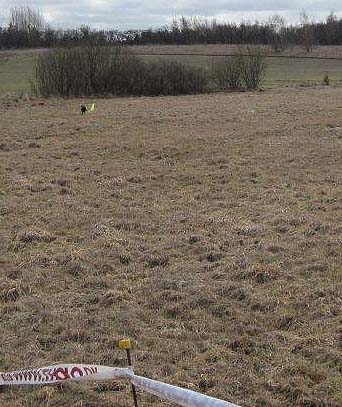 Left: He's off like the wind! Right: At the first turn - the yellow cones mark where the rollers carrying the cord are hammered into the grass for easy finding when the person on the motorcycle lays out the course again.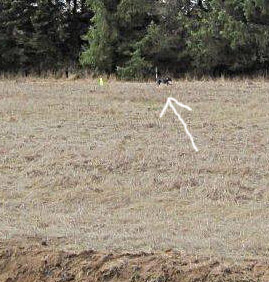 .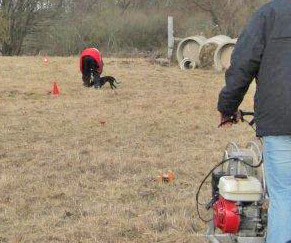 Left: Dasher's crossed the path and is on the second field and headed for "home" he never faultered once or wondered where his Mom was!!!! Right I'm catching him, putting on his leash and letting him sniff and bite at the rabbit as a reward. You can see a bit of the machine that pullls in the "hare" waiting for me to be finished.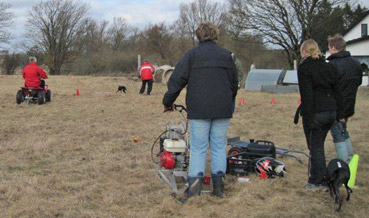 In this photo I'm dragging him quickly off the field as Lars is driving the little motorcross machine and pulling the hare round ready for the next dog to chase. In the middle of the photo, the machine and right Vincenta and owner waiting for their turn.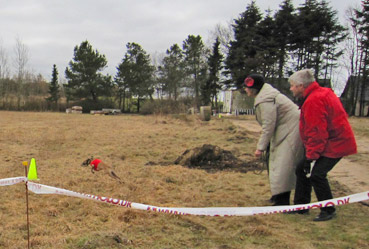 .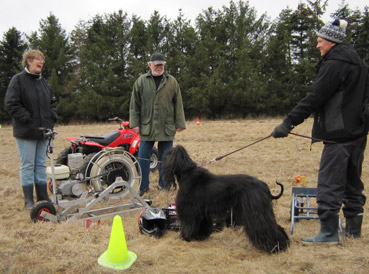 Left Santi racing off at top speed, Lars has just tapped Dorte on her back. Because of his colour, Santi looks like a hare when he is running! Right our "hare driver" expert Karin and faithful helper Torben plus an Afghan soon to run.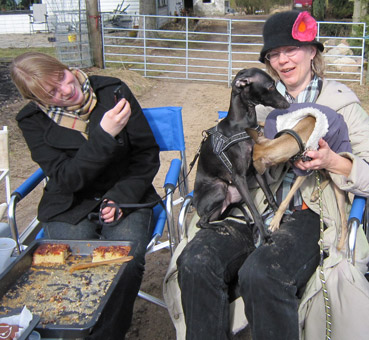 .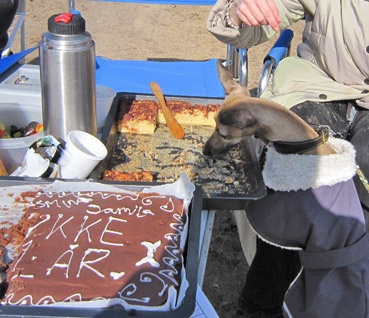 Left Vincenza jumps over from lap to lap to sit with Santi! Right Santi wishing he could have one of the delicious cakes people have baked for the day. The chocolate cake is to celebrate two Afghans who have just become 1 year old!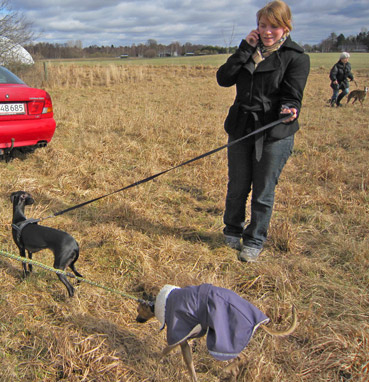 .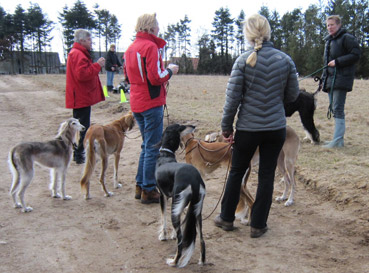 Left ringing home to boyfriend to tell him how well Vincenza raced after the "hare" at her very first ever try at Lure coursing! (So many don't get it first time and this is quite normal.) Right: Saluki friends have a good chat with an Afghan owner.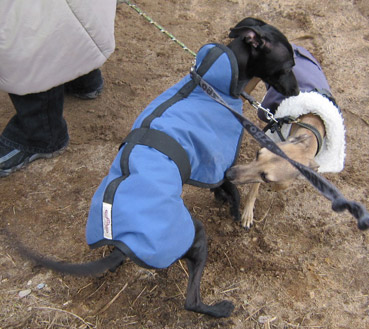 Of course Dasher and Santi recognised each other immediately and tried to start a crazy game several times, but it wasn't easy whilst on the leash! Right: Some of the others with the "cake table" in the distance.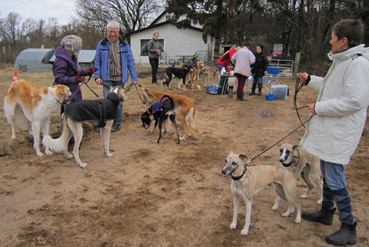 .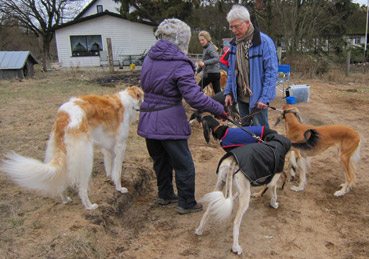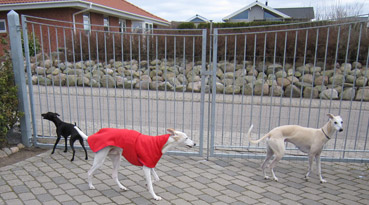 Back home again and a friend has sewn a wonderful new coat with chest piece for Magnus so here he is modelling it.
(Tak Lisbet!) Another mutual friend brought it with her to coursing today - so kind! Magnus has a very good coat of fur, which is unusual for a whippet, so he's always used a coat with no chest cover and never feels the cold. But this winter has been exceptionally cold, down to minus 8-12C for weeks on end and he has felt the cold on walks, plus he is 10 years old on the 2nd of May, so I decided he had better have a warmer coat in the future.
---
March 20th
We get a flying visit from Dasher's breeder Arne Duelund Nielsen, Kennel Sissala, after the 2010 Annual General meeting with The Danish Sighthound club. Dasher seemed to recognise him and gave him some hearty kisses!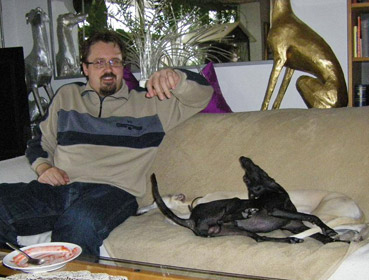 .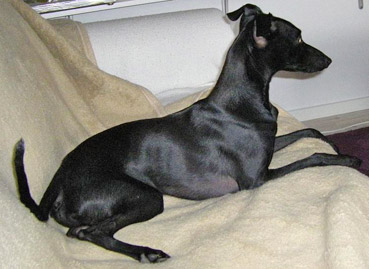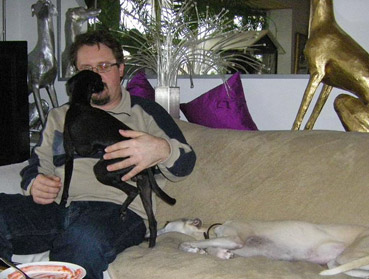 .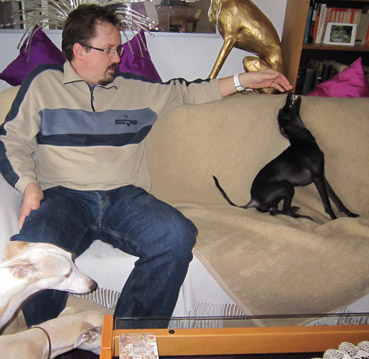 ---
March 19th
Dasher starts again at the vet's puppy playground after three months of snow and freezing temperatures have prevented him!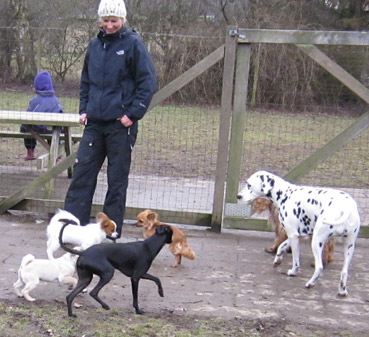 .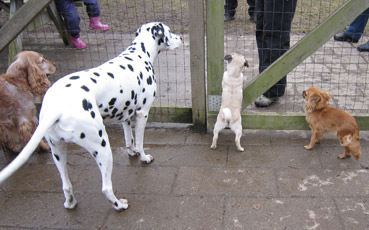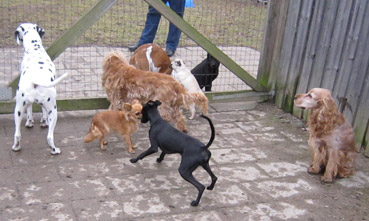 .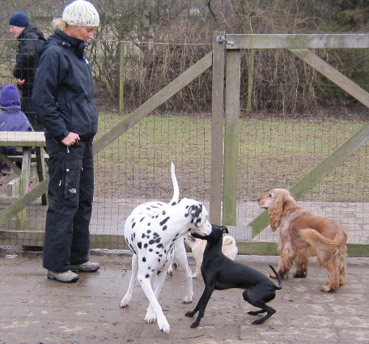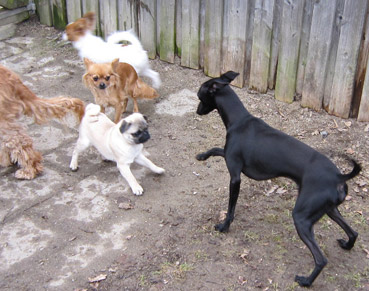 ---
March 18th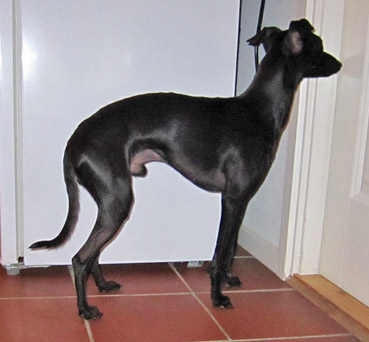 Dasher standing with his back curved. I think he has a bit of a straight back normally and I like the English dogs with the "whippetty curve" over the loin and many Danish IGs have a straighter back, but here, he's listening intently at the mud room door and his back is quite curved. He also has just about the longest tail I have ever seen on an IG - and I love long tails - far too many IG's have a short tail that is way too short in my eyes, but this normal for the breed.
---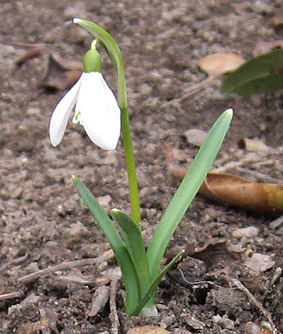 The first snow-drop to open -
hurrah, spring's on the way!
---
March 17th

Had a bit of excitement Tuesday morning! We drove the dogs to Egerup Strand again and this time it was sunshine and and beautiful weather apart from a stiff wind that was just above freezing! Since Dasher doesn't worry about keeping near us, I put an extra RED coat on top of his ordinary one - a very old coat from my previous IG - so I knew I could see him at all times! (Had toyed with the idea of attaching a balloon to his back, but I thought this might excite the Whippets too much!) This time I had cheese cubes as "bait" and whereas the Whippets immediately kept even nearer to me, Dasher wasn't impressed - this new place was far more exciting than even a whole chicken! (His favourite meat.) He dashed around and had a great time. The Whippets seemed to spend more time eating unmentionable things and rolling vigorously on two dead bird carcasses! This time I was determined to go a little further, the beach ends at some point and there are giant cliffs impossible to climb. However, crossing the beach ahead of us was a fast moving stream of fresh water some 4-5 feet wide and coming from all the nearby fields where the melting snow has waterlogged everything. There was a way round, jumping over small "estuaries" but Dasher, with the typical IG mentality "nothing stops
ME
!" took one quick look, sized it up as "just water" and starting to march out into it! (He's got amazingly tough this winter. After screaming in pain at his first snow experience, he thinks nothing of standing in snowdrifts up to his belly or walking about taking his time to sniff whilst knee deep!) He soon could hardly reach the sandy bottom and his coats flopped up and down in the water and he was now more or less swimming and I was screaming his name, as weighted down by TWO winter coats, I had visions of him drowning. I have had two bad experiences of rescuing a dog that had fallen through thin ice on a lake near us and I know the total AGONY of the knee-deep (luckily not more!) icy cold water and a quarter of a mile walk home on feet I no longer could feel, they were entirely numb!!!
He reluctantly turned around and "swam" back, heaving himself out of the water as the coats weighed a ton and I shouted to Svend and the other two dogs that the were going back to the car at top speed! Dasher was soaking – and soon covered in sand but even this didn't stop him racing around enjoying himself and he was SO disappointed at coming home again! Phew! This breed can put years on its owners!
Of course no photos of Dasher swimming determinedly in two coats, I didn't have time for that – only these long distance ones before his swimming exploit! First photo shows Dasher as a red dot on extreme right - see how important it is that he has a RED coat!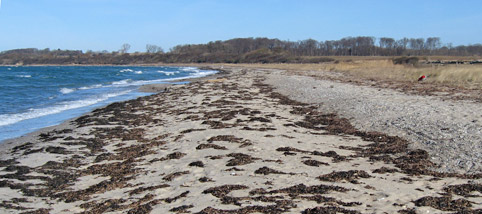 March 14th
Just as we thought spring was on the way, a terrible snowstorm with really big flakes hit us this afternoon.
About 1/2 an inch fell - just as all the snow from the past 3 months was melting and we were looking forward to spring.

.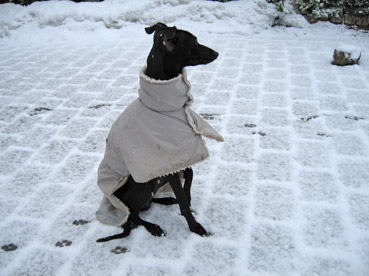 The sunset afterwards as seen through our neighbours's house!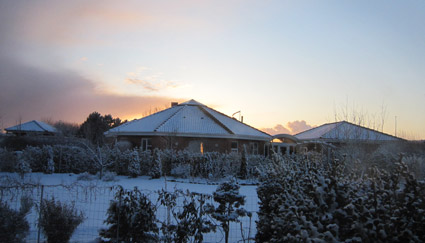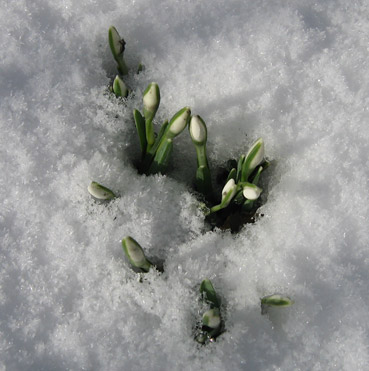 The snowdrops next morning!
Yes! Our early spring snowdrops are just about to flower, so I hope I will win in a little competion with two others spread over Denmark as to who has the first snowdrop to open! Mine just need sun - and we have that today! Dasher kept getting in the way - I was photographing after his morning walk - so here's one where he decided to pose beside the little snowdrops!
Anyone else want to contribute?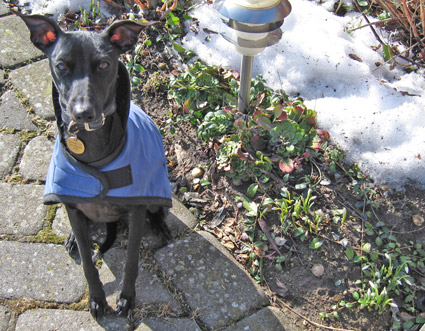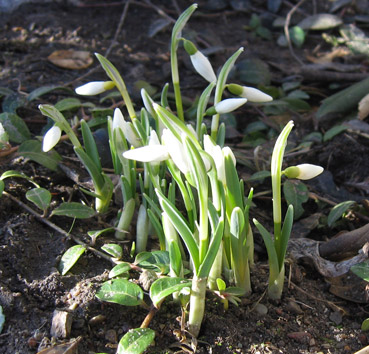 Photos taken 10.30 the 13th March.
---
Wednesday the 10th
We have had two days where "King Frost" has painted everything so beautifully!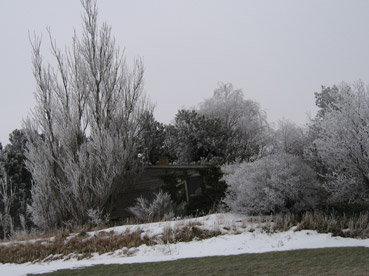 .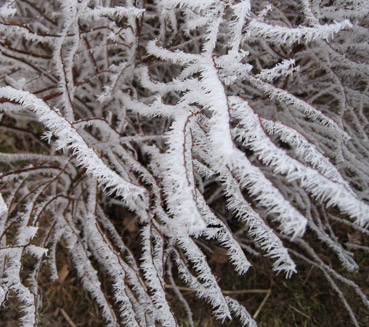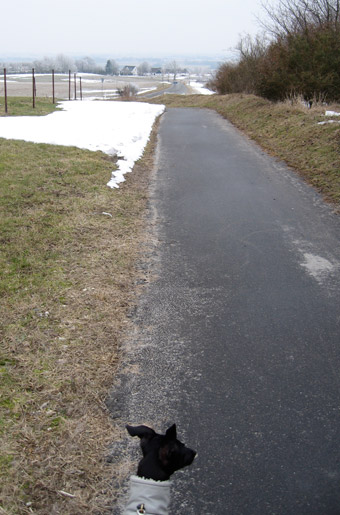 Still some snow around....
---
Tuesday the 9th

We take the dogs to a lonely beach! Although Dasher is clinging and never lets me out of his sight if we go anywhere, when we gave him his freedom this morning, boy was he relaxed and casual! I have constant contact with the Whippets and they come immediately if I call and keep an eye on my every move, even at a great distance, but Dasher, just like my first IG, just was so taken up with exploring, that we all ceased to exist! He wasn't interested in the tit-bits I have either! Of course he has a lot to learn and we must take him more often now the snow has gone. Egerup Strand is right off the beaten track with fields all around and you can see for miles.

---
Saturday 6th

New photo of one of my favourite views during a dog walk. Plenty of snow still around!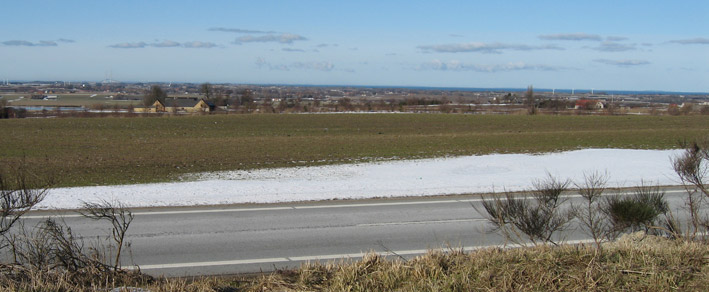 ...and below, my snowdrops, the first spring flowers, bravely struggling with the worst winter since 1986.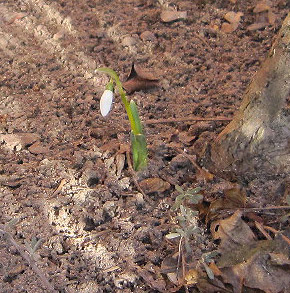 .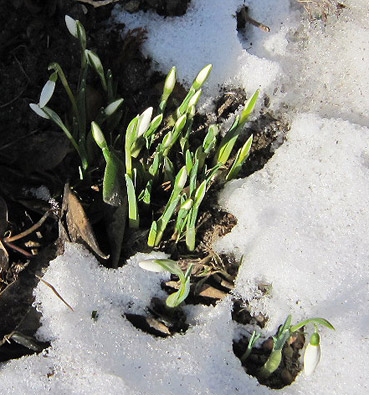 ---
Friday the 5th
New YouTube video of Dasher! He loves Clementiner and I can understand it, as they are sweet, although most dogs HATE all the citrus fruits. But now there's no stopping him and he wants the skin of grapefruit (after I have squeezed the juice) as well!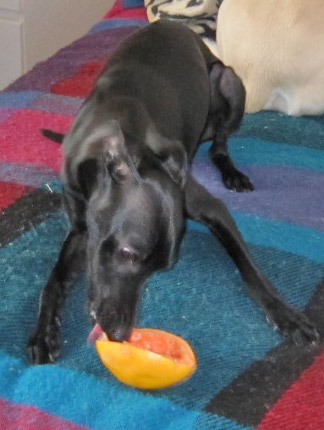 He appears to be battling with the strong flavour, so I took it away after a while. See her:
www.youtube.com/watch?v=ub45a1bQF24
---
Thursday the 4th
Dasher is 10 months old today! How time flies. Here he is - sniffing the camera lens!!!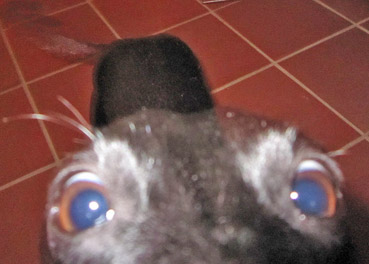 Two more "view" photos taken on doggy walks today. The snow is melting fast. You can see the sea and the curve of the bridge to the island of Fyn if you look very closely. It's 10 kilometres away!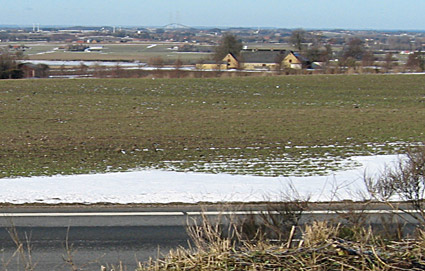 ---
Wednesday the 3rd March

The view from a path from the dog walk this morning. There's a farm right below us in the distance and very, very tiny...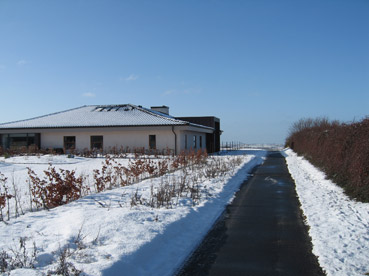 .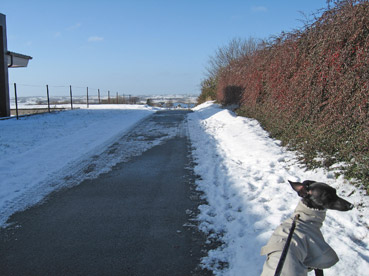 Underneath: Dasher with a new toy he holds i his paws like a monkey!

.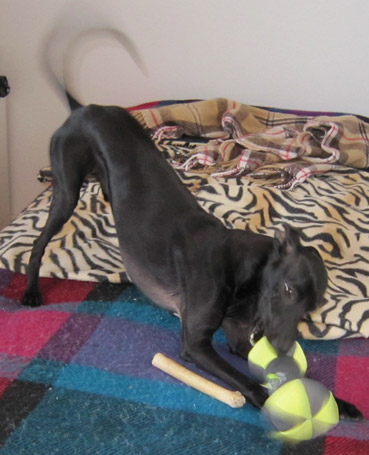 ---
Monday the 1st of March - hooray, spring's on the way!

I felt a bit of an idiot today!
I've noticed for some weeks that Dasher sometimes has a small, soft swelling on one testicle. You can see it as a light area on the video of him playing with the yellow activity ball:
http://www.youtube.com/watch?v=OS3pfuKYiCw
Some friends even noticed it last week and they weren't even specially looking! So today, I made an appointment to see the vet.
(In the meantime I had Google'ed it and found that tumours had to have a biopsy to determine if malignant etc. and I was prepared –
well nearly
– for him to have to have an operation!)
It took the vet just a couple of minutes to tell me, (with a big, highly amused smile) that Dasher was perfectly normal and the small "lump" is just an epididymis – yeah, go look that one up on Google! Bet you haven't heard of it either!
Problem is, that with this breed, the skin is so extremely thin you can see everything, even veins. Sighthounds, are so slim and narrow, that their testicles are not "side by side" but one on front of the other. The vet also said that it is EXTREMELY RARE that an epididymis can ever been seen with the naked eye. Only he, used to feeling for tumours etc. would be able to detect it with his trained fingers. We had a good laugh over it and I said I would have to dash home and revise, (with Google's help) my knowledge of the male anatomy! So I now have the vet's word for it, that Dasher is a VERY healthy dog indeed!
---
Saturday 27th Feb.

For the last three days we have been painting the lounge and kitchen for a friend. She is moving in to this really nice little old "double" Danish house and it badly needs re-decorating all over. (As you can see from the photos). It has a lovely garden to the right out of picture with wonderful old trees.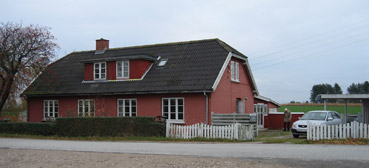 We don't like to leave "live wire" young Dasher for too many hours, whereas the two whippets are fine for say 5-6 hours - or more in the evening, Dasher comes with us. He is perfectly house-trained and with chew bones and toys he passes the time and even supervises our painting! Our friend meanwhile is re-decorating the little rented house she is leaving! Yesterday and today, he decided to see if he could go up the twisty staircase. Good excercise. He got up, and then couldn't get down! With a lot of encouragement and tit-bits, he managed and now there's no stopping him!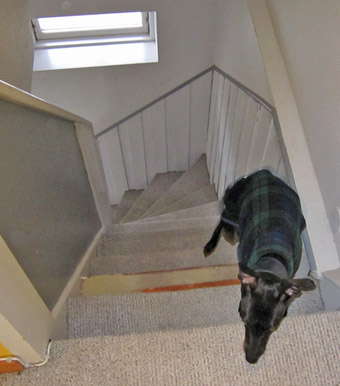 .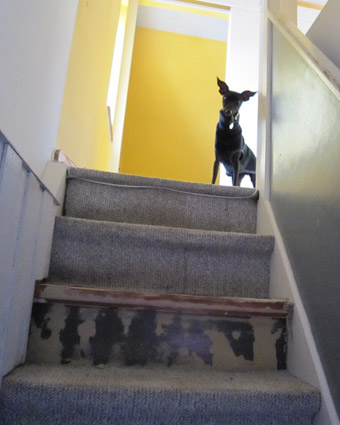 To the right: "How do I get down, Mum?" He has a jacket sewn in England for warmth as it's chilly here!
See "Togs for Dogs":
www.togsfordogs.net/18.html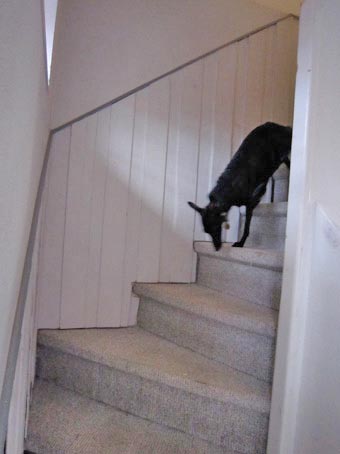 Doing it on his own!
---
Thursday 18th Feb.

OK, OK, we have been very busy, so no photos for some days, now we are looking after our grandson in winter school holidays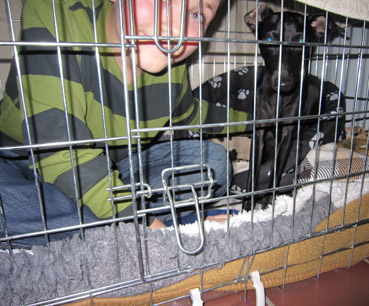 .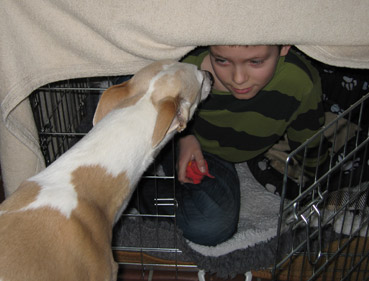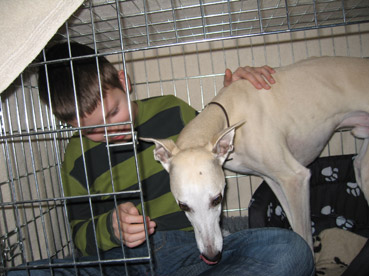 Inspired by the two cute girls seen below, our Grandson also wanted to try out Dasher's cage for size!
Here are 2 photos of the latest snowman - but due to a blizzard outside right now, we are planning a much bigger and better one! Dasher could see that it was HIS squeeky bone used as a mouth!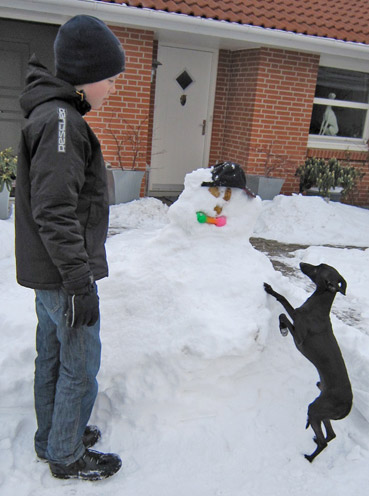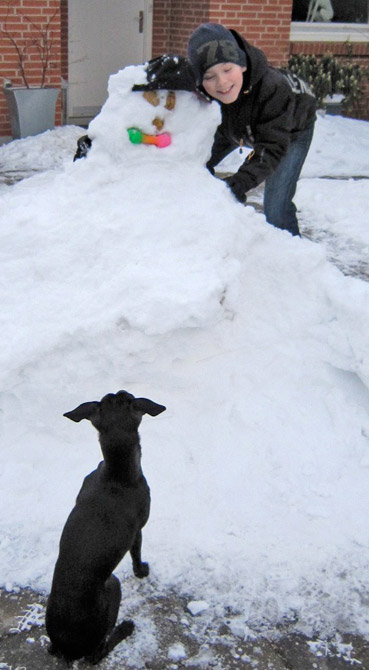 ---
Wednesday 10th Feb.

Yesterday we delivered Kris and Nardo back to our friend (and had a delicious lunch).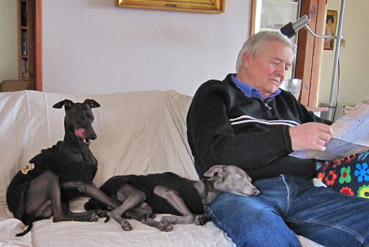 .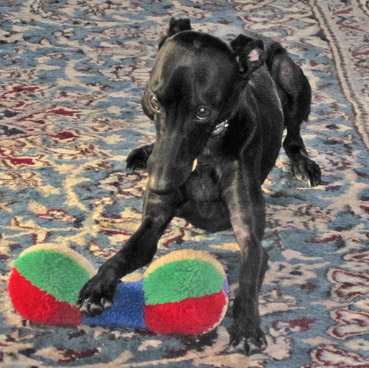 Kris and Nardo on their own sofa again (Dasher is off playing with one of their toys) and Svend looks at a map and hears all about the holiday in the Canary Islands!
They are badly missed. One can't help getting a good, loving relationship with the dogs one looks after. Italian greyhounds are the most extreme of all the sighthounds. Extreme elegance that everyone can see on first sight, fantastic movement and gymastic abilities that never cease to delight and entertain me and there's horse blood in their movement too, ha ha! Kris showed me that he could do the elevated walk that dressage horses do where the rider gets them to switch front feet so that first the left front leads, then right front leads - anyone know what that exercise is called? Kris had a knitted sweater on, (knit is not good for short haired dogs as it rides down their backs and can't go back up due to the direction of the hair), so he itched badly on his back and and he threw his head up and did this wonderful dressage walk so I just laughed out loud.
They also have the most extreme minds! Very lively and very intelligent right up into old age they do all the tricks in the book to get the best out of life and squeeze the most out of their harassed owners! Always wanting more and also much more active by far, than whippets and other sighthounds! So we have both been very highly entertained by having three IG's literally running circles around us.
They have taught Dasher a thing or two about good dog behaviour, as he is a bit of a spoilt brat! The Whippets have been angels about the whole thing. Extremely tolerant and have permitted "silly" behaviour they would murder a Whippet male for taking the same liberties! They too, to a certain extent, fall for the Italian charm! What other breed can allow 2 male dogs to just move in and live in harmony with 3 other males in a strange home? This breed has a talent for "all getting along just fine!" Perhaps because they all "speak the same language" - in that degree.
Dasher is depressed and clinging today – he must miss them badly.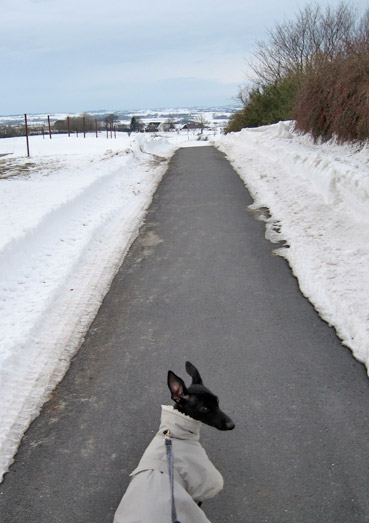 This is one of many foot paths that are so high we can view 10 kilometres of farmland and rolling countryside to the sea. Dasher walks on his own now.
I feel that it is wrong to have just one dog. Dogs need to be several and interact, play and sleep together and two dogs is perfect. One is just as "tied down" with one as with two. Also, it's terrific FUN it is seeing two dogs living their lives together, playing crazy games, communicating, exercising and entertaining each other. Just one dog is NOT the best for either owner or dog – unless of course it's a service dog, and they lead very different lives.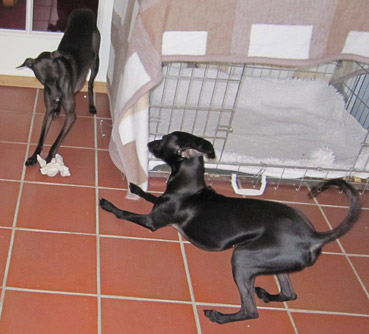 Dasher has a last game with Nardo on Manday. The "prey" is a knotted rag! No need for expensive toys!
---
Sunday 7th Feb.

I tossed a Brussels sprout for Dasher to play with! He loves new "toys" - but whereas it took 7 days for Kris and Nardo to discover the joys of Chinese cabbage, it amazingly only took them only 7 seconds to know that Brussels sprouts were edible and so all dogs had a couple with enjoyment - and Dasher hastened to eat his before the others took it!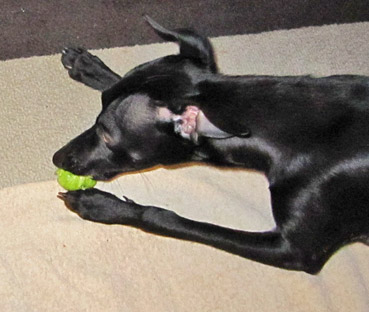 ---
Saturday 6th Feb.

A bitterly cold wind today. Here you can see Kris eating Chinese cabbage. After 7 days of seeing my three eat it with great enthusiasm, Kris and Nardo are finally convinced that there must be something in it and they have a go tonight.
.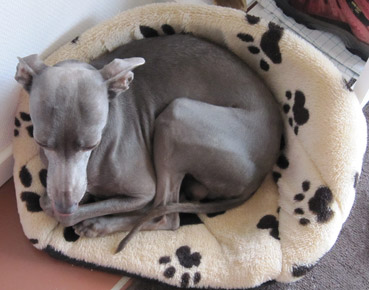 Right: Kris dozing. Below: all dogs waiting for Svend to come home! They heard the car...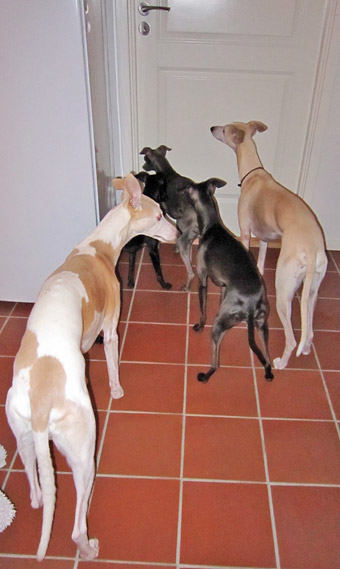 Friday 5th Feb.
9am on the morning walk, here you can see the depth of the snow, cleared on some of the footpaths round here.
One of the two children's playgrounds can be seen upper right.
To the right, Kris and Nardo relax after a lot of racing around followed by a tiny lunch - they look like two bookends!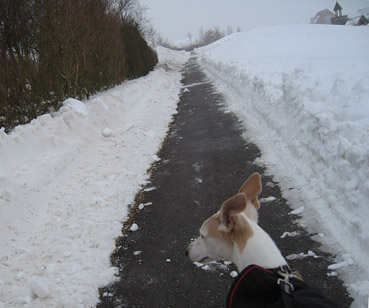 .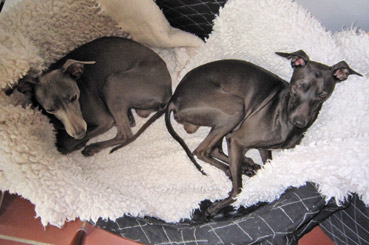 ---
Thursday 4th Feb.

9.30 pm: Kris and Nardo say goodnight after a very busy day! They've chosen one of the Whippet's beds -
again!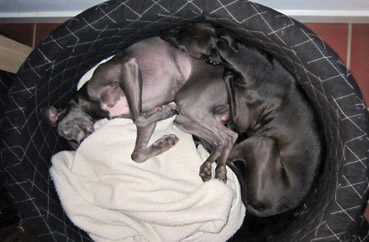 I am amazed! Dasher has progressed from playing with a piece of Clementine peel to asking for and getting, a small piece of the flesh, which he eats with enjoyment! Yesterday, I squeezed several Clementines so we could drink the juice and I gave him a squeezed half, still with some flesh clinging to it. He then carefully gnawed it all out and ate it - see photos of before and after. He knows not to eat the peel! He took it inside his cage, scared that the others might want it - but the others were unanimous: This was definitely NOT dog food,
no way!!!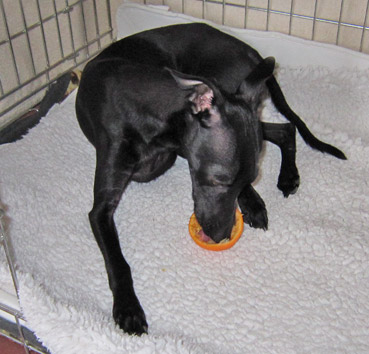 .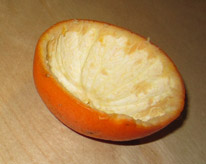 See him enjoying it on YouTube!
www.youtube.com/watch?v=cIcbJTc2RLQ
---
"Freezing fog" this morning - very pretty on my two doggy walks. Here's a couple of shots. Usually from here I have a view of the sea and the island of Fyn that is 10 kilometres away - we are so high up in this part of Denmark.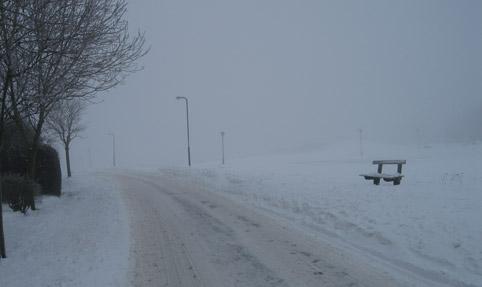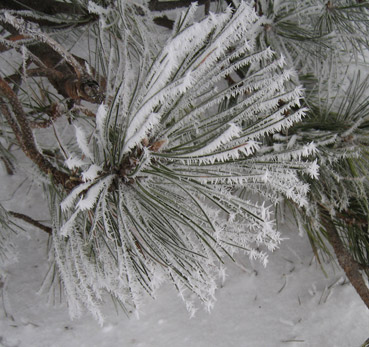 ---
Wednesday the 3rd Feb.

Another heavy fall of snow - we really can't take any more! Here are photos from the morning doggy walk, at least the sun was shining. Oooh, roll on spring...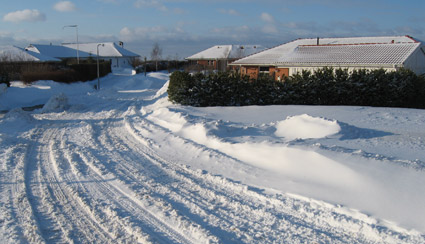 Our house extreme right behind carport/workshop. This is the state of the road!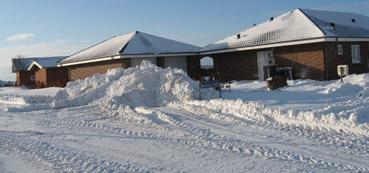 .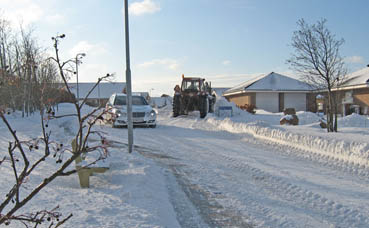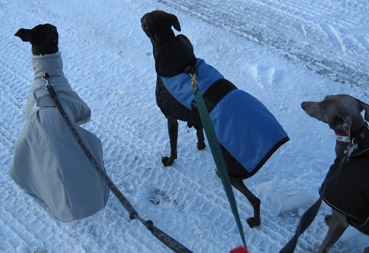 Above: On the walk, we wait for a car to pass. Below: The dogs get plenty of exercise running in the "racetrack" we have dug out for them all the way around the house.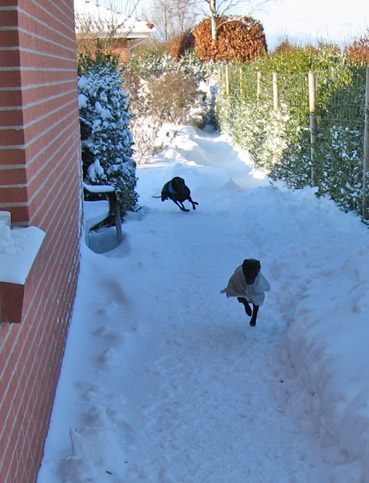 .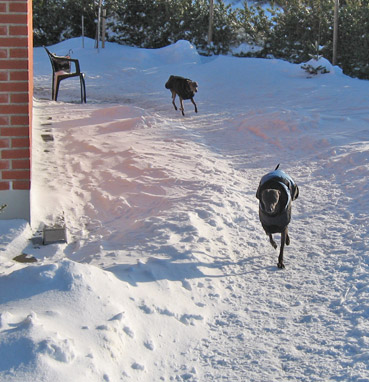 Left Dasher and Nardo at full speed. Right Nardo and Kris who are last each time so no Whippets in sight, they are always first!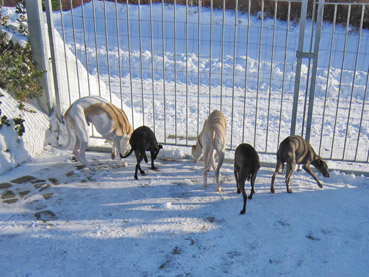 All out for a quick pee!
Today we cut Kris and Nardo's nails and I'm quite proud of myself! I set it up the way I descibe below (see the new picture below) and they gave no trouble at all. Nardo's were a bit "criminally long". Dasher didn't want to be left out, so we did his as well - he ASKED to come up and have them done, ha ha! Then the Whippets, shut in the hall so they didn't disturb us, cleaned the entire box top better than any washing machine - ready for next time! My way might seem mad - but it works a treat!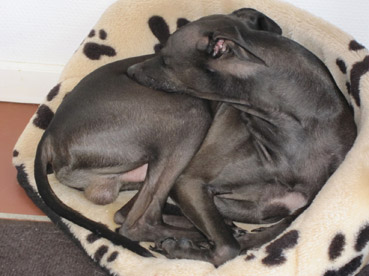 Nardo after a run and then his little lunch! (But before his nails were cut!!!)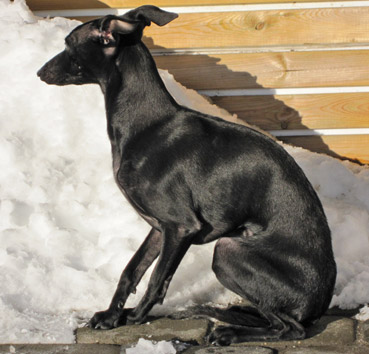 Dasher enjoying the sun.
---
Tuesday the 2nd February
All yesterday, I thought that Kris wasn't well and would need blood tests when he got home again! But dogs show their unhappiness at being uprooted, having to live somewhere else away from the loved owner with a complete change of life, in many different ways. Nardo was clinging but as to be expected, I just petted him a lot whenever he asked - but Kris seemed ill. However, luckily, Kris isn't ill at all! He was just having a bad bout of homesickness! This morning he's full of high jinks and playing in a way I haven't seen since he was a puppy and he ran in the garden and generally seems fine. So he has relaxed here and is now willing to lead this new life to the full!
Here is a new video taken last week of Dasher trying his best with an "activity ball". As I explain, IG's are good with their feet and push and shove, but not PULL as is needed here. He gets into great difficulties as it jams up everywhere!
www.youtube.com/watch?v=OS3pfuKYiCw
then today, Kris has a go - he is still a new-beginner, but doing just fine!
www.youtube.com/watch?v=AAYYz7RMCs4
---
Monday the 1st February 2010

Terrible amount of snow and more on the way. I had taken the Whippets for a walk, then took the three Italians and it went really well! All three were on their best behaviour. The day-care mothers who we met with their cute children all thought they were seeing double, or rather triple, and were amazed the breed was not bigger. Actually Dasher is the smallest, (and there's me thinking he was big!) and he's just about fully grown at almost 9 months!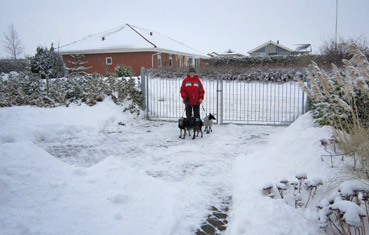 .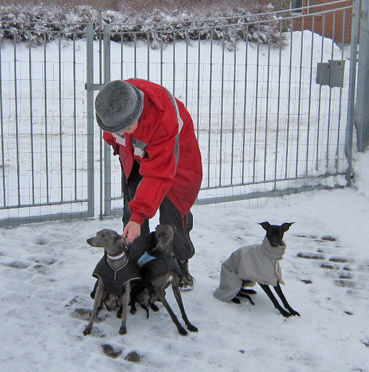 They get along very well, although Nardo has "fallen in love" with Timmi, who just ignores him, and "docile" Kris turned really nasty over a chew-stick - so no more chew sticks, although there are old bones all over the place! Otherwise Dasher keeps them constantly on the go - which they are not used to, being as they are "elderly gentlemen" now!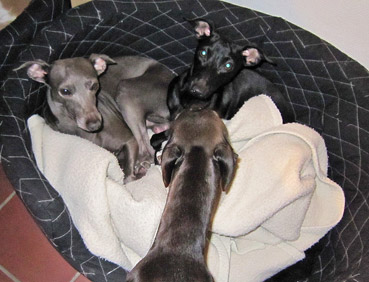 .
Dasher alternates between lying together with Kris, as in the left photo, or lying with Nardo - but so far not all three together.
To the right Kris has sneaked in to sleep with Timmi. Timmi has a plaster on the tip of his tail. Somehow or other he has cut it, and blood poured out all over the snow, so a plaster was needed! I'll leave it on for a day.
---
Sunday the 31st January 2010

Despite high snow drifts and even more heavy snow, our friend's IG's Kris and Nardo made it to our house where they will stay for about 8 days. The Whippets recognised them from the summer and are really kind and putting up with the typical Italian liveliness, whilst Dasher is in his element with - at last - two friends of his own breed who "speak the same language"! Tonight, you'd think they had always lived with us! Typical Italians, they all get along together just fine. I have never seen them fight, they can growl, and threaten with a look, but they work it out between themselves with no problems. Here are some first photos - no good ones yet...it's not easy to photograph such lively souls!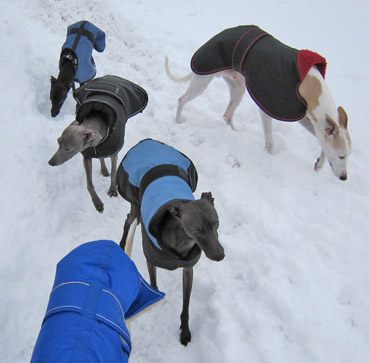 .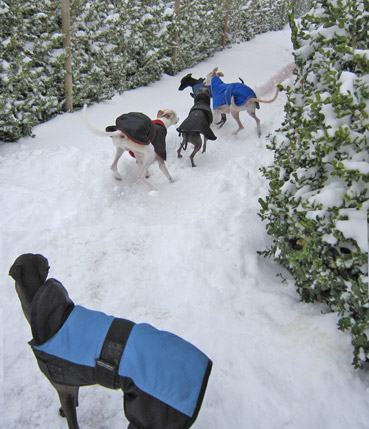 All out in the snow!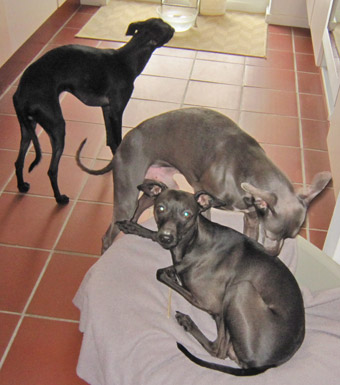 .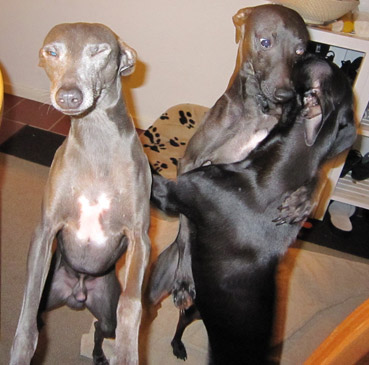 Making themselves at home and right, a funny shot - see Nardo's paw around Dasher! They all want up on my lap!
---
30th January 2010

This is Dasher paralysed in the deep snow that fell last night. We have never had so much and huge snow drifts everywhere. There is a flower bed around this tree marked out with boulder stones - but not a sign of any of them! The time was 7 am - and it was minus 8.9 degrees!
Brrrr!
At 11 am it is minus 4.3 in the sun!
But keep an eye on this space! Tomorrow and for 8 days, we are looking after IG's Kris and Nardo, (seen twice in last year's blog) so I am expecting piles of funny photos and several videos to come out of what will be some hectic and fun days!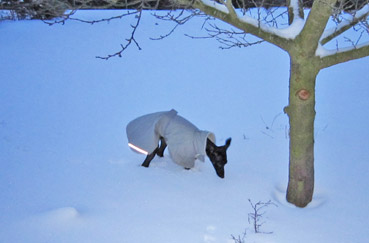 ---
23rd January 2010
Can you see Dasher?
This is Dasher on the sofa late last night! Look carefully!
(It pays to always have one's camera at the ready!)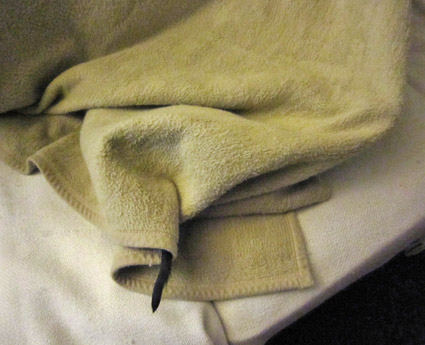 ---
21st January 2010
HOW TO CUT YOUR IG's NAILS!!!

I used to quite successfully wait until Dasher was tired and wanted to sleep, then slowly and carefuly cut his nails with Svend's old nailclippers. (He's got a new pair!) Now Dasher is older and cleverer and he makes it very difficult for me.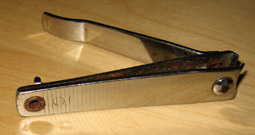 So here's how Svend and I got his nails cut this morning. I've just invented this new way of doing the deed! You might like to copy the idea as it works well, the dog's happy about it and you get the ghastly job done!
Step 1: Prepare the table
. Cutting nails at table height is best. Put a folded blanket on the table to prevent claws from scratching it. Find something that can function as a little table for your dog to eat off - that is at the dog's head height. I used a cardboard box, weighted down with some large onions put inside (!!!) and then smear something delicious like liverpaté, cream cheese, even butter will do, all over the top. I used the Danish "leverpostej" (Liver paté made from pig's liver, not goose.) Anyway, it wants to be "lickable"
and take time to be removed from the surface
. Not just a blob of something, but a large area!
See here: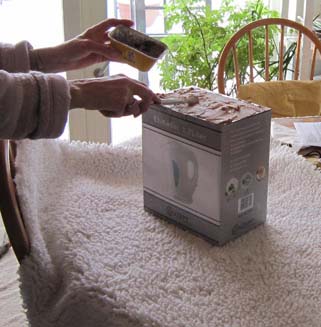 Put this box on the table beside the blanket.
Step 2: Prepare the dog.
Put collar on the dog with room for a hand to hold firmly so there's no chance of the dog falling on the floor. Put a good winter coat on the dog, preferably one with a chest piece. The coat makes it easier to hold the dog as they are as slippery as eels!!! We have not yet bought a lure coursing muzzle so Svend put on leather gloves as a precaution against biting. He was my "dog holder"! (The "holder person" so has his/her work cut out that it would be impossible to give treats at the same time. My way means the holder person is free to just concentrate on their big responsibility!)
Step 3: Lift the dog onto the table
and the "holder person" puts left hand inside collar and holds it with a death-lock grip and right arm around the dog's chest and squashes the dog tightly against him or herself -
so this dog isn't going anywhere!

Dasher, who had been quite excited at all the preparations, was amazed at being lifted up onto the table! But he immediately spotted the delicious treat of liverpaté right on nose level. He had a choice: Make a fight and try to get down or lick up the liverpaté and concentrate on that. He couldn't resist the liverpaté so he got started licking whilst I, with reading glasses firmly perched on my nose, got on with the cutting! It worked a treat! These nail cutters are better for small dog nails than proper dog clippers. Dasher thought it was a great idea and we were so relieved at how well it went!
---
19th January 2010
A tip:
Dasher loves to play with SMALL things, from a pea, a hazelnut (which he cracks open and eats), table tennis balls, piece of orange skin, a laser light, small ball of silver paper, tiny piece of carpeting, a leaf, a small sock with a knot, a small plastic bag knotted up (rustles attractively!) a dice, a child's wooden bead and so on - so instead of buying dog toys for him, I buy cat toys! Big success! Thought I'd pass on the tip!
---
January 15th 2010
I have been expecting for this day! Four neglected horses live in a field just one small field away from the road that I walk down with the dogs every day. Their wooden fence has been slowly falling apart during the nearly two years we have been here and this morning finally, they have realised that they can step into the next field and enjoy the long, untouched grass (even though it's under snow, they kick it away) and even an old, half-rotten bale of straw left there from last summer. In their own field the grass is eaten down to the roots and their own bale of straw is long gone.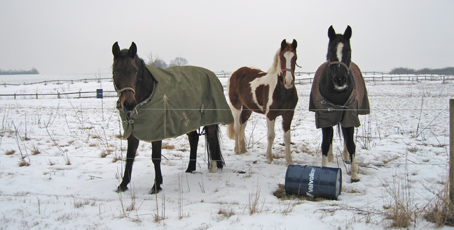 Dasher was totally fixated with the sight of them so near us, so I went over with him. The horses were very interested in us (they see us every day from a distance) and probably hungry for treats but dog biscuits are probably not suitable. Dasher was paralysed with fascination at seeing them and refused to eat any biscuits - offered to ensure he would not bark - and sure enough he DID bark and so we beat a hasty retreat.
They will be kept from the road by two thin wires, (no electricity), which I could see they had observed and respected.
So they are safe – and enjoying the extra food.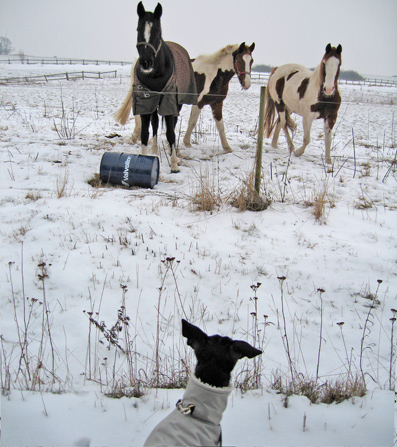 You can see their own very narrow field and fence in the far distance.
---
January 11th 2010
I have many ideas to entertain the dogs inside while the winter is so cold. Here is one: I got an old shoe box, cut a hole in the lid and showed them that I dropped some small dog biscuits inside. (Actually I use their own dog food - it's healthier!) The lid was NOT taped down. They were mystified, but I know they have a recollection of the plastic ball one can buy in pet shops with a small hole where biscuits fall out when it is rolled around the floor. So they set to work. Dasher seems to want the others to solve the problem for him, later he's a bit scared as the box is often sent spinning towards him and hits his paws! Timmi gives up pretty quickly then Magnus moves in and gives it all he's got and succeeds in turning it over – and he gets all the tit-bits in the end!
You might like to try with your dog?
www.youtube.com/watch?v=zngjPNfyYcA
---
January 9th 2010
The neighbour's daughter and her friend came round to play with Dasher. They discovered they could fit into his cage (where he sleeps at night and also when we go out and leave the dogs at home alone), and invited him inside with them! He was there quite a while and I made a video I have now put it on YouTube. Svend and I are still laughing and they are such nice children!
www.youtube.com/watch?v=WApnzIt7UY4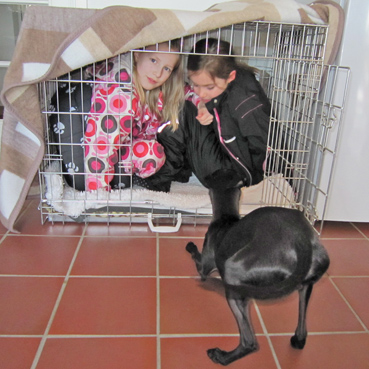 Then they asked me to photograph them asleep in the cage!! (They said they would love to come and spend the night here in it but we didn't think that would work out!!!) Dasher was amazed, he has never seen anyone inside his cage before, nor is he used to sharing!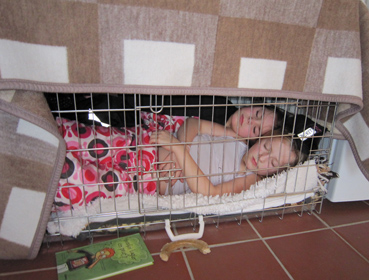 Then they wanted me to photograph them together with Dasher - and I have given them prints of the best photos to take home, but goodness knows what their parents will think when they see that they come round here and get shut in a dog cage!!!!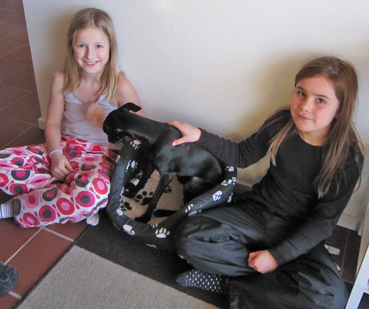 ---
January 4th 2010
Dasher is 8 months old and suddenly, out of the winter gloom, he was posing in a shaft of rare sunlight so we could see that he has become very beautiful indeed and definately up to show standard, despite his height now knocking 41 cm - where 38 cm is the ideal in Europe! I will have to take some good photos SOON, so watch this space!!
There are now 18 videos of him on You Tube which you can find if you ask for "sighthounddotnet".
---

Older blogs: 1st blog July 2009 - 2011 - 2012 - 2013 - 2014 - 2015 - 2016 - 2017 - 2018 - 2019