Friday the 26th of February 2021 - and the thirteenth blog!
Solo is always stealing something! This time a plastic bag! He sits waiting for me to come and take it.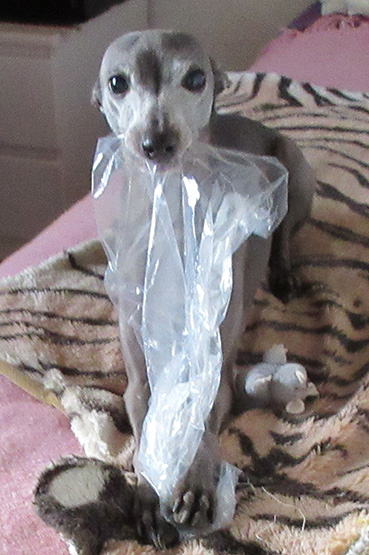 ---
Monday the 22nd of February
Mild and sunny so I took the very long walk over the fields - yet snow is still piled up very deep!


---
Wednesday the 17th of February
Rain yesterday afternoon and plus degrees have helped clear some snow... below, outside my gate leaving for a walk: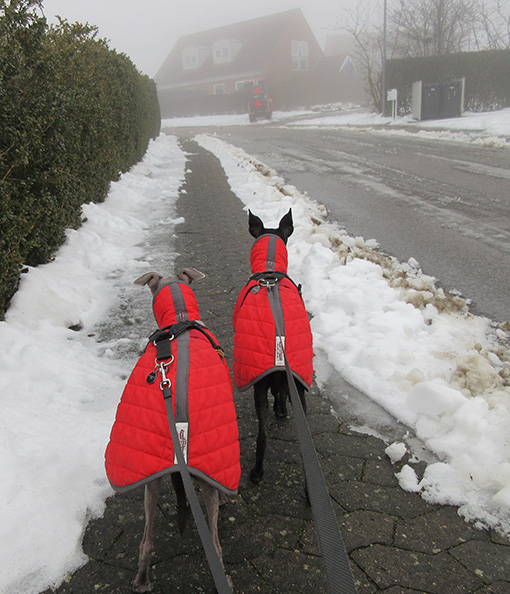 Photo below to show how tough they are. They don't hesitate to walk along in the snow even when there is a perfectly clear path!



It's misty due to the drastic change of temperature. Below, they still run around the house, though I had to clear a path for them in the back garden!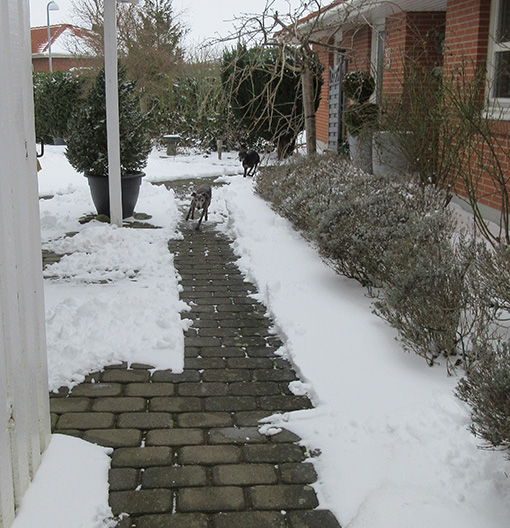 Dasher enjoys eating earth in the garden 2 days ago! I take it as a sign the current brand of food doen't suit him.

---
Tuesday the 16th of February
Early morning photo. We got snow - again! Whole 12 cm in a wild snow storm... ugh.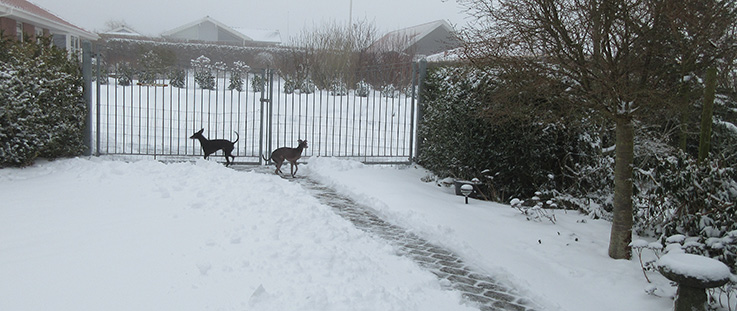 Below, later on the doggy walk. At least it was zero degrees so it felt "warm" by previous standards!

Our road. No prize for good snow clearance!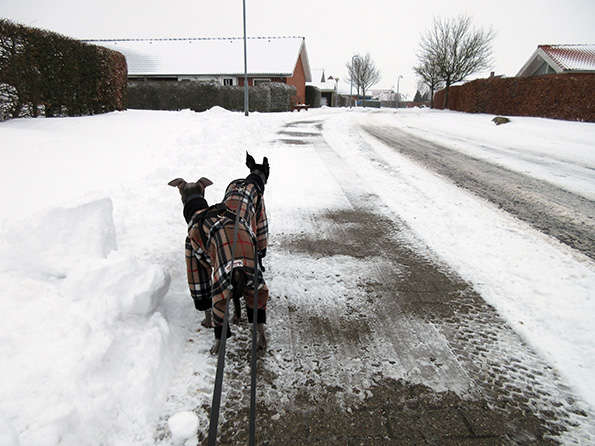 ---
Monday the 15th of February
A beautiful sunrise early this morning - just for a few minutes. View across the road to the neighbours.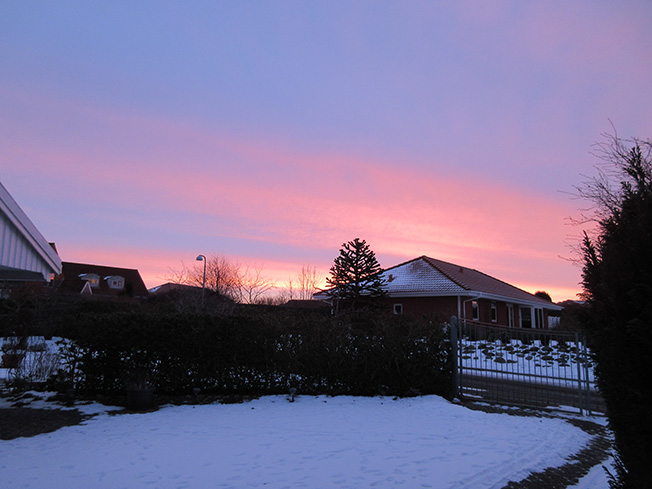 ---
Friday the 12th of February
Even this morning at minus 10 degrees, they still take the time to check if any burglars are coming our way!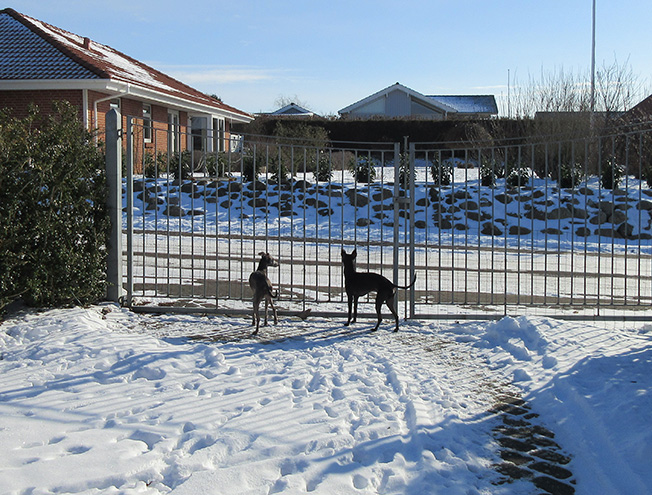 They are surprisingly tough. A friend asked if they didn't need shoes as well as 2 coats? Well I could easily buy some but they would HATE them and it takes ages to dress up for every walk in any case. The proof that they don't need shoes is, that after every walk, (only very short in this cold), I open the gate to the back garden for a last chance to "lift their leg"- and they can wander around sniffing, chasing birds etc. for nearly 10 minutes sometimes. They are in NO hurry to get in – the door is open, the choice is theirs! So I take this as a good sign that cold feet doesn't bother them. They also don't hesitate to leave the cleared path on our walks and go off after a sniff in the snow or even stroll along in the snow beside me while I walk on the path! If their feet were painful, then they would surely shoot straight into our very warm and cosy house?
---
Friday the 5th of February
Boy, did we get snow - again and now several minus degrees, so nothing's melting. We've not had this much snow for several years. The dogs are tough and take their time in the garden! Though now the temps have got even lower and windy, I put a jacket on them. This is part of the backgarden.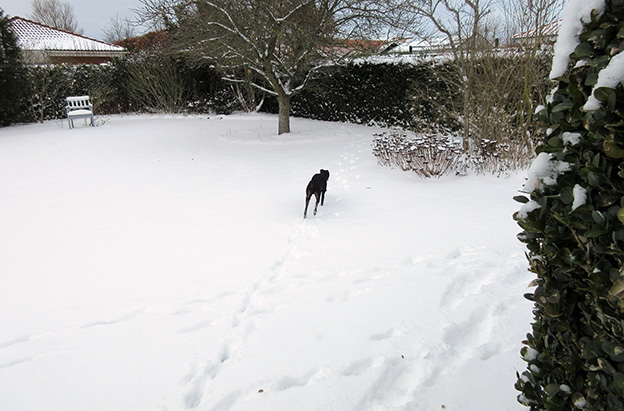 Below, they are not in any rush to get inside again, here they have spotted a bird in the driveway.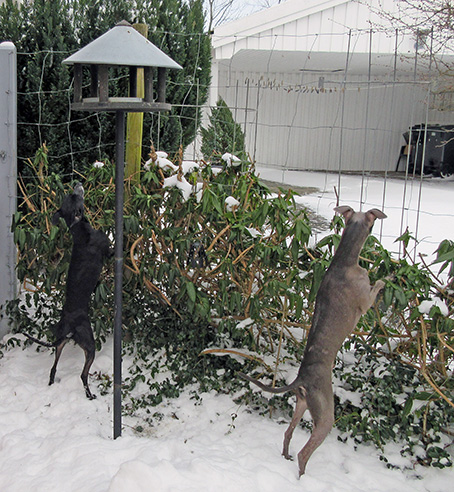 On the dog walk this morning it was necessary to use two coats, it was so cold and windy.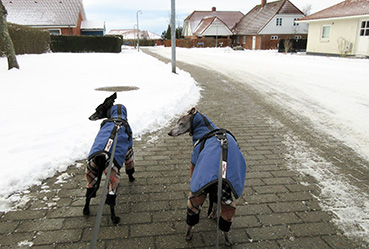 ---
Wednesday the 3rd of February
Below, Dasher looking cute while trying to tell me to get up from the computer and give him lunch!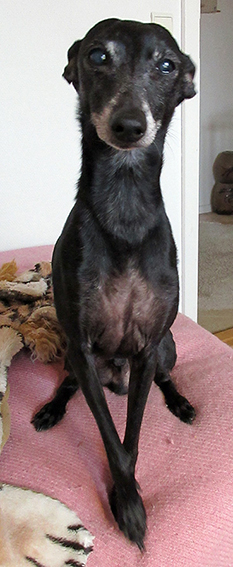 .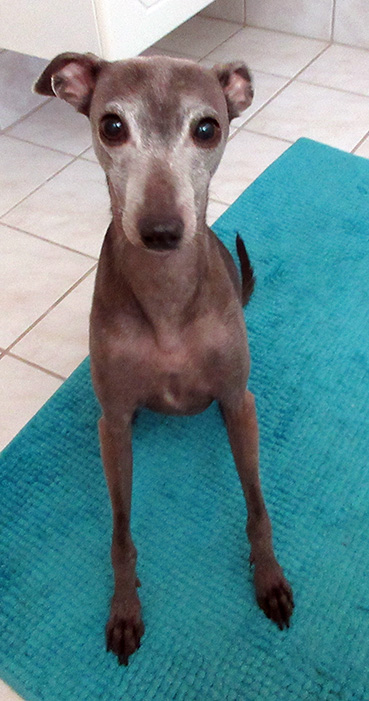 And Solo supervising me in the bathroom! Below, the moon shining early one morning...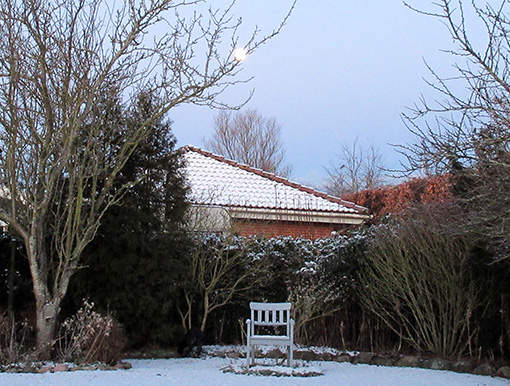 ---
Sunday the 24th of January 2021
Below, having a warm up after the walk.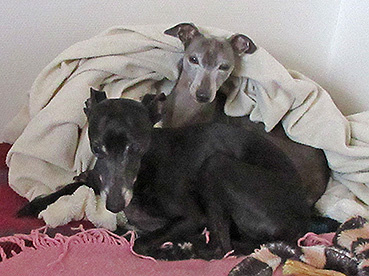 Below, milder weather and snow now just a faint memory! Time for their Pumpkin coats sewn by Togs for dogs!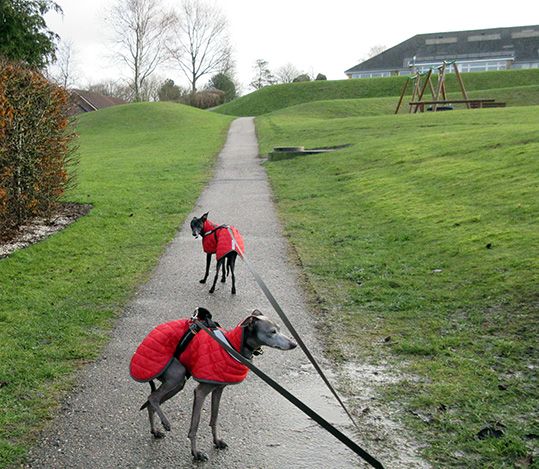 Solo up to his usual tricks of stealing anything and everything!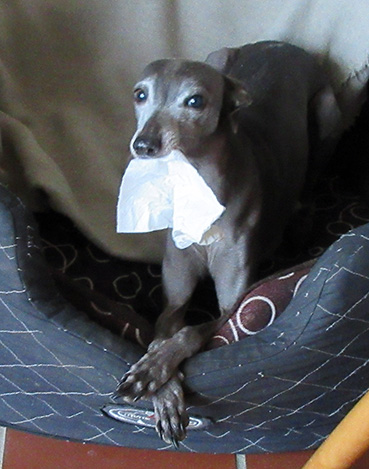 ---
Friday the 15th of January
All autumn and winter, while the season lasts, I eat a few walnuts every day as part of my lunch because they are so good for me. Just as I was running out and everywhere was sold out, son Adrian turns up with a kilo bag that has flown all the way from Chile! He saved the day. Here on the left are the last 4 from Grenoble in France and on the right, 4 of the new ones from Chile! One can see the difference! Taste is almost identical.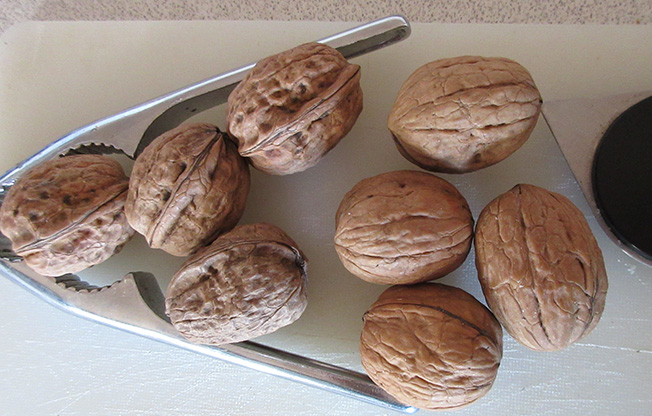 ---
Below: Admiring the finished shapes in snow that the children made yesterday. (See below.)
Minus 4 degrees today so the dogs needed their coats with warm fleece legs - which they hate to have on!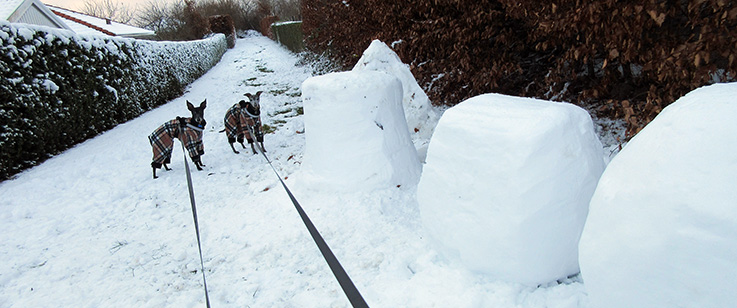 All very mysterious says Dasher!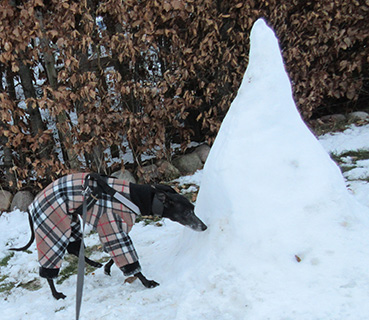 Below: Blackbirds are desparate to find food with this blanket of snow covering everything and minus temps. I put outside the only apple I had when off on the dog walk - they LOVE apples. When I came back, this male was eating it and was so loath to leave, that he stood there while I unlocked the door less than a yard away and I could even take some photos of him. I must buy some more apples.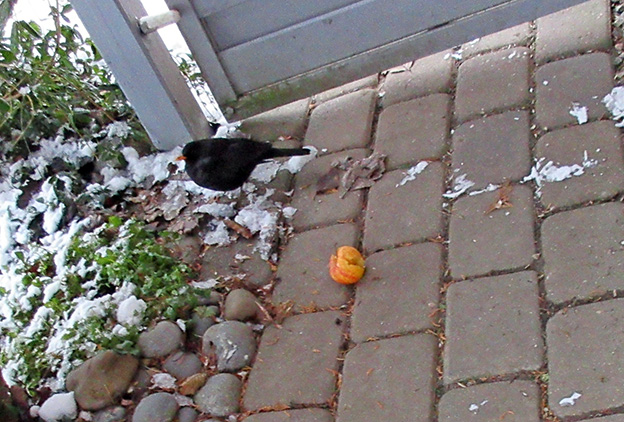 ---
Thursday the 14th of January
Snow storm all last night and about 10 cm deep - much more than I have seen for quite a few years!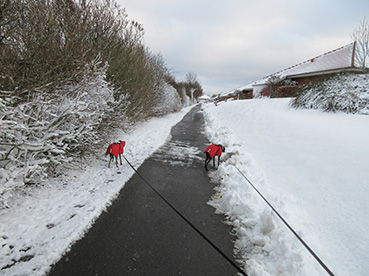 .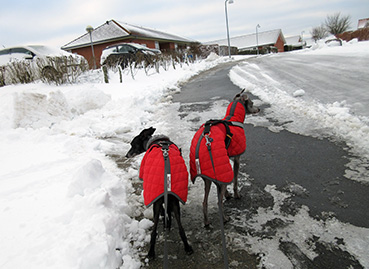 A family who were making huge shapes in the snow and explained it was to do with a school project!



Below, the dogs run around the house for exercise!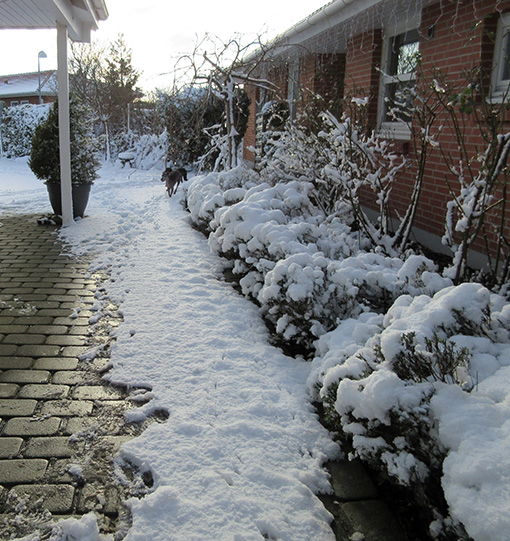 Below, earlier on before 8 am, the end of my road and the house: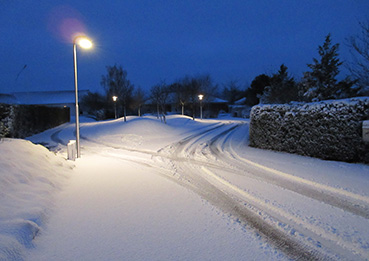 .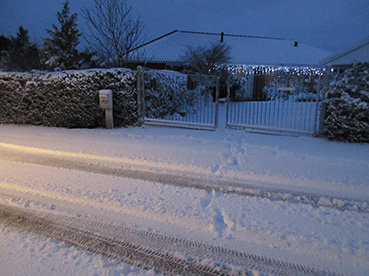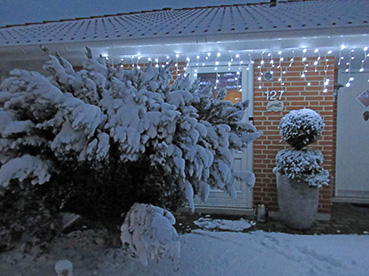 .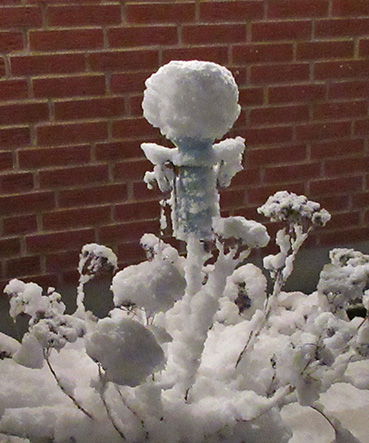 Above right is my rain water measure with 10 cm snow on top! Below, my back garden next day.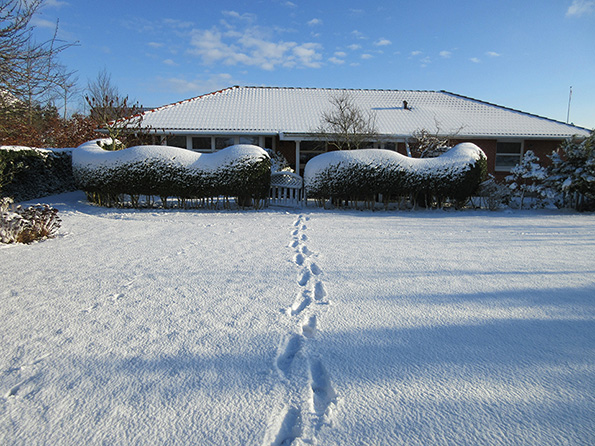 But in total contrast, Copenhagen has none at all, see my son's view over town: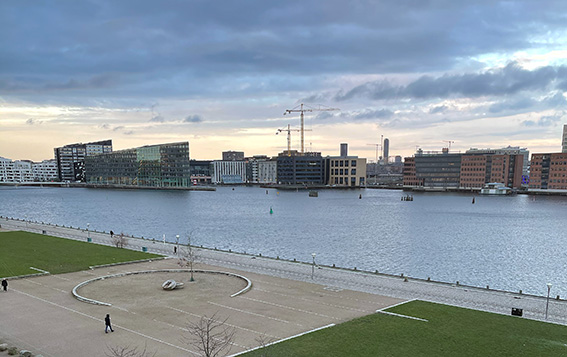 ---
Tuesday the 12th of January
The last of the snow - in the form of a snowman sitting on a bench - but melting FAST! (What a great idea!) The dogs were very unsure - if not a human, then WHAT? They even gave it a woof!


.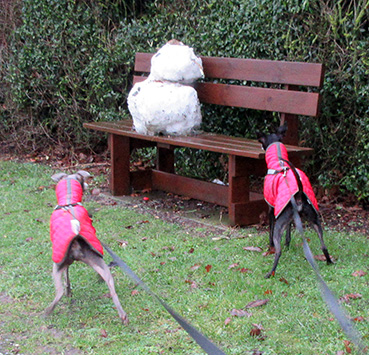 .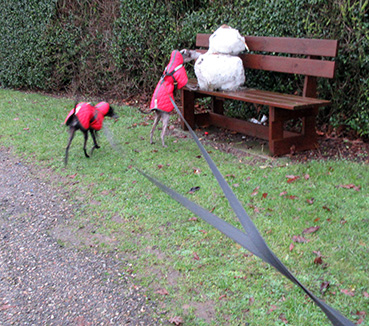 ---
Friday the 8th of January 2021
We have Christmas and New Year behind us and look forward to a Corona-dominated future!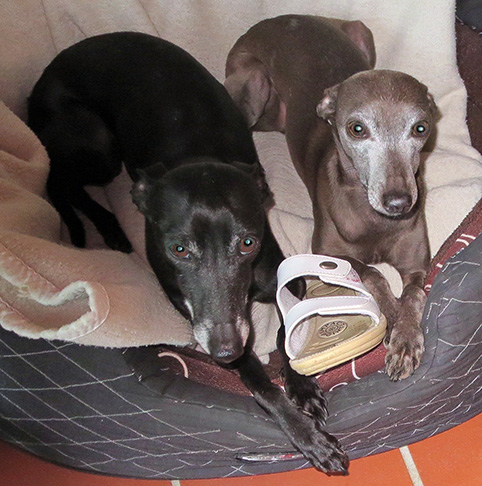 Guess who took that shoe! Below: The mist before the snow came.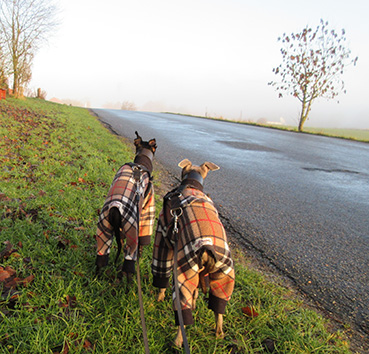 ---
We got snow! Early morning photo from Wednesday.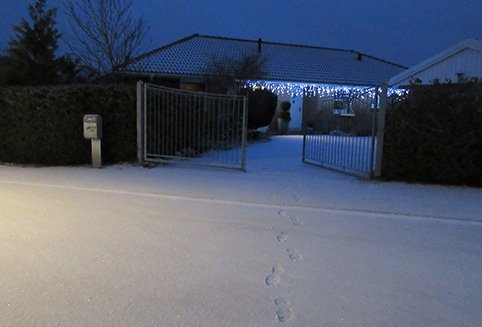 View from my "Ring" doorbell! Everyone should have one! Bring an end to all house break-ins! wikipedia.org/wiki/Ring_(company)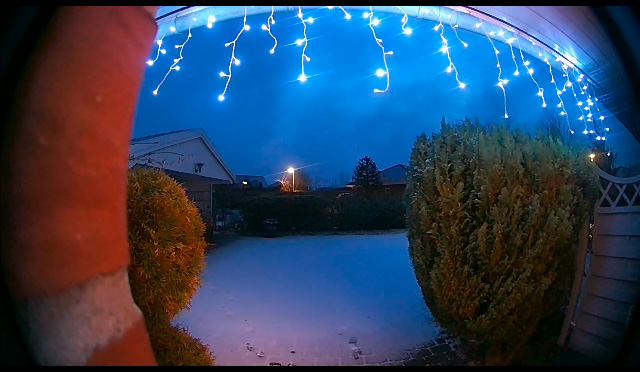 Later on, the Ring door bell filmed me trying to film the dogs in the snow!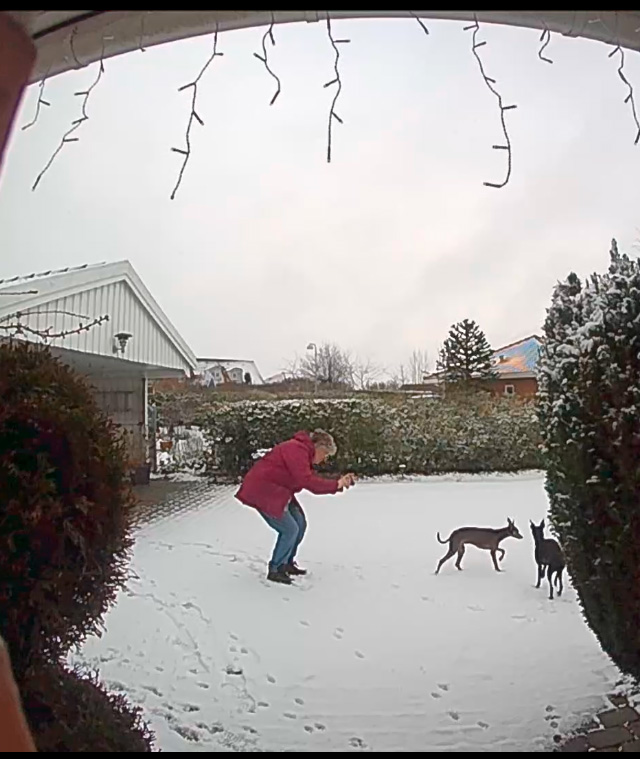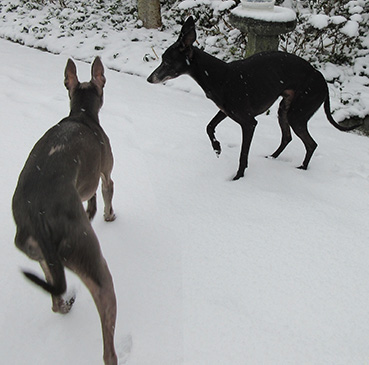 Two days later and much has melted.