Monday the 23rd of April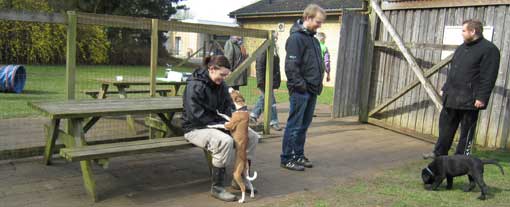 We take Racey to the vet's puppy playground every Saturday morning - except when there's guests for lunch or coursing. I haven't been able to photo anything due to rain showers or general damp mist but at last this time, he played with another dog! Usually he just wants to go home. A chubby 3 month old black Labrador pup scared him stiff at first but on nearer acquaintance, Racey found they could play and he even enjoyed the pup's attempts to catch him up. The others gasped at Racey's speed but they should just see what he COULD do in our garden!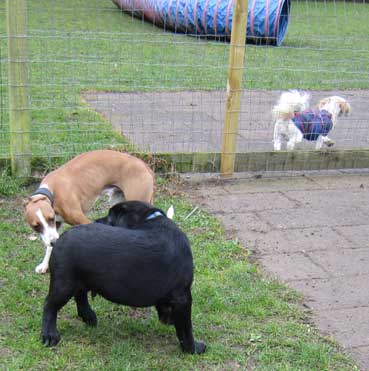 -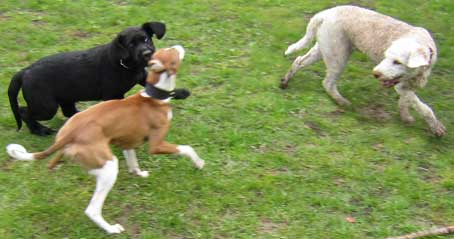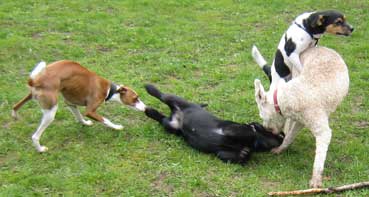 The little Danish/Swedish farm dog seen on the right was playing another sort of game......!
---
Tuesday the 17th of April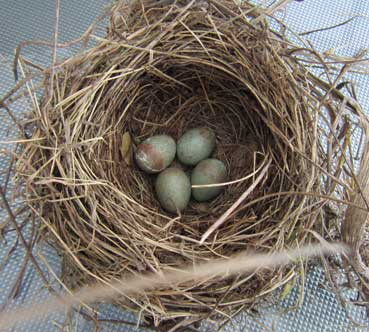 I am so sad. I had to pull this beautiful Blackbird's nest out of the hedge by our kitchen and patio. Far too near the house and where the dogs sit and sunbathe. If the dogs hadn't smelt it, the constant chirping of hungry chicks would have attracted them and it was in easy reach at waist level. The day that they fly - if they get that far - they get just one short flight onto the lawn and are instantly caught and bitten to death - as we know from bitter experience. There was NO WAY these babies could have survived, so the nest has gone to my compost container... I am so sorry about it... I love all our many song birds. However, we have too many Blackbirds so they have difficulty finding good nesting places and this makes them choose stupid sites and fight a lot. In the meantime, isn't this a work of art? Such a shame I had to destroy it...
Saturday the 14th of April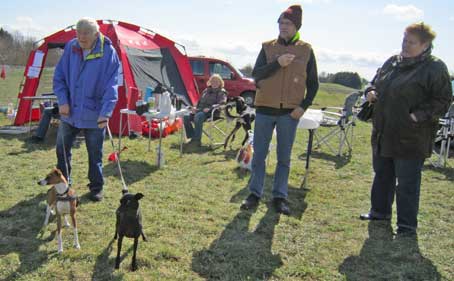 Racey is now 8 months and we go to lure coursing again. He was not very interested but we had a good time with many enjoyable conversations with all our friends and the weather was sunny. Dasher ran brilliantly as usual - he just LOVES it.
See the video here: www.youtube.com/watch?v=Gwnm_9jjTsk



Some of the cakes!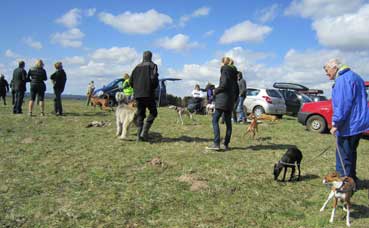 -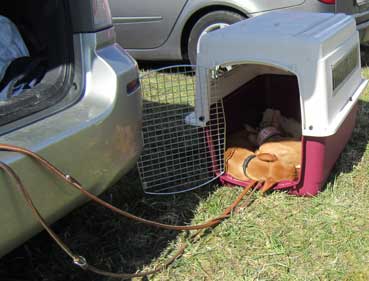 Right, two exhausted Pharaoh hound babies retreated into their cage for a good sleep!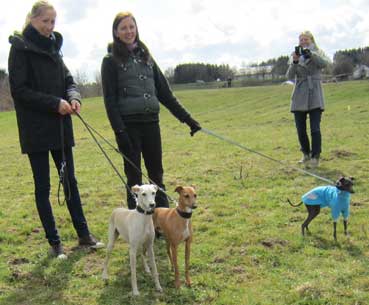 -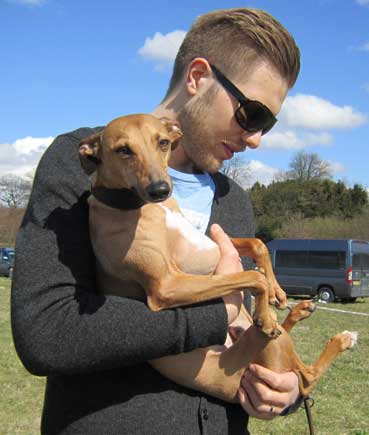 Some of the Italian gangsters! Right: Chico wouldn't run and is comforted by "dad" but Chili, (the cream dog), his first time EVER, ran perfectly! See the video here: www.youtube.com/watch?v=Gwnm_9jjTsk Dino (blue coat) ran well too, but I missed him unfortunately - due to chatting too much with the others!!! (Dino is a nephew to Dasher!!!) So now at last Dasher has some good competition!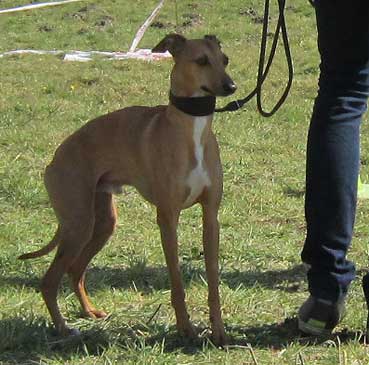 Chico watching!
---
Friday the 13th of April

We deliver Kris og Nardo back to their owner and go for a wonderful walk for 2 hours on her local beach!

There wasn't a breath of wind and though chilly and misty at first, the sun came out so off came the dog coats!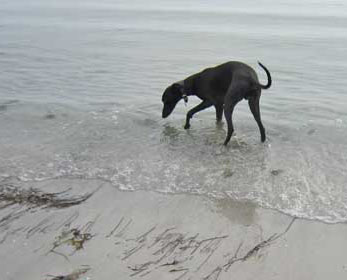 -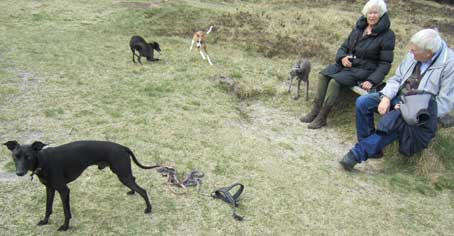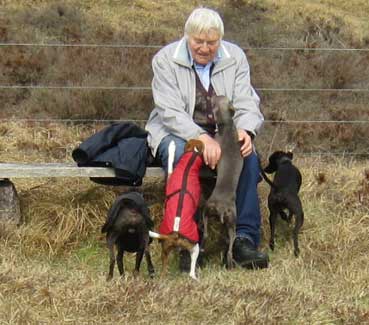 -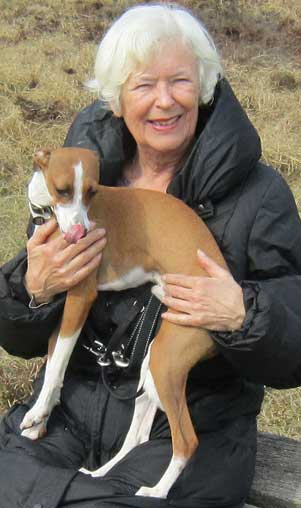 Svend with all the dogs. Racey has always been able to jump up with total precision onto someone's lap. Here he has surprised Ninette!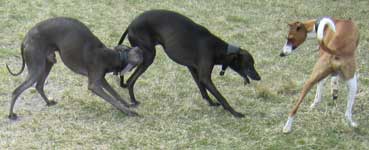 Nardo has found something dodgy to eat,
ugh!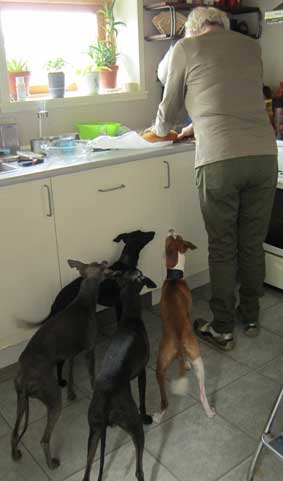 Afterwards, a delicious lunch! Here, the dogs are hoping for some of the special "beer bread" - but they have already eaten their food!!!
Tuesday the 10th of April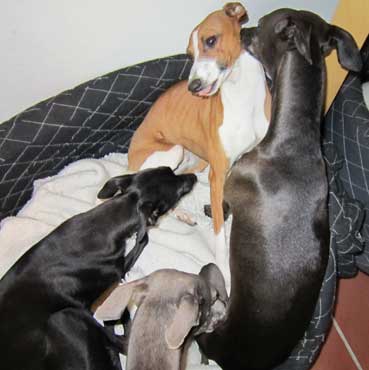 -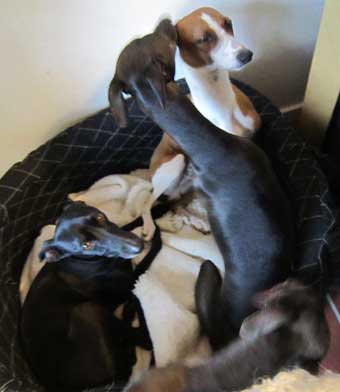 After some cold, windy and rainy "walkies" Nardo washes Racey's right ear and face, while Kris, feeling left out, "dries" Nardo!

Monday the 9th of April,
You should just see me cleaning SIX dog's teeth every morning before they have breakfast!
Racey has to wait outside as he leaps madly about and annoys everybody but the other five go like lambs to the slaughter into our small "mud room", which has good lighting – sunny even, if the weather's nice and I get brushing, starting with Magnus who's soon 12 and who is nearing needing a teeth clean by the vet under anaesthetic. This is expensive and dangerous in his age, so I am very particular about his teeth and any hint of inflammation is kept down by dabs of "klorhexadine" afterwards - as it's called in Denmark – very effective. I use the "poultry tasting" dog toothpaste that smells revolting and costs more than the double of human toothpaste! Then I switch to the two guests who have their own brush and toothpaste.
I get each dog backed into a corner of the small room, so they are forced to give in and of course they are aware that breakfast will be served straight afterwards so they can think of little else. Racey comes in last. He is under the impression that the toothbrush is a chew toy, so I have to battle it free from his teeth to brush here and there only to get it seized again – but I get done. This brushing pays dividends later in life as they get so used to it and inevitably the plaque piles up as they age, some more than others. For example we got Magnus at 1 1/2 years old and his teeth were already well limed up. Timmi, who is 10 this August and Magnus's nephew, has PERFECT white teeth still, so I only go through the motions of cleaning him! So he's not left out of the poultry tasting. Each dog can hardly wait for it to be his turn!
The dogs mix well together, all sit/lie with each other and although the Whippets wouldn't mind if they never saw an Italian Greyhound ever again, they are very kind and give in to being "hotwater bottles" and wearing the little ones like "decorative shawls".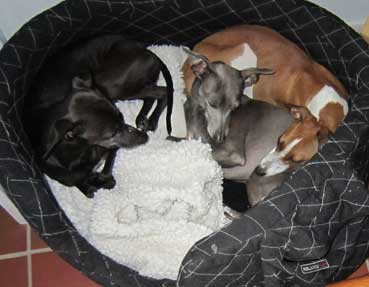 -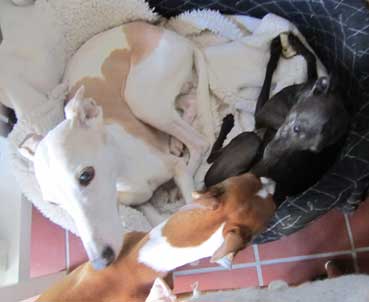 Left, Dasher and Kris with Racey squeezed in at the back. Right, Nardo is chewing a bone beside tolerant "Uncle Magnus", temporarily disturbed by jealous Racey. We don't give bones when the guests are here as these can ruin the best of friendships in just seconds, but Nardo had found this one amongst all the toys!

Saturday the 7th of April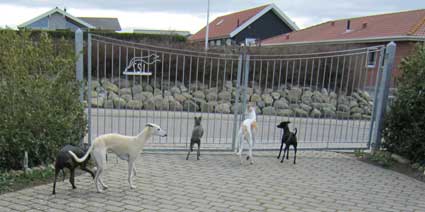 All except Racey guarding by the gate!
Now we have 6 dogs! We are looking after two guest dogs, Kris and Nardo while their mistress is visiting her daughter abroad. All dogs know each other well, so there is no problem. (We avoid giving them chew bones for the duration though!!!) Svend takes the two guests on their walks, to help. Unfortunately, the weather is bitterly cold with a hard wind from the north and rain yesterday. Here are some photos. Below, Svend off on a walk - they are wearing Dasher and Racey's coats as it wasn't quite so cold. Right: Kris enjoying his Chinese cabbage after dinner!

-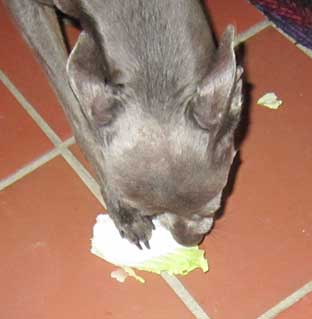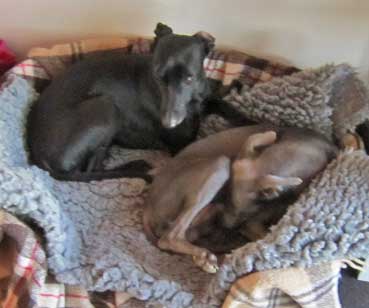 -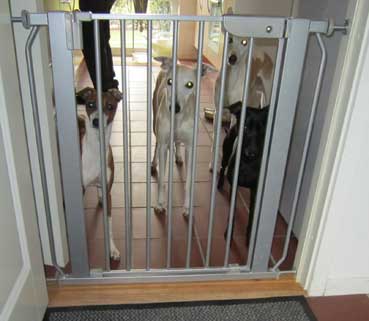 Left: Dasher shares with Kris and right: Looking on enviously while the guest dogs eat their dinner! We give them food in two groups. Mine eat first, but have apparently already forgotten!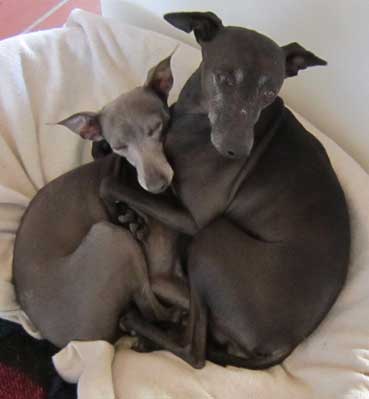 Cute photo of Kris and Nardo about to sleep after dinner. The camera makes Nardo look huge, but they are the same size. (I think he has toothpaste on his nose!)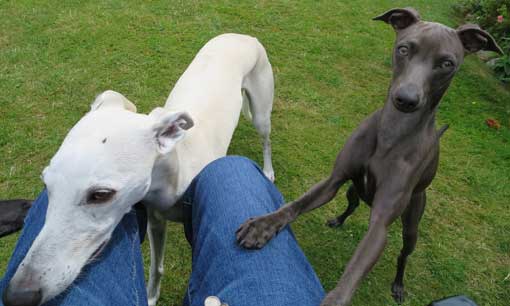 Even more dogs waiting to get inside after a game in the garden!
---
The dogs having a mad game:
www.youtube.com/watch?v=K8wQlIgpJ-E
---
Wednesday the 28th of March
The spy cat from last year was back this morning! Doing what cats are good at: Sitting still so they think they are invisible! You'd think "they" back at spy headquarters, would have the sense to send a red roof-coloured cat instead? However, what it is REALLY spying out is when it can come into our garden and use a certain sandy spot as a toilet - in danger of it's life!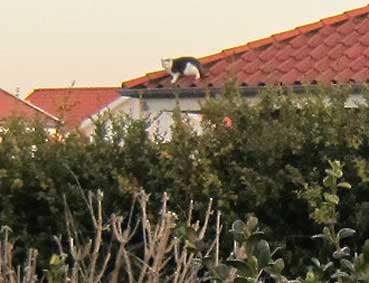 -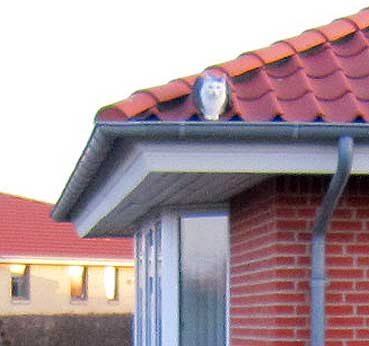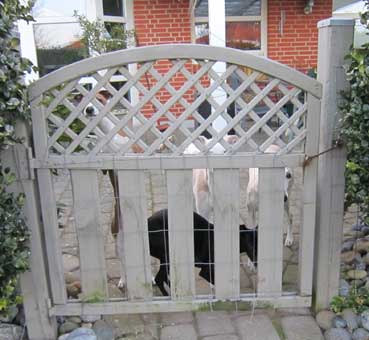 Above: The cat killers safely behind the gate - they haven't seen the spy! Yes, look closely, there are four of them.
More nature shots: Came home from a dog walk and had quite a wait while a female blackbird finished her bath! Not worried at all about the dangerous audience! Again, you'll need your heavy duty microscopes to spot the bird!


Sunday the 25th of March
We went to the year's first Lure coursing - and a record number of dogs, no less than 65 of whom many ran 2 times as is usual. To handle this, we were all totally streamlined. Tho' this didn't stop the cord breaking and other small hitches! Dasher ran with Sorento, who was doing a come back after badly injuring a dew claw (happened now several times, poor dog) so they are now bandaged up so it can't happen again and he looked just SO smart in his get-up - we agreed it was the latest spring fashion!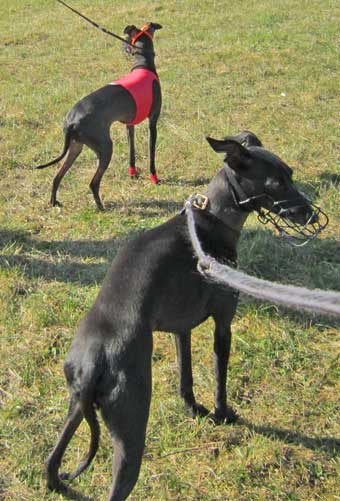 -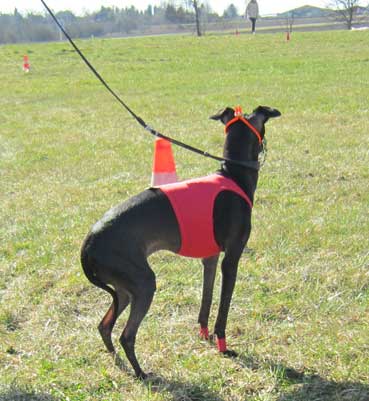 I'll have to get some for Dasher! They ran in fine style. Not so Racey, who would sooner run after Dasher than a lot of plastic strips, so we ran part of the way together! He just wanted to go home. It was also a long time to wait, as he was drawn number 37 and more than ready for his morning sleep by that time! I have never had a dog who was so little interested - but I know I only have to wait...or get a toy dog looking like Dasher, which we could tie on the end and drag round -
THEN
he would run!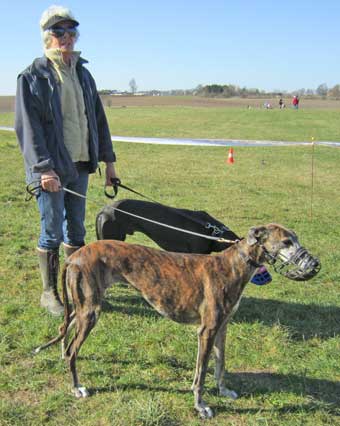 -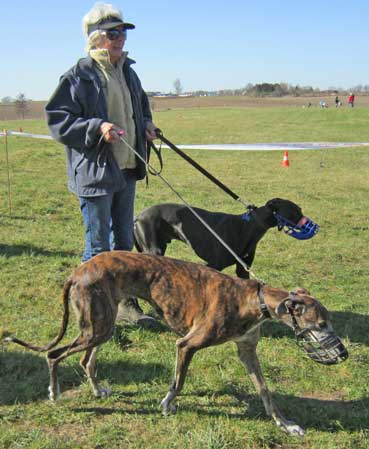 Two galgos from Spain, Zara and Camino - there were also three others - a joy to see...
See Camino's first ever lure coursing run:
www.youtube.com/watch?v=hPive8EspxE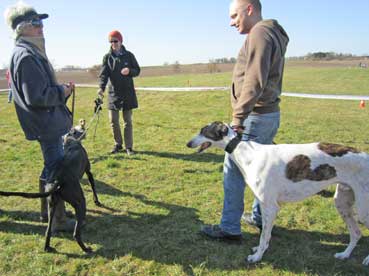 -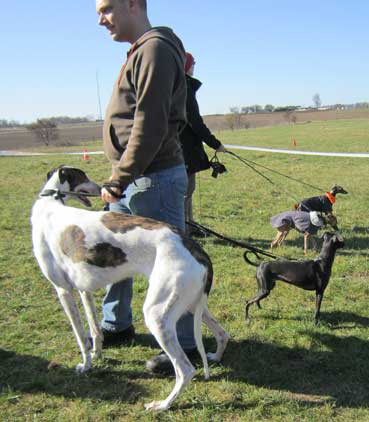 A greyhound borzoi cross who runs so well now that he is grown up and his friend Italian Vincenza -Santi and Carmello in background.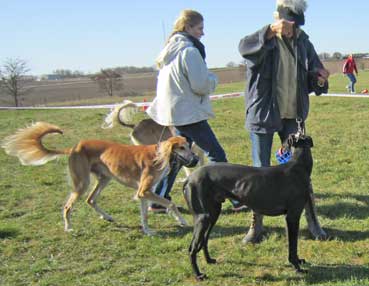 -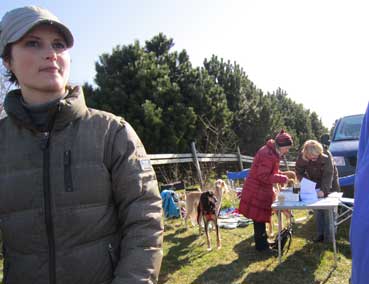 Salukis are so beautiful in the sun! Right: The table where we pay our dues.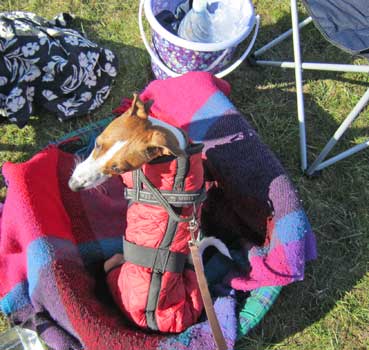 -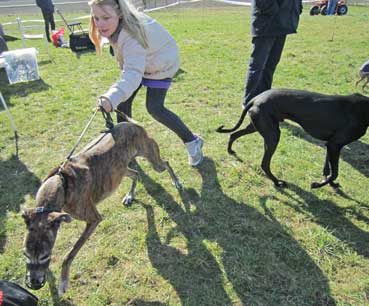 Racey in his bed. Zara pulling a young helper! Below: Racey jumps up and says he wants to go home!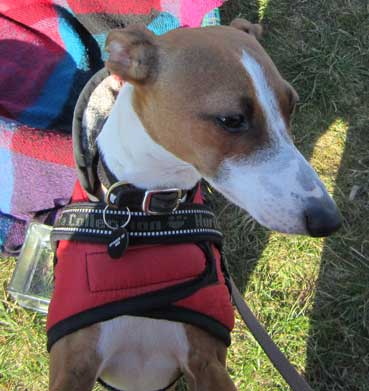 Thursday the 22nd of March
The Cat Collection starts up again! With the good weather, out come the cats and this one I've seen before but not caught on camera! In excellent camouflage colours, we were nearly past it, when cat-hater Dasher spotted it and sounded the alarm!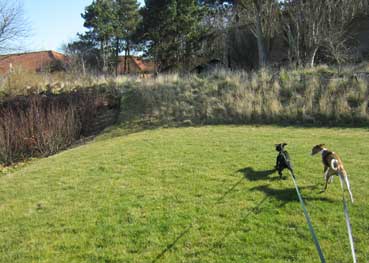 Racey was interested, but willing to give it a pass - he is no "cat killer" -
yet!!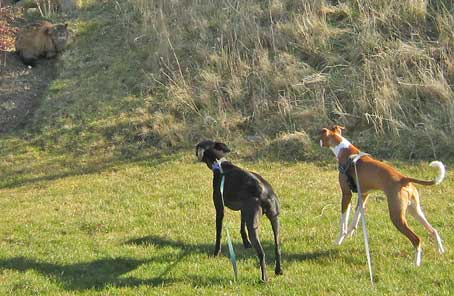 It stood it's ground hissing and out of respect for it, (and it could get mad and attack them), I couldn't go any nearer. Those of you with magnifying glasses will just be able to see it! It is well camoflaged!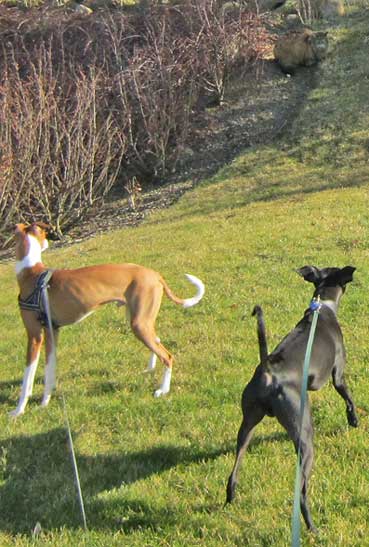 Dasher is still barking while Racey prepares to leave, unable to see what all the fuss was about! See how Dasher's back goes up - more than the cat's! Below: After a long, active day "assisting" me with the gardening yesterday.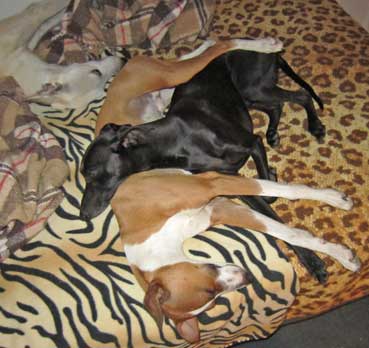 Friday the 16th of March
On the 14th., Racey was 7 months and a huge 43 cm high - and still growing!!! Pictures underneath: Every evening, when I finally come in the lounge to relax in front of the TV for a while, both Dasher and Racey leap up onto my lap. I have a thick blanket so my lap is more accomodating and they get a lot of petting and fuss, then they try to sleep but usually Dasher gives up and lies somewhere else after a while. He has never slept on my lap. Here they are vieing with each other before I sit down, each wanting to be the ONLY one up!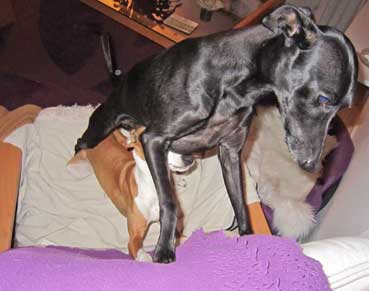 -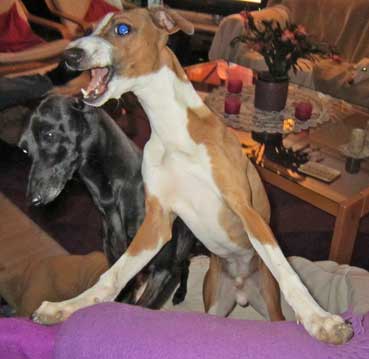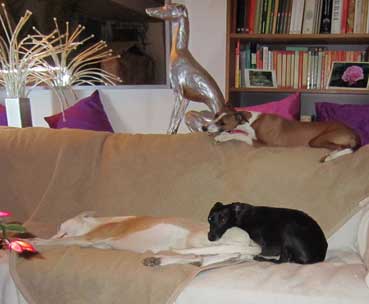 Magnus and Dasher sleeping while Racey chews a bone on top of the sofa! Below: Tug of war in the garden today!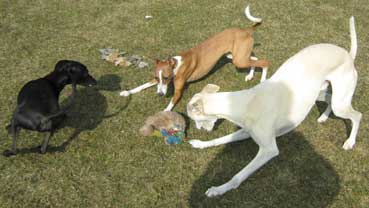 -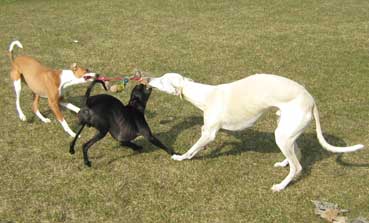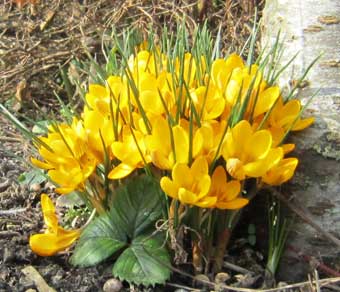 A bouquet of crocus in the sun today!

Thursday the 8th of March
A wonderful heartwarming "rural" scene this morning! Two of the three Day Care mothers I often meet on dogwalks, each with their four to five small toddlers aged from one to three years, had gone over to the ponies beside the road and managed to attract their attention so they came over. One lifted each of her children up to touch one of the ponies. Amusing to see. One pony is only a yearling, standing beside her mother. These children are so lucky to grow up round here.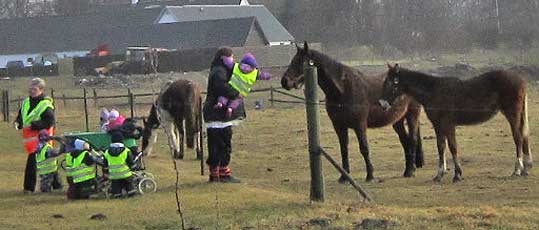 Unfortunately, my camera is not good at distance shots. I was standing on the other side of the road behind a hedge, so the that my two Whippets wouldn't bark at the horses. The sun was just coming out! (I have sent these photos to them!)

Monday the 5th of March
See some VERY interesting art from Pam Foss in Maryland USA - here's one of her paper sculptures called "Hide N' Seek". Do browse through her website: www.pamfosssculpture.com - and don't miss seeing the YouTube Video!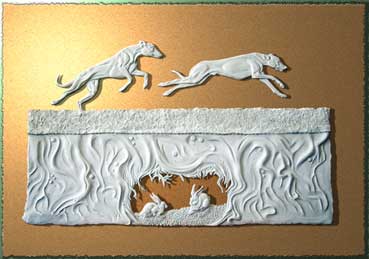 Sunday the 4th of March
A great toy - which Racey loves! I bought a squawker from this website: www.gemgreyhounds.net which is a greyhound charity organisation helping unwanted Greyhounds in America. Look for "Predator Call Squawkers" by visiting the Gem store. Racey is completely wild with it! We keep it in one of Svend's socks for it's own personal safety!!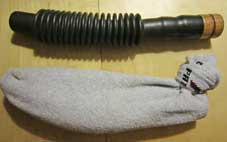 Racey "kills" it over and over again by shaking it to death or tossing it about (and fetches to my feet if I throw it) and at every movement the "bellows" part of it pushes air through a reed in the wooden end so it squawks in dreadful death throws!
I don't know how we would manage without it, as he loves to have short but viciously mad play periods and beating the hell out of this toy is his favourite thing! It is strong enough made to hold to the treatment – just the sock needs renewing occasionally!!!
-----
Took Dasher and Racey to Valby Parken in Copenhagen this morning, where many Italian Greyhound owners meet up every Sunday at 11 am and boy, did they have fun! Plenty of room for racing around and they are dots in the distance at times. I found it difficult to keep eyes on my two - here are a few shots. Racey was too nervous to stray far away and he was very good to come when I called. It was his first time ever. He has not been big enough up to now to run for far for so long time. He is in red coat. Dasher is too busy with the others to to more than just check that I am still following! He is in black with red belt. We had a great time although the wind was biting.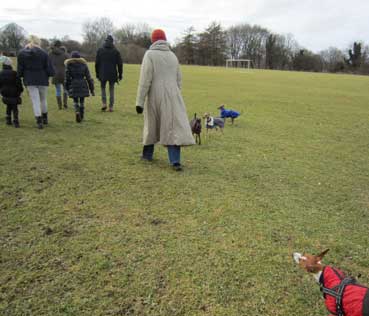 .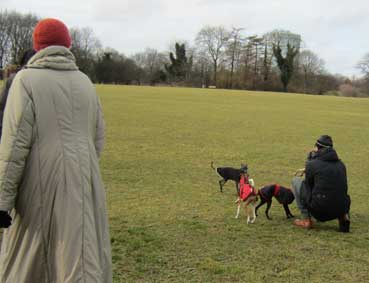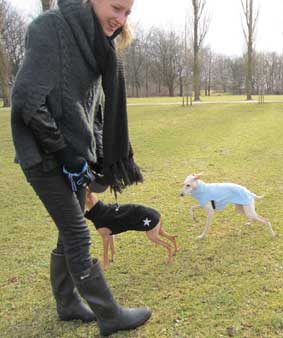 .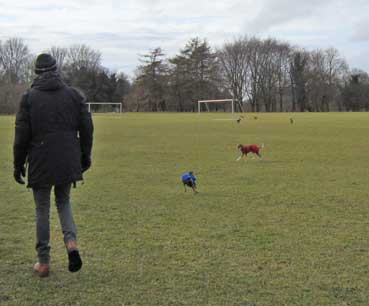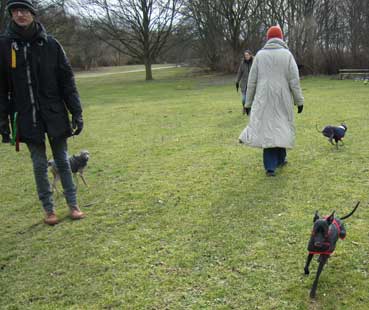 .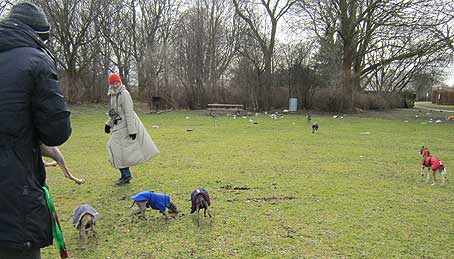 .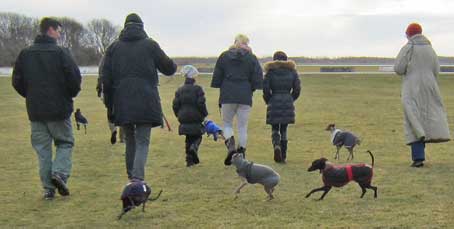 .




Saturday the 3rd of March:
At last spring appears to be on it's way - wamer in the day though still frost at night. Here are some spring flowers (at this time of the year, we are desparate to see spring flowers and the shops are full of them too. Also two ladybirds have found each other after hibernation! We can't have too many of them as they eat all the greenfly/aphids.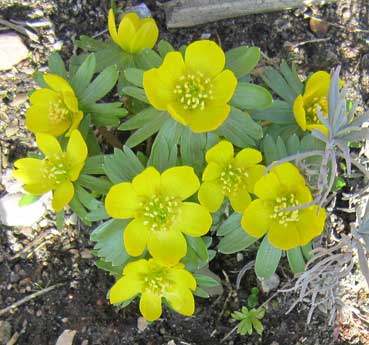 -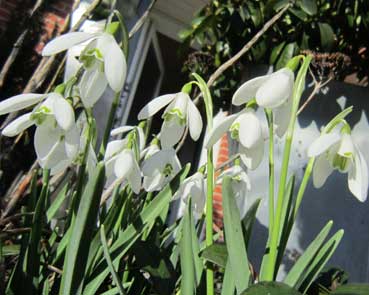 These are some of the first to bloom in Denmark and are SO welcome after the long winter.


Two ladybirds sunning themselves!
We took Racey to the puppy playground this morning - did so last week as well, only no photos. For the first time, he showed signs of wanting to play with the other dogs and just briefly dashed about several times in play, even gave a woof with enthusiasm! - so wonderful to see after all these times where he just wants to go home. Here are a couple of feeble photos. (He gets fed liberally and petted by the other dog owners! I wish they wouldn't.)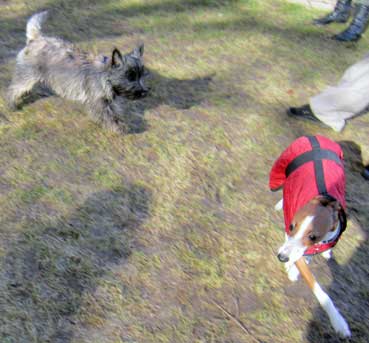 -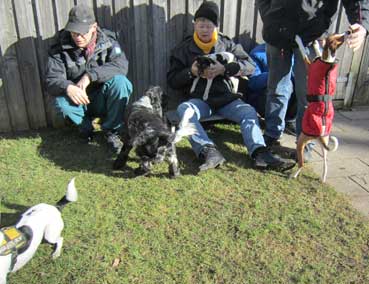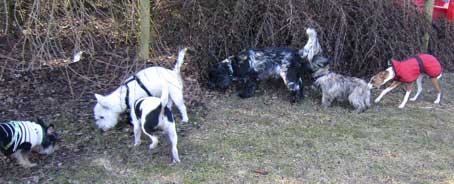 27th of February:
A frosted erantis/aconite from early this morning.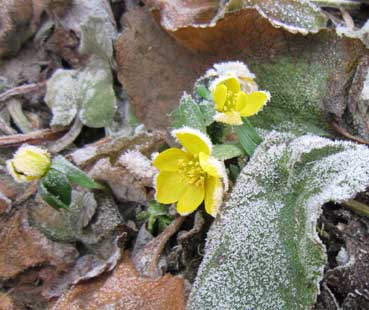 25th of February:
Grandchild on a stay - and the italians insisted on BOTH being on his lap at once! They washed his ears and "kissed" his face!!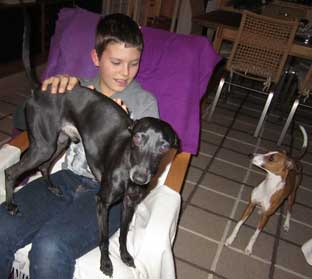 .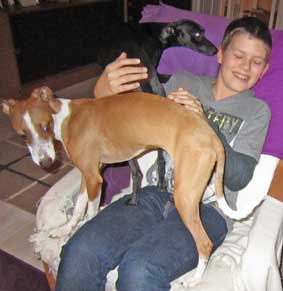 First there was one... then there were two!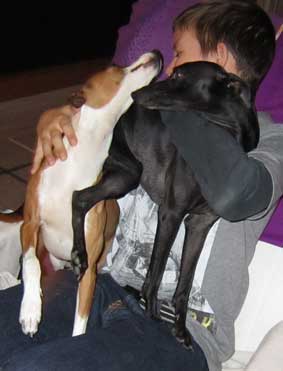 .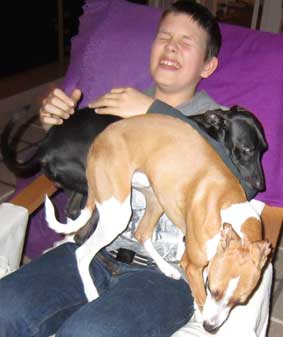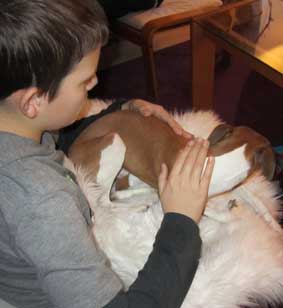 But Racey won!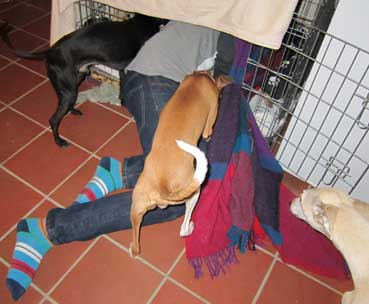 .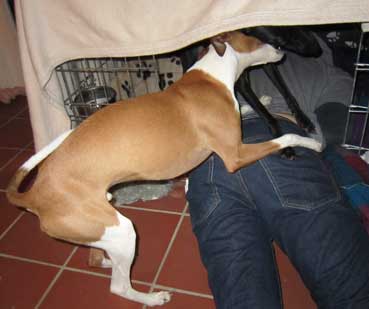 And of course it's a "must" to squeeze into Dasher's cage! Even adults have been in there!


22nd of February:
More "waiting outside in the cold" pictures - see how Racey has grown!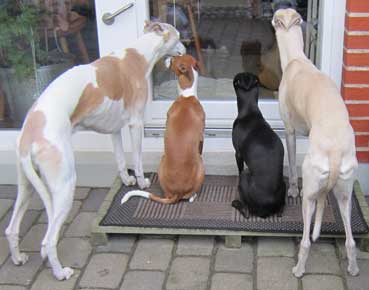 .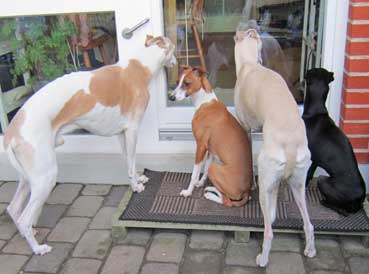 -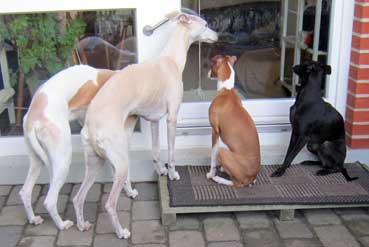 20th of February:
Racey was 6 months on the 14th - how time flies. We've been very active but unfort. no photos. With careful measuring, Racey is bigger than Dasher and stands at 41.5 cm. His legs are bigger than Dasher's and there are still "growth lumps" on his front legs! Here is Dasher's idea of relaxing in a dog bed: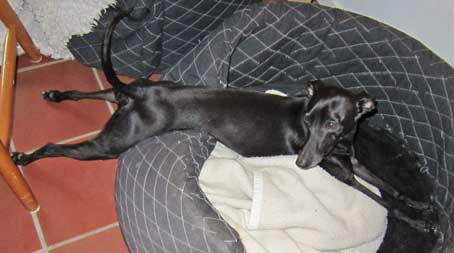 Underneath, a dog pile up! Spotted on the guest bed in my office!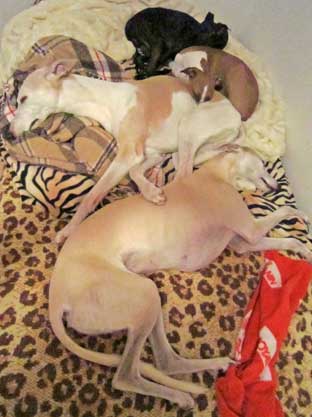 13th of February:
Thick mists this morning and everything had been painted by "Jack Frost"!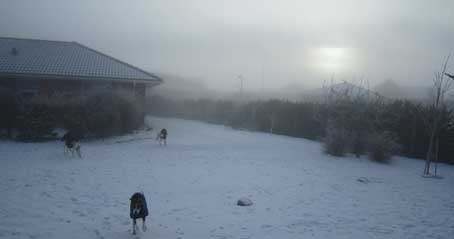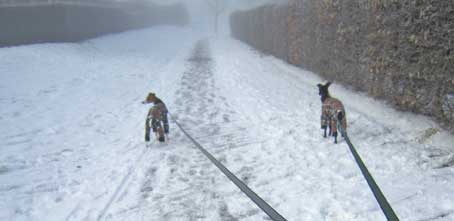 .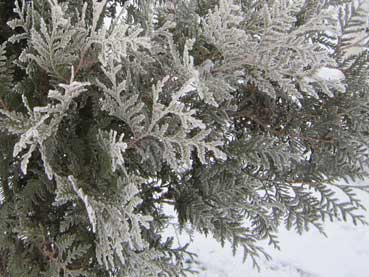 12th of February:
Svend couldn't give me a lift, so I walked with Racey all the way to the vet's puppy playground yesterday morning. 3.3 kilometres each way! Then an hour there. (Nearly killed me - and we have a HUGE very steep hill to go over and my broken leg is still painful and of course got worse!) He still doesn't play with the other dogs, although a big brown dog did invite him and he DID respond and would have played, but the young woman in charge stopped it "just in case" as young and frisky big dogs can't really "frolic" with little ones and he was wanted in the next enclosure with another big dog. To keep him warm, I got him to run through the agility tunnels and also to jump over them and back, which he is very good at and enjoys. Here he is watching another owner help her own puppy plus a Cairn terrier through the floppy one!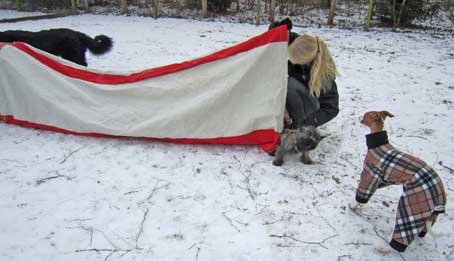 Below: My friend Terry's Chihuahua called Daisy, says: "When will winter be over?" See below. Good shot!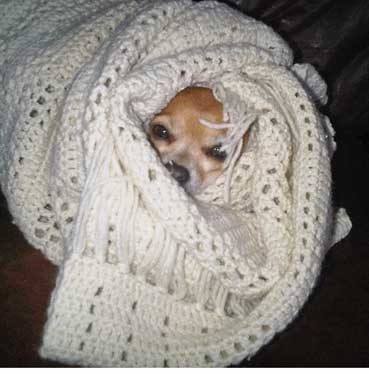 Do you clean your dog's teeth? Magnus has teeth that have needed cleaning by the vet 2-3 times - he is nearly 12. His teeth were badly limed up when we got him at age 1 1/2 - yet Timmi, his nephew, has PERFECT teeth with no sign of anything at the age of 9 1/2! So there is a big variation. However, it is good if you can brush their teeth daily. Never too late to learn. Whippets are more willing than the more hysterical Italians! I use a dog toothpaste, which is flavoured with chicken or poultry and they love it. I do it before their breakfast, so they are very distracted by the thought of the coming meal and will do anything I ask so as to get the meal served quickly!
I nearly gave up with Dasher, who played around and would NOT let me get near his teeth, but after about 6-7 months of age where I gave it a try every morning, he let me do it just fine. As a reward - and he is the last dog to be cleaned, he got to lick my finger clean! Patience is rewarded.
This is how I do it and the recipe for success:
I use a "medium" brush like my own. I put a "worm" of toothpaste on top of my left forefinger, (it has to last 4 dogs, see!),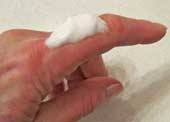 which I can dip into with the brush held in right hand, whilst at the same time, holding the dog's mouth open and pushing back the lips with the left hand fingers – you'd be surprised how well you can hold the lips open with left hand!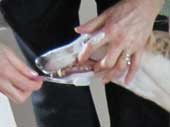 -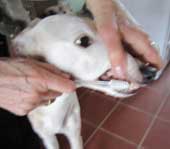 Left hand shot shows the worm of toothpaste always ready to be dipped into from the top of my finger.
I do all this in a well-lit small space, as you have to back (and trap) each dog into corner, so they give in and stand still!
With Racey, I can already do all his teeth. Admittedly skimpily and quickly but this is faster than my progress with Dasher! This morning, he lept up and licked the entire "worm" of toothpaste off my finger in one big lick and was standing with his mouth full of it! I was furious as dog toothpaste costs a fortune compaired with ours! But nothing to be done - now I have learnt his newest trick!
(Racey is licking hard in the photo!)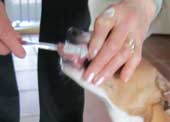 So I strongly recommend to not give up trying each day – it may as I say, take months of perseverance, but it is worth it to save the dental cleaning bills when the dog gets old and also a full anaesthetic is dangerous for them too. If you drag out having the op. for a while their gums can affected too and who knows what pains and loose teeth they get....
So get started today! PS "They say" you can't use human toothpaste.

10th of February:
Dasher is asking me to play with the laser light, which he knows is up on the washing machine! I have cut it down quite a bit as he goes mad zooming at top speed around the garden but he needs to be fresh to play with Racey! Racey plays nearly non-stop all day and is a much more lively dog!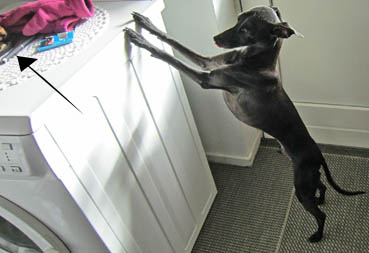 6th February:
See how well Dasher and Racey play and wrestle together:
www.youtube.com/watch?v=vunbz5rg9oo

5th February:
Yesterday, we visited our youngest son and daughter-in-law, who have just moved house. We took Racey with us as he can't be left at home for too long and it's all good experience for a young dog to get out as much as possible.
Our oldest son came with "Bella", who he is looking after for a few days. See a video with Bella from last summer:
www.youtube.com/watch?v=D3V_L3C_UpE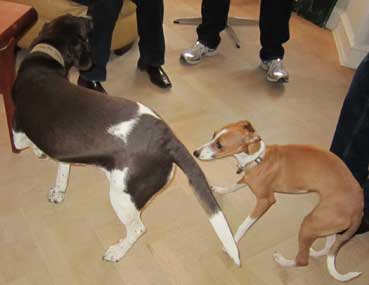 -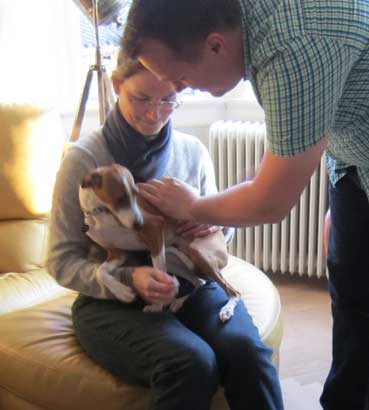 Racey was scared of Bella when he first saw her, he is not used to strange dogs and got an awful shock when she came bounding into the room! But soon he plucked up courage to sniff! She is a wonderfully well-balanced dog who can mix well with just about any other dog.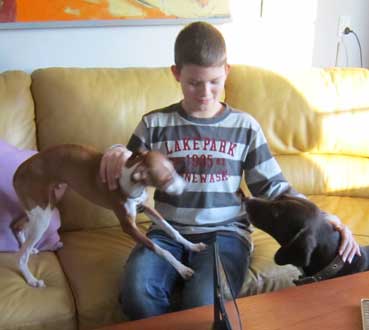 -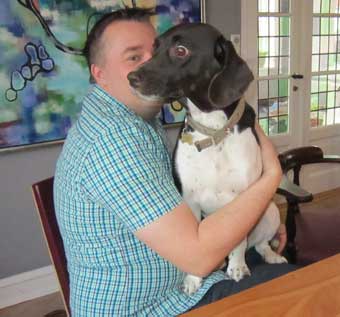 Young David puts them together! Right: Bella getting a cuddle from her carer! (She is enjoying the view over the garden outside!) Below, true Italian style, Racey knew how best to decorate the furniture! He could be a photographic model!

-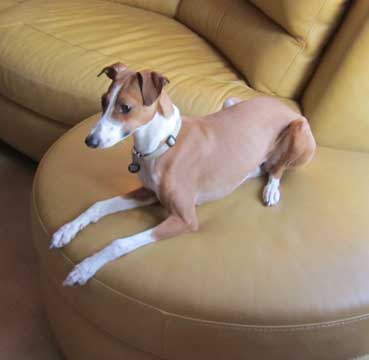 Below: A poor little Robin I found that had just died in the cold and toppled out of our hedge. So pretty...so sad that many birds are dying in this extremely cold weather.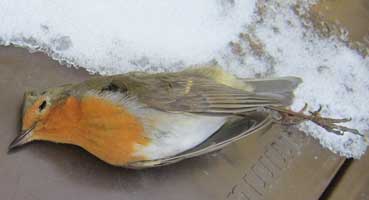 4th February:
We should have gone to the puppy playground with Racey this morning but it's FAR too cold, now minus 13C or worse. The dogs start walking stifly as their legs go numb. Luckily for the two small ones, I now have the Togs for Dogs tracksuits, so this helps them A LOT. Dogs have a special blood circulation system in their feet, which enables them to walk in VERY cold parts of the world, and why the Alaskan sled dogs can survive, but small, thin and boney legs just freeze up! See:
www.dailymail.co.uk/sciencetech/article-2085646/Dogs-paws-warm-frozen-ground-special-circulation-system.html
(Read to the bottom!) The only reason to put shoes on a dog, is because of all the salt everywhere. It's the LEGS that need covering.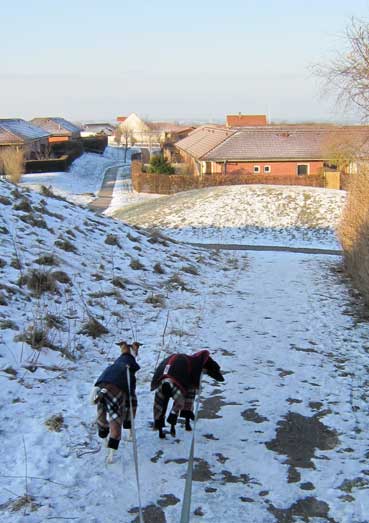 Photo from 9.20 this morning in minus 13 C (8.6 F) - brrrrr!

3rd February:
It is SO freezing here, minus 10 C this morning, so bitterly cold and all this time, Racey has borrowed Dasher's track suit, being as he's "only a puppy" and I finally ordered a new one from England on Monday eve. Tuesday it was sewn and sent -
and what a good service, it arrived today, Friday! I can only say that EVERY Italian Greyhound should have one of these in their collection of coats - it's invaluable because it covers their thin legs. Here he is reluctantly modelling it - made with a little room for growth, as he is still getting bigger and bigger! Plus one to the right that shows his "American lines"!
Get yours today from: www.togsfordogs.net/18.html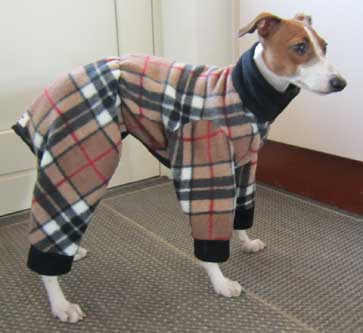 -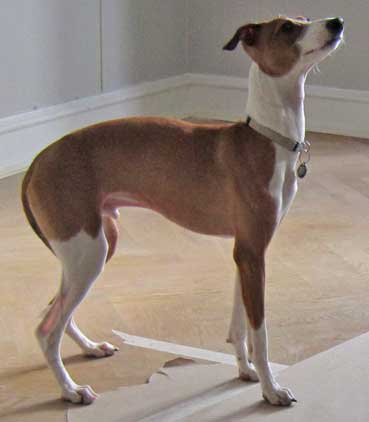 Racey is now house-trained (apart from a couple of poo-accidents entirely our fault for not understanding him), there has been nothing in the house for a month or two! All my dogs develop a technique to tell us when they want to go out. When I am in my office, Racey scratches on the guest toilet door - this is the signal! It's less clear when we are in the lounge watching tv - but we still get the message! We have luckily also got to the stage where we don't have to accompany him outside every time, we can on occasion, merely peer through the window! A big help in this cold. He now has only one canine tooth left still to fall out - I have seen him eating one, so that's how they disappear!

31st January
New photos: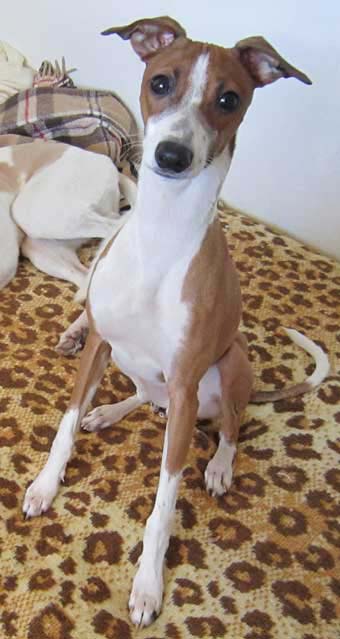 -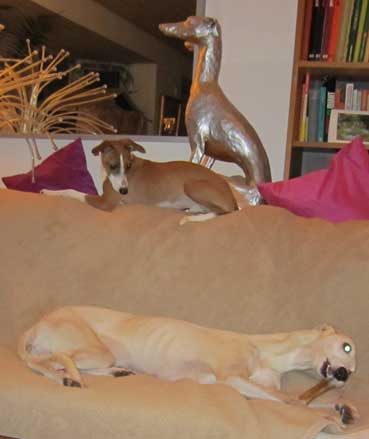 Left: "what shall we do now?" and right: Waiting to get the bone from Timmi.


29th January
Snow came to our part of Denmark in the night! Up to now we have just had a smattering - it was Racey's first sight of snow and he hurtled out of the door early this morning together with the others and screeched to a halt on the first wide step and stared and stared! The others had all gone their ways, so he carefully stepped out into the mysterious cold "white stuff". Later he tasted it and ate some.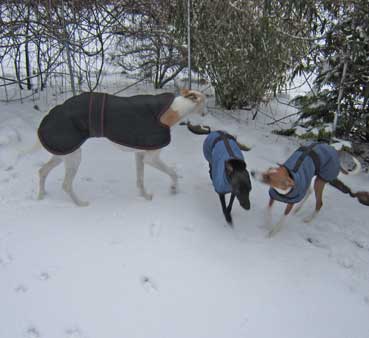 In the big garden, he wasn't sure if he could run in the snow, but then after some thought, raced around excited by the new sensation!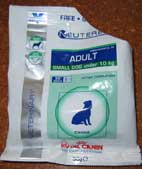 At the vet's playground yesterday I was given a free sample of dog food for neutered small dogs by Royal Canin. I wouldn't feed it to my dogs, the main ingredients aren't very inspiring and it has the BHT in it that I try to avoid, see: wikipedia.org/wiki/Butylated_hydroxytoluene but it is just great as a treat. They are wild about it and the particles are microscopic and even with a hole in, (!!!) so you can give many treats for correct behaviour before you are giving the dog a "whole meal" as some treats are far too filling. As a new treat, it seems very promising.

28th January
Those of you who have followed from the start, will remember that I took Dasher weekly to the vet's puppy playground in order to "socialise" him and had a lot of fun - plus made some videos. (One of my favourites: www.youtube.com/watch?v=aBzZ3ML-CzA) I was forced to stop when I broke my leg and in the meantime, the woman who organised it, has left. Well at last they have started up again. I was there with Racey last week but it either rained or snowed non-stop (so no photos possible) and he got a very bad impression of what it was all about and he is not interested in other dogs. He loves people! We went again today and he still cannot see any point in going, nor is he the slightest bit interested in meeting new friends! He did sniff a few but only for half a second and he kept warm but going through the agility tunnels and springing over them, plus learning how to zig-zag. I can see will have to go about a million times to get him to interact with the others! It was minus 4 degrees and light snow, but no wind, luckily and he "cried" all the way home to tell me what an ordeal it had been. In the photo it looks empty but there were MANY dogs and much playing and loud barking.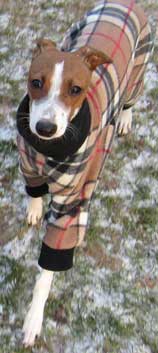 See the look on his face: "Please take me home!"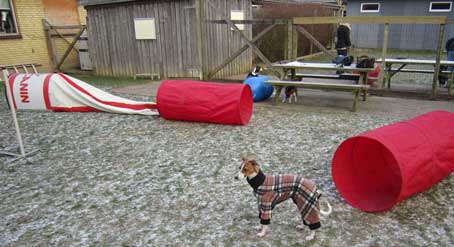 He was good to leap over the red tunnels or run through at high speed - but Racey only interacts with people! He got petted and given tit-bits by all, but he more or less ignored the other dogs! There are three enclosures, one for tiny dogs, one for medium to small and one for big, bounding, lively puppies and young dogs, who would just trample on the little ones without realising. This is why it's so good.

27th January
Racey's wobbly tooth fell out in the night and this morning he is fine! One down and three more to go!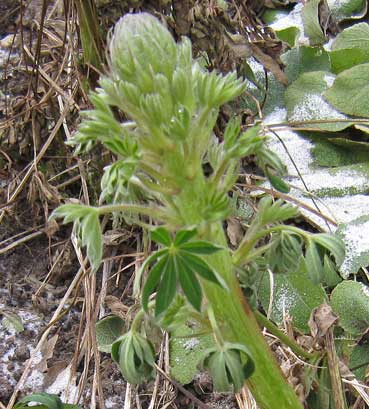 -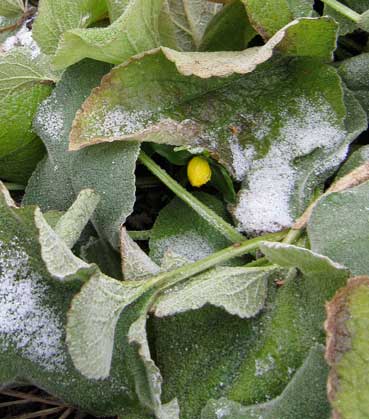 Left: My poor lupin that was SO confident it could flower in January, is buckling under with the week of severe frost we have had - plus a fine snow! But just alongside is an erantis ready to open, should the sun shine! THESE are the first flowers in the spring here in Denmark, closely followed by snowdrops - I can't wait!

26th January
Dasher seems 100% fit again, but I do not let him chase the laser light, to be on the safe side, as he runs at break-neck speed. Racey has half torn out his left bottom canine tooth during mad play with Dasher. I am hoping it will fall out by itself with no infection. When I clean all their teeth tomorrow morning, I will use disinfectant on the gum.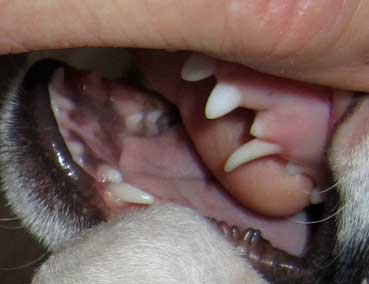 Upper jaw to right you can see his lovely new incisors and the new canine peeking through the gum alongside the "fish-hook" all puppies have! The bottom one was bloody after the accident and is loose and practically hanging out of his mouth by the new canine - just hope I don't have to get the vet. to remove it - I dare not yank it myself - he would probably never let me see in his mouth again! May fall out tomorrow... if he does a tug-of-war game with a toy!
I measured Dasher today very accurately and he is the 41 cm that he has always been. I then very carefully measured Racey and he is a whopping 40 cms!!!! I never dreamed he would grow SO MUCH in such a short time and he will now be bigger than Dasher as he's not finished yet! He still has very noticeable "growth knobs" on his front legs!

24th January
Something happened to Dasher last Friday. He was reluctant to move and certainly did not want to go out at lunch time. I had been vacuuming further away in the house, so didn't hear or see anything and the dogs appeared to be sleeping. It seems like he's fallen on his back in some way and banged himself over the hips/root of the tail and there as a swelling at the base of his tail - on top, so his hips looked strange because of it. He walked carefuly limping on back right leg tho' this quickly went away and he walked normally but kind of hump-backed in pain. He could do every movement, so nothing was broken. We kept him in his cage most of the afternoon, which he was happy with (a bad sign!) and I gave him half a painkiller that was meant for Timmi when he hurt his neck last March. Here is a picture I tried to get of his hips: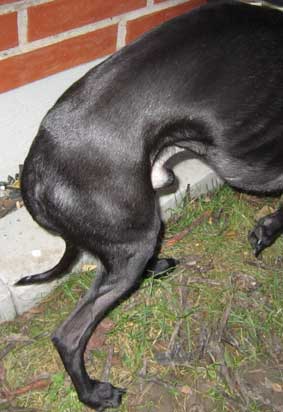 Saturday, he seemed OK but no exercise apart from a walk on leash. We were busy with guests, who were "all over" Racey, which meant Dasher could relax! His back looked normal again. Racey got SO tired with all the attention, he fell asleep really peculiarly, half in to Timmi's bed, (Timmi to left, same colour as the blanket!) back legs still outside and tail curled over the bed next door! See here: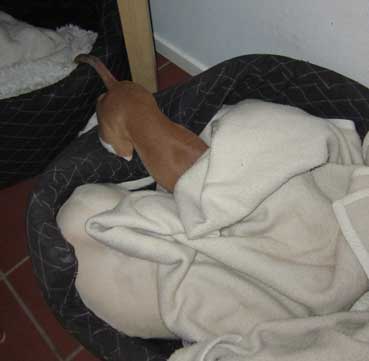 He was so soundly asleep, he didn't hear the guests one by one tip-toeing in to have a giggle at him!
Yesterday, Dasher again seemed to have back pain and so one more half a pill and rest and today he is fine and has run about like normal. He has played a little bit with Racey too. So I hope it will mend with no troubles - whatever he has done to himself. We let him decide now how much exercise he wants. (However, no wild laser light games at the moment.) He is my lure coursing star, so we don't want anything wrong with him - it's such fun to go to and see him fly!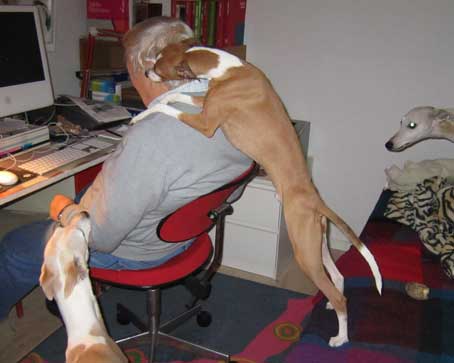 It's midday and Svend has just turned the computer to "sleep" when Racey decides to surprise him and wash his ear! My dogs know the time of day - and know that now we will play with them and then feed them lunch - so they can't wait!

19th January
As shown below, Racey HATES any kind of coat and especially this "trouser suit", so he just let himself collapse and roll over all limp this morning - he simply went on strike! He had to be lifted and "assisted" out of the door! Once we get going, he's quite happy though, trots along with his tail up and forgets all about it.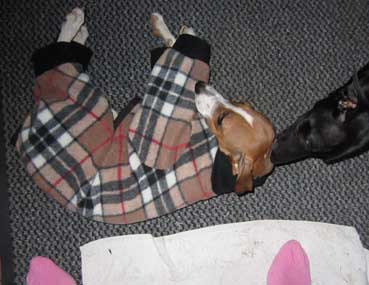 Here he is on strike at my feet trying to look pathetic - while Dasher uses the waiting time usefully by washing an ear.

18th January
Racey has never stopped growing at 90 miles an hour and is now nearing Dasher in size at only 5 months! See on the photo that even tho' he stands behind, furthest from the camera, his feet are bigger. His body is shorter, but still growing, Dasher's is longish. Here they are in the kitchen as Svend makes his lunch! It amuses me to compare such very different types and bloodlines, each beautiful in his own way.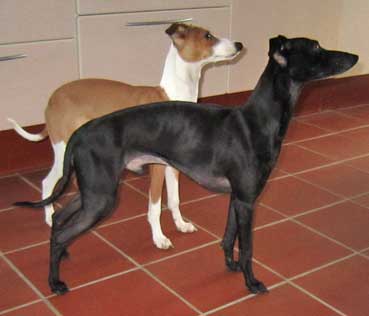 16th January
Would you believe it, middle of January, the harshest, coldest winter month it's still so mild that I STILL have lupins with sturdy buds under the impression they kan flower! This is unheard of! The weather is SO mild - tho' we have just had two frosty nights. There is even a tinge of blue on the top, I wonder where this will end...just hope there's something left for next June/July!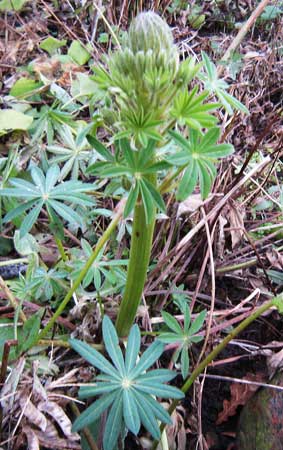 14th January
Yesterday - and today, it was SO cold that I tried Racey in Dasher's winter "Togs for Dogs track suit" from last winter - not used yet as it's been so amazingly mild:

-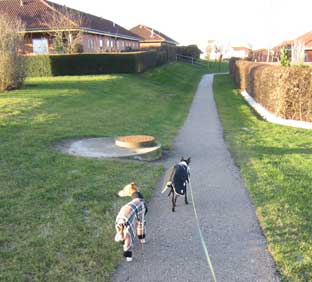 He fits it well as he has grown SO MUCH. He's standing here convinced he can't walk (see tail between legs!!!) and looking over his back as if to say "what on earth is this thing?" He HATES coats in any shape or form. So we went for a nice walk, Dasher wearing his VERY warm black "outfit" made by Nina in Finland! Racey is 5 calendar months old today.

12th January
No pictures, but in the evening, Dasher "told" me that the hedgehog was back - way out there on the lawn. I quickly got him inside and fetched a torch and localised it far away on the lawn, ran inside and opened a tin of the cat food, rushed out again and what did I find? It was just an old BALL lying in the grass out of the range of the torch - no hedgehog at all. The laugh was on me, what a disappointment! So the dogs ate the cat food added to their own food over two days and were very keen on it! But what a waste! Obviously the menu up to date is nothing worth for a hedgehog to come running round here and be barked at for! Or, it is SO cold now, he's hibernating how he should?

8th January
Racey is almost 5 months and his new teeth are very much under way! So funny to see - they get new teeth just like human babies with the front ones first! He's been chewing non-stop on bones - and our home - ever since he first arrived, so I can't say if he is chewing MORE because of the new teeth! He is a big home and shoe destructor! It's a long time since I had a dog who chewed EVERYTHING, you name it! He has to be distracted and a chew bone placed in his mouth as soon as he grabs the furniture! See his 2 new teeth here, I managed to photo this morning with camera in right hand and grabbing him as he was jumping up to me, with my left.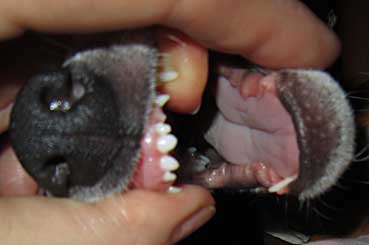 -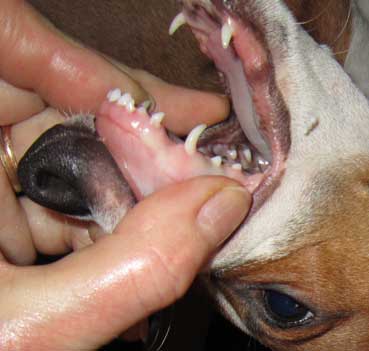 (We will ALL be glad when he looses the "fish hooks" at the corners!!!)
He's used to me groping when I clean all their teeth every morning. He is under the impression that one chews the brush, I still have to convince him that this is not the case! He sees the others stand nicely and is SO keen not to be left out. This is how it helps if one has several dogs, as they learn from each other.

6th January
Took Racey to a dog wood - but it was a failure. No dogs and a stiff wind coming off the sea that was very cold, so he stayed at our heels all the way and just wanted to go home again.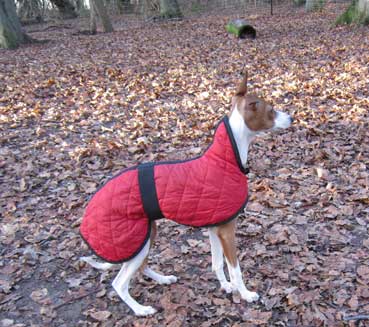 Underneath: Sleeping together in the evening, take a good look! People with only one dog don't know all the fun they are missing!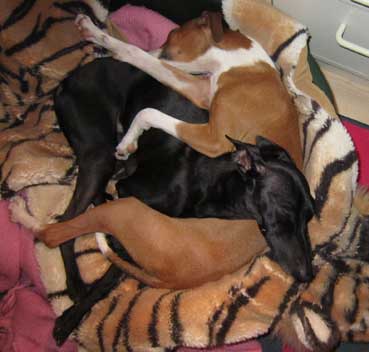 January 4th
Cut all the dog's nails today! Cutting IG's nails can be tricky - they HATE it and can, like my friend's two, dive under the sofa as soon as they see the clippers! Well Dasher LOVES it, at I have explained before in 2010, I cover the top of this cardboard box in delicious liverpaté and while he licks it all off, held safely in a death grip by Svend by collar and arm around chest, I clip away! Racey was totally nonchalant and made no fuss at all! The Whippets stand nicely as I bend over them and trim - with a treat as payment for each foot!!! No problem with them, they alwasy submit themselves entirely to their humans but the Italian temperament is completely different and they trust NO ONE, their worst suspicions are aroused with the slightest thing!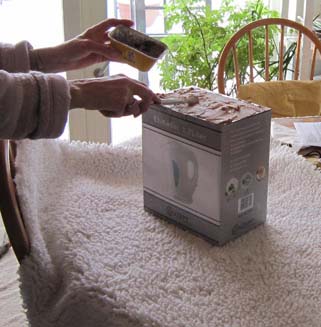 This was Racey's first time ever on the table - and he loved every minute! So I really recommend this method. Such a "painless" way to cut small claws. Below: A cat picture taken on a morning walk - Dasher spots them wherever they are! I have photo'ed this one before. It loves to run across the road in front of the Whippets, who have a fit and get SO stressed up!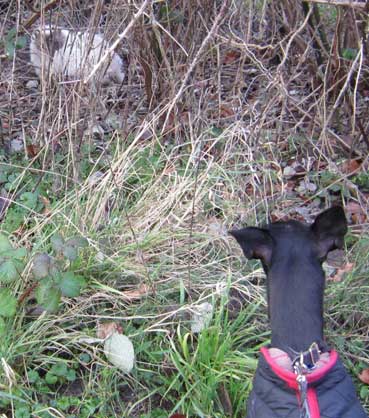 -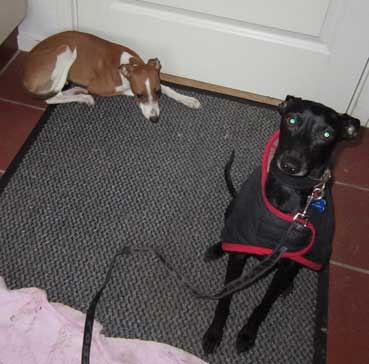 Right: Racey HATES having a coat on - and is not keen on going for dog walks! Here, I have dressed up Dasher first in his "Togs For Dogs" coat, complete with lead and he's all ready to go, and look who is cowering in the corner NOT wanting it to be his turn! He wouldn't mind if we left him behind - I've tried! First dog I have ever had who isn't crazy to get out on a walk! He's alright once we get going though. At first I tried to "jolly" him along and gave lots of treats, chatting in over-happy tones but now I think it's actually best to ignore his behaviour and act like I can't see all his signels to me and just behave at normal as possible. If I appear not to notice what he's trying to "say", then I think he will stop doing all the "acting".

January 3rd
I met the day care children this morning on the walk with Dasher and Racey. We have met before, but this time I manged to get my camera out - usually too busy watching the dogs don't jump up at the children or lick them and so on! None of them could give any dog biscuits due to their thick mittens, so here is Racey enjoying all the fuss while Dasher is more interested in my handful of treats and therefore out of camera jumping up at me!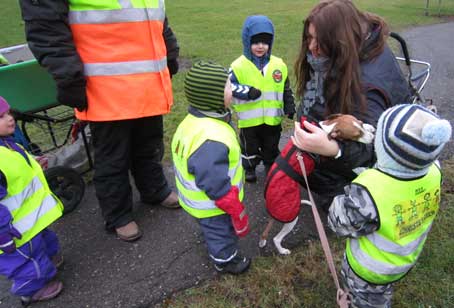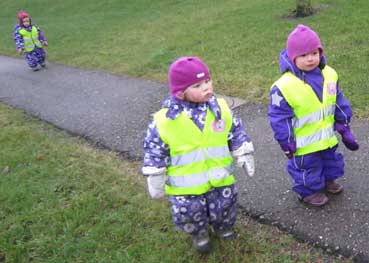 -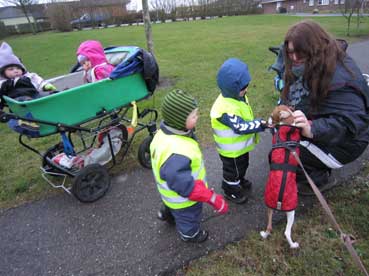 One little girl had sat down and "gone on strike" on some steps, (she's centre of left photo, still pouting!), but as soon as she saw the dogs, she got up and came running! (All are under 3 years and they go on quite a long walk every day, no matter what the weather! They are simply SO cute!!! )
I have bought some tins of cat food for Onslow, having read that cat or preferably kitten food is best for hedgehogs and dog food "no good", tho' surely it must be better than nothing? Now we have to wait for him to turn up, whenever that will be! We can't just leave it out as rats and so on would love it! The dogs would go berserk to get to it as well!




The 2nd of January 2012
Onslow the hedgehog came back tonight and this time Racey barked! At each bark, Onslow flinched badly, so I got Racey indoors. I carried Onslow out to the lawn where he ate two "Frolic" dog biscuits, then later he came back to the patio but didn't want more, or even some delicious liverpaté I offered! See his pink foot - just the one, very unusual!!!!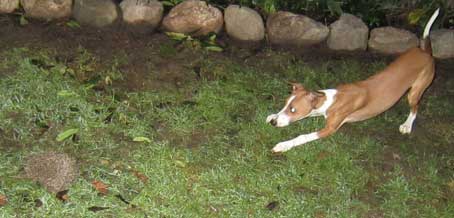 .

---
Svend trying to concentrate on something thrilling on tv while Racey wants petting and keeps "kissing" him!!!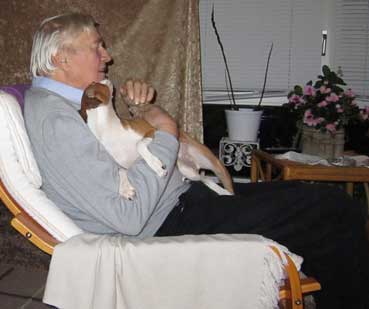 The 1st of January 2012!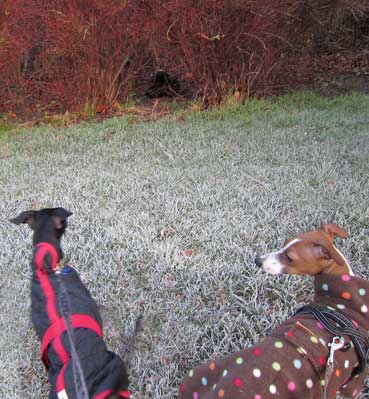 Best to start how you mean to carry on and what better than photograph the latest cat - lurking in the bushes? (Showing yesterday's severe frost). Dasher barked, and waved his tail so hard the camera shows a blurr, whilst Racey hadn't a clue as to what all the fuss was about! (Note how his spotty coat "made for Dasher by Santi's mom", matches the bushes - quite a fashion parade!) We survived the ghastly New Year's eve cacophony - Racey hardly noticed the fireworks after the first one or two, but we had been playing a CD with fireworks on all month), but Dasher was more scared this year, such a shame. Timmi doesn't notice a thing but Magnus is very miserable and clinging.