Wednesday the 25th of January 2023 - and the 15th blog!
I buy most of my dog food from the Danish firm Hike who appear to have a very high standard of quality - and some good chew things. The dogs know the smell of the box even from a distance, and get excited as they know that Hike kindly put a free little treat inside with the food I ordered! I put the box on the floor in the utility room: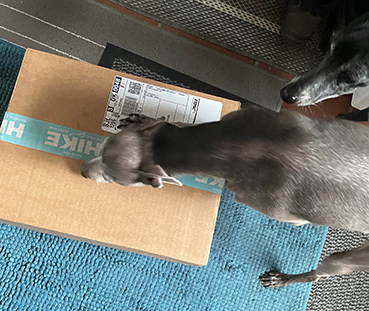 .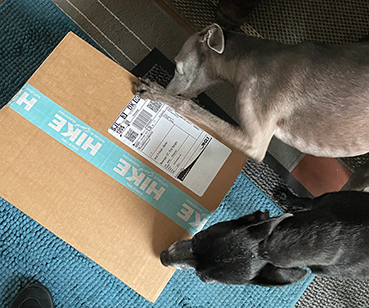 Solo leads and scratches on the box as Dasher doesn't want "trouble" or a fight!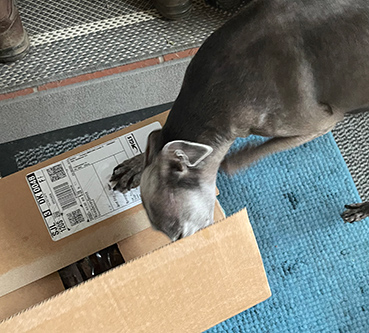 .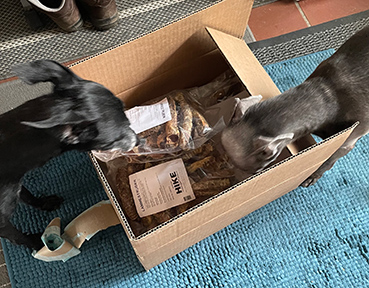 I rip the tape off and Solo sticks his nose inside! He knows the big packets are NOT what he is looking for!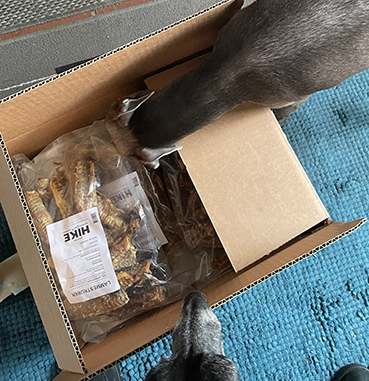 .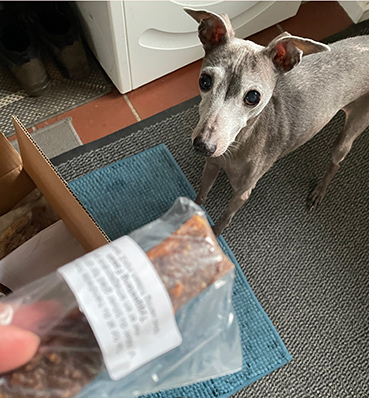 Yeah! I grabbed the treats before he did! And then showed Dasher, who sits to show how good and deserving he is!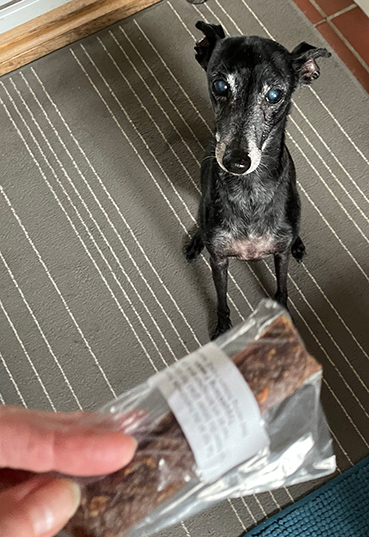 .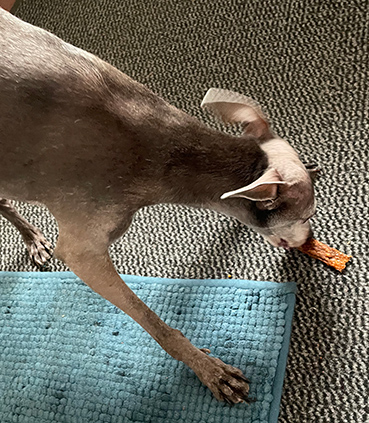 There are exactly two pieces, which makes them very happy!
---
Monday the 16th of January 2023 - and the 15th blog!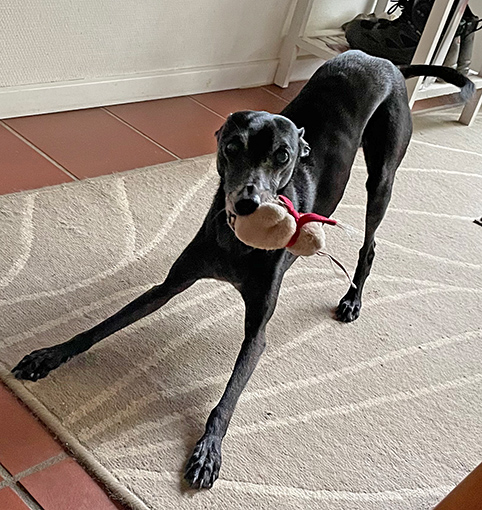 Dasher with his favoute toy and ready to play! He is 13 years old and sure acts like a teenager!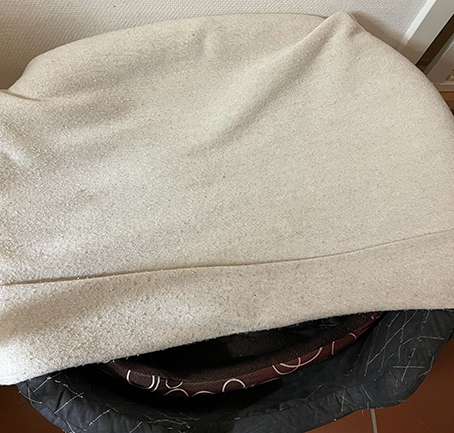 Above: They huddle together in this cold and rainy weather - I lift the blanket and here they are: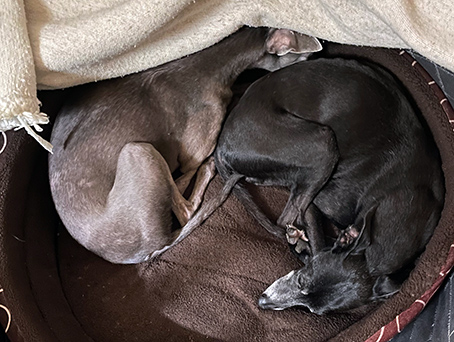 ---
Below: Taken from the doorway: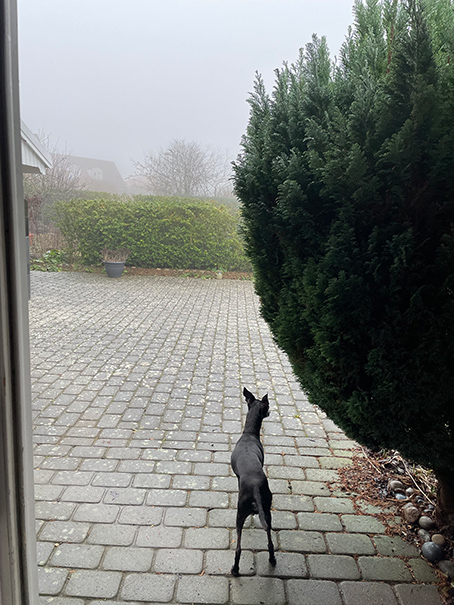 Dasher debating whether to go out or not in the wet weather.
---
I took Solo to the Animal Hospital in Slagelse the 12th of January,
and I left the house at 12.20 to catch a local bus at 1.38 after a tiny snack lunch.
I was warmly dressed in rain coat, rain trousers and a sou'wester in bright yellow that is perfect for rainy doggy walks - but I have never ever seen another woman wearing one! So some people gawp a bit!
It was the worst imaginable weather with gale force winds and BELTING down with driving rain.
The dogs and I had already got soaked on their morning walk and luckily I have several sets of coats (from Helen at the-italian-greyhound-collection/italian-greyhound-coats.html of course!) for the same reason,
but poor Solo got of course his head and ears and legs dripping wet and pulled me non-stop uphill to the bus stop.
LUCKLY this bus stop has a shelter although it is made of a metal mesh so fine drips pass through!
And of course the wooden bench was soaking, but knowing this, I had taken a piece of bubble-plastic packing to sit on – a trick I do in freezing cold weather too when the bench would be cold to sit on! There is a rubbish bin I can stuff it in when the bus turns up – dead on time at 1.38pm
Solo sat like an angel in his travel bag so he could travel free on the bus and it's waterproof though of course his wet feet and legs soon got it all damp inside.
I left home early as I always have to allow time for dogs to stop and sniff, poo and pee on the way, you can never be sure how long time it will take, but he knew from experience we were going to the bus stop and dragged me there at top speed non-stop all the way! No advantage because then we had longer time to sit and wait in the cold!
When the bus arrived, I picked him up in the bag under my arm and as I staggered on board, I gasped out to the driver
(who was eyes popping at the sight of me with my sou'wester and a little dog staring at him with big eyes),
"Terrible weather today!" in Danish, using a very common expression of speech and he made me laugh out loud by answering: "Only OUTSIDE!" so true! HE was sitting nicely warm and dry!
Just 4 stops and then we had a had another, much longer walk in this terrible weather and Solo's leg cannot have too much wrong with it as again he remembered the way and pulled quite hard so I was gasping for breath and fast walking at top speed. We staggered in the door at the vets soaking wet and dripping everywhere!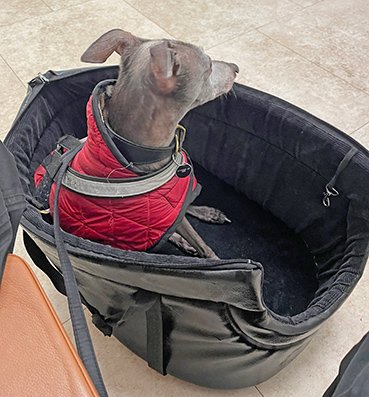 .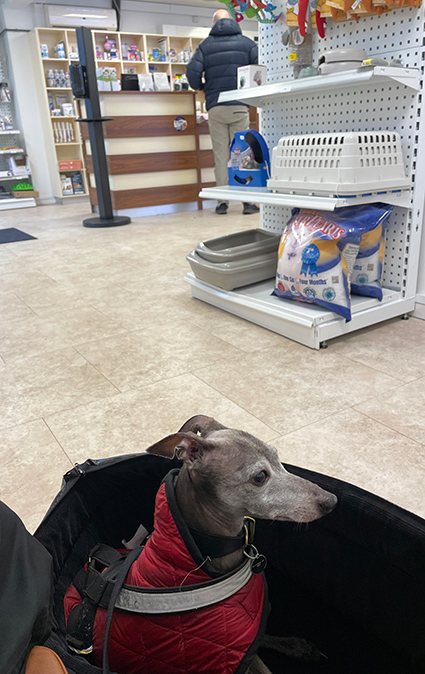 Here we are waiting our turn. Solo in his travel bag.

The vet, who I have known for some 15 years now since we moved here, thinks it is to do with the old fall out of Adrian's car last Christmas eve 2021 when Adrian kindly came to fetch me and all the Christmas presents.
Solo LOVES riding in cars and will even attempt to leap into any strangers' car on a walk if we pass close to someone who opens their car door!
While we were packing that fateful day, he came out into the drive way and tried to jump inside before we could stop him. BUT, what he couldn't see was, that we had put their fabric travel cage on the back seat and so there was no room for him and I saw him fall on his back in the driveway.
I had to take him to the vets' after a few days as he clearly had hurt himself – but he got over it quite alright with painkillers for some weeks. He's been happily running around the house ever since!!!
They now run 4 times, 3 times a day before meals! Or at least only Dasher does now! (In their younger days it was 10 times each time and I have reduced it over the years. (They run FULL speed – they decide this not me!)
So the vet has examined him very thoroughly thinks this may be something similar from the old injury in his hip area. He cannot double his leg up under him when jumping up – it doesn't fold up, nor can it bare his weight on landing again.. and collapses if he's pressured or pushed by Dasher.
So now he has painkillers for about 6 weeks in the hope he can heal himself.
Then I treated us to a taxi home - I just couldn't face walking in the storm all the way back to the bus again - where we would have to wait and there is NO shelter at that stop. I have an app on my iPhone I just fill in where I want to go
(It already knows my home address and will suggest it) and it can see precisely where I am from the gps in my iPhone - and a taxi came within 5 minutes!
So now cross fingers that Solo once more, can heal himself and it is not arthritis or something permanent.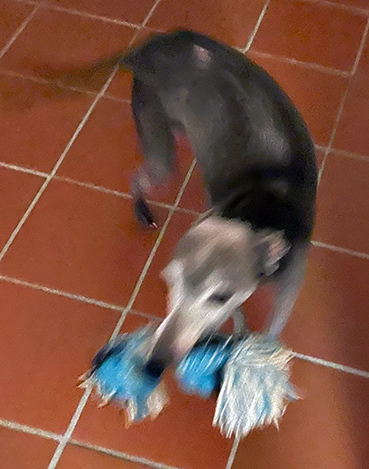 Fuzzy photo of Solo with his favourite toy the next day.
---
I spotted the moon over the house the other morning!
---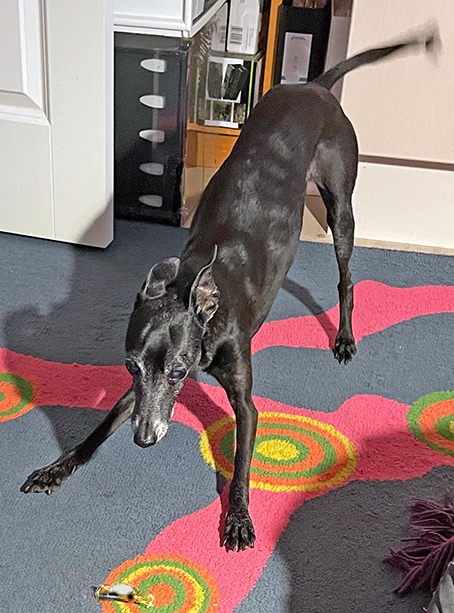 Dasher is all playful as he has stolen a sweet paper from my wastepaper basket in my office!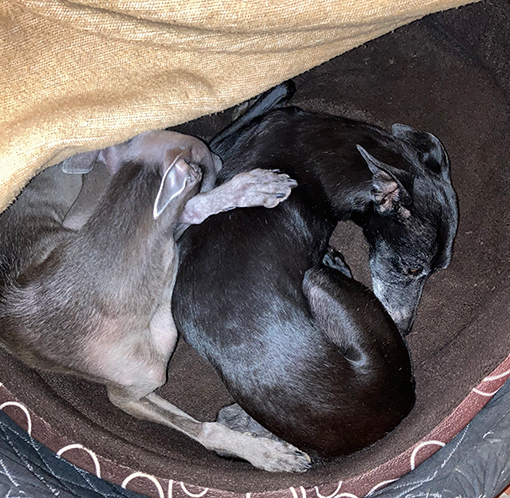 The two lie together in the bed beside me as I eat.
---
Dried dog food swells up in the dog's stomach - of course!
This is only natural as all moisture has been removed. Always test before feeding your dog, if you try a new brand. Take two particles of the new food and put one in a small bowl of cold water leave the other alongside on the table top. One new brand I tried swelled up to a shocking nearly four times the size! See here after 3 hours:
.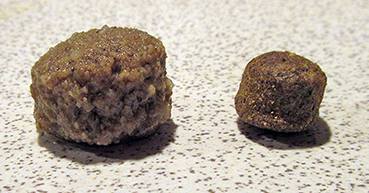 You should bear this in mind when feeding your dog, because what looks like a very modest portion, can swell up to 2-3-4 times the size after a few hours and could make your dog vomit some up to relieve the pressure.
At the very least, it will give your dog a lot of discomfort - at worst he/she may throw up the entire meal. Therefore, with ANY brand of food, you need to know exactly
how big the meal will become in a few hours time
- and serve the appropriate amount. This is probably a major cause of overweight dogs (not to mention the possibility of bloat and torsion). People fill up their dog's bowls with a portion that looks "the right size" in their eyes but not allowing for the fact that whole lot actually becomes, say 3 times larger in the dogs' stomach! We all know how dogs are "opportunists" and eat whatever they can whenever they can, so best to to regulate according to the known "swelling point" - which varies a lot from brand to brand and contents to contents!