Friday the 7th of March
I pass a field with three horses every day - usually they are quite far away, but today they hurried towards me as if they mistook me for someone else. They have done this before. I quickly got the camera out and got a short video. The weather is still misty, see here:
www.youtube.com/watch?v=rgqRqWog3TY
---
In the afternoon, beautiful Cam (Camino) the Greyhound, (saved from cruelty in Spain), came for afternoon coffee. That is, his owner got the coffee and a delicious gluten-free cake from Irma or Kvickly, (you haven't lived if you haven't tasted this one with Daim), mmmmmnn, heavenly!!!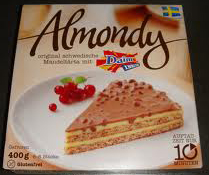 - whilst Cam stole one of my dog's bones!
I knew Dasher and especially Solo would make a scene at the sudden apearance of a GIANT "Italian" and maybe try to prevent him coming in "their" house, so I shut them behind the dog gate so they could see him and see the fact that he WAS ALREADY inside! They know him from Lure coursing, but seeing him here, was of course different circumstances.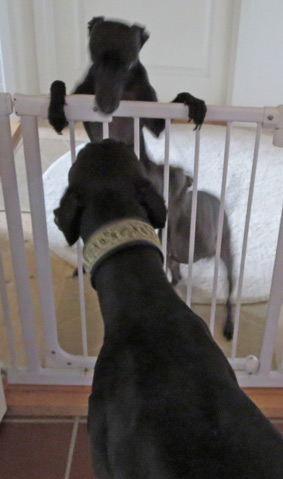 .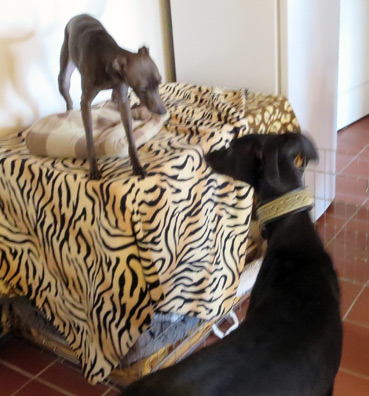 Cam keeps his cool at all times! He is also well used to playing with a friend's black Italian female, who adores him, so he is very "pro-Italian"! After they saw who we had as a visitor, I let Dasher and Solo come out. Dasher wanted to play, but Solo tried to tell Cam to go back home, which he ignored! Solo soon realised how misplaced his agressive show was and settled down - even tried to play a wild game after a while! I stopped it as they get up to a terrific speed and accidents can and do happen!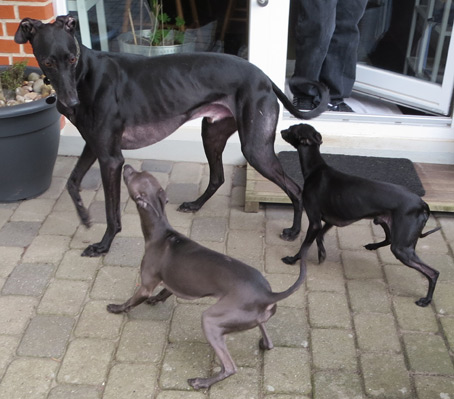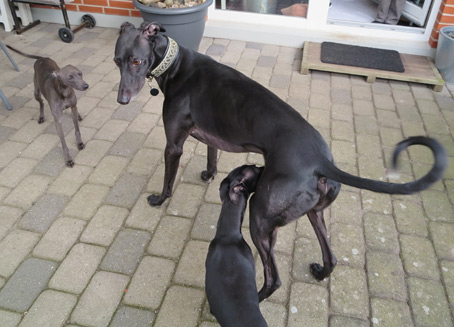 Dasher gets a good sniff!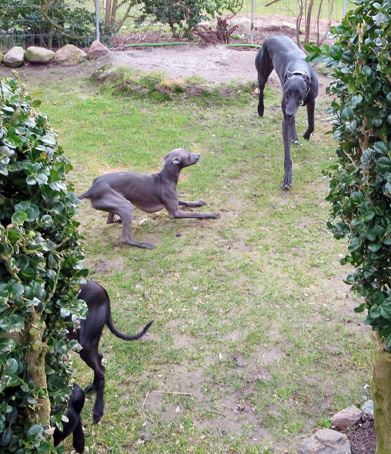 In the above pictures, Solo is still reserved and scared, but later completely gets over it.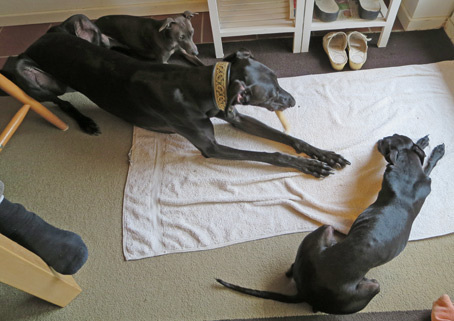 Here is Cam chewing on one of their bones, which they absolutely didn't want, has been lying around for weeks - that is, until they saw him "softening up" one end, making it VERY juicy and desirable, so now they both are waiting for a chance to get it!
---
Monday the 3rd of March
Caught in the act! Unfortunately Solo's long legs can get him up on any table top and he steals too, even though the chairs are pushed in and never any food left up there! Here, I catch him in the act and he knows he's done wrong although I am silent and he jumps down at risk of breaking both front legs as MANY an Italian has done before him, but he has done this a million times before and proved he's strongly built! We just don't know how to stop him.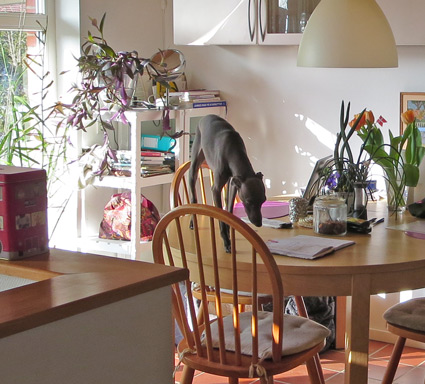 .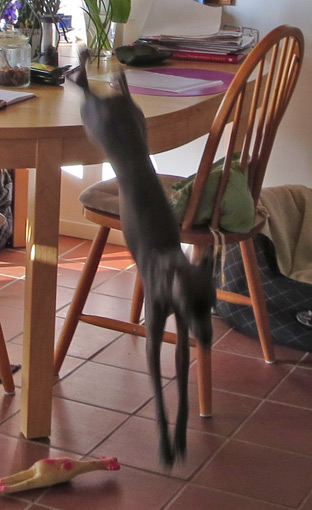 My son stopped his cat jumping on a high shelf by lining it with wide double-sided sticky tape, so the cat's paws stuck briefly and this was such a dreadful sensation, (!!!) it never jumped up there again! But we cannot line this table (and others) with sticky tape! A friend said he'd given a very loud shout when his cat had jumped up and it was so scared it also never jumped up again - BUT this shouting is the way many owners have broken their dog's legs, as a dog leaps down in a PANIC and can have a terrible accident. The full weight of the entire body is on the 2 x 2 pencil-thin foreleg bones. So scaring is out of the question. Our floor is of stone tiles as well! Not the softest surface.
I am still working out what to do, although number 1 is not to have anything of any interest up there, but of course he's constantly on patrol to check it out as soon as we turn our backs!
---
Saturday the 1st of March
One never ceases to be amazed:
A pretty lamp I bought 10 years ago in Florida, which I take inside every winter, I have just hung outside again.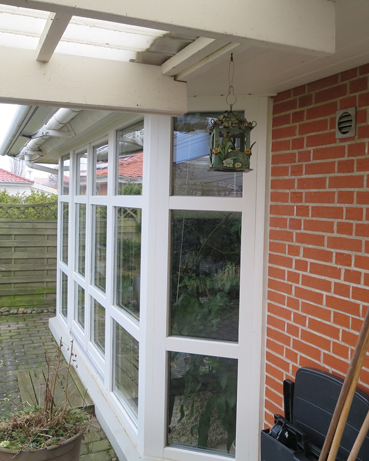 .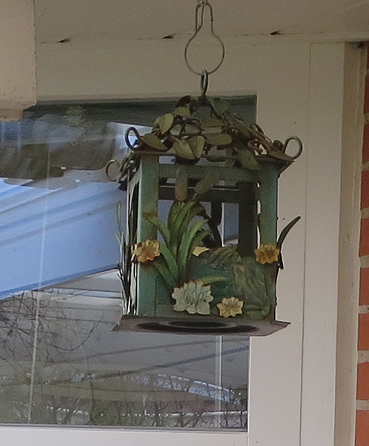 Inside the lamp was an elderly tea-light I had forgotten last year. I thought I would surprise guests by lighting it on the long warm summer evenings last summer where we often sat outside, but had completely forgotten all about it.
NOW I see it has been half eaten. Dust and dirt cover the rest.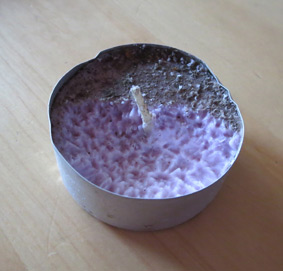 I wouldn't know who had eaten it except that I have twice seen a Blue Tit http://en.wikipedia.org/wiki/Eurasian_Blue_Tit fly to it a couple of times. Tea-lights cannot be good food and especially one coloured mauve and scented!!! Very strange.
So I have put a bit of hard cheese inside now, much better for any desperately hungry Blue Tit!

On a doggy walk this morning and the crows are particularly teasing Solo, who fancies himself as a professional killer after he caught two baby Blackbirds last summer. Dasher knows better: They can fly! I managed to take a 1 minute video of Solo charging the bird and screaming hysterically, yet it just casually carried on looking for food in the grass like we didn't exist!
www.youtube.com/watch?v=GNwp6WaqZUk
Crows KNOW that when a dog's on the lead, it is helpless to catch them.
---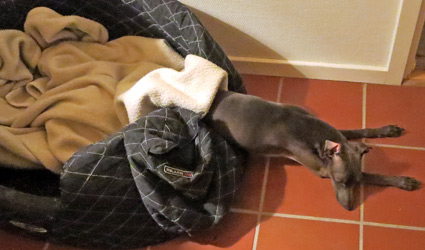 After a rest - he's too hot!
---
Wednesday the 26th of February: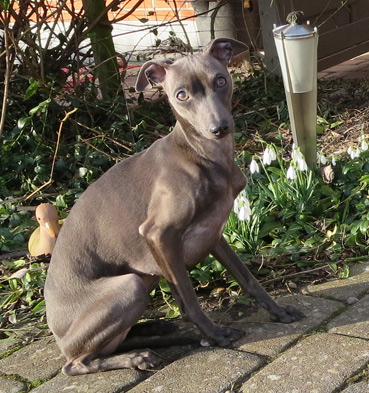 Solo won't come in as he knows I will put his coat on so we can go for a walk - and he HATES coats! At the moment he is forced inside due to the cold, but come summer I am very much afraid I will have to get him in with the help of a treat! This because although no coat needed, he hates his harness to be on as well! I HATE the way Italians have to be "paid" for everything they do - or they just won't do it! The Whippets are born obedient and their greatest wish is to please, but Italians are like little Lords and Ladies and absolutely won't do a thing unless there's something in it for them - given by their slave-owners! One is helpless! Do it their way or they do not co-operate. He hates coats as they make him itch. Dasher's fur is softer so he doesn't care and comes enthusiastically to have his coat put on, whilst Solo cowers on the floor! To help the itch and possible fur pushed up the wrong way, I give them both a quick rub down with some gloves I have with rubber "studs" that drag loose hair out - after the coats are taken off again. They both love this!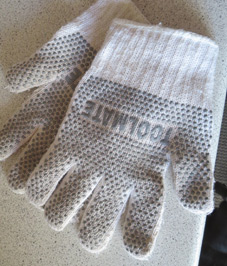 ---
Friday the 21st of February
Svend's birthday today and I had wrapped his present in balloons.
Later, we decided to let the dogs play with them and left them provocatively on the edge of the table as Solo loves to steal.
But he didn't notice! So, tired of waiting, I took them out in the garden, where he played around with them. He has a gentle mouth, despite sharp young teeth, so they didn't burst straight way and the bangs never bothered him a scrap!
Dasher is wise and knew what they were, was sorely tempted to a tug of war game, but desisted as HE knew only too well from experience, that it is USELESS to tug at a balloon! Solo was quite disappointed when all were gone!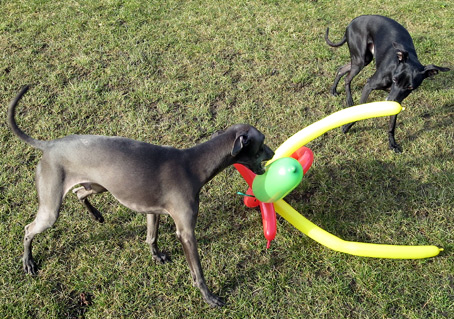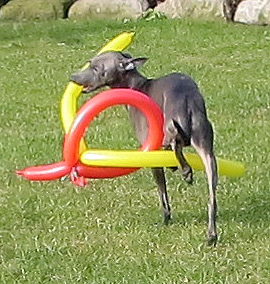 .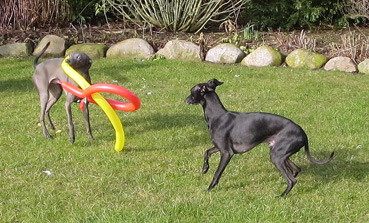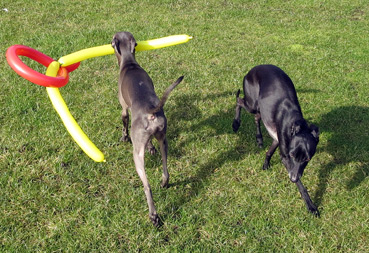 .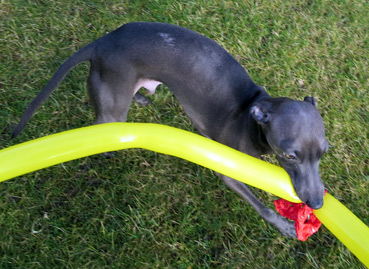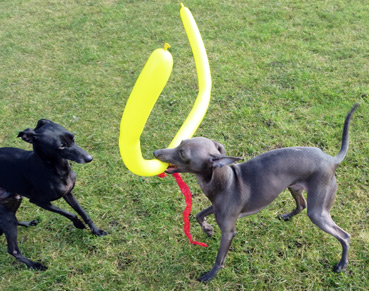 ---
Saturday 15th of February 2014
The dogs have a wrestling match EVERY day! Solo has grown, so he's as tall as Dasher. His legs are longer but body much smaller.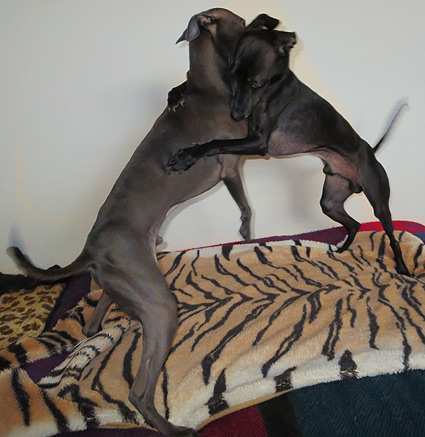 Meanwhile outside, the spring flowers are opening - and my eyes are itching, so there's already pollen in the air!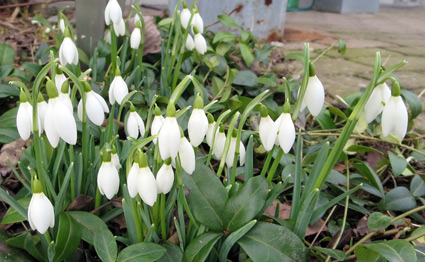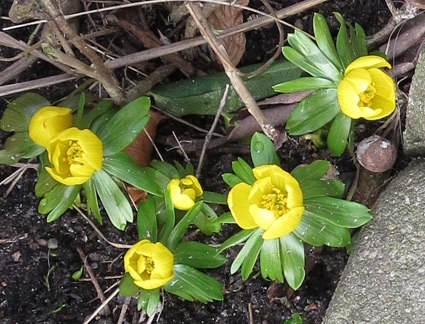 Thursday 13th of February
The sun's out the weather is mild (7C) and Solo, full of the joys of spring, grabs a VERY worn out football and races at TOP speed around the garden with it!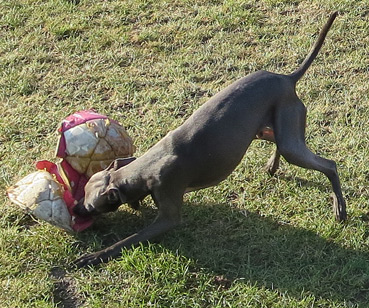 .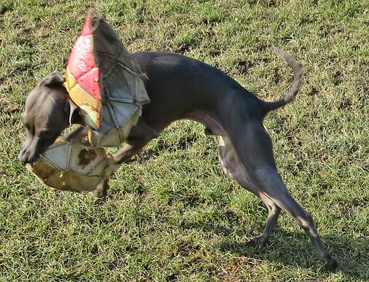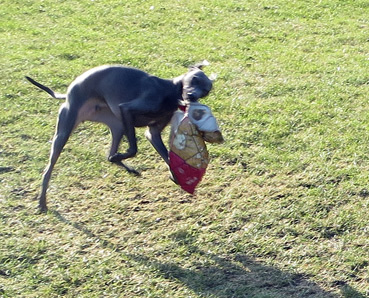 - then he drops it, goes completely crazy and whizzes around and around nearly breaking the sound barrier! So good that we have a fair sized garden - heaven help the poor souls living in apartments or with tiny gardens... young dogs do need to "let rip" occasionally and sighthounds can get up to incredible speeds so they need plenty of space...


---
Wednesday 12th of February
Solo is killing himself agonising over my son's slice of chocolate cake and SO BADLY wants it! He will NOT give up trying to reach it!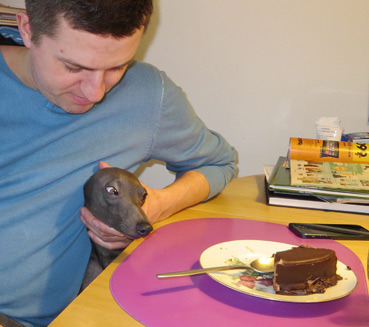 .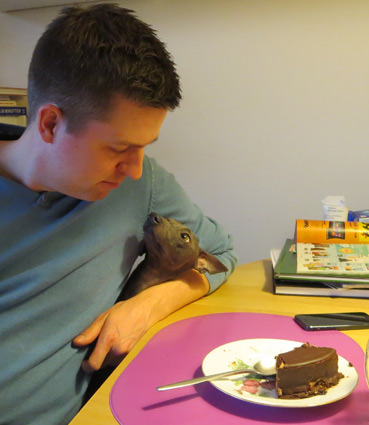 He doesn't know my son very well, so he is hoping there might, just MIGHT, be a chance...!!!!!
(Yes, we DO know that chocolate is supposed to be poison for dogs, but even if it wasn't, we never give scraps at the table.)

Saturday 8th of February 2014
Here's the morning sun through the "mud room" door, which has frosted glass like rain is pouring down it, very attractive. Streaks of snow not yet melted show in the driveway.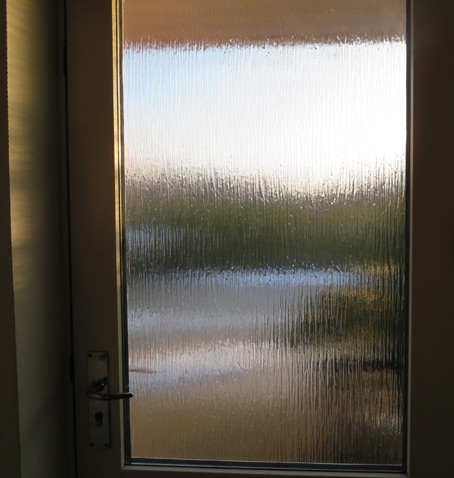 Dasher is chewing a bone (the hoof of a cow!) that Solo wants SO BADLY! He gets it in the end.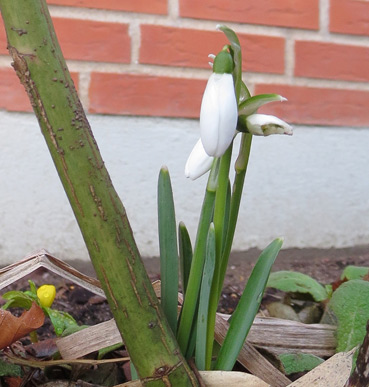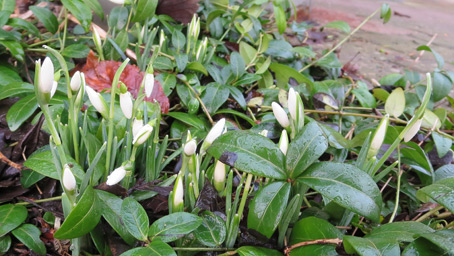 Snow drops on the way, despite cold and snow - which has nearly all melted now, thanks to plenty of rain.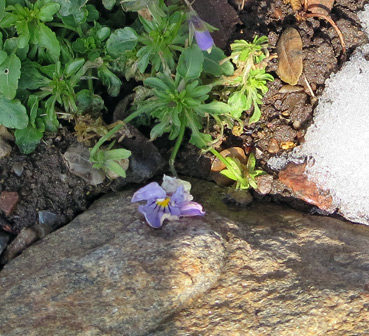 The latest photo of my tough little pansy, still hanging in there despite frost, snow (a clump seen to the right!) and cold. Compare with the photos below!

Wednesday 5th of February 2014


My friend on the island of Fyn, who lives very high up with a fantastic view from her garden over the sea and a pretty bay, (that's distant summer house roof-tops one can see in the dark), took this fantastic photo this evening, as the sun set. I too had noticed it was extra beautiful tonight, but alas, at the moment, the sun sets behind our neighbours!
---
Monday 3rd of February
THE MOST BEAUTIFUL MORNING! Well worth waiting 6 weeks of depressing gloom, rain, howling gales and snow for! Light mist, thick frost, no wind and the sun just breaking through...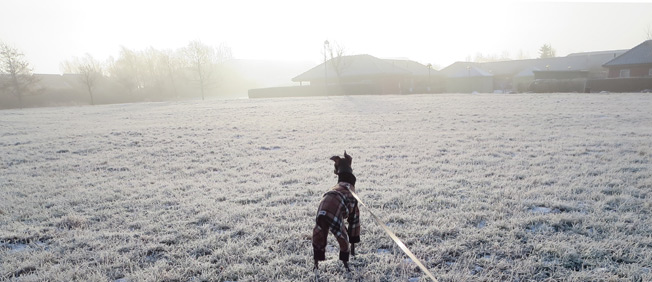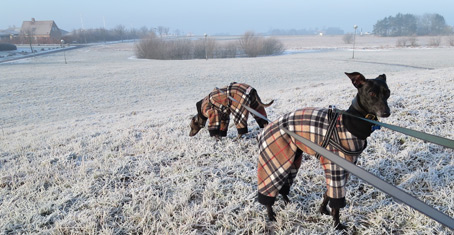 The dog's fleece tracksuit coats are a "must have" warming their thin legs in this cold... order yours from Togs for Dogs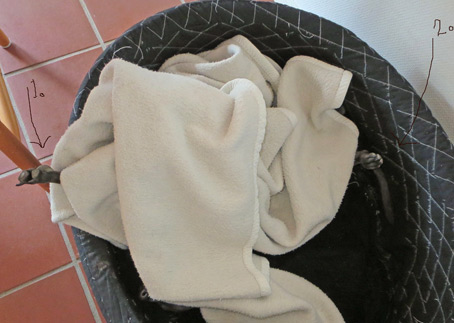 Funny sleeping position! Nothing to be seen except one front paw at arrow 1. and one back paw at 2.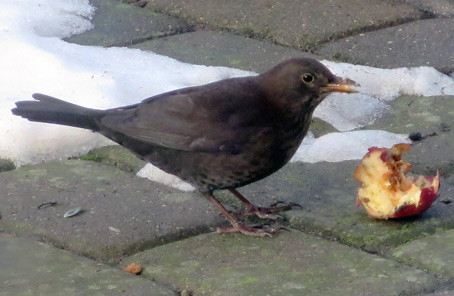 At last a decent photo of Momma Blackbird, having chased Daddy Blackbird away from HIS apple, (she has her own in the cycle basket!), she eats his left-overs. Taken through the window, I am amazed it isn't too bad of her...
---
Sunday 2nd of February 2014
I gave the dogs an old plastic "activity ball" that neither 3 keen Whippets, nor crazy Dasher and Racey through at least 5 years of playing with it have ever managed to damage - and in less than 15 minutes, Solo had wrecked it!!! I'll have to buy a new one - and supervise him more!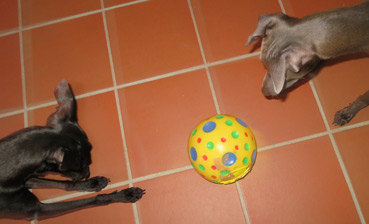 Here they both play, Dasher holding back as his strategy is to let other dogs "work" the ball, whilst he moves in like lightening and snaps up any biscuits that roll out!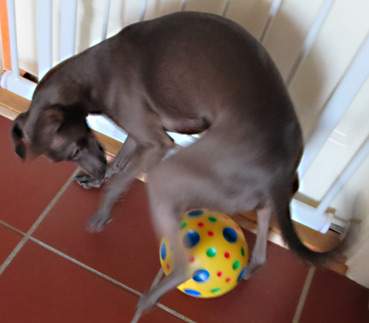 .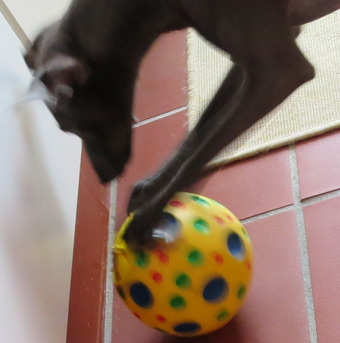 Left, Solo shooting it through his back legs, right, using both feet to claw the tiny hole wider open.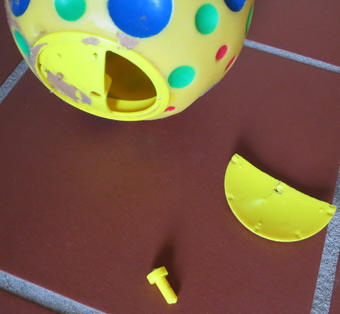 .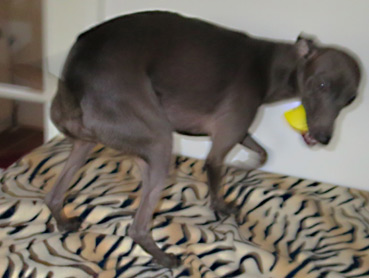 Finally it is broken and he runs off with a bit with me in hot pursuit!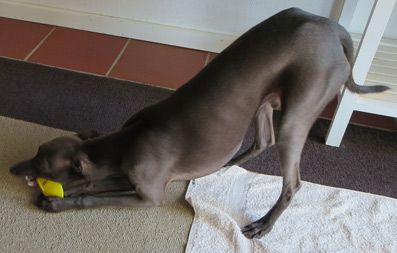 .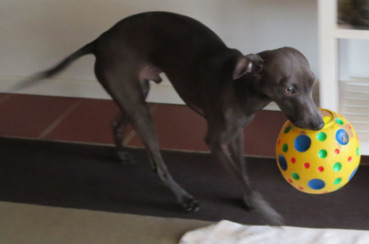 Chewing the bounty - and NOW he can carry the ball!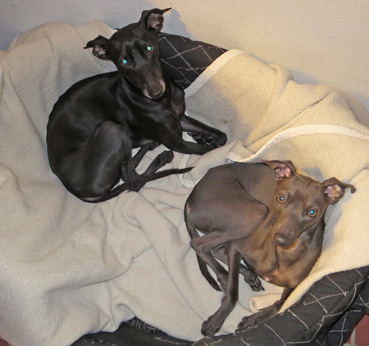 But of course, they are both ANGELS really!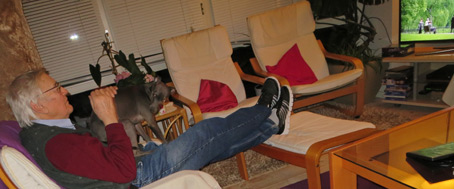 Svend last evening trying to see Downton Abbey with Solos' butt in his face!!!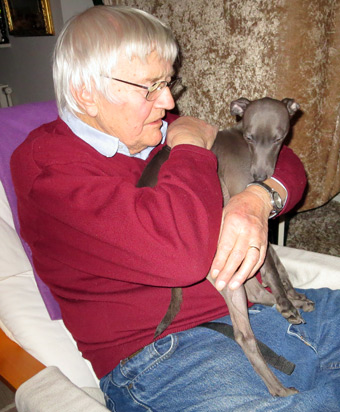 Mucking about on the sofa, whlst we watch tv!
---
Friday 31st of Jan. 2014
Constant winds have made big and small snow drifts everywhere, very irritating.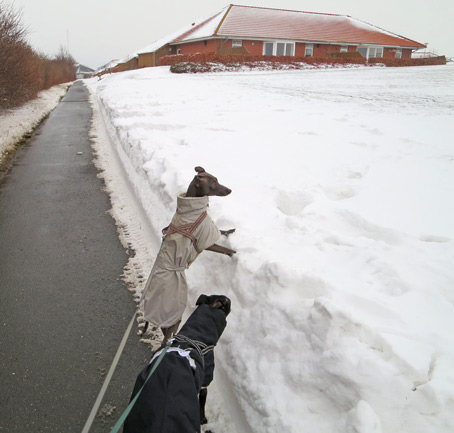 Here on a walk, I can't imagine how the man cut through this path for all of us walkers and dog owners, it's so deep! I have to use a liberal amount of wax under their paws every day, as the salt does give them awful pains at times.

Monday 27th of Jan. 2014
Winter's hit us and snow drifts with gale winds blowing it all around and it's freezing cold (minus 6C) ... we knew it would come in the end! Now I have found out who is eating the apple a day that I put out on our patio every morning: Daddy Blackbird! See here, (a bad picture behind dirty glass, but I cannot do better without him seeing me), he's eaten all this inside of an hour!
Meanwhile, Momma Blackbird spends nearly all day sitting eating non-stop in the cycle basket full of food, (plus an apple for her too), much to the irritation of a starving flock of sparrows who can hardly get a look in!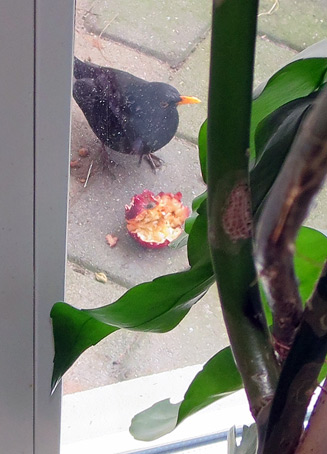 The dogs can see the Blackbirds outside and go into "kill it!" mode, if I open the door they shoot out like two torpedoes and nearly break their legs in the rush!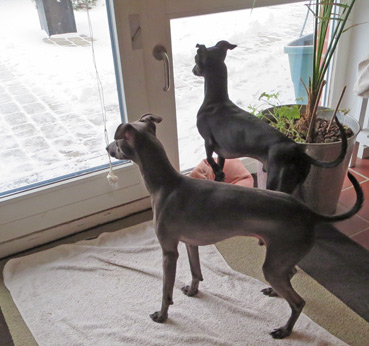 ---
Thursday 23rd of Jan.
After days of high winds freezing temps. and a touch of snow, the pansy is still hanging on! Supposed to die down and grow from scratch from the seeds it sows, this one is exceptionally tough! (Picture to the right from last November!)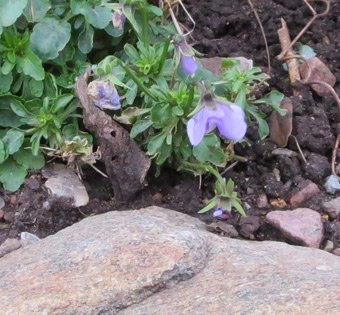 .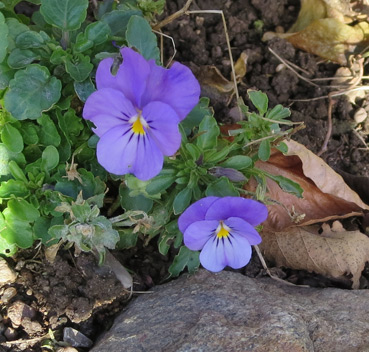 BUT, some of its seeds are already growing in a plant pot by the back door! This shows the effect of the amazingly mild weather we have had up to now: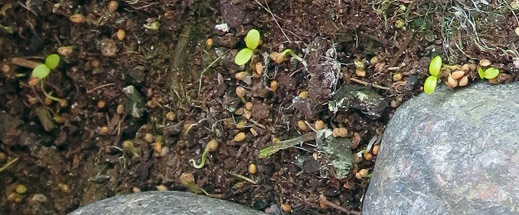 Question is: Will they be able to survive?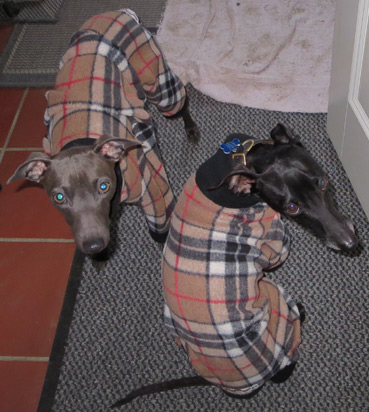 Above, the dogs all dressed up for their morning walk, (the weather is FREEZING) and the funny thing is, Dasher is facing the door and ready to get up and go, while Solo has his back to it and saying: "Can't we skip it today?" He is actually tougher than Dasher with the cold, BUT he just HATES any form of clothing (because it makes him itch like crazy) and this track-suit is a form of torture - according to him! He is unable to appreciate the lovely warmth and protection it gives. All my Whippets clearly were aware that they needed and WANTED their coats when it was cold. They were pleased and wagged their tails when I went to put them on, but Solo hasn't understood yet and sees me as a heartless and cruel owner!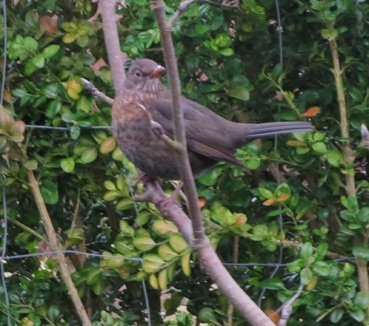 .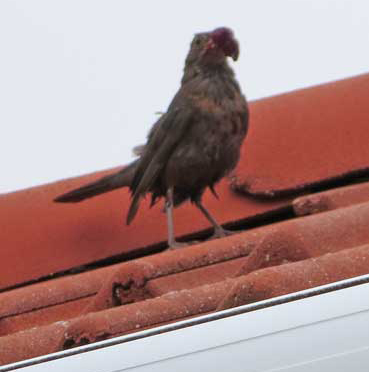 Above left, Momma Black bird waiting for me to go away so she can get to the food I've just put out! See how fat she is with good feathers, not at all like the scruffy run-down wreck from last September - picture on right!
---
Saturday 18th of Jan. 2014
Yesterday, quite a bit of snow came in the night with some storm winds that blew horizontally in from over the fields - but rain all day soon cleared the most of it away. Here, I am out on a dog walk at 9am and this is how it looks: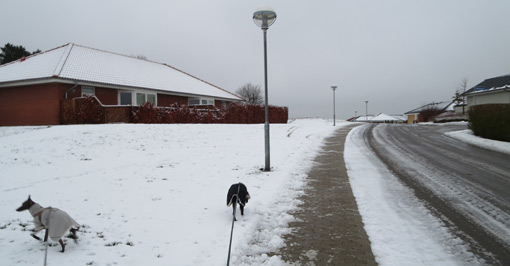 Below: I found a sign post that was decorated in a rather special way, look at the bottom of it: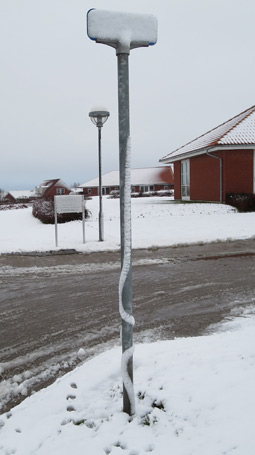 EVERYTHING, including all the trees, were snowed up on a strip on the windy side - the other side being bare. On this sign post, it had started to slip down in an interesting loop! I couldn't photo more as it started to rain.
Lunch time today, I was exercising the dogs who ran round the house 14 times, whilst Momma Blackbird sat calmly in the cycle basket that I am using as a wild bird food container. I was a mere three feet away and opening and closing the gate just alongside, while the dogs ran around beneath her. She didn't budge, she was enjoying some of Svend's Ryvita and the apples, so I took my camera out (she is used to this and the flash) and I could photo all I wanted, so here she is: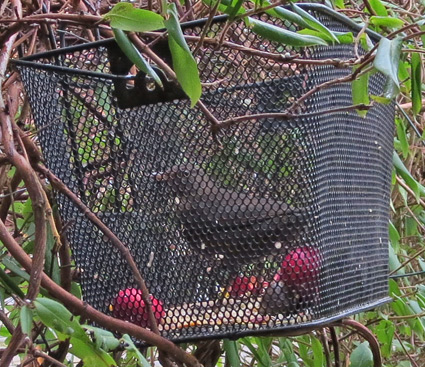 - completely unperturbed! And photo below shows the dogs underneath her waiting patiently for their tit-bit before running off around the house once more!!!



You can just see her in the basket - she's even turned her back on us and looking over her shoulder! I am amazed by her casualness - all extra garden entertainment!
---
Tuesday 14th of Jan. 2014
Woke up to milder weather, not a scrap of snow and thick mists everywhere. Everything is soaking wet and dripping! (The grass is still covered in small bits of toilet paper.)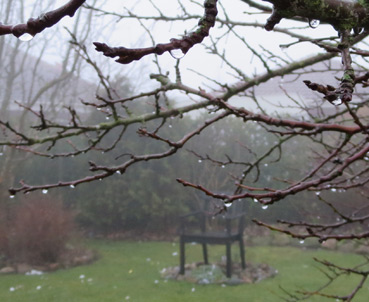 .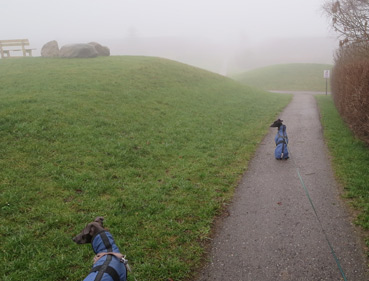 Above right is the same view as the day before. Fun the way every day is different.

Monday 13th of January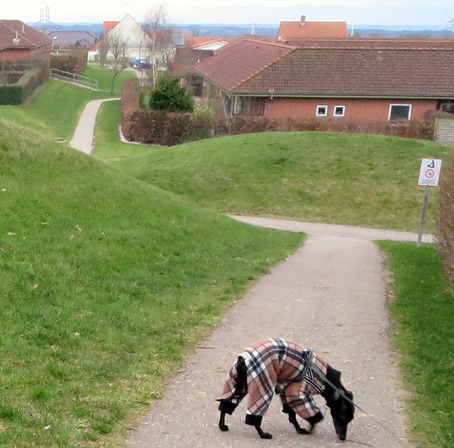 Freezing cold wind and minus temps. this morning, so time to dig out the long-legged "track suits" that protect their boney legs from frostbite! Get yours from: www.togsfordogs.net ....Then in the afternoon, a layer of snow...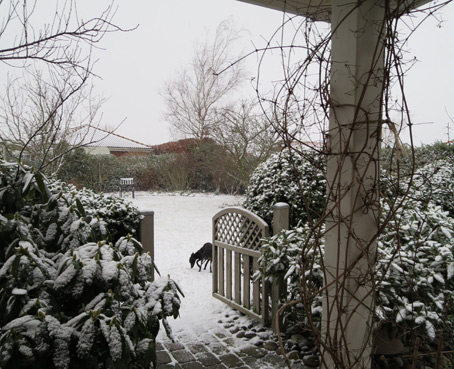 "Come out here", says Dasher, "someone's just thrown some dog biscuits to make me walk in this ruddy snow!"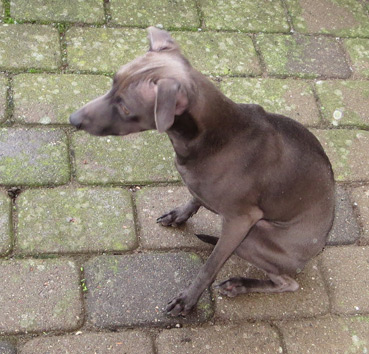 "What? You must be joking! I'll just sit here and watch you get cold feet!" Says Solo shuddering.
---
Sunday 12th of Jan.


It's all my fault and I have no one to blame, which makes it all the more irritating, but I forgot to close the toilet door properly and Solo got hold of a BRAND NEW toilet roll and made SUCH a mess in the garden, whilst I was busy making some bread! Ugh! I had the back door ajar, as he loves to go in and out especially if he sees a bird! It's been colder but mainly sunny.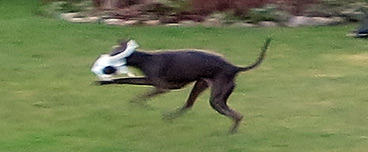 He must have had a whale of a time - the yellow bits are a bath sponge he stole for good measure! Dogs! Who'd have 'em!!!
Below is the absolute last rose of summer, photo taken the 12th of January!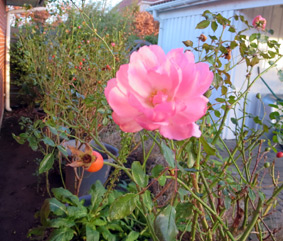 .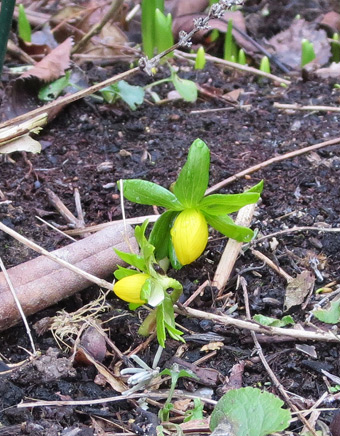 To the right: Aconites coming along at the foot of the roses, one of the first spring flowers here.
---
Solo is too hot - the kitchen floor has underfloor heating too!


The 9th of January
I've always looked down on Facebook and Facebook users and the couple of sentences long, utterly boring trash, that people find to write for "the world" to see, (under the impression that others will be highly entertained and give them stacks of thumbs up to approve their empty waffle), but now the record has been broken for complete idiocy!
I have just today heard, that a certain FB group has a "leading, much-loved member", who is very seriously ill.
That some bright spark, who is also in the group, thought up the kind idea of asking everyone to chip in a small amount paid into a certain account, to buy flowers and choccies to cheer up this "leading, much-loved member" and show their love and appreciation.
A great idea and were it a SURPRISE - it would perhaps have warmed the cockles of the heart of this needy "leading, much-loved member" – BUT the fool wrote and asked everyone from INSIDE THE FB GROUP – so this "leading, much-loved member" of course, ALSO could read about the idea and request for money and so promptly wrote back, that it would give her more cheer if everyone paid into the group's own account - which is to help needy dogs - instead of a gift for her, dedicated person that she is. Therefore 1) This "leading, much-loved member" gets NO wonderful surprise present at all, which may well have cheered her up and certainly would have shown the other's appreciation and 2), the kind idea now falls flat on its face (book!)
Whatever happened to good, old fashioned emails?
In an email, one can CHOOSE to send to one person or a hundred in complete privacy with only the receivers reading the content. If one hasn't got everyone in the group's emails – well then, they are easily obtained by asking around!
I call this the height of dumbness! Don't FB users know of any other way of communicating?
I was deeply shocked. Such a shame...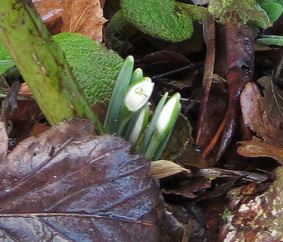 Snowdrops in our garden, showing spring is on the way!