Wednesday the 17th of January 2018 - and the tenth blog!
Suddenly, a wonderful sight of 4 deer just flew across in front of the dogs and me from the muddy field on my left! Before I had got my camera out from under all my winter clothes, they were far away, but I got these 2 pictures: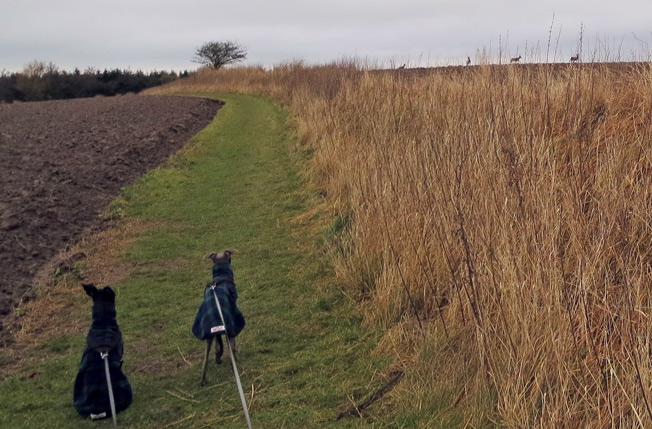 You need your best magnifying glass for the above!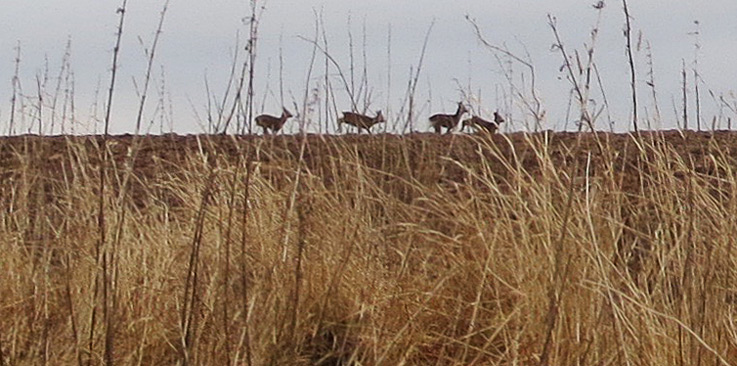 ---
Saturday the 13th of January
Horrible cold and windy weather. I took the long walk over the fields. Looking back, I could see "my" bus!



Here one can see the path the farmer leaves for us.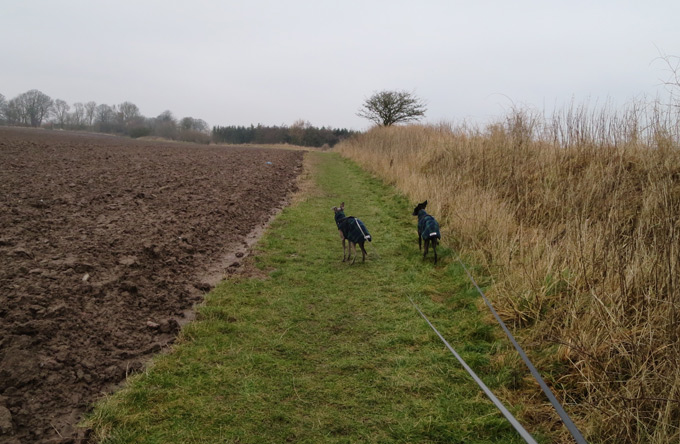 ---
My geranium, which has bravely flowered by the front door since the summer, couldn't take the 2 days of minus 6 degrees!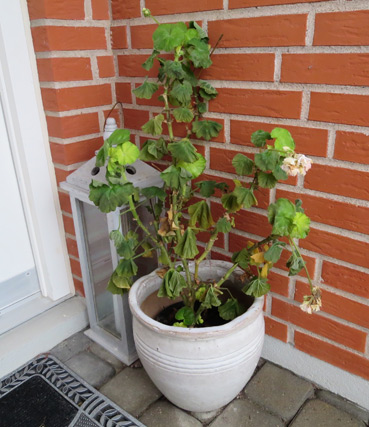 ---
Friday the 12th of January
Did you say BONE?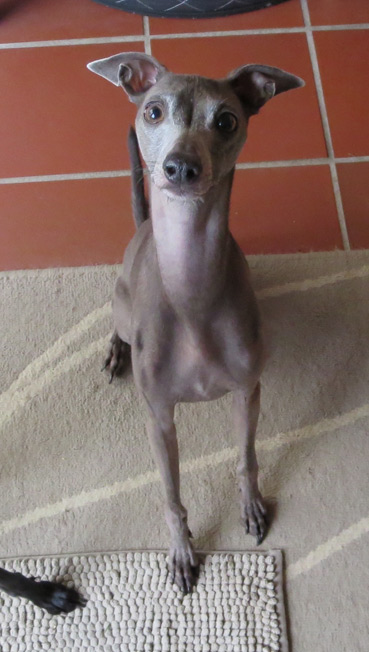 ---
Thursday the 8th of January
Two days of really hard frost and down to minus 6 C or more at night, plus 2-3 in the day have "painted" everything in pretty white crystals! Photos from 8.30 this morning. Even weeds become works of art!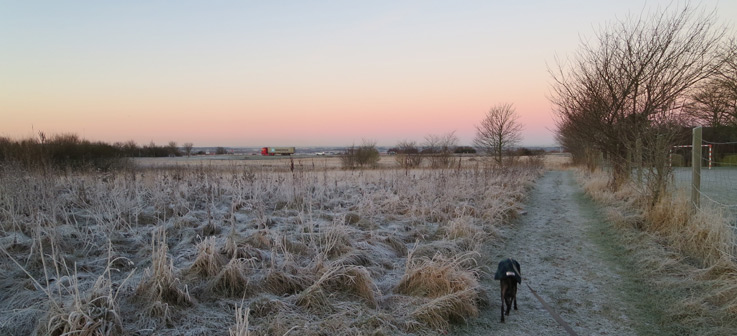 Solo was particularly interested in walking on the ice! I was waiting for him to "do a Bambi" but he kept his balance!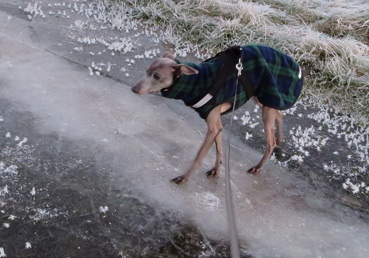 He couldn't figure it out!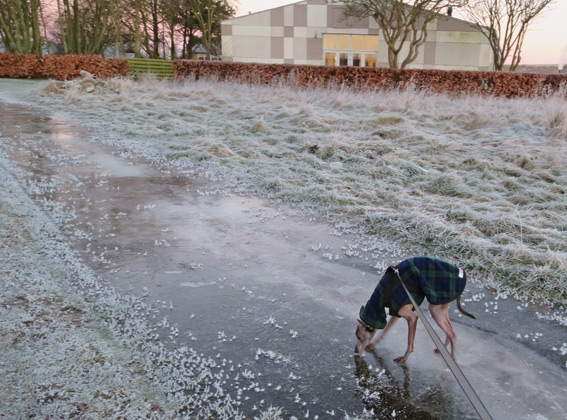 Despite the cold, they are not in any rush!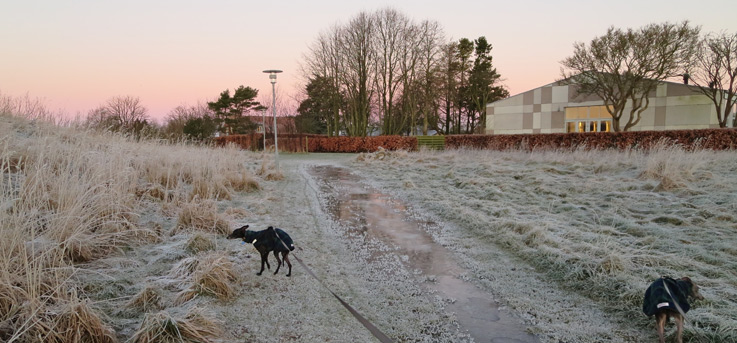 Dasher thought he saw a mouse, so there was a bit of excitement.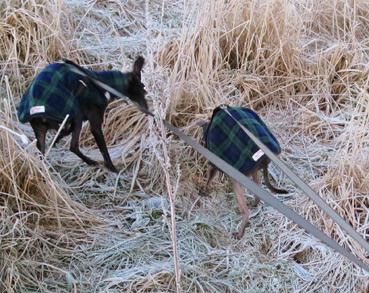 ---
Friday the 5th of January
We had one day of "wet, slushy snow", (plenty to photograph, but my camera's not waterproof!) Then one lovely day of weak sun, then today, grey, grey, grey.. I took the long walk through the fields and into the village..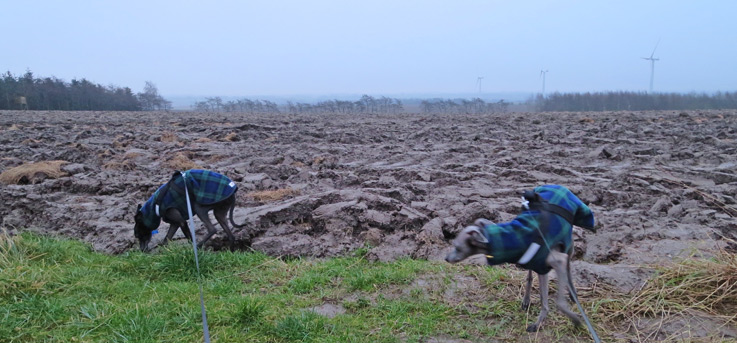 ---
Monday the 1st of January 2018
We survived the non-stop massive explosions of fireworks all New Year's Eve, (lasting from dusk til 1 am!) and are ready to greet the new year, hoping it will be a great one for all.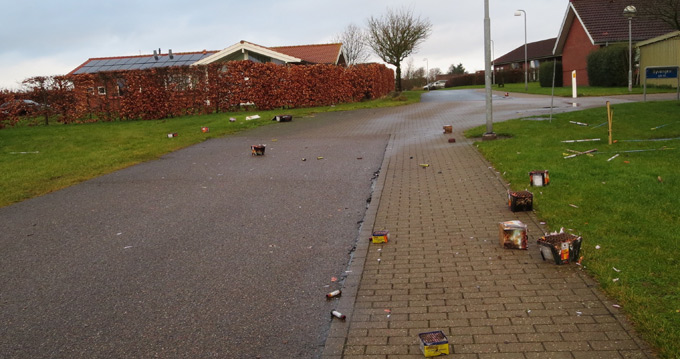 Here is a photo showing some of the mess left after such a crazy evening! (They did clear it later, though.)
Below, they are wearing their warm "Togs for Dogs" sweaters!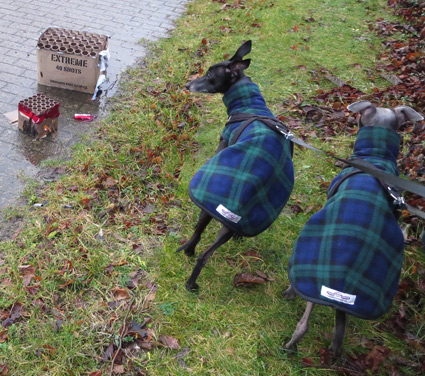 Solo took the noise and flashing lights fairly calmly, but Dasher just wanted to cling to me and was very unhappy - but not scared out of his mind like our late Dee Jay Whippet was. His little heart nearly bounced out of his chest, it was pounding so hard. So we got through it OK!