Monday the 15th of July 2019 - and the eleventh blog!
I discovederd a hedgehog curled upon the path to the compost piles this morning.
I waited paitently and when it got sick of curling up, it started to wander into the undergrowth, but stopped to sniff the air - me! So I stroked on top of it's nose and forehead several times - then left it in peace. I'm so glad to see one, I haven't seen one for about 3 years when they were always in the garden and getting the dogs hysterical.
You can just make out it's face.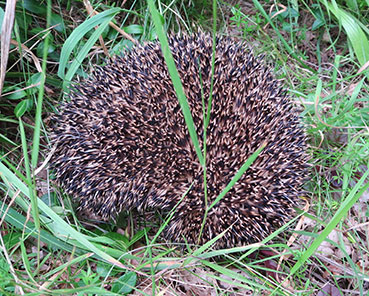 .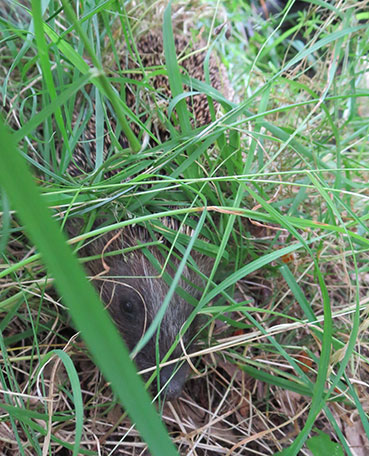 A poppy having a "bad hair day" by the gate!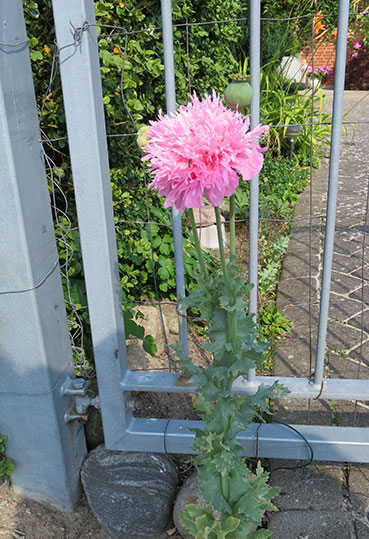 ---
Friday the 12th of July
I've got the feeling I am being spied upon by very badly disguised cameras? It's not usual for fir trees to flower? Ha ha!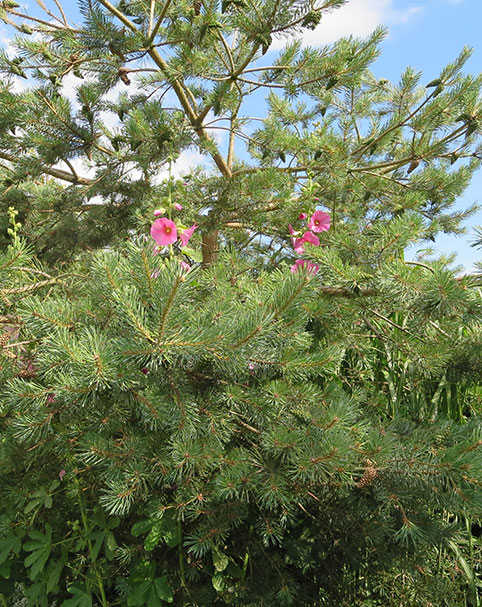 ª
---
Friday the 5th of July
Today the crop is getting more golden coloured.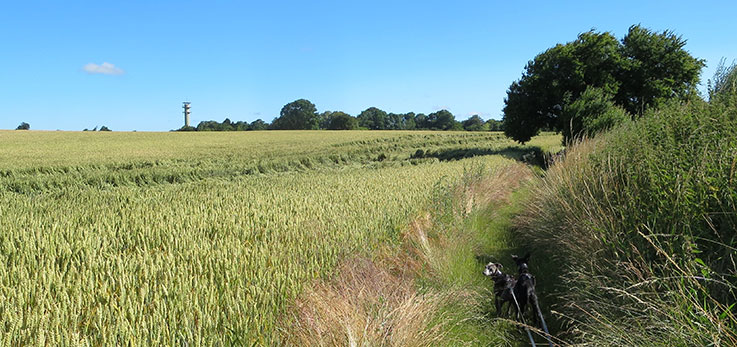 Below one can see a bit of Barley from last year that has sown itself and the new crop of??? - maybe corn?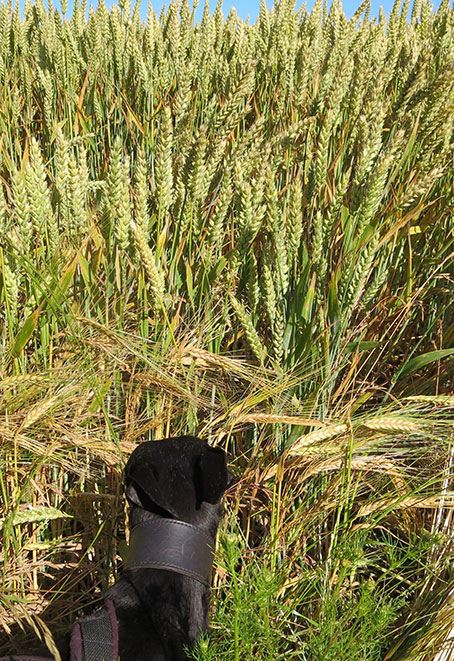 ---
Tuesday the 25th of June
The path over the fields is getting very overgrown!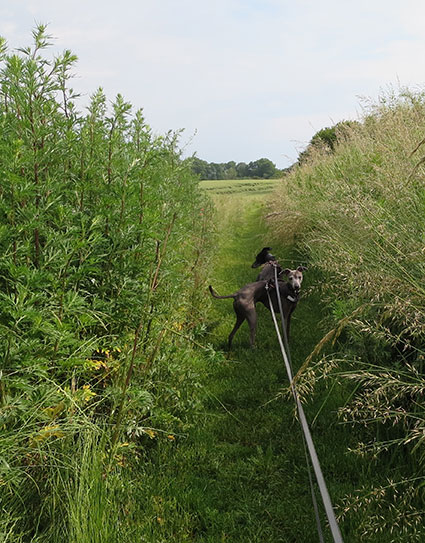 .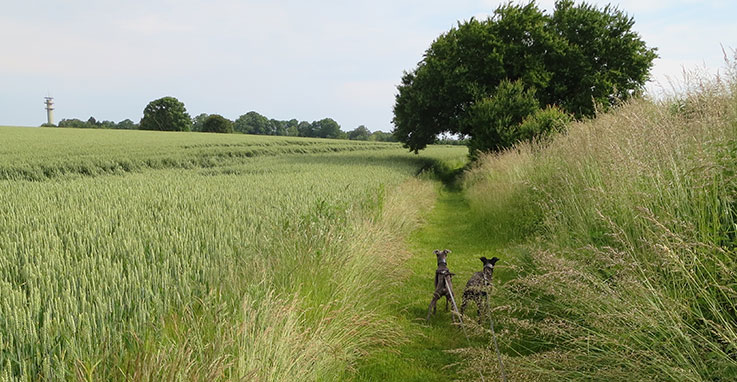 Late last summer, I was given a present of a small, white amaryllis by a friend.
When it died back and I was ready to put it in the dark workshop over the winter, so it would grow all over again next spring, I saw the bulb was completely shriveled up to nothing. So I threw it out in the wheelbarrow of other weeds and cuttings to be wheeled around to the compost piles in a little, overgrown woodland at the end of my, and my 2 neighbour's gardens.
There is one huge heap and I have several small, flat piles behind this. (I have 3 compost holders in the kitchen garden, but if too many weeds with seeds or small branches that take ages to break down, then I prefer to use the unofficial one we have.) I have walked down there several times this spring and spread new plant cuttings around.
However, on my way back a few days ago, I suddenly saw a very virile looking amaryllis lying on a compost heap I had not yet used. It is undoubtedly the same one – having survived the whole winter and spring all abandoned for at least 7-8 months! So I took it home and apologised to it, potted it and am waiting for it to right itself up. It was lying on its side and trying to grow upright. How funny that I should see it again!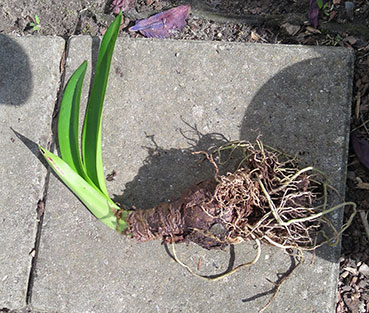 .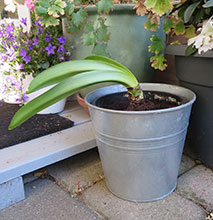 ---
Thursday the 20th of June
There were two cats on the morning walk today. This one wouldn't budge so I was worried it was ill and we went around it. (I have since seen it strolling around, so it is perfectly fine!)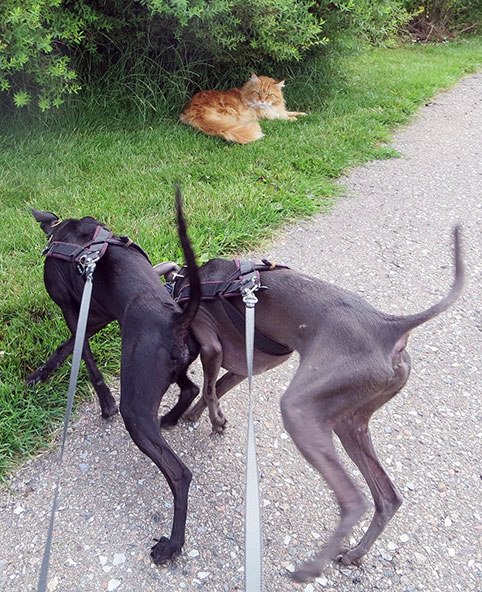 This second cat was sitting on the doorstep waiting to be let inside a house, but when it saw the dogs, it threatened to attack and I was quite scared! I imagined their eyes scratched out!!! It was doing the low "cat-moaning" sound they do just before a fight, and then it started coming after us! I hurridly dragged the dogs down the steps and it followed us part way down, "rolling it's sleeves up" all ready for a vicious fight! We beat a hasty retreat.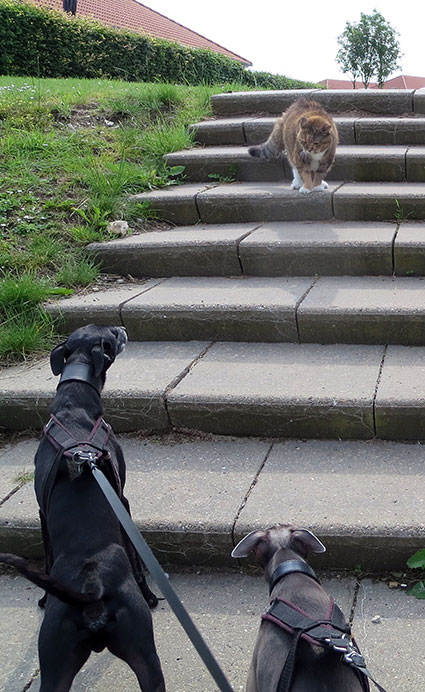 ---
Wednesday the 19th of June
Solo has stolen again - but this time only a dog bone, so I can't get excited!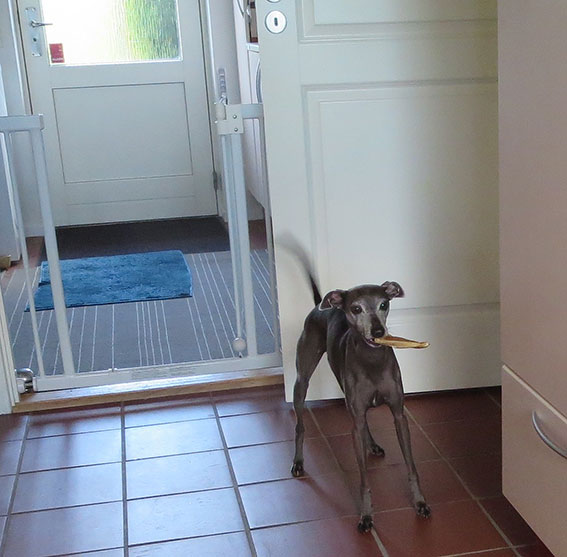 ---
Tuesday the 18th of June
They enjoy the weak sun!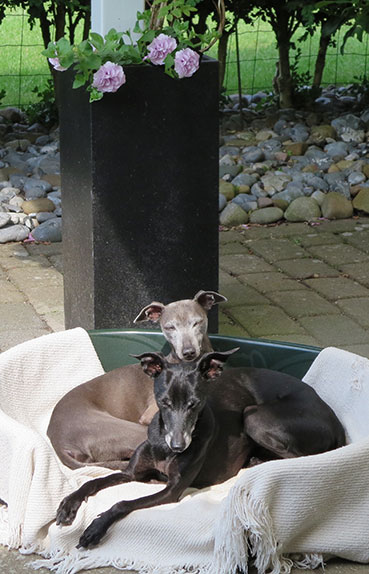 On Saturday I had Whippet Fauna and owner to lunch, and I hardly took any photos I was chatting so much!!! Below is the only one worth showing!


Fauna and Solo mucking about on top of the cage!
---
Sunday the 16th of June
The path over the fields is very overgrown now! We've had so much regular rain...the dogs are lost in the grass!



Below, the usual view.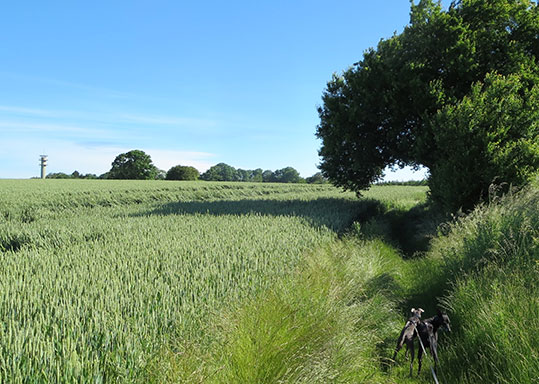 ---
Friday the 13th of June
A strange co-incidence:
I suddenly noticed yesterday, a butterfly I don't ever recall seeing before – although I'm no expert. I photograph it and put it on the blog below.
In the evening, I saw in the tv news, that this butterfly has just "invaded" Denmark by millions – all the way up from North Africa! It's called Tidselsommerfugle or Painted Lady. I wouldn't have known anything if it wasn't for the tv news – which I very rarely look at! I took a screen shot of one of their pictures. (From my iPad.)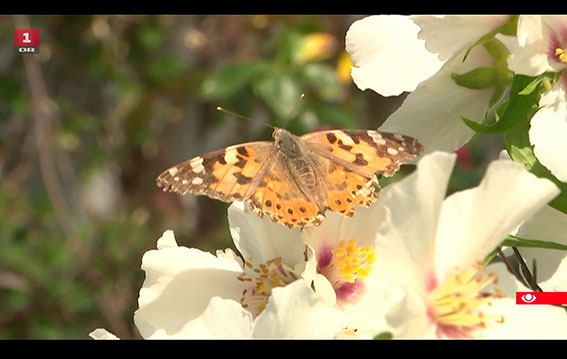 - and my lousy phto taken earlier: (I must try to get a better one, but they are moving all the time.)

---
Thursday the 13th of June
My strawberries - the amount is growing daily!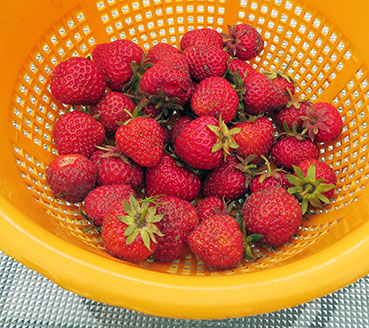 However, it's quite difficult to get in the kitchen garden right now! I reckon the problem will go away all too soon...


A butterfly I have not seen before - very wishy-washy colours. On my Timian.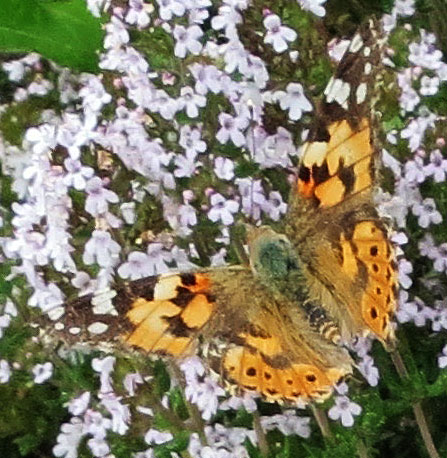 ---
Sunday the 9th of June 2019
The dogs and I went into Copenhagen with bus and train yesterday to my grandchild's birthday party.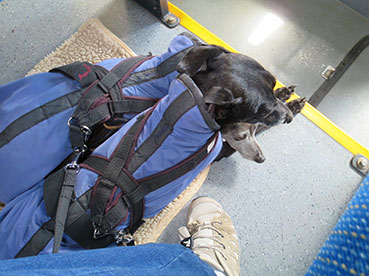 Here they are good as gold traveling on the bus.
The bus driver was one I knew well though I have not chatted to him at the station as I have many others.
I stepped up on board with the two dogs and showed him my "rejsekort", (travel card with chip), and asked him to include an extra person, before I ckecked in.
(Two dogs, two children or one person all cost the same.) Then they are paid for. Bus drivers usually prefer to just add an extra person. (One small dog can travel free if in a carrier bag on the lap.)
But he completely surprised me by replying: "I can't see them!"
I was so taken aback for a split second, that he repeated himself before I could see what he meant:
That the dogs could travel free the short ride to the station. I should just check myself in.
(The dogs actually cost MORE than me as I travel with a senior citizen's reduced price!)
I was so grateful at this unexpected kindness, that I stroked his bare hairy arm sticking out of his short-sleeved uniform shirt and and said how VERY kind he was and I was very grateful, BUT I was travelling onward to Copenhagen! (On the trains there are ALWAYS ticket inspectors ready to dish out heavy fines, so I - unfortunately - had to be "legal".)
Oh well, he couldn't know that, he said, a little disappointed! His good deed for the day all ruined. So Dasher and Solo had to be added, with a lot of pressing on his little computer screen - more than doubling the price!
I always say, I get SUCH a good service from the local bus drivers!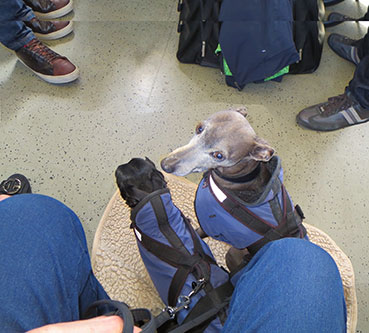 Above: The train was jam packed to the eyebrows and not a spare seat anywhere and so many standing, I could hardly move up and down the gangways. Luckily a young man sprang up and insisted I have his seat! VERY kind as we had nearly and hour where he had to stand up.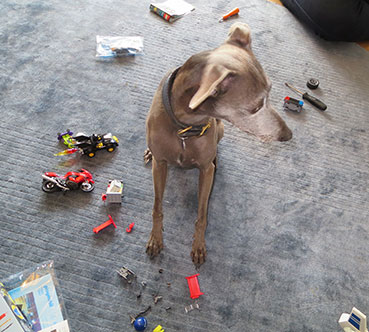 .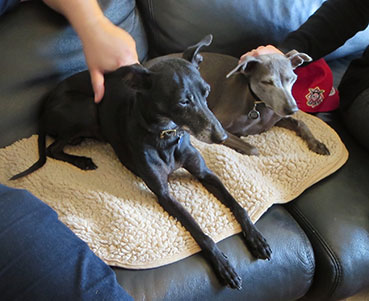 SO good the dogs are well out of the age of stealing and chewing children's toys! And they love all the petting! (And unauthorised feeding under the table!)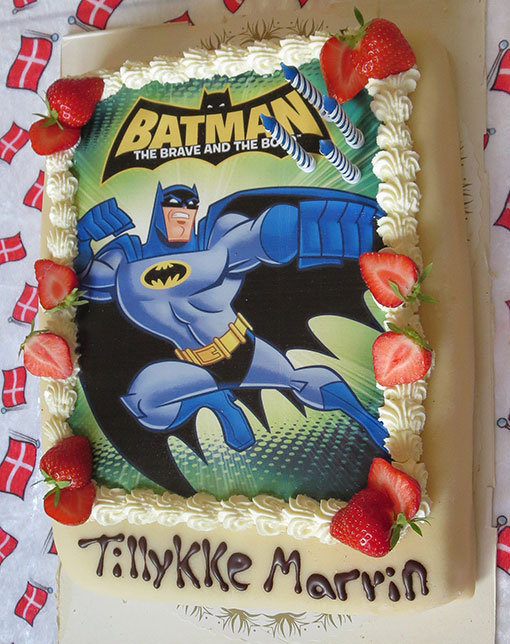 This is the incredible birthday cake!
Batman has been printed directly in the marcipan, and though I tried to stop him, my grandchild ate some of the Batman top and got a blue coloured mouth! Truly incredible what modern technology can do these days.
A wonderful day with the family.
Below: My first strawberries! Yummy!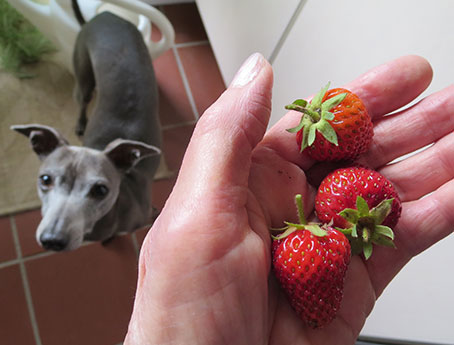 ---
Saturday the 1st of June
My lilacs are truly fantastic this year - despite suffering severe drought all last summer, plus being "burnt" with holes in the leaves by a liberal sprinkling of algae killer when the man came and sprayed the roof.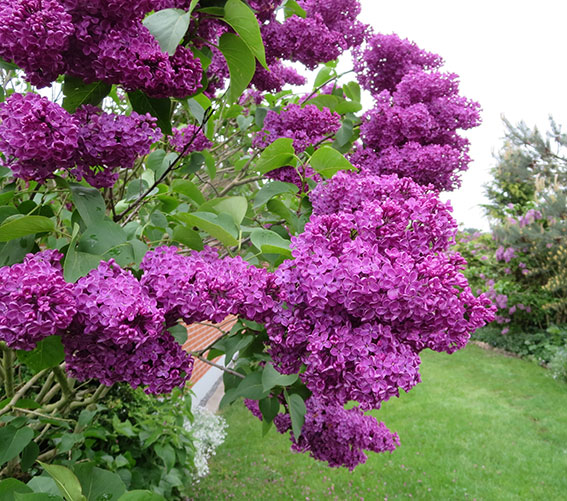 - not to speak of the pretty clematis on the patio!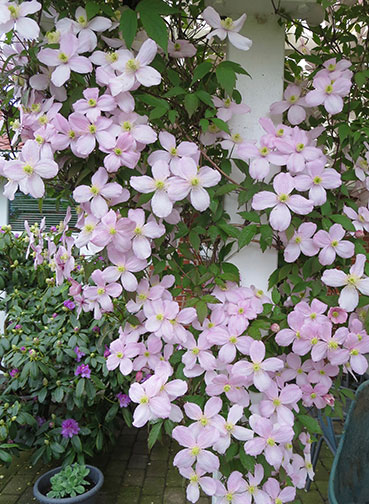 - and Solo has the cheek to growl at me after he has stolen an empty kitchen paper roll!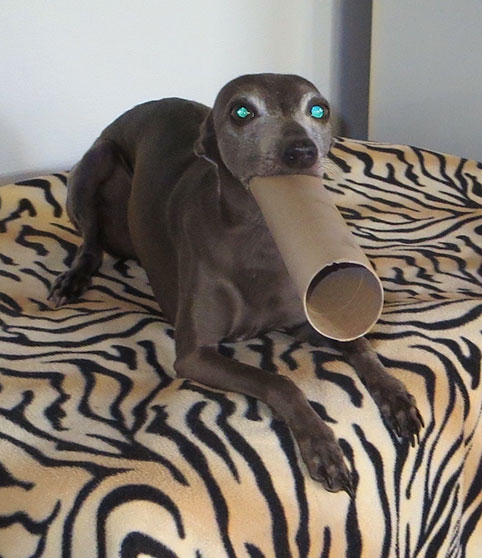 ---
Monday the 20th of May
Enjoying feeling the morning sun on their backs!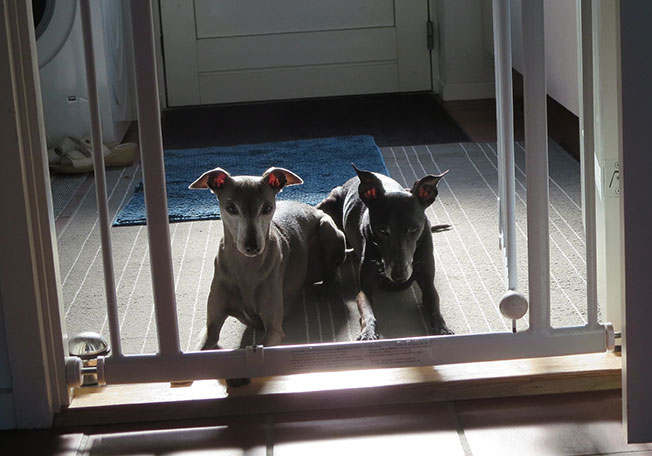 It's lilac time now with avengence and the perfume is over the whole garden!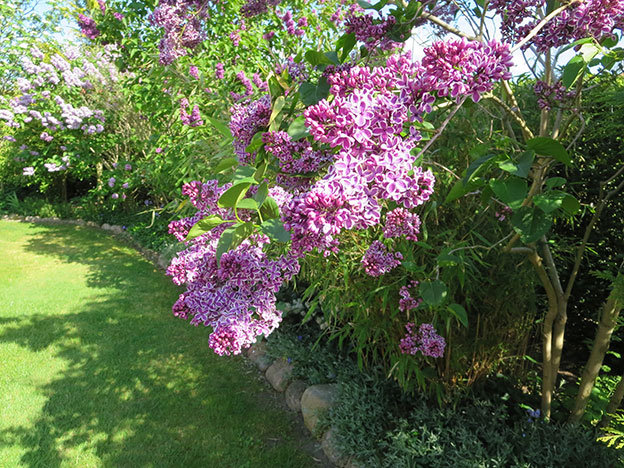 Of course Solo has to steal my biro!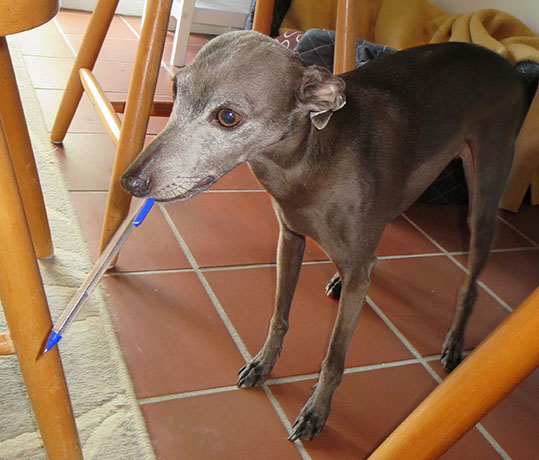 My pretty Alliums stick up above the lavender bushes.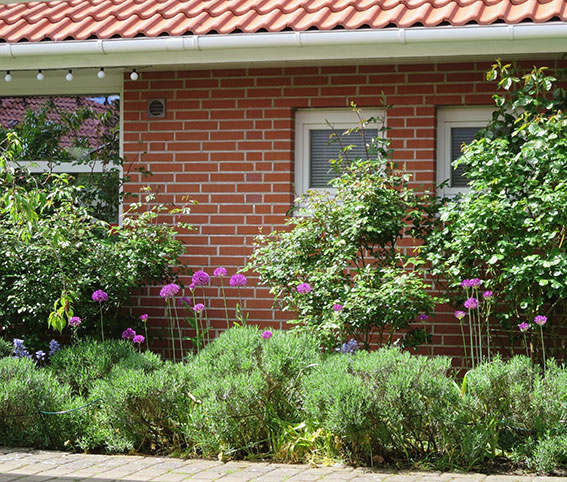 ---
Friday the 17th of May
Enjoying playing in the garden!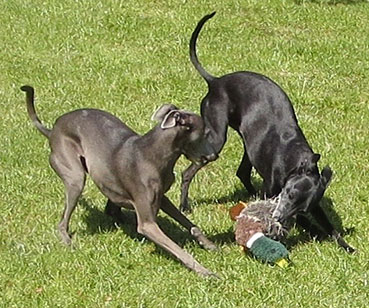 .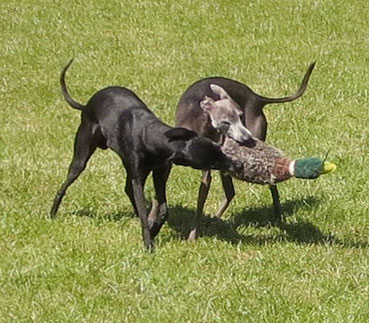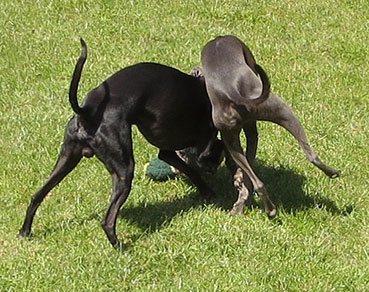 .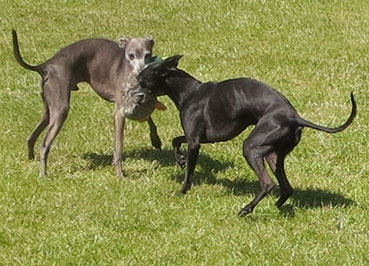 It's Lilac time - over the whole of Denmark! They are everywhere - so pretty and the perfume is wonderful too!
I must take more photos...here is part of my "dog walk"! They are only just opening.


Below: Enjoying the early morning sun!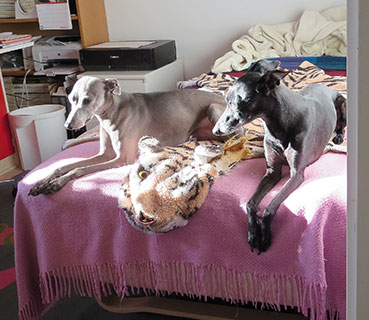 ---
Sunday the 6th of May
This is what happened in several days of cold and very strong winds -my beautiful Japanese Cherry was wrecked: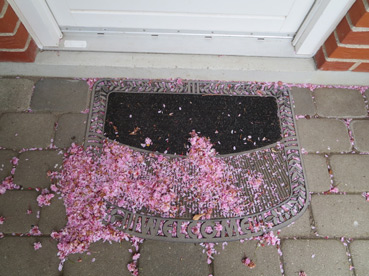 Solo chases a pigeon in the driveway, and is very frustrated as he can't jump THAT high!!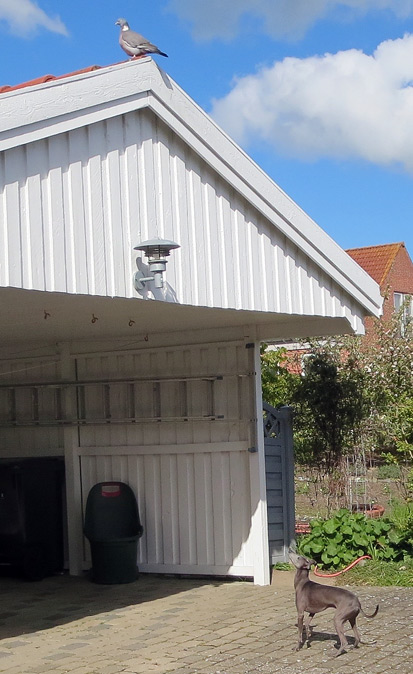 ---
Saturday the 4th of May
The world's most loving, (and hardly ever "naughty"!!!) Italian Greyhound Dasher is 10 years today!



Here he is at about 9 weeks and the visiting family are adoring him!
Thank you Arne. He is one of the best.
---
Monday the 29th of April
"When did you say you were going to play with us, Mum? We are bored!"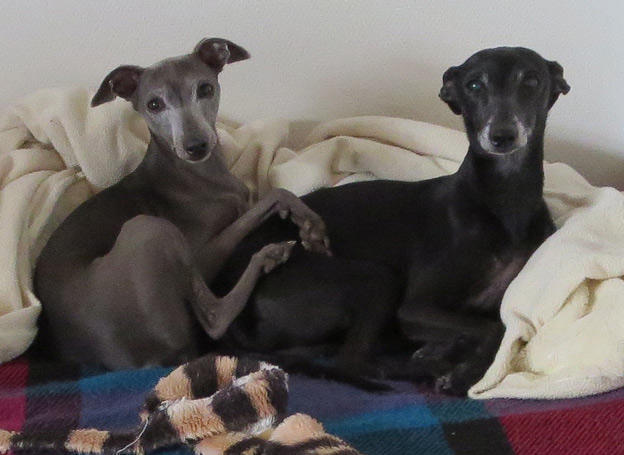 Below, a Campanula I just bought, and a pansy I rescued from the lawn where it had seeded itself last year! So cute.

---
Monday the 22nd of April
Dasher dashing around the house. He is completely fit again after having a painful left foot occasionally.
They run 5 times araound the house, 3 times a day before a meal! The speed is their choice, but it's always at TOP speed! (Most of the way is on grass.)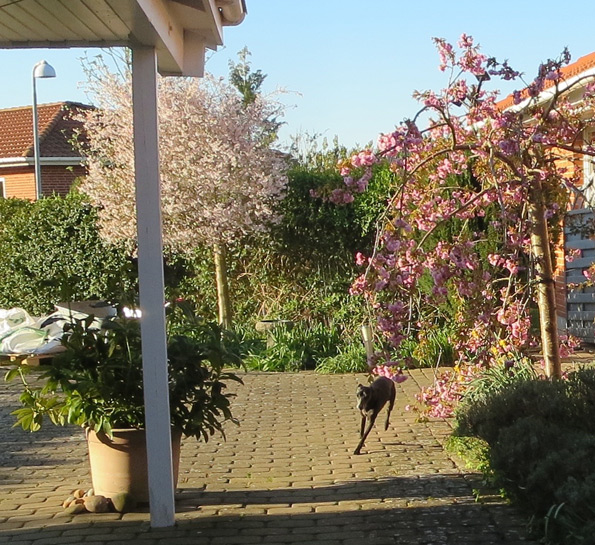 ---
Saturday the 20th of April
Out on a walk for the first time "with no clothes on"! It was 9 degrees and sunny with no wind. Felt sweating hot after the cold weather we have had.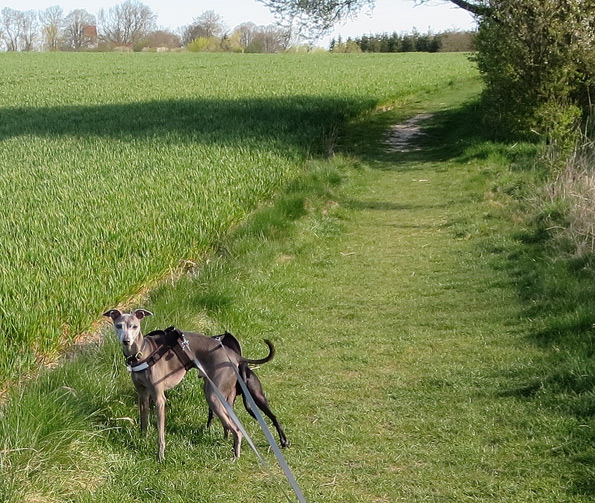 - and the Japanese Cherry tree is "exploding" and SO pretty...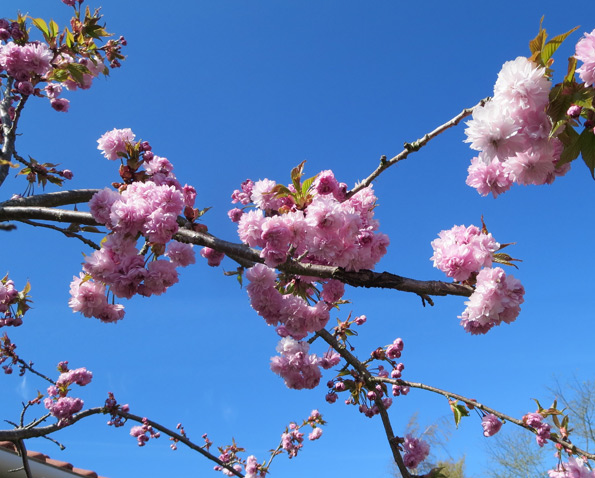 ---
Tuesday the 9th of April
Took a wonderful walk through the fields to the local village and back. A kind farmer has allowed a special path to be made! Bitterly cold but lovely and sunny!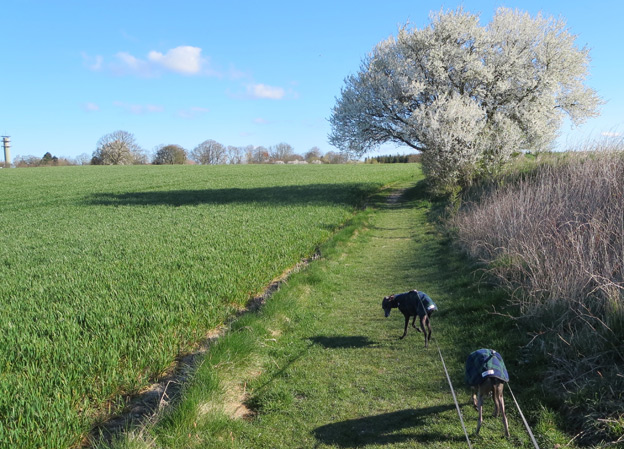 Everywhere is an explosion of wild Mirabelle plum trees! You just couldn't squeeze one more flower on the branches - and these wild trees are everywhere in Denmark.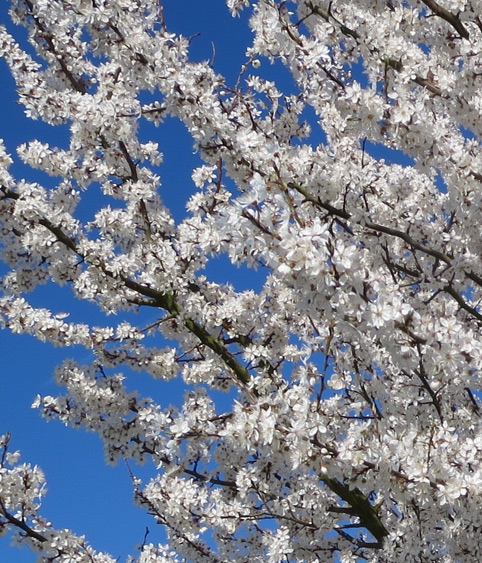 Of course the dogs spotted a big ginger cat sunning itself!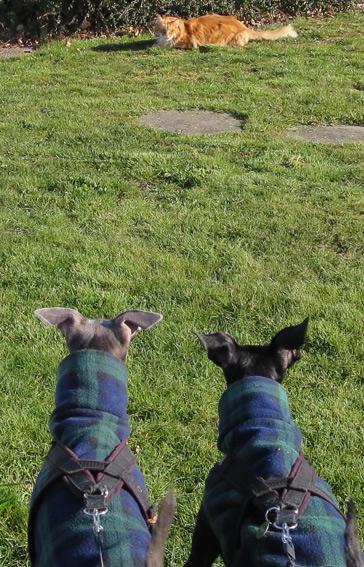 On the way back, I could see the sea, just a stripe of blue and so pretty:


---
Sunday the 7th of April
Had a wonderful day out Lure Coursing - and the luxury of a kind friend who drove me from door to door!
Here is her beautiful co-driver: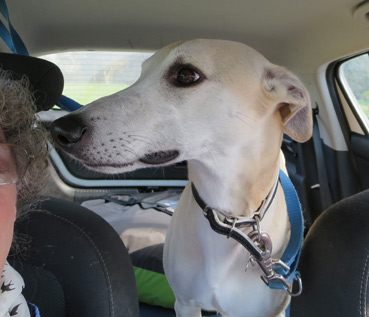 I could kick myself, I "messed up" on so many good shots and switched off before I should. Here are some of the venue.



My friend's Whippet ready to run!



Below: Take off! He's just a blurr!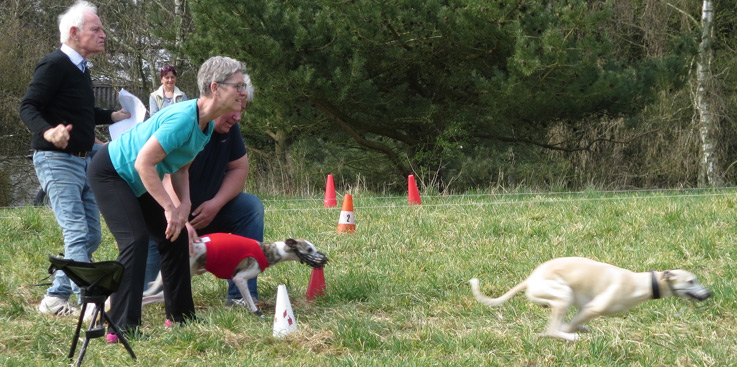 .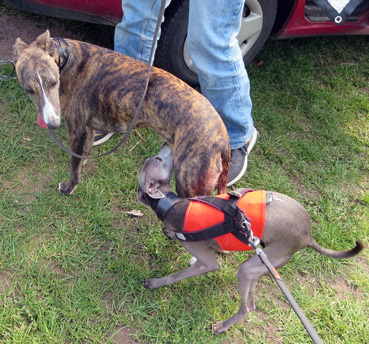 .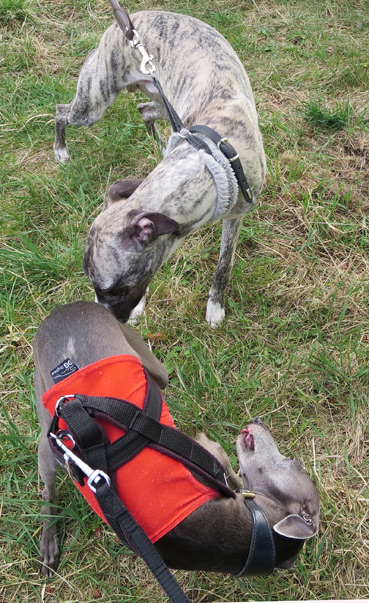 Solo loves Whippets and has to sniff and greet them all!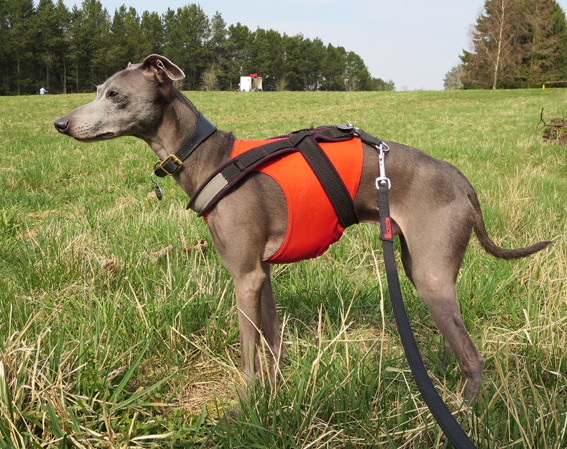 Above, waiting for his turn. Below: About to run and I switch the camera OFF that was already turned ON. Ugh!!!!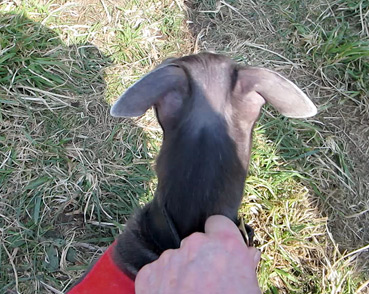 Below: The black dot in the picture center is Solo on the last lap.



Below: A Saluki running


Below, a little Italian Greyhound wants to show his love for a big Galgo! She turns and says: NO!"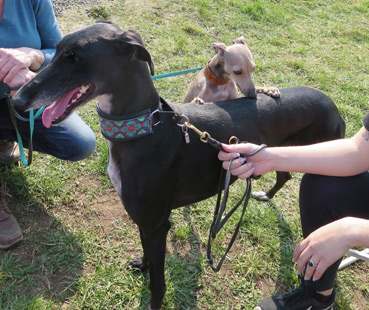 .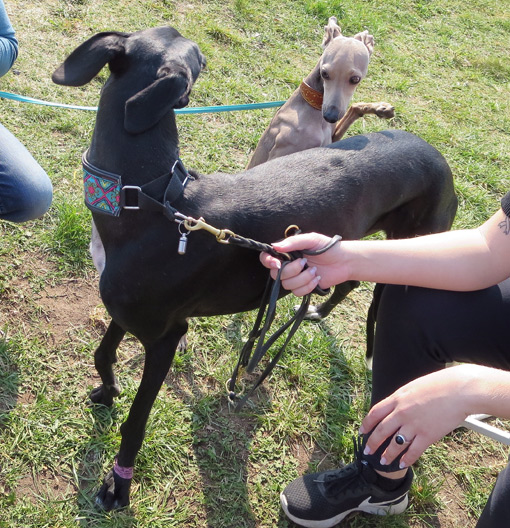 My kind neighbour looked after Dasher as he sometimes has a foot that hurts and until this is ok, he'd better not race at 90 miles an hour round a rough field! I deceived him, so he never knew we went Lure coursing.
---
Friday the 5th of April
Who's first to run and be the "hare"?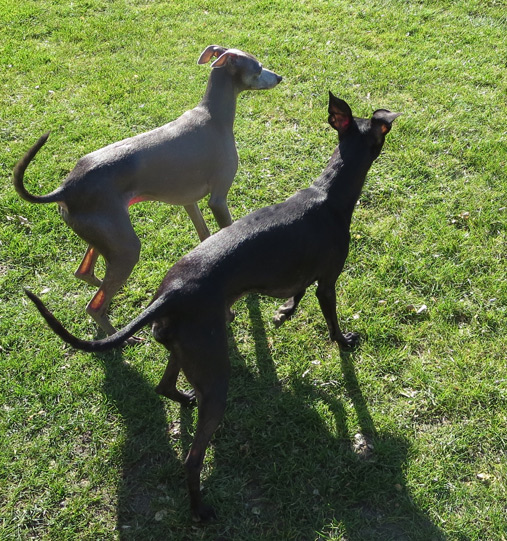 ---
Saturday the 30th of March
The whole garden is FULL of Ladybirds!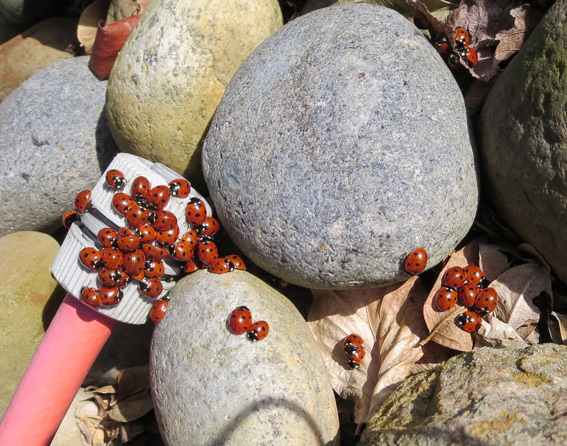 ---
Monday the 16th of March
Had the family to lunch!
You have to look really closely to find Dasher and Solo! Luckily both past the "stealing childens's toys" age! We are looking at photos from a recent holiday in New Zealand via "Apple tv".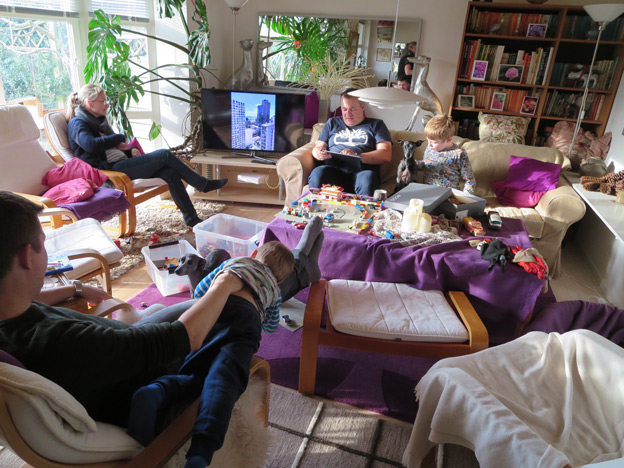 The children clear up afterwards - but it takes a professional to hide it all away - me!!!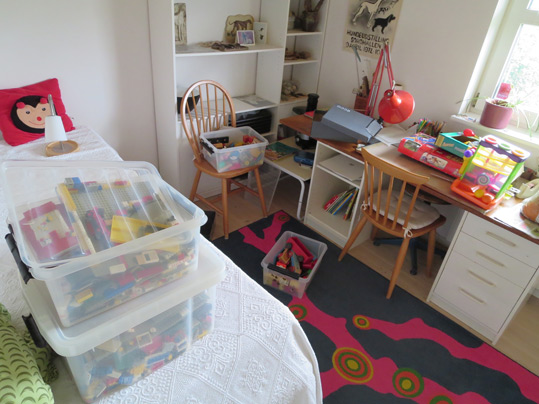 Below: Dasher says: Shall we play?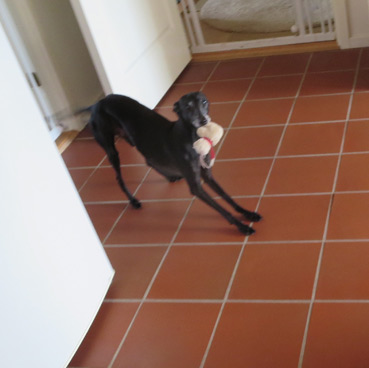 .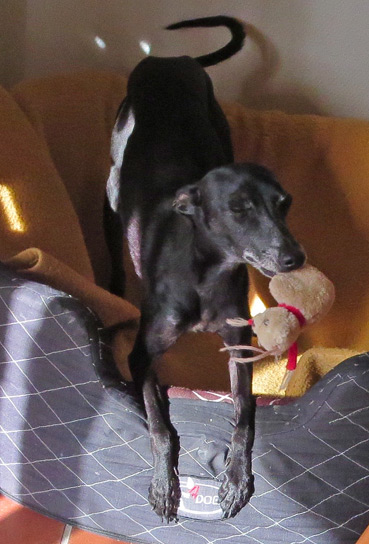 ---
Saturday the 23rd of March
My friend Lisbet living west on the island of Fyn sent me a photo of the "streaks" in her sky.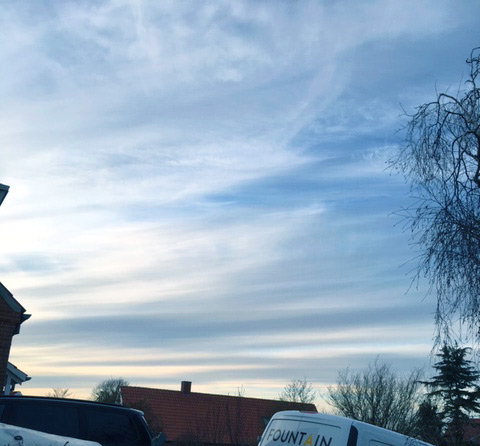 Inspired, I took mine a short while after, here they are, a different angle! Funny, as it wasn't a windy day.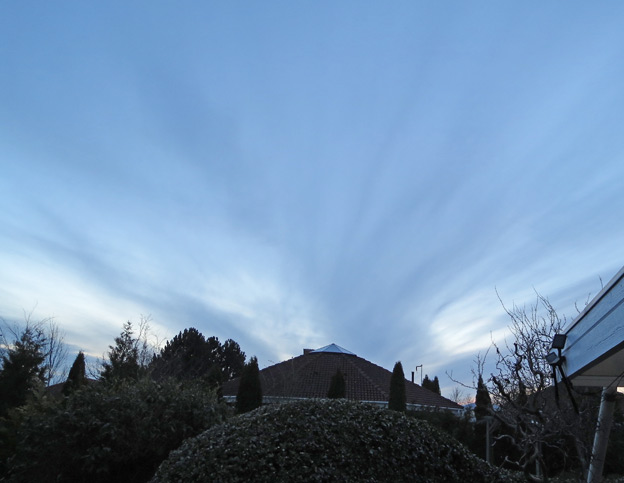 ---
Friday the 22nd of March
Dasher on bus on way to the vet. We are sitting up the front beside the driver. He's in a black bag, so he can travel free.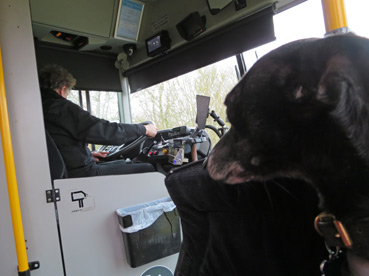 Thursday, I took Dasher to the vet. for a free check-up after his "loose tooth" operation.
At the same time, I'd promised to come with a urine sample.
This was terribly difficult. First thing in the morning, when usually they are both "keen to go" - he refused after he thought it was too weird the way I ran around after him bent low with a glass bowl at the ready!!!
So I let them into the big garden, so he could get inspired and he suddenly dashed under a lilac bush, me following closely, so I got stabbed in the face and some hair torn out by low branches while he, scared, only did a quick little drop.
So inside again and I gave them both a large bowl of skimmed milk.
Waited half and hour, then he just HAD to "go" and success for me!
I had a small glass jar used for herbs to put it in! Had to be something I could sterilize with hot water first.
The result was, that he has a few mild complaints but nothing worth doing anything about - and no diabetes, which is what I worried about. Photo of us waiting. (He will 10 in May and otherwise very fit.)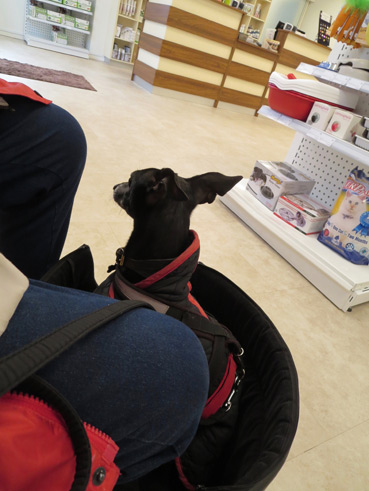 Full moon at about 6 pm. Showing the neighbour's lovely "Monkey Puzzle Tree"!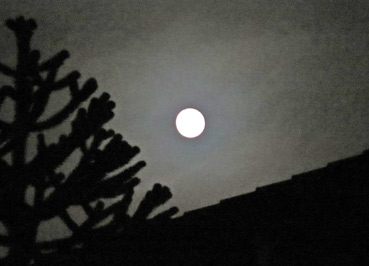 ---
Saturday the 16th of March
The dog's feet are fine again! Solo celebrated by stealing a shoe!


(You can see the small cataract in his left eye.) Dasher has them in both eyes, but then he is 10 in a few weeks.
---
Friday the 15th of March
To the left of the school there's a large area being dug up and will become 26 terrace houses. On the corner of this, they plan a small supermarket (Rema 1000) - which means I'll only have a 10min walk to a shop! Yesterday the grass path looked like this: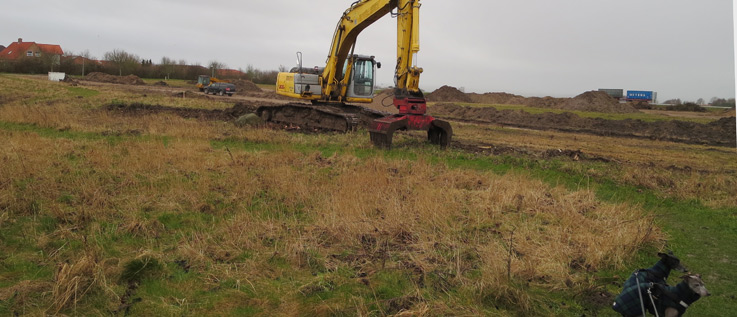 I follow the winding short green grass path to the white container on left where I cross over into my road.
This path was made as a short cut for school children so they can keep off the road.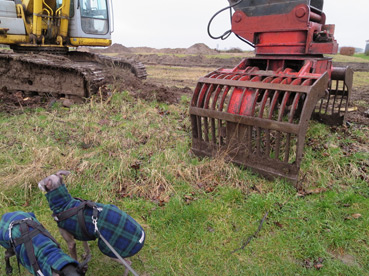 BUT this morning the digger had dug up the whole of this green path, which was now thick mud in the rain.
So I walked the dogs through the weeds as we must trample a new path to get past. See the beige coloured "hairy" weed patch on the extreme right below below. (The bushes hide a small pond full of croaking frogs in the spring!)
Pictures below look BACK the way we came. Left is my road.


.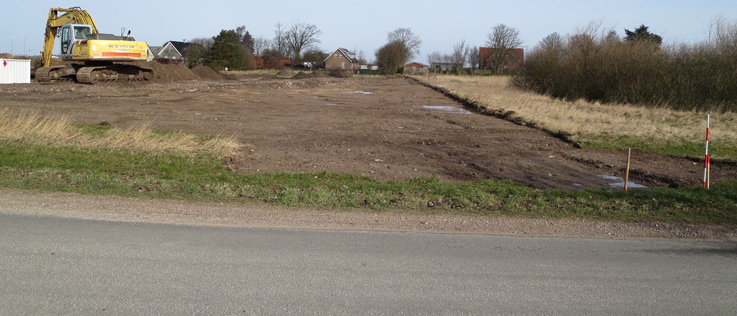 BUT,
the poor dogs must have trodden on some thistles as they both have been "attacking" their feet and licking them like crazy - although I can't see anything, they are feeling some irritation or other, poor things. Hope it's gone by tomorrow.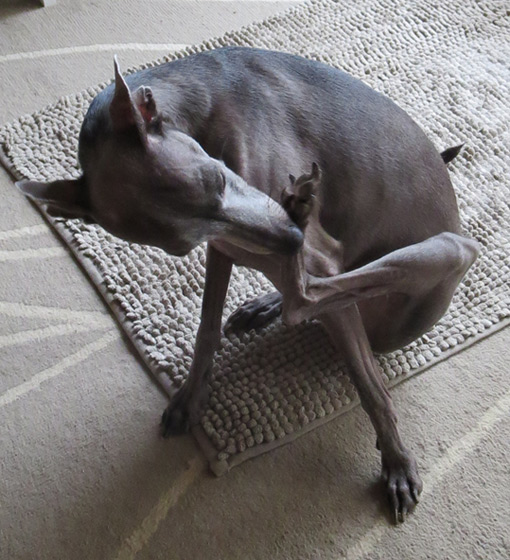 Two ways of getting a back foot in the mouth!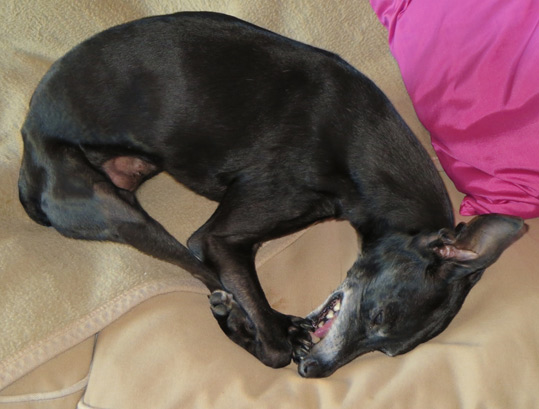 If I can see him, I shall ask the man if he would drive the digger up and down to smash the weeds flat to a path where I and others will have to walk each day. If not, it means I will have to turn around and back-track each day..
---
Wednesday the 13th of March
Nasty winds and plenty of rain - here is the way, (back entrance) to the children's school!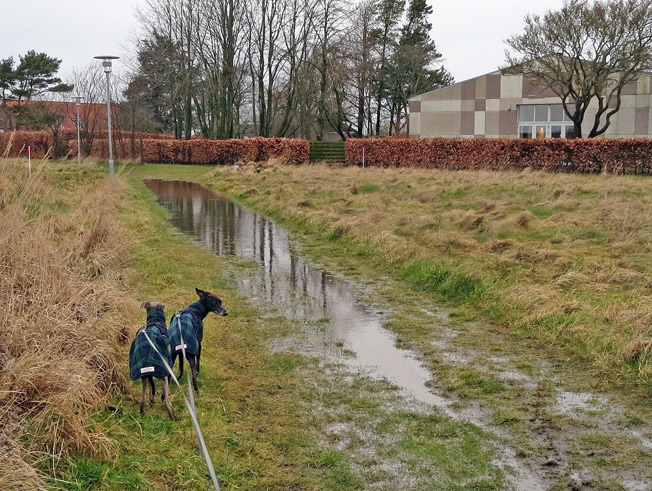 Even worse the day after, Thursday!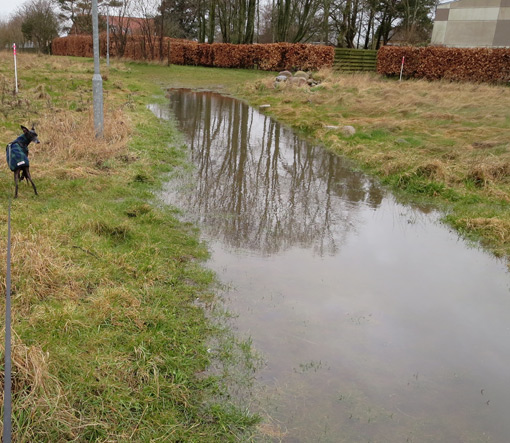 ---
Sunday the 10th of March
I managed to get poor Dasher, starving hungry, to the vet's early Friday morning for his little operation. He had a little tooth on the side, that has gradually got more and more loose but would not fall out! Then I could see the area of redness suddenly had got bigger so no escaping an expensive operation to have it removed. (He has never shown any sign of pain - I could even wiggle it a bit - and he is always a happy, lively dog bossing me around.)
After checking with X-rays, the vet took out the little one beside it as well. It is ironic for me as I have cleaned their teeth every morning since I had them - they don't mind at all - the toothpaste tastes of chicken!!! This because I wanted to avoid expensive teeth-cleaning bills. But the vet did praise how clean his teeth are! No photos except here, where he is waiting for the bus home - no seat to sit on at this bus-stop unfort. He is wedged between my feet watching cars go by. So long as a small dog travels in a bag - it travels free on busses and trains.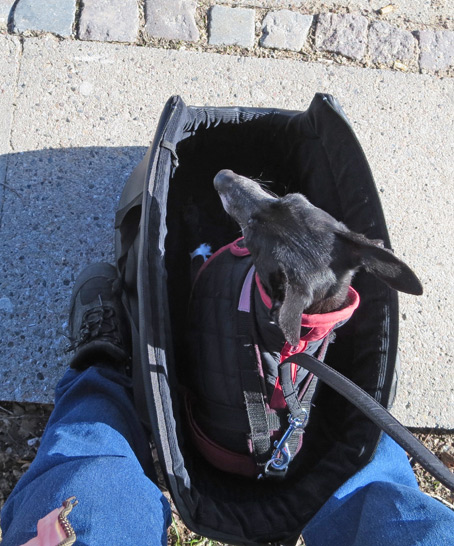 After we got home and he'd eaten a good meal, he and Solo started a mad game - as usual!
So not much wrong with Dasher after that ordeal!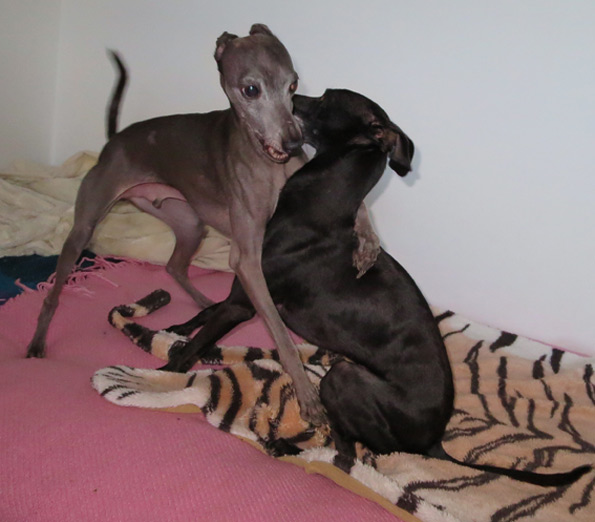 Sometimes they are too fast for the camera!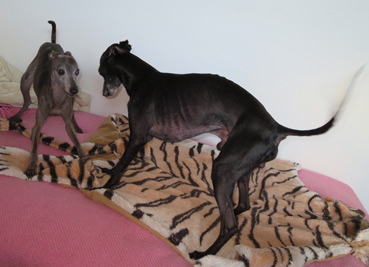 .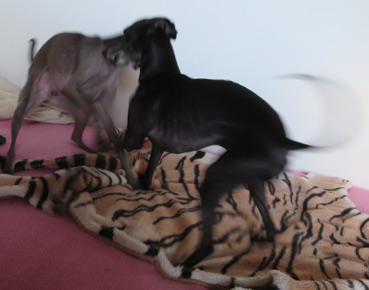 ---
Thursday the 7th of March
I GAVE Solo som plastic packing from a cardboard box when he showed signs of wanting to play with it. He ran to and fro shaking it and the air came out of it and it rustled loudly. He wanted Dasher to join in. But in Dasher's eyes, what Solo was doing was very wrong. One must not play with "Mum's things!" It is clearly NOT a dog toy!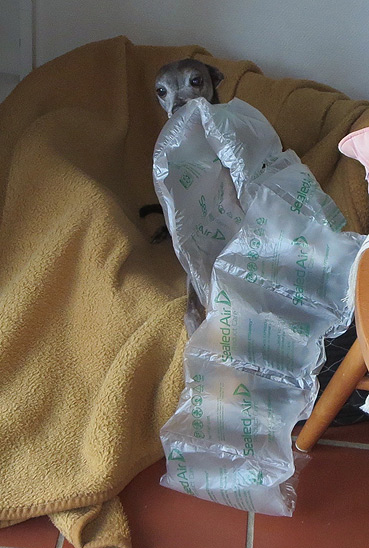 .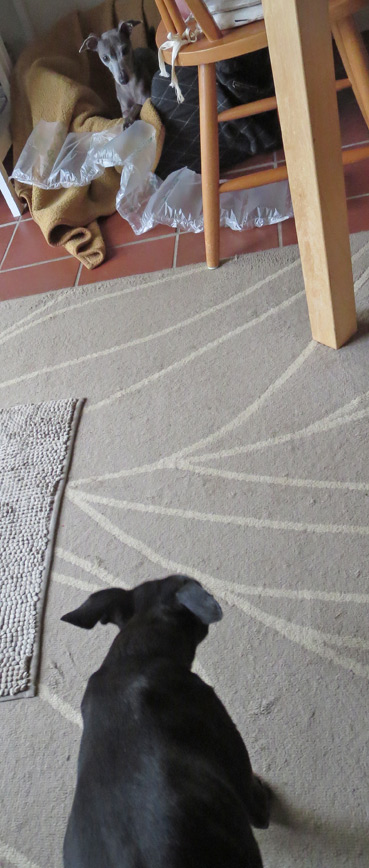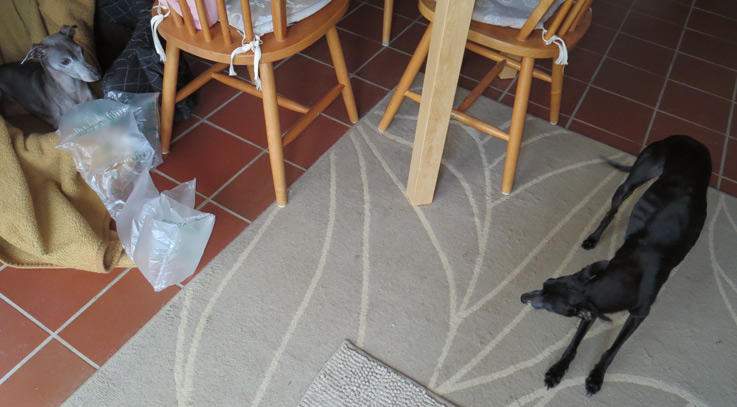 I know this is the "invite to play" position that Dasher has, but he is also bowing to the right and showing insecurity as to what to do next - and he would not play with something that was "stolen"! (Unless it was the Sunday roast!)
---
Monday the 4th of March
Having a mad wrestling match!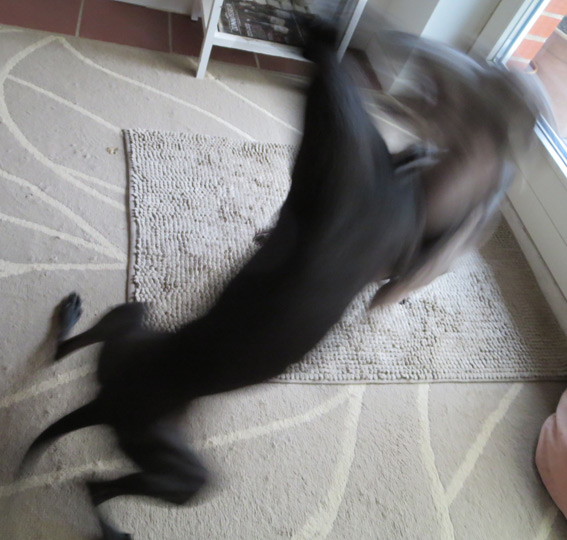 Below you can see how they "bite to kill" each other, but never hurt each other, never a squeak of pain! Just heavy breathing!!!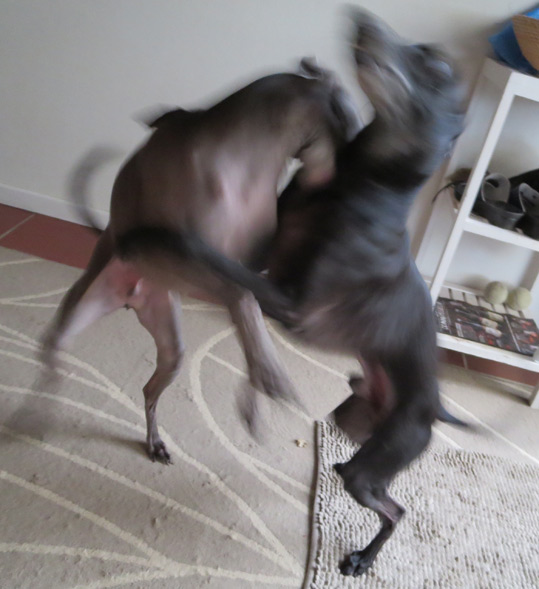 ---
Thursday the 28th of February
Took the dogs to the vets. They have a check-up and a re-vacc. every other year - and Dasher has a very loose tooth in right the side of his mouth, that refuses to fall out by itself - so the vet must operate this week - ugh.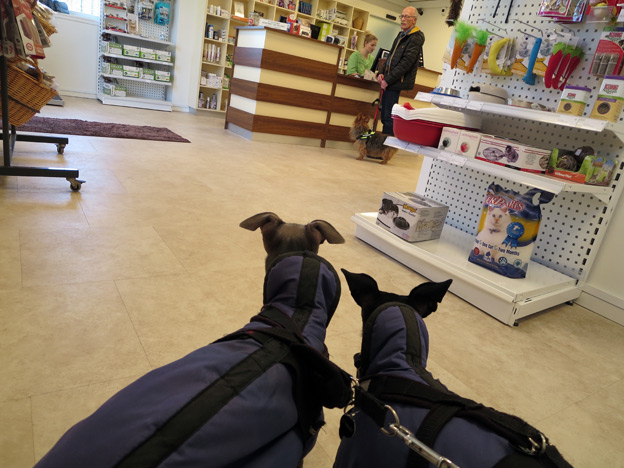 Solo sleeping it off afterwards!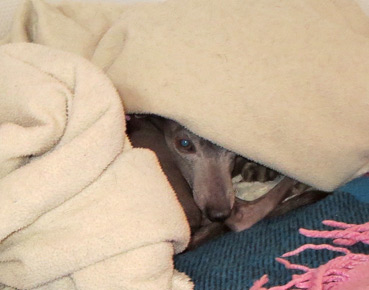 ---
Wednesday the 27th of February
While Dasher is an angel dog, Solo is the one who entertains with tricks, stealing, escaping and all sorts of naughtinesses!
I can always see on Dasher's body language, when Solo has done something "wrong"!
This because Dasher has a most amazing reaction. Say Solo has stolen a piece of kitchen paper or a biro pen from the kitchen table, Dasher comes to me with head hanging down low and standing scrunched up like a dog in pain!
I know immediately that something's up.
I am never angry, shout or upset, just say to Solo in very firm words: "PUT THAT DOWN!" which he nearly always does straight away. He's heard me say this for nearly 6 years! I just quietly take the "thing" whatever it is and walk off – even tho' on Saturday, (where we were guests!) he had stolen a huge chunk of left-over roast beef in a plastic bag and was running around the garden!!! This I "bought back" from him in exchange for a Frolic!
But Dasher just KNOWS when something Solo does is "wrong" and what HE wouldn't dream of doing.
Well, this morning I had been to the chemist for some antihistamine eye drops – the pollen in the air is very high - and I'd put the little box on the kitchen table.
Unbeknown to me just a while ago, Solo jumped up and stole it, dropping it in a dog bed beside the table.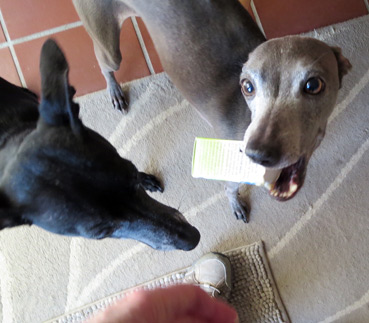 Immediately, Dasher comes in to my office to tell me what I haven't been able to SEE.
I can see "something's up" from his body language so I ask him what's the matter??? And he promptly turns on his tail, dashes out into the kitchen and BRINGS ME THE LITTLE BOX, dropping it at my feet!!!
How clever is that???


So I get up and go out to the kitchen to see what else Solo might have taken, (nothing else),
and these two photos ARE POSED just to illustrate the story.
I am completely amazed at Dasher's intelligence: He KNEW I couldn't SEE what Solo had done, so he showed me the best way he could! I praised him to the skies.

Below: It was lovely and sunny this morning!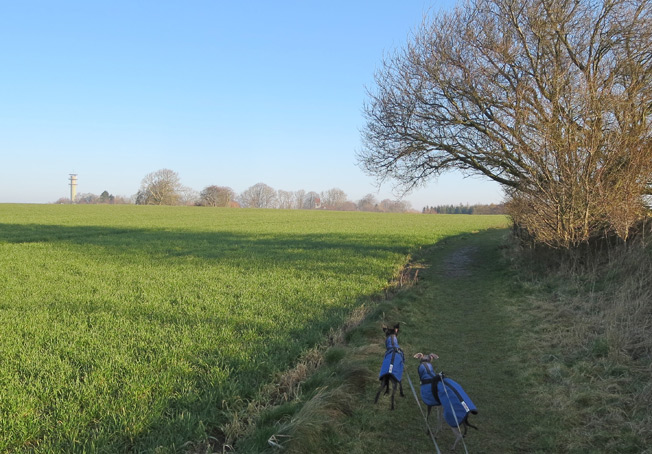 .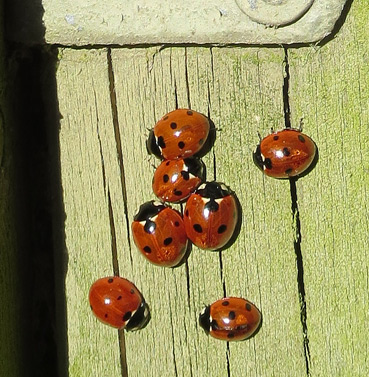 We have millions of Ladybirds all waking up after the short winter!
---
Tuesday the 26th of February
VERY misty in the morning these days.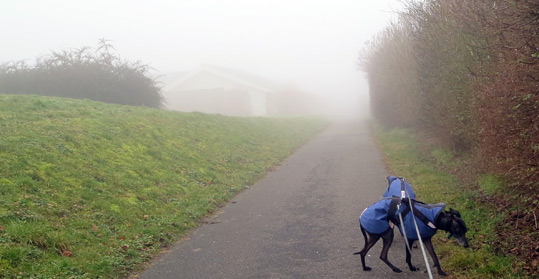 .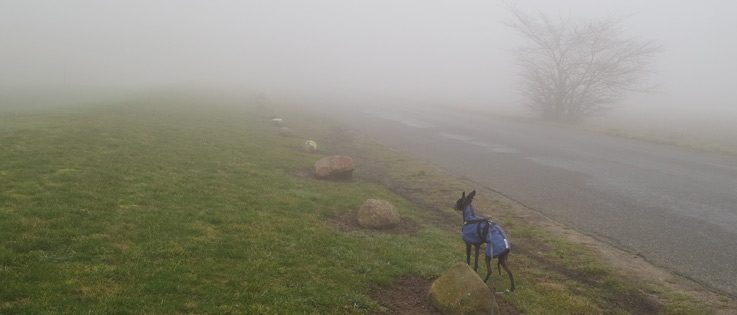 .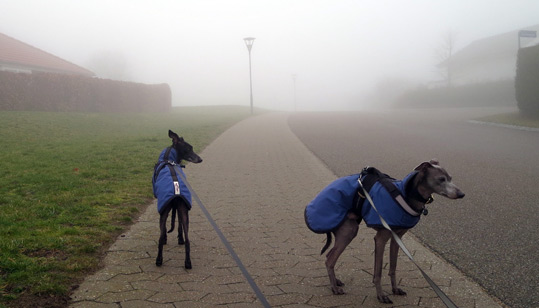 ---
Sønday the 24th of February
Denmark has a firm who, amongst a many other great things, will send out pretty helium gas balloons (plus a message from the sender) in the post: www.pegani.dk/da/produkter/bubble-balloner
I am crazy about the concept and it's especially good for men, who aren't so keen as women on a bunch of flowers to mark an occasion.
I just sent one on Wed. to my daughter-in-law's office last week, to surprise her there.
The postman always comes with many things for this firm.
As soon as she saw the big red-spotted box she immediately exclaimed: "That's for me!!!" (as she knows me and my balloons!!!)
So the postman livened up and asked: "What on earth is inside it???" Going on to explain, that he had delivered many and yet they feel like they are completely empty!
(The helium holds the balloon up floating inside the box so it definitely DOES feel like a totally empty box.)
So my daughter-in-law had to open her birthday balloon surrounded by 3-4 colleagues looking on, and not least, the Postman, who was all eager and staring nearly holding his breath, he was so keen to see what he often delivered that seemed so very much like "nothing" like a sort of bad practical joke!!!
Here is the balloon on the left. Right: Another one where you can see the personal message they hang on.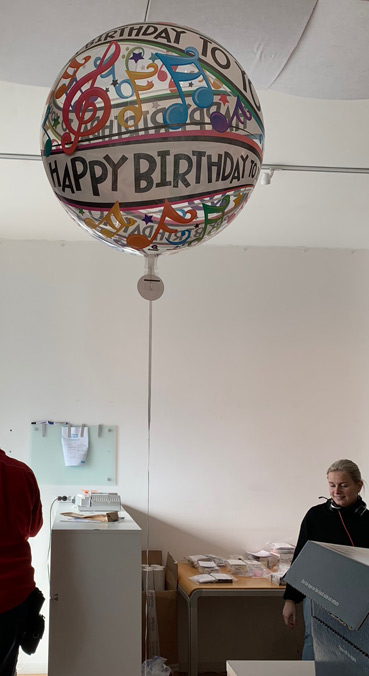 .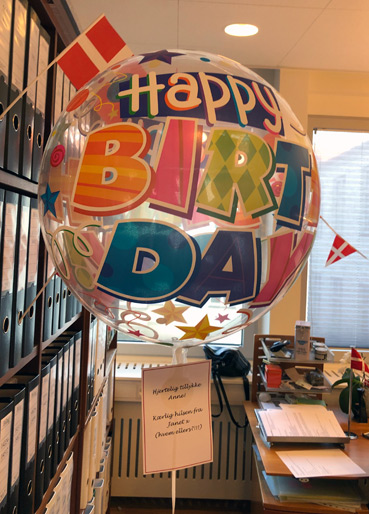 Then I went to a family birthday party yesterday, necessitating whole THREE balloons and here is the young postman caught on the door-bell camera, deliverering them! You can see the pretty box they come in. (You need only see the first 15 seconds, as he staggers into the little porch by the front door with three seemingly empty boxes!!!
ring.com/share/6660806029074601799
Another Postman who doesn't know what's inside the seemingly quite empty boxes!!!
Three years ago, when my husband was not well and we were at the doctor's, it was agreed that he should wait while I walked through town to the chemist to collect a presciption for him. It was 10-15 minutes each way plus waiting time. Instead of just letting him sit with a magazine, the Doctor's assistant made him a sandwhich, found a nice big Danish pastry and plied him with non-stop coffee, so he was very happy. I thought this extra caring service deserved a "Thank You!" balloon - which she was very touched over!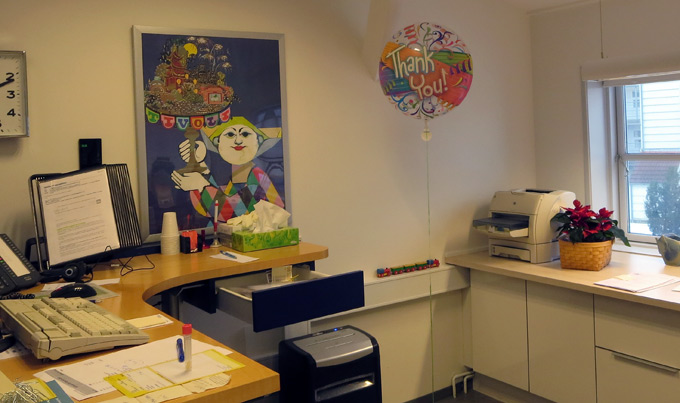 The dogs at the birthday party yesterday: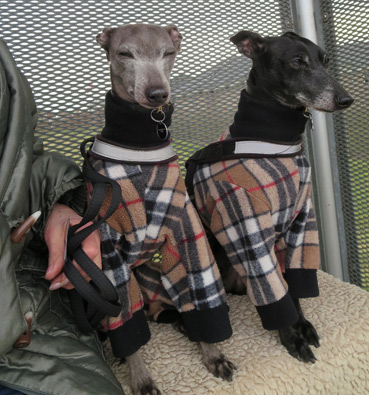 Waiting nicely for the bus to come. (It was very cold after a warm spell.)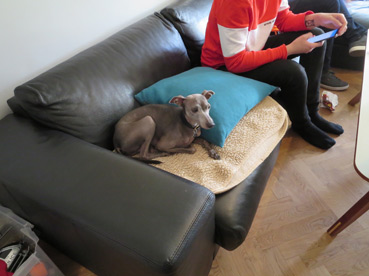 .

Right: Syncronised stroking!!! Below, unfortunately, the dishes are well rinsed before going in the dishwasher!

.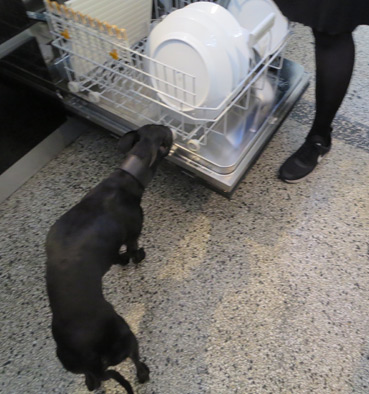 ---
Sønday the 17th of February
Yesterday and today it was nice enough to start working in the garden - SO much to do all at once - tho' heaps of snow can easily surprise us. The dogs started a game too.



They had a good chase around! Even tho' Dasher must be careful, he has had something wrong with left front foot since November, but he got away with it.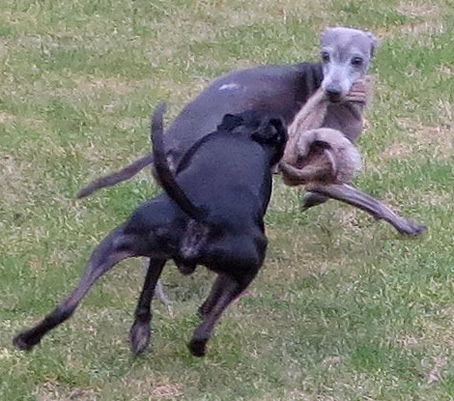 ---
Friday the 15th of February
Misty yesterday, but very foggy this morning - going over to brilliant sun and a lovely spring day!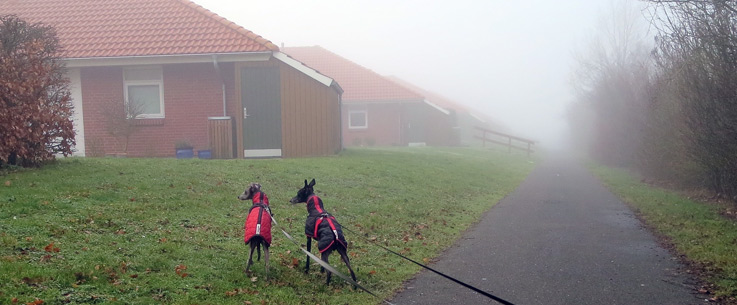 .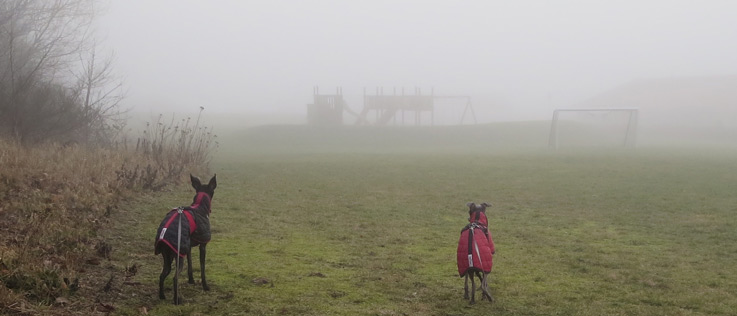 .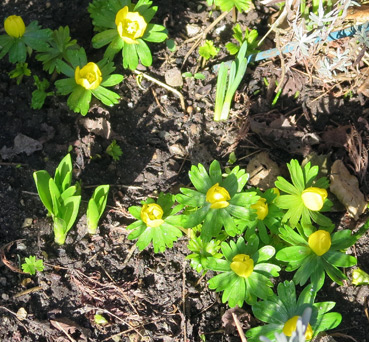 .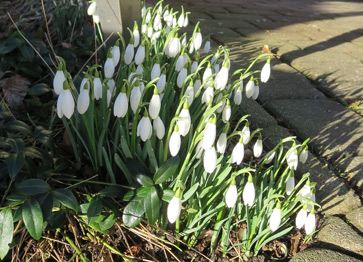 ---
Tuesday the 5th of February
Caught stealing from my waste paper basket again!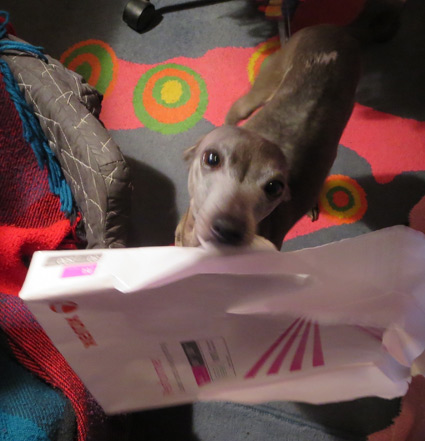 The first snow drop to open!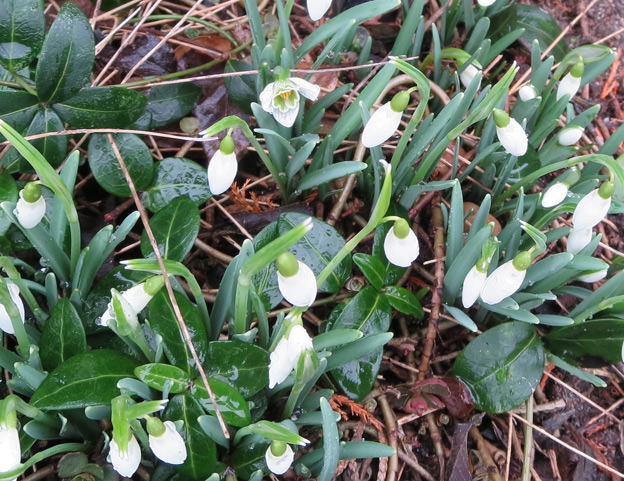 ---
Saturday the 2nd of February
I woke up this morning to find my last little bird, a cross between a Grey Singing Finch and a Canary, had passed away in the night. Poor little soul has had a weak heart for some time and only the strength to fly up 2-3 inches to low perches. He always slept in this corner at night... that's why I know his heart just stopped. He would have been 23 in April! His sister was 17 when she died.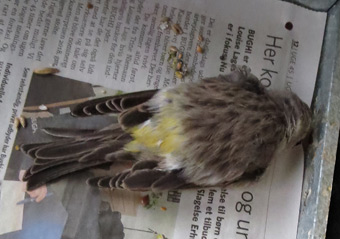 The end of an era - I've had Canaries for about 48 years! I'll find a new home for the voliere.
---
Saturday the 26th of January
Snow again! (Didn't last, thank goodness!)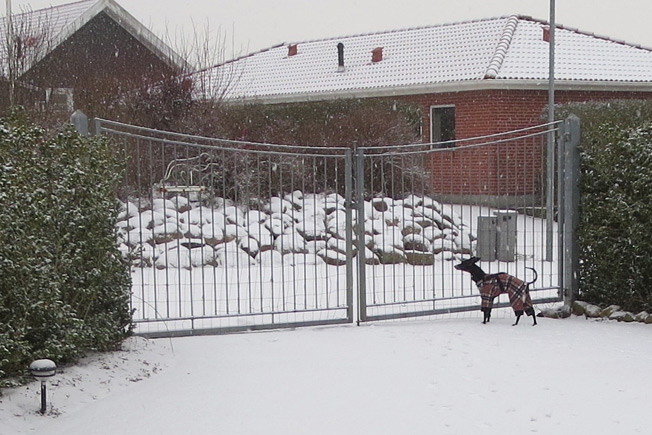 - and the snow reveals that I have a rat......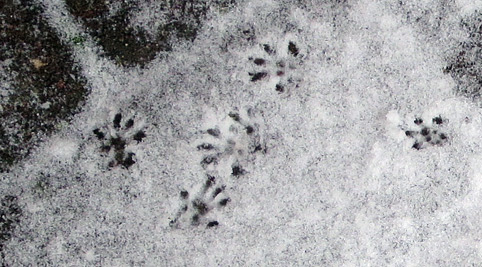 oh dear....I've put a trap out with some cheese in - and I'll have to take it on a long walk far away...


---
Wednesday the 23rd of January
Dasher used to like to nibble and eat Clementines when he was a puppy. He really eats the flesh, see him here for 2 mins: www.youtube.com/watch?v=cIcbJTc2RLQ
I was squeezing some for a juicy drink today - haven't had Clementines for many years - and I gave him a half. He had to pull himself together to pick it up! He then dashed into my office with it and started nibbling the way he used to.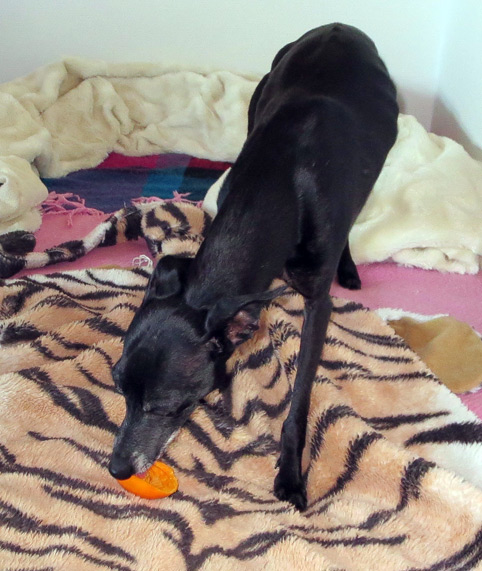 After a minute or so, he decided to bury it in the "Tiger"!!! Scraping with his nose. See Solo watching!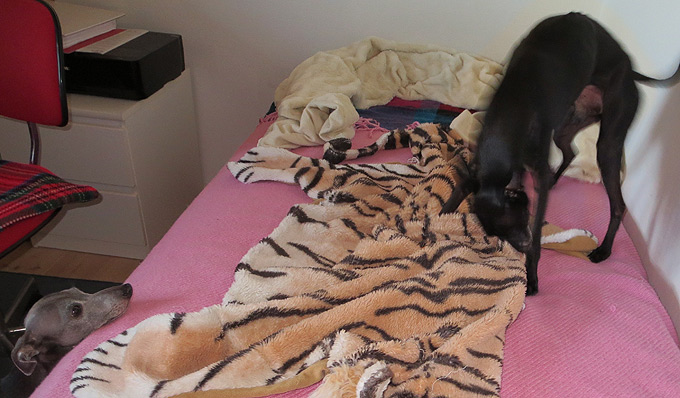 .


Then he changed his mind, uncovered it again with his paw, see below and and jumped down on the floor with it.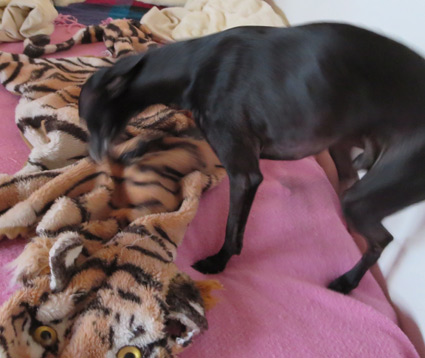 Now nibbling some more in his dog-bed.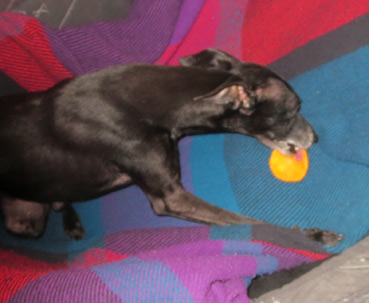 Then he put it down on the floor and let Solo check it out. Solo couldn't see there was ANY attraction in the smelly fruit!

.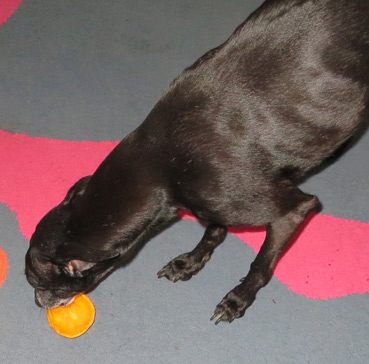 So Dasher takes it over and starts nibbling at the flesh again. Then he jumps up on the bed with it once more – but can't resist burying it once more!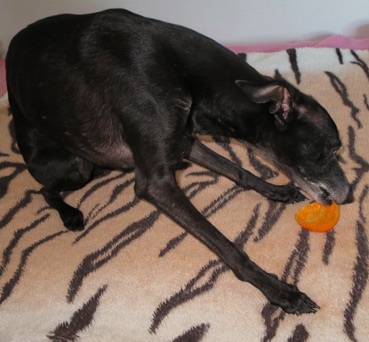 .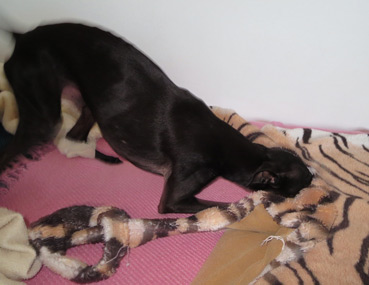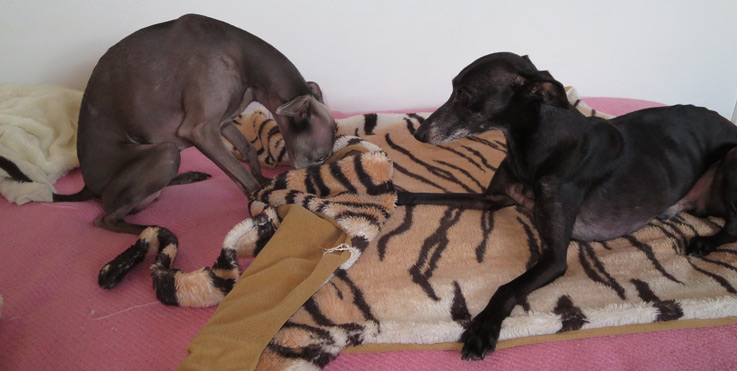 Here's Solo checking it out one more time. He can't understand the interest in it, but has to be QUITE SURE that Dasher is NEVER having anything MORE than he has, so he's watching all this very closely! It ended with me throwing it away. He doesn't enjoy it the way he used to.
---
Monday the 21st of January 2019 -
The moon last evening. Like the sun! Couldn't see the "red moon" early this morning though, due to a thick cloud layer - which was full of snow, I found out later!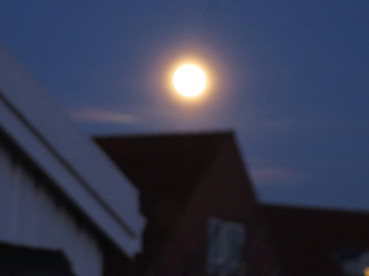 ---
This morning: Suddenly, thick snow. "UGH!!! Have we really got to go walkies in this?"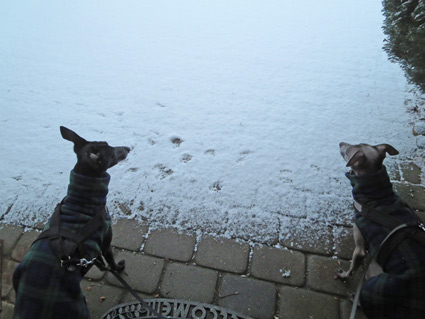 ---
Monday the 21st of January
I'm very much afraid that guest-Whippet Fauna has taught them the importance of supervising me at all times..
I'll just have to get used to it...

---
Saturday the 19th of January
Hard frost, blinding sun and plenty of mist this morning!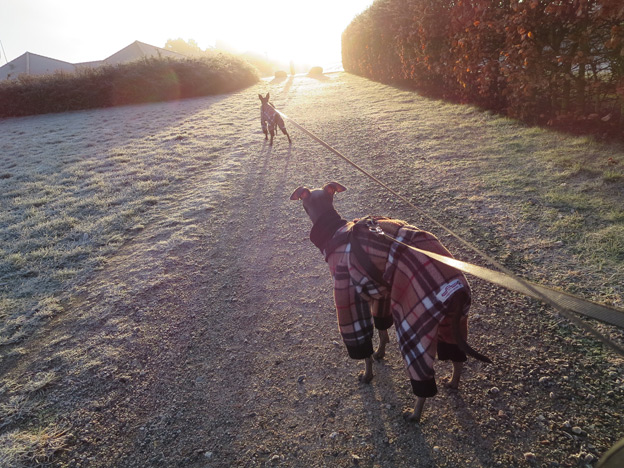 Below yesterday:" Are you soon finished with that noisy vacuum cleaner Mum? We don't like it!"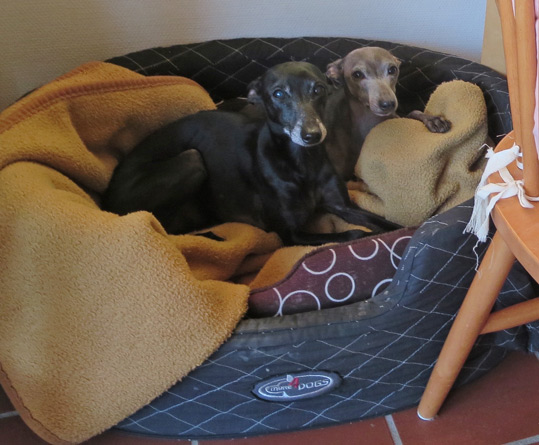 ---
Thursday the 17th of January
This morning, I was completely fascinated by the big trip my rubbish bin took to be emptied! I have seen bins tossed into the back, but never from over the top! So I filmed him!
www.youtube.com/watch?v=CqhPfJgS2A0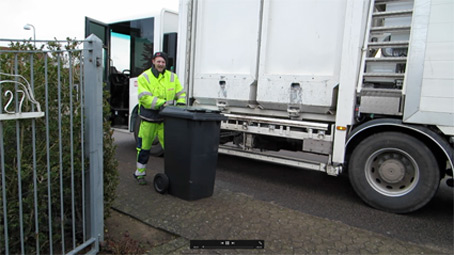 This bin is divided into two. Left: Glass, metal and plastic. Right: Paper and cardboard. Denmark is now leading in recycling everything and saving the environment. (I have another bin for all other rubbish including a side for compost but that's always empty as I have three compost containers in the kitchen garden.)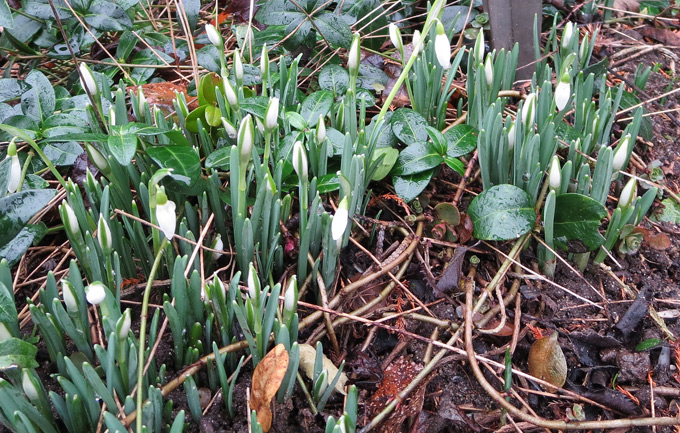 Spring is on the way!!! Some of my snowdrops.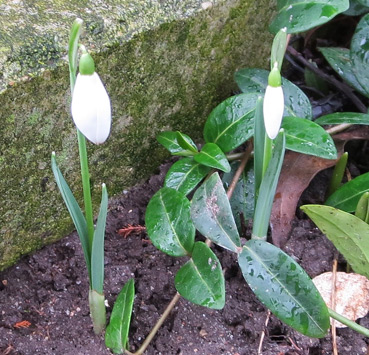 ---
Monday the 14th of January
My busy bird-table photographed through a dirty window!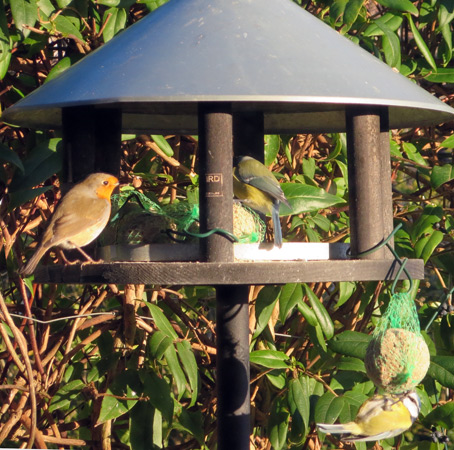 ---
Sunday the 13th of January
"How much longer do I have to wait for my dinner?"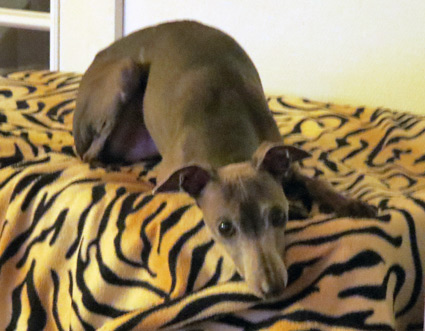 ---
Thursday and Friday the 10th and 11th of January
I take my neighbour's sweet dog for a lunch time walk a couple of days this week.
(They are tied up with some hospital appointments.)
She is an angel to walk. Keeps beside me and never pulls. She looks up at intervals as if to say: "Is this alright? You're not my Mum!" So I bend down and pet her, which she loves and then she trips onwards with happy steps!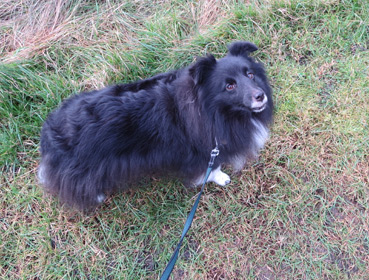 Below: Today, she stood in the weak sun and surveyed the area, enjoying the slight wind in her fur and sniffing the air, just relaxing standing there looking around in the distance.
So I waited twice for about 3-5 minutes! Much better than being stuck in the kitchen at home!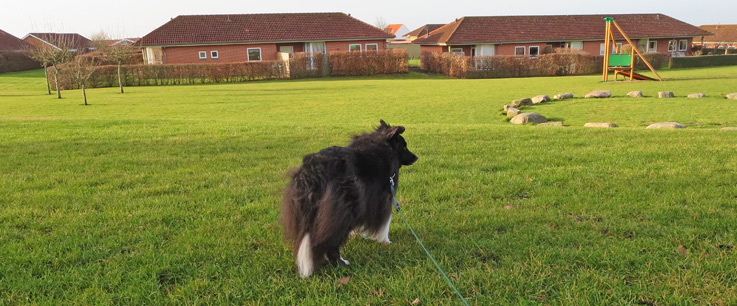 She walks beautifully beside me – until we turn to go back.
Then she is marching well ahead, already looking forward to getting back home again!!!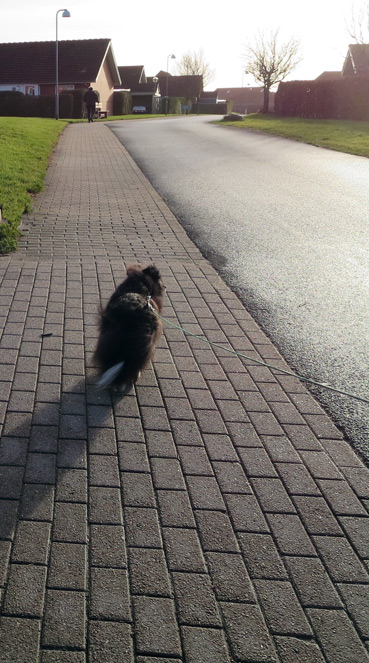 Unfortunately, Dasher and Solo do not like her as she does not look like a sighthound! They make a terrible barking scene to get her to move FAR away, preferably to leave this planet!! So they do not know what I do when I pop out and leave them for an hour after lunch. But I let them carefully sniff my hands afterwards.
---
Monday the 7th of January
How to keep an eye on the food - whilst being cuddled in comfort!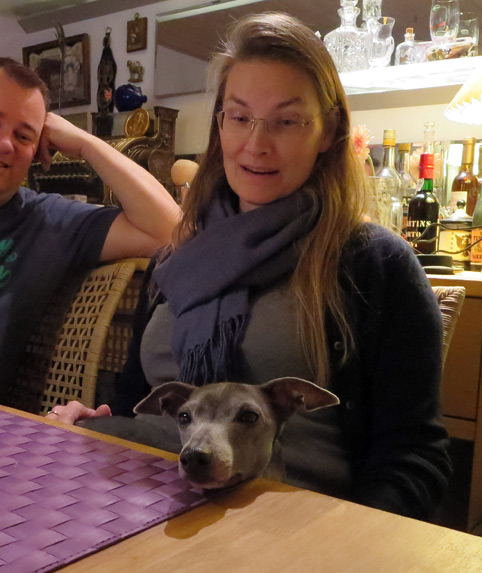 Below: Trying to get my attention - and suceeding!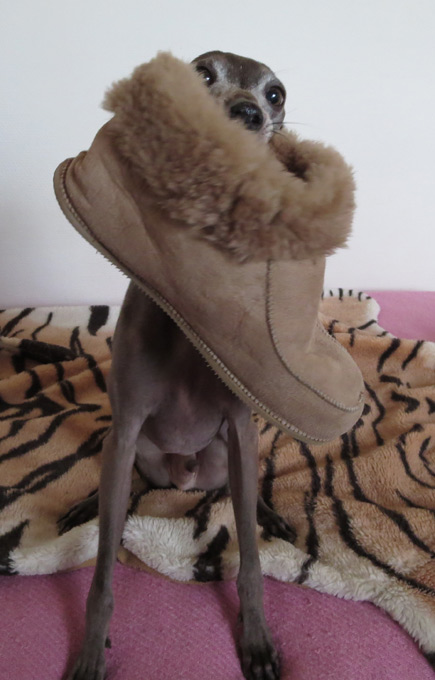 Below: Rushing out of the room with a stolen toy...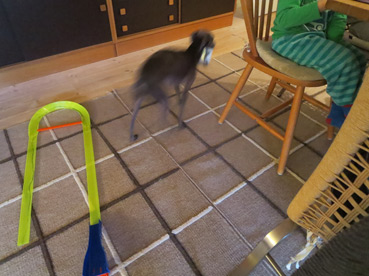 Below: Togetherness!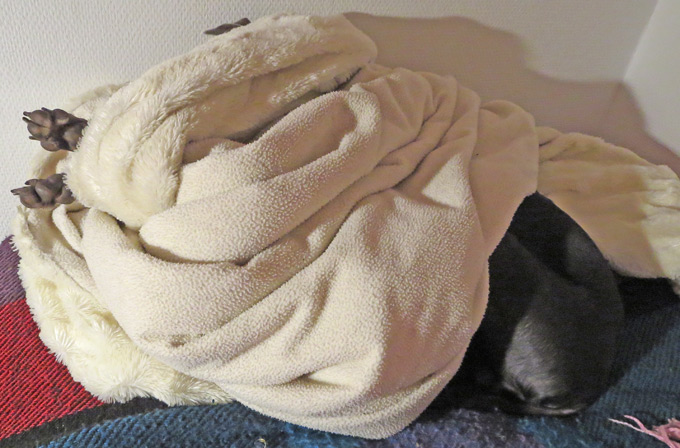 ---
Tuesday the 1st of January
Wrestling in the new year after a tiring day yesterday, afraid of all the fireworks and loud bangs.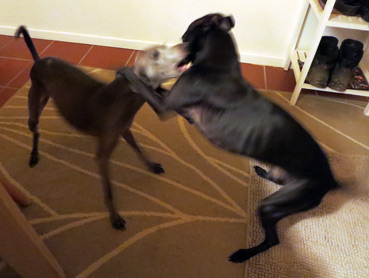 Good news! My little Robin is still here and survived the New Year's fireworks and terrific storm winds all yesterday - or is it a new bird just blown in???