Friday the 10th of February
A bit of excitement: I see a large rat sitting comfortably in the container of sunflower seeds. The bicycle basket has sunflower seeds for the smaller birds and apples for the Blackbirds, plus a manufactured "bird food" in fat balls for all. The rat is about to leave the container (left). Taken through my window. See the nervous sparrows and a shocked Great tit to the right!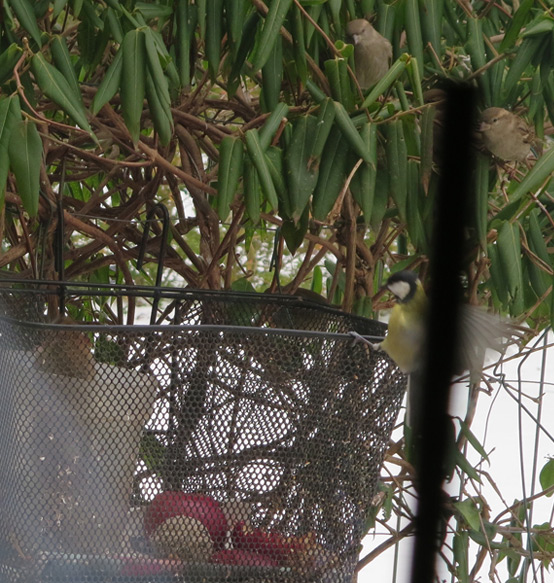 Here it is! I went outside and it let me go right up to it!


So from now on only apples in the cycle basket, ( I can't let my Backbirds down), and I have hung up a container with food for all the other birds. This is NOT the weather for letting them starve.
---
Thursday the 9th of February
After three days of non-stop snow, (a very fine, almost invisible snow) and gloom, the sun came out yesterday!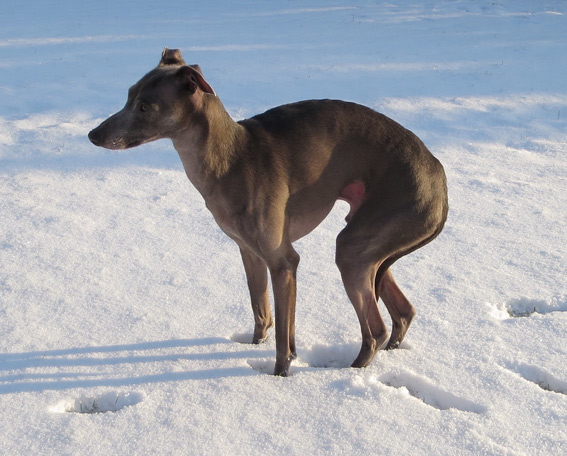 ---
Monday the 6th of February
Is someone coming here?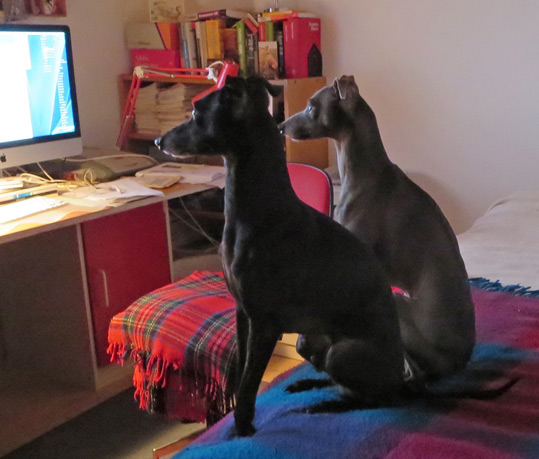 ---
Saturday the 4th of February
I tried my hand at photographing the Blue tits - through a dirty window, (must get it cleaned). They are so fast, I got more photos with no bird than photos with a bird. The only part of them that didn't move and is in focus, is their feet!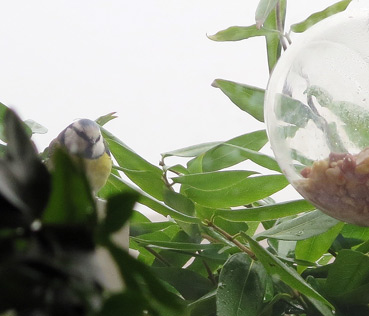 .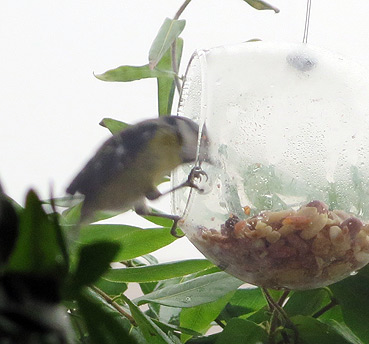 .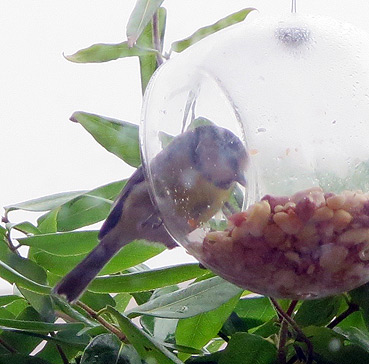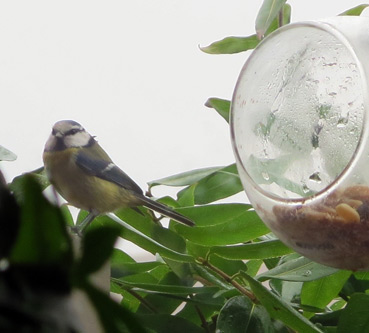 .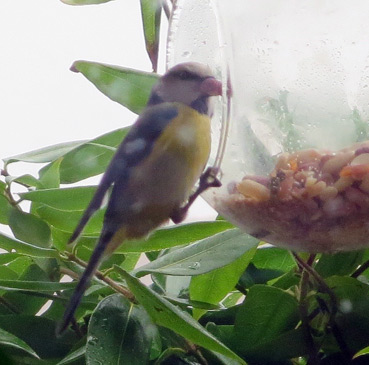 Of course, professional photographers would throw up at these - but I'll try again with a cleaner window and some sun!
---
Friday the 3rd of February
More dietary deviations for Solo! He loves Svend's coffee, (plenty of milk in it, you see!) and was well under way before I, sitting in another room, realised!


-and the mess afterwards....


I have the most adorable family of Blue tits coming to eat the peanuts I put out for them. Never seen so many! Apparently peanuts are the VERY BEST they know - I have to top up 3 times a day! I have always given sunflower seeds, but it seems they are trash compared with a peanut! So I have invested in 8 kilos, just to keep them happy, they are SO cute! I will take a photo of the smart glass feeder as soon as we get some sunny weather.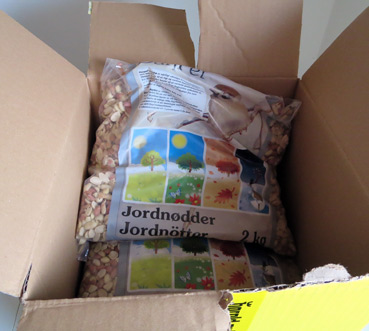 Here is a photo of one, in case you don't know the bird. It is very small.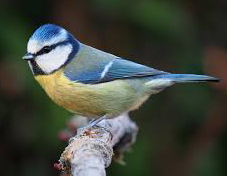 ---
Thursday the 2nd of February
Still misty, but due to a little wind, it is not so bad as before. I spotted the couple of deer in the "poisoned field" this morning. Hope they don't make themselves sick.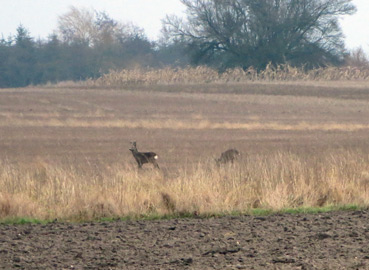 They are OK if I keep walking, but wild animals always get nervous if one stops. They reckon they've been spotted, which of course is quite correct!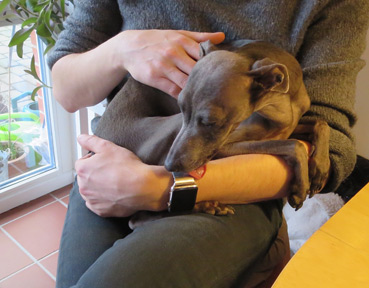 .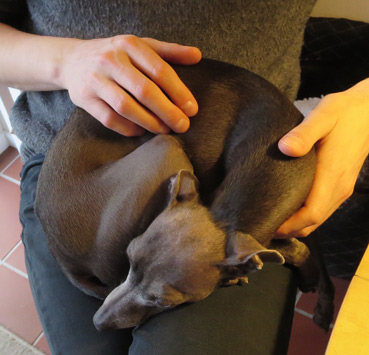 Manday, our youngest son was on a visit and Solo loves sitting on laps - and shows his love by licking anything metal! My watch is kept VERY clean!
---
Saturday the 28th of January
At last some sun! Compare yesterday with today: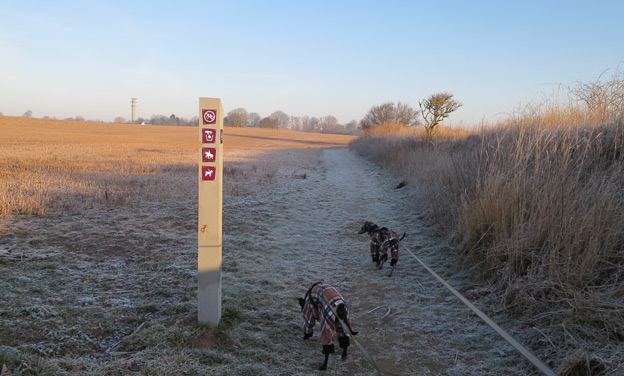 Above is the start of the walk through the fields, the bushy tree below can just be seen above...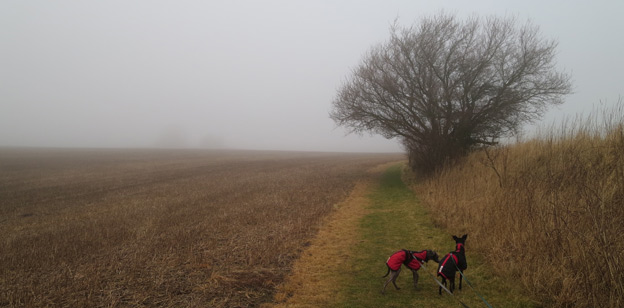 ---
Tuesday the 24th of January
SUCH a wet and foggy day yesterday, for the 3rd day in a row!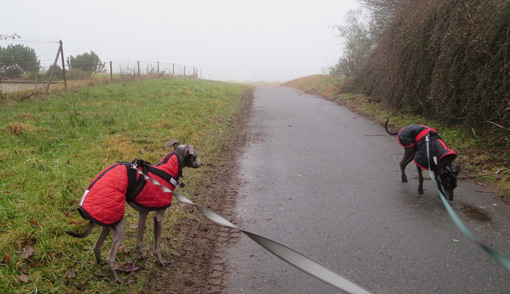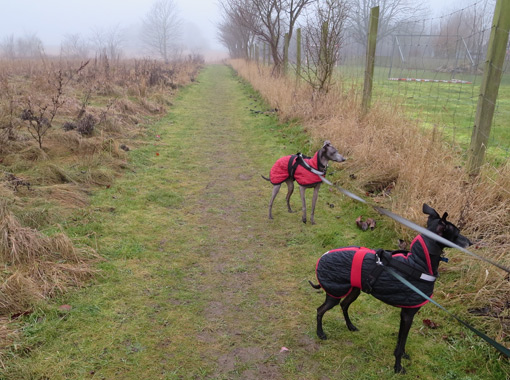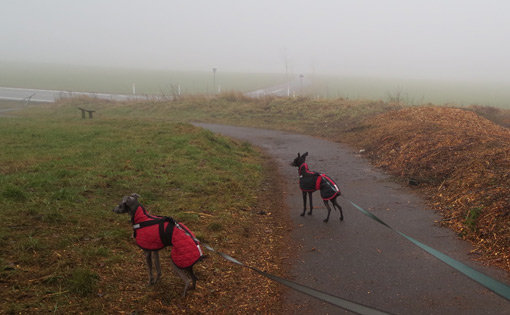 ---
Saturday the 21st of January
Solo was SUCH a happy dog yesterday!
Firstly, in the gloom of early morning, he found and ate a large cat-poo in the garden before I realised. (Yes, we have a cat - or two, who think its' worth risking their lives for the joy of being able to dig in the soft soil in our flowerbeds!) Then after a longer doggy walk, he came home, raced at the speed of light into the kitchen where Svend was enjoying a coffee and a cream cake, grabbed the cream cake and swallowed it before we could even shout his name!!!
He was so pleased with himself, his two most favourite things!!!


When I took this photo below, I didn't dream that he was going to get one the next day!!!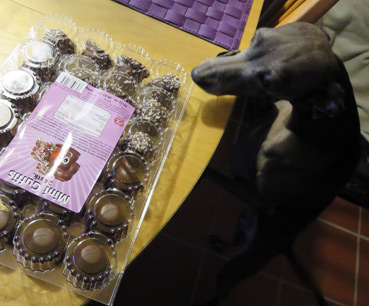 ---
Tuesday the 17th of January
Dasher loves to be dressed up in all the gear ready for a dog walk, but Solo HATES all clothes and this morning, when he saw that it was the tracksuit with legs, that he hates worst of all, he went like this: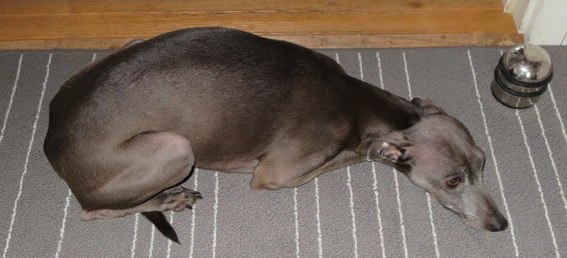 But once we get going, he enjoys himself!
Some shots from the walk. The sea is the strip of blue on the roof tops - 10 km away:



The sun is struggling to get through the clouds - not a breath of wind....



Below, the usual view. We are all alone in the bleak fields.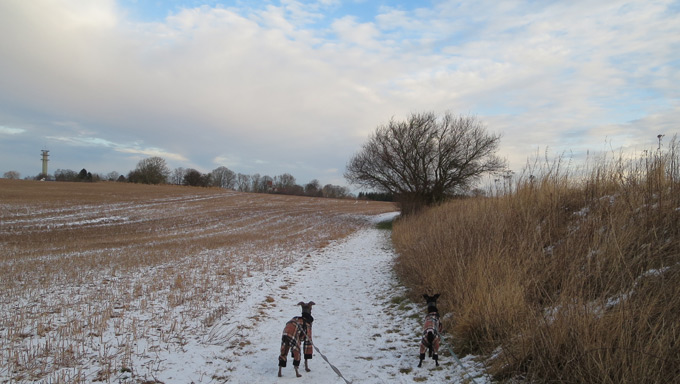 ---
Monday the 16th of January
I was doing some work with my computer in my office and out of the corner of my eye, I saw a flash of a large bird zoom past outside, whilst at the same time, all the wild birds flew away. (I have a cycle basket just outside full of food plus an apple for the Blackbirds.) I managed to get a photo through my filthy dirty window, as it sat on the gate: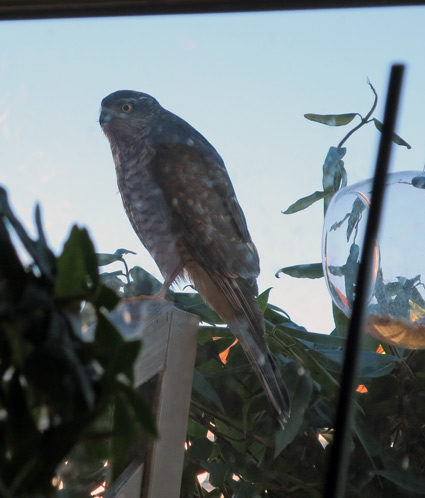 A Sparrowhawk no less! The same one no doubt, who killed and flew off with a male Blackbird just yards away from me last summer. A shocking thing to witness.
---
Solo eating his dinner - he always looks like a bandy cowboy who has been on a horse all his life! He walks like this too!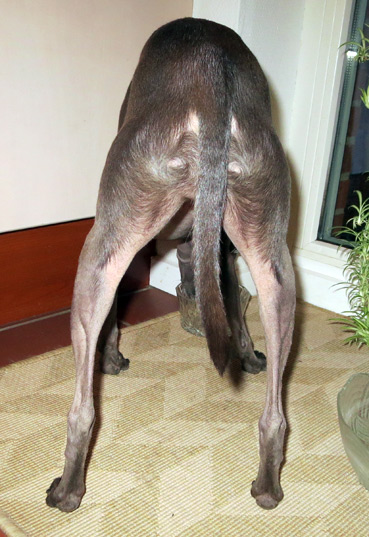 His hair is worn away by his warm coats chafing him...it seems the "blue" coloured dogs all have a feeble fur coat? I have seen this before. The fur coat he does have, shines healthily.
---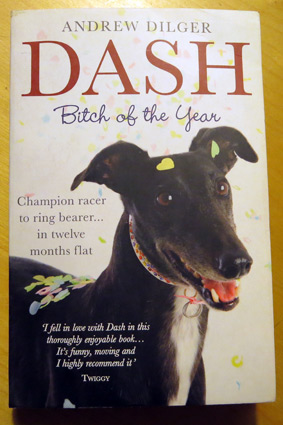 My son was in London in December, visiting a bookshop and idly looking at the well-filled shelves, when he spotted this paperback sticking out. Firstly the NAME caught his eye, "DASH" being like my Dasher, then the fact that the dog was a Greyhound AND BLACK, gave him the idea, that he would give me this as an extra Christmas present! I can warmly recommend it to all who can read English!
The writer writes brilliantly well, I truly enjoy his style, the story moves forward at a good pace and the story of the race track Greyhound he adopts, (knowing nothing of the breed), is woven into his own private life with the engagement and marriage to his girlfriend of some 3 years. It sounds like nothing much, but it IS a VERY good book and great fun to read!
DASH
Bitch of the Year
by Andrew Dilger
ISBN 978-1-84953-118-4
Summersdale Publishers Ltd.
summersdale.com/sd-book/dash/
---
Saturday the 14th of January
It's gone all pretty again with a thin layer of snow this morning!



Yesterday:
A sunny day and some crazy geese were flying back up north after having migrated south for the winter! It's a mad world.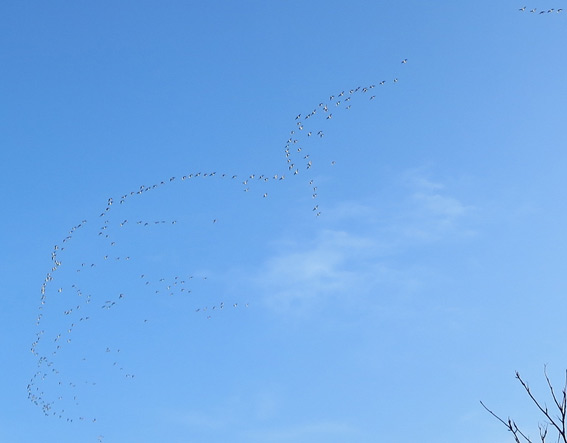 Below: Mucking about in the kitchen, beside my chair!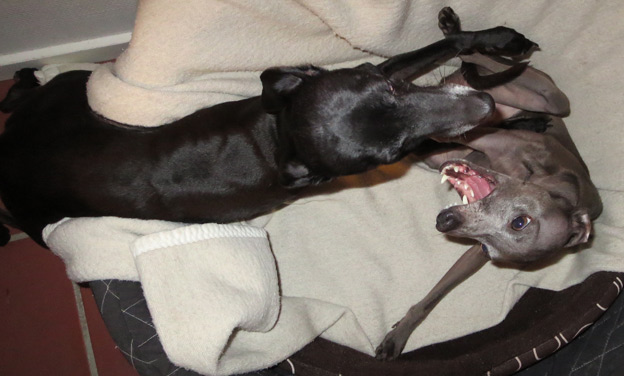 ---
Wednesday the 11th of January
A bitterly cold day with a storm wind chucking icy crystals and big snowflakes into my face, quite painful...no chance of photographing on the walk. We marched around at top speed. Below is a picture showing how much they were looking forward to going out:


- and safe home again but soaking wet, waiting to have their "Togs for Dogs" gear off!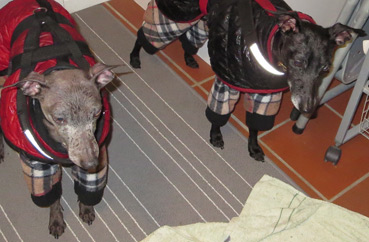 ---
Monday the 9th of January
The first mosquito of the year? Hibernating in the house and probably thought spring had come when I turned the heat up a bit due to a cold and frosty couple of days! It died instantly I saw it!!!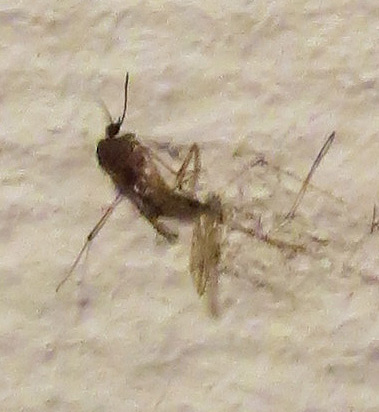 Solo closely examines a cute little mouse we found dead on the walk this morning. Plump and "healthy" looking - no doubt poisoned, so I picked it up and took it home to our rubbish bin in a dog-poo bag.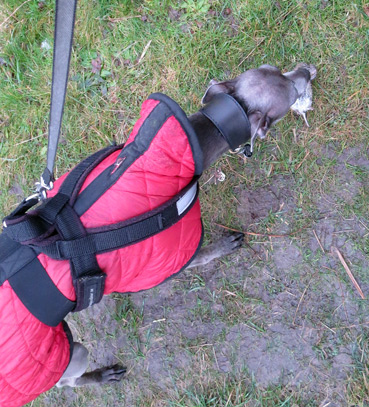 ---
Freday the 6th of January
A very sunny, frosty morning.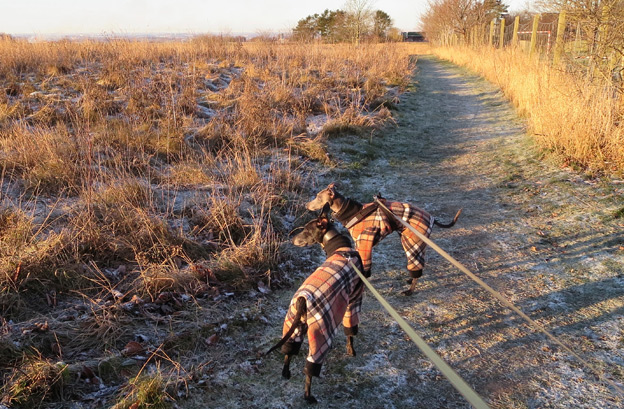 I can "read" the temperature by how much my rhododendron leaves fold up in protest!