Monday the 21st of August - and the ninth blog!
Solo isnt satified with windfalls - he plucks his own plums!!!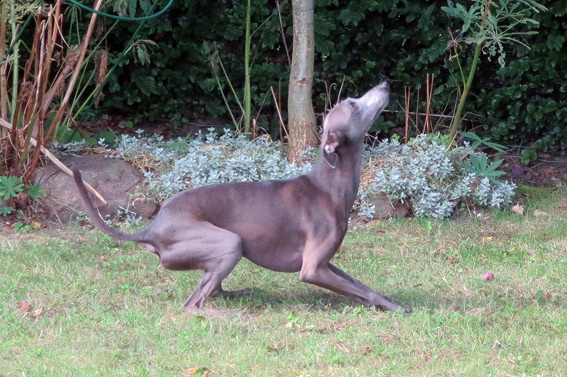 Take aim....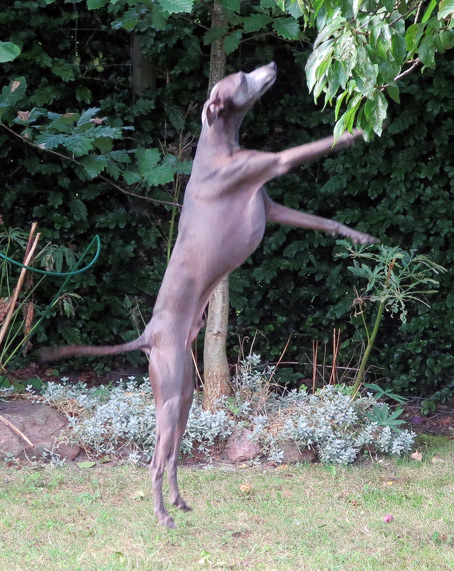 - and we go for it!!!
---
Sunday the 20th of August
A simply wonderful day out. Kind son drove me to the pretty island of Møn, so Dasher and Solo could join in the Lure coursing they love so much. Some heavy rain showers, but only lasting for a few minutes, so we mostly just carried on.
First picture: They couldn't wait to jump in his car!
Every time the car slowed down, they jumped up thinking we had arrived! Only to relax again when they saw we kept on driving. (On the journey home though, they slept the whole way!!!)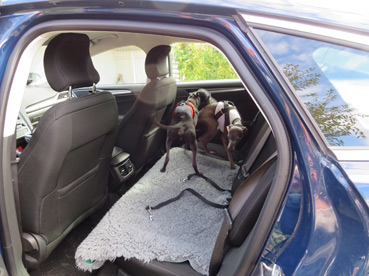 .

Some of the rolling counrtyside. We could see the sea! (Not in any pics.)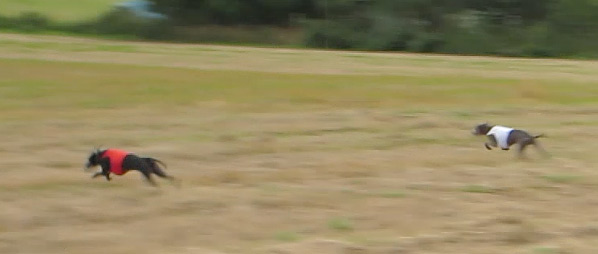 Above: They are off! Dasher in red leads the whole course. They run like maniacs and Solo still shrieks the whole way round!



The field was huge!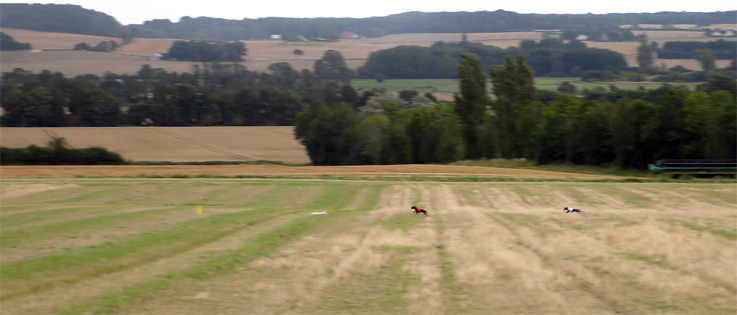 Towards the end, and you can seea bit of the hare maskine below.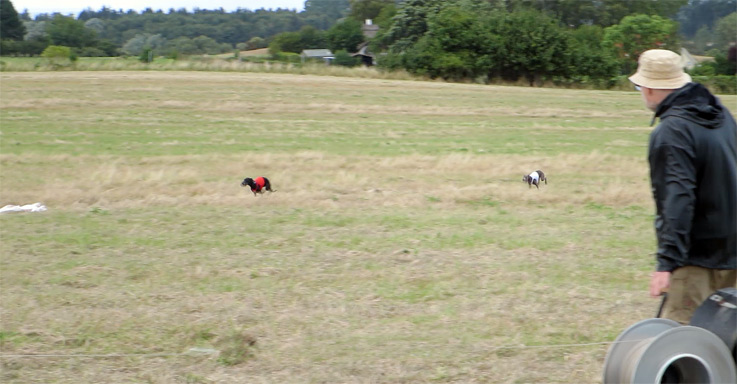 Below: Dasher always runs straight to me, whilst Solo has to thoroughly "kill" the hare first, then he stands wondering what to do next!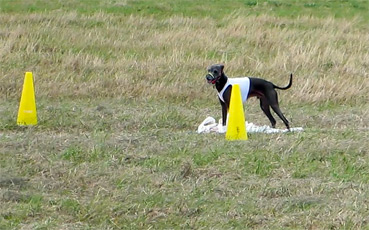 See the 4 min video: www.youtube.com/watch?v=6z3wY2QIqic

I forgot to photograph the delicious cakes!
Below: Photograph by Birgitte Sønderup of our ATV driver giving her son a ride!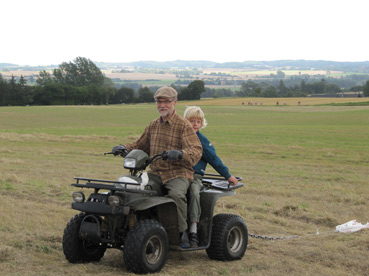 ---
Saturday the 19th of August
I think he's trying to tell me something?

---
Wednesday the 16th of August
A pretty cricket in a blaze of pink from my Hydrangea!



Monday the 14th of August
The sky on a dog walk.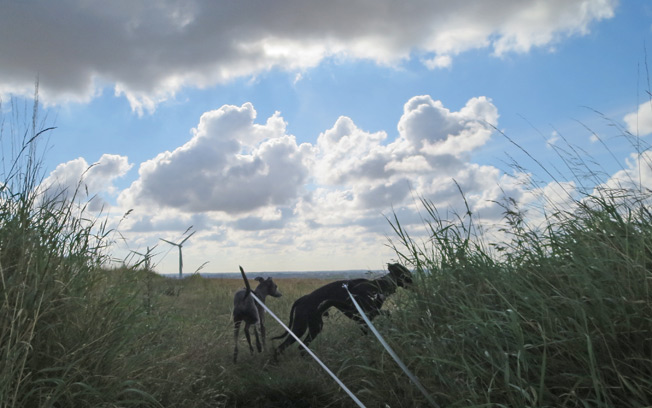 Sunday the 13th of August
They ate the whole poo before I had time to find it...aaargh...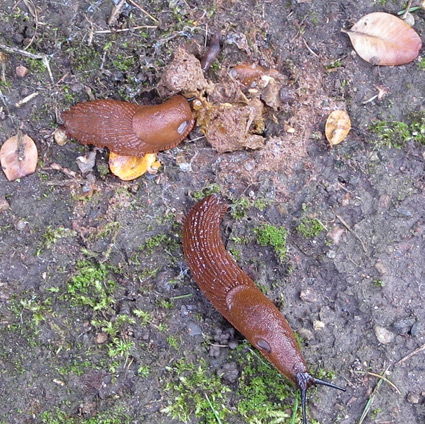 Below: One can feel that the summer is nearly over.

---
Saturday the 12th of August
One of my many Hollyhocks has gone bonkers and produced a ball of flowers! It was some friends who noticed the other day! Most unusual. Must be a gene mutation.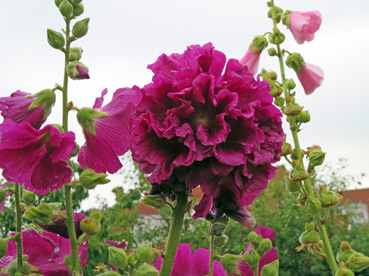 ---
Friday the 11th of August
One new toy and two dogs to play with it!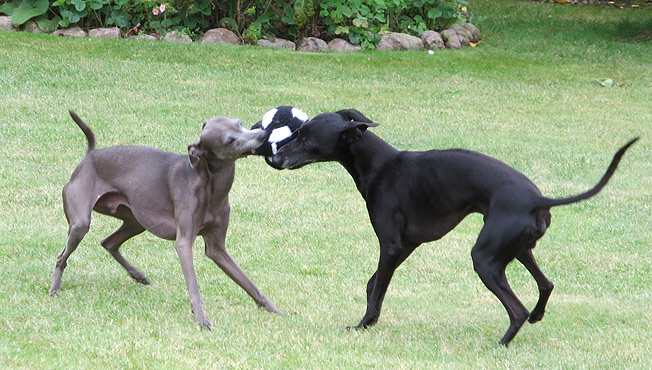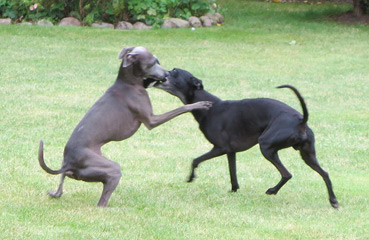 .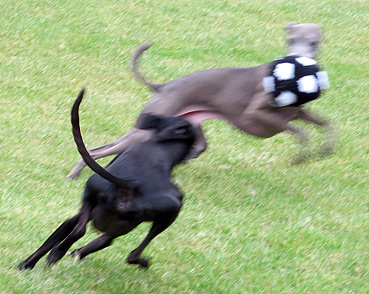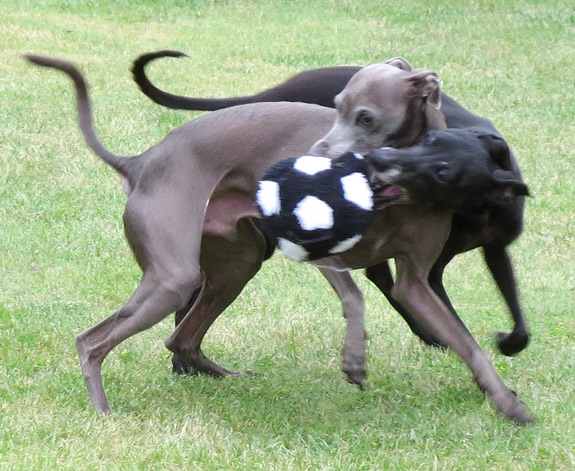 ---
Torsday the 10th of August
An extra beautiful butterfly caught my eye. It was having a rest on my garden chair after filling itself with nectar from a buddleia!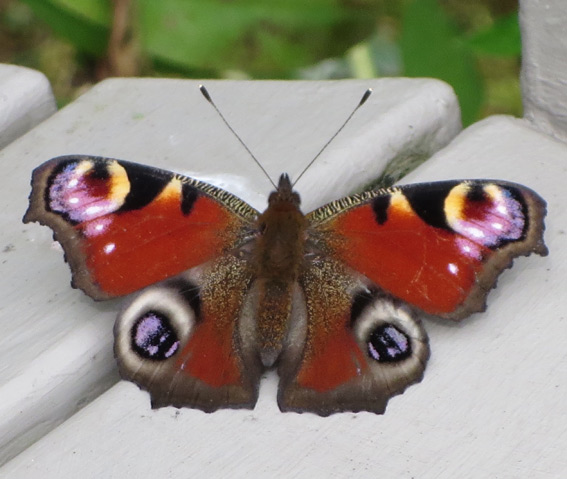 Friday the 4th of August
The killer slugs finally made it across our road and into our garden last year and now we are inundated!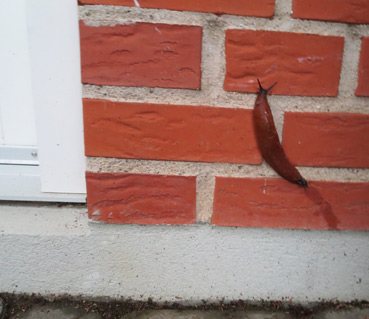 Even trying to get into the house!!!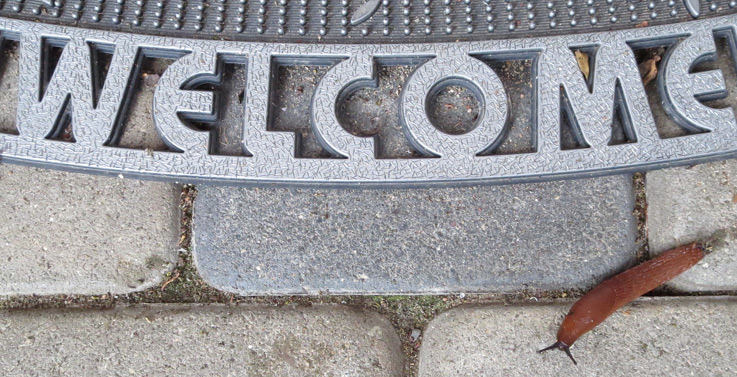 I read an article about nematodes, a natural enemy, which I might choose some time, but for now I have bought these little plastic "tents" you fill with fifty percent beer and fifty percent water and they drown beautifully.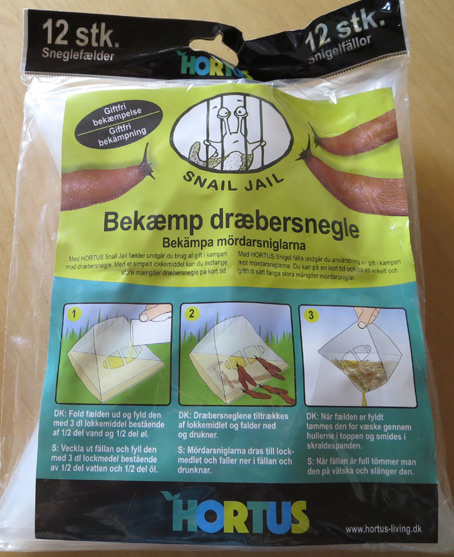 I could hardly wait to see this morning. 3-5 whoppers in each! Plus a few snails and small ordinary slugs.
Of course, I can't win – they keep on coming forever now we have them in the whole area.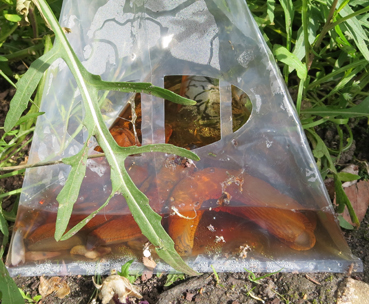 ---
Sunday the 30th of July
In between thunderstorms we get a few hours of wonderful summer weather!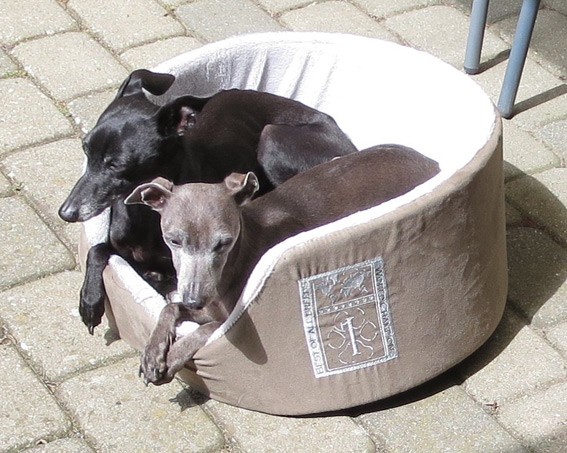 Sunday the 23rd of July
A wonderful day's lure coursing in Præstø



Heavy downpours were promised all day, but we only had a short rain storm and the rest of the day was damp but fine.
Below, on the bus to the station, where we got a lift from a kind friend. Dogs not in carrier bags on laps, (who thereby travel free), must sit on the floor by the door, according to the rules. (They cost a dog's or a child's ticket each.)
I take a blanket with me for their comfort. Right is part of the back of the bus, taken from the side door.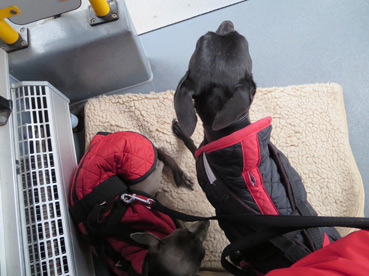 .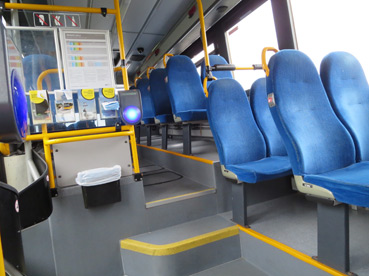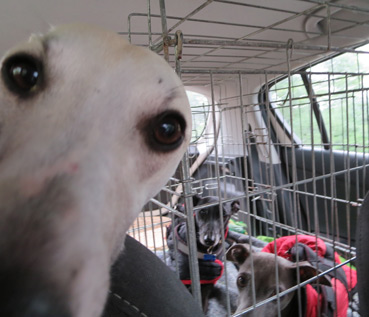 .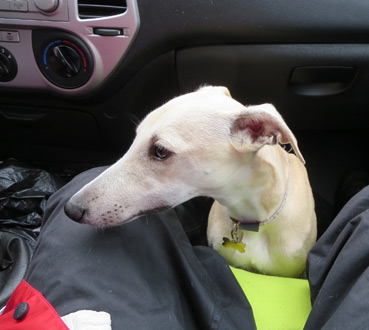 My two travel in my friend's cage in her car whilst her two whippets sit beside, as one here and between my legs in the front: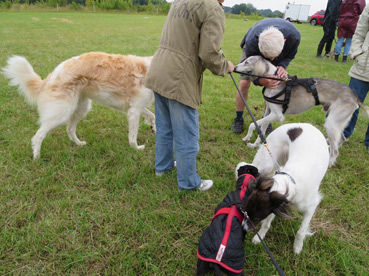 .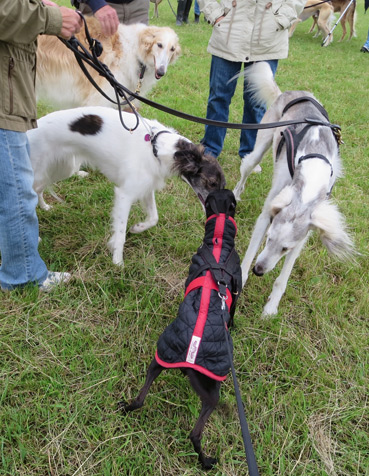 Dasher loves Salukis and Whippets! Hardly any photos due to fine rain and being busy helping.
---
Saturday the 22nd of July
Out all day with the dogs to youngest grandchild's 2 year birthday and a great time was had by all! Here are the dogs travelling in a coach because, due to repairs to the sleepers, no trains could pass between a bunch of stations, so the company put coaches in instead.
I could check in the dogs on the bus to the station on my electronic ticket, but had to check in up on the platform to get the ticket to carry us all three on the coach, which meant a lot of walking. I gave them a seat which is not allowed, but it was not even half full and I sat alone at the back. Four young men in front of me were American, and asked if they could take photos of the dogs! They were going to the main station in Copenhagen.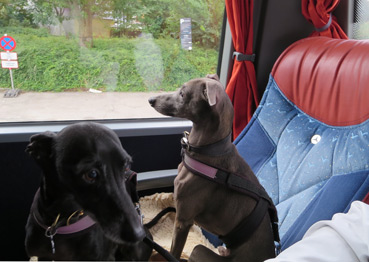 .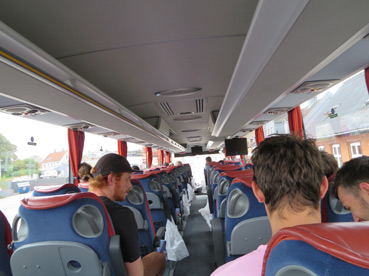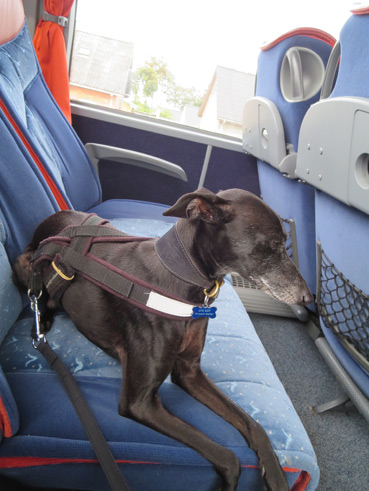 At one point, Dasher felt squashed so he sat on another seat!
Below, at my son's house, the dogs spent a lot of time in the kitchen hoping for food to be dropped!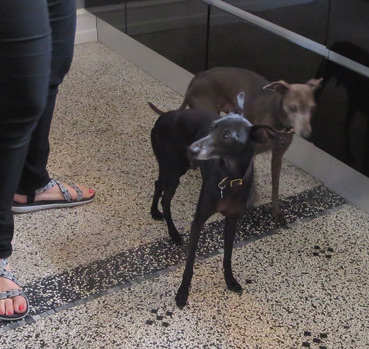 Son Gregor always loves to torture Dasher, showing him all the delicious food that he can't have!!! (He's used to this!)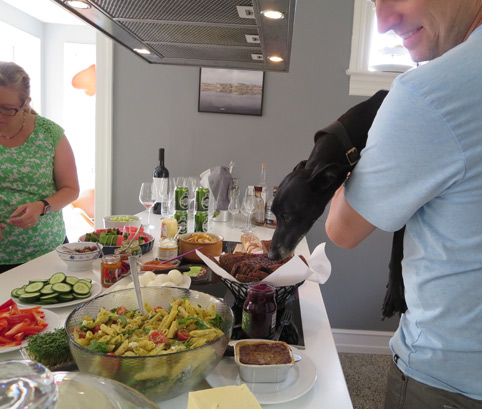 Solo springs up and rotates from guest to guest around the table!!!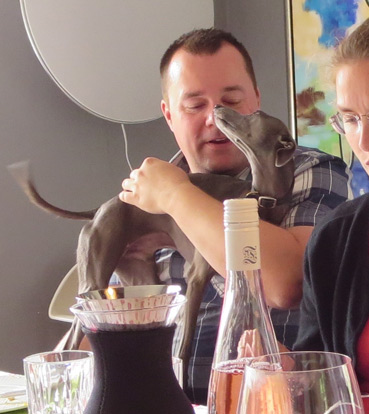 .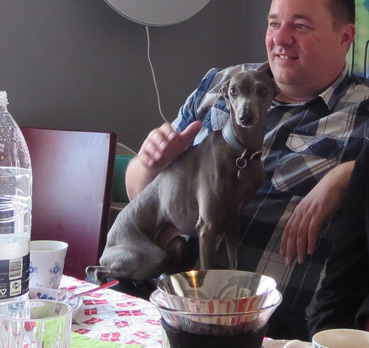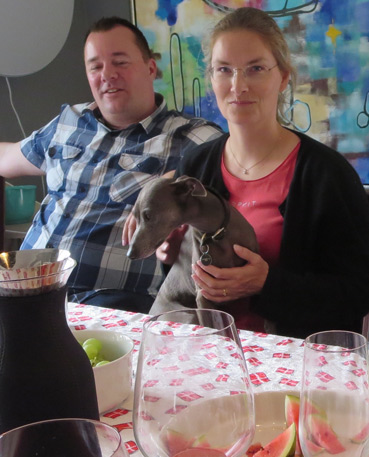 .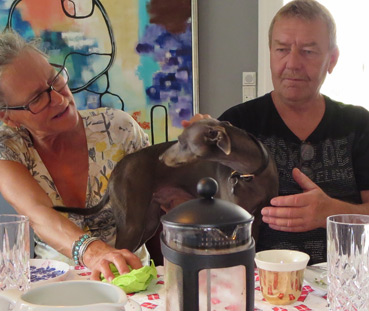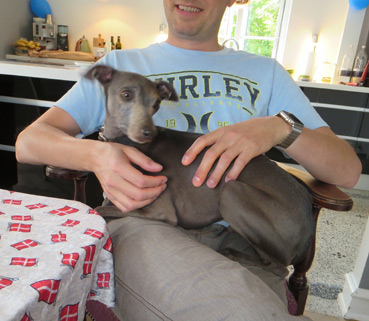 But he's right there watching like an eagle, when the birthday cake is cut!!!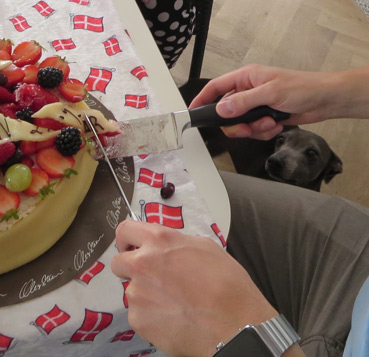 .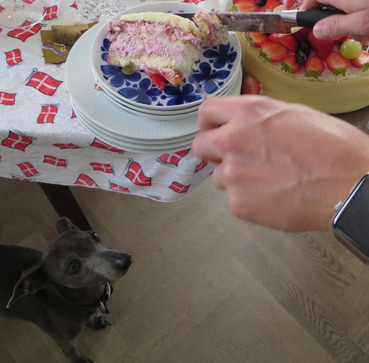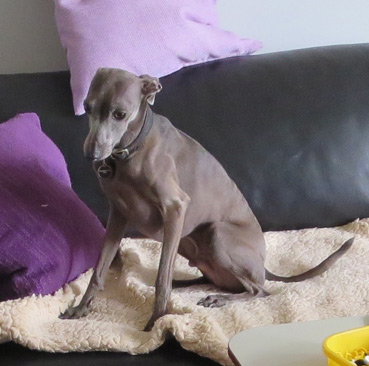 Below, some temporary check in - and out - stands near the coaches. It's only for 5 days.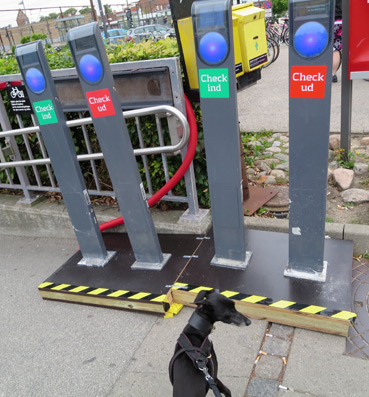 ---
Thursday the 20th of July
I'm seriously worried that Pappa Blackbird has died. Found this dishevelled body on the pavement this morning. He was never tame like Momma. All parents get in such a mess when caring for their young, then moult and get smart again in the autumn ready for winter. I will know who it is from the song that will be missing.
At first glance (hearing!) all Blackbirds sound the same. Everyone recognises the general song just everywhere
in the spring and summer.
But as I work in the garden, they are my music and I quickly get to hear, that each and every one is actually unique AND each has his own special favourite "tag" phrase, which will appear several times in one "song". After a while, my brain sets words to these tags and I can "re-hear" these at any time in my head, or even say them!
I actually have on a video of my garden from about 4-5 years ago, of the one who says "Dee-doo Dee-doo Dee-doo" in his song. He's been singing really near me all day. He was based in our garden 4-5 years ago, moved a few gardens south for a year or two then disappeared but I heard him sometimes when on a dog walk. So he's back. On the other hand, the one who usually sings in the garden and says "Da da duh", as part of his song, I've not heard all day. Perhaps it's "Da da duh" in the picture? Another says: Diddy boo diddy boo"!
There's a new one this year, who says: "You're hurtiing you're hurtiing" - the last syllable is highest and his is sung, not with pain but with no emotion, my brain just fitted these words to his "tag"!
There's another who makes sounds EXACTLY like a duck in the middle of his song! For months I wondered if it was a duck in someone's garden - but then I saw him one day, just as he "sung" it!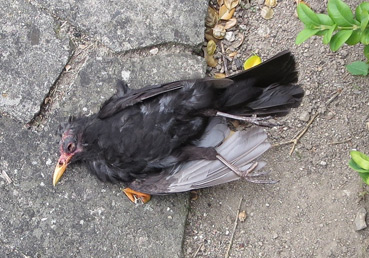 PS The 28th of July, and it WAS "Da da duh" I found dead like he'd fallen out of the hedge. I've not heard him since – and "You're hurtiing you're hurtiing" is moving closer!!!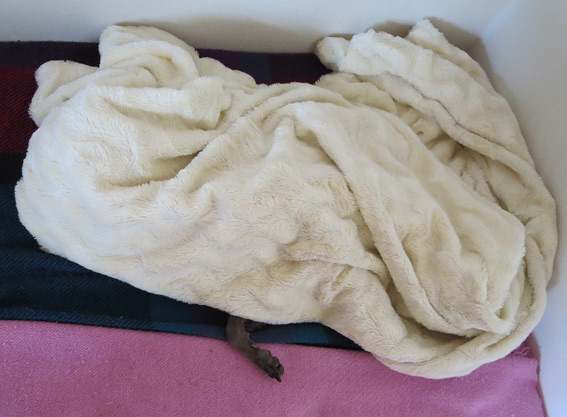 Spot the dog! Italians (and all my Whippets) always have to lie UNDER rugs and blankets and are experts at covering themselves.
---
If you go all the way down to Monday the 27th of February and see all my fine photos of the rat who visited for a while, there is a new event. I bought an electric trap, which should kill them insantly without pain. Well the rat vanished never to be seen or heard of again, but yesterday the trap signalled that it had killed something. There was this sweet little mouse, but OK, the fewer we have of them round the house, the better.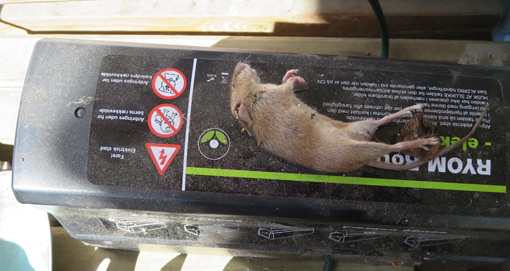 ---
Monday the 17th of July
Some workmen are putting down electricity cable, ready for new a housing development and I walked past these enormous wheels and was amused at the contrast between diminutive and delicate dogs and these simply gigantic wheels!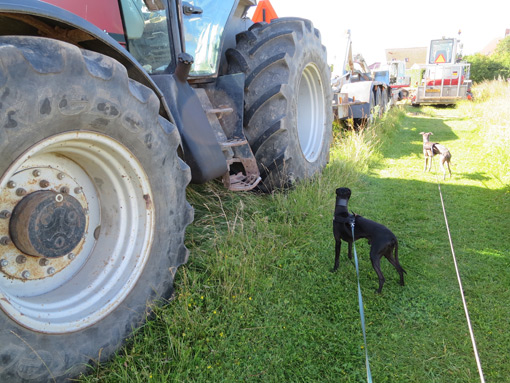 ---
Tuesday the 11th of July
My night blooming Cereus cactus is at it again, usually more August than July. Just now (8.30 pm), I managed to catch two blooms - SOO beautiful. They open very late evening so I often miss - it's had two others already and by morning they are completely collapsed and floppy. They give off a lovely perfume.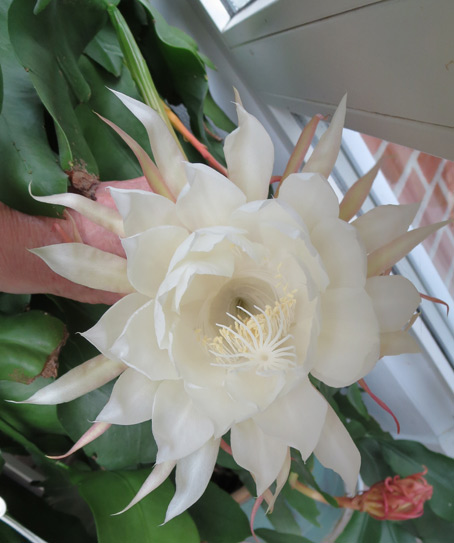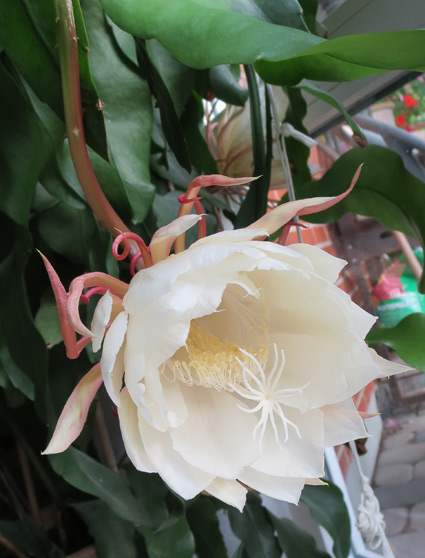 The bottom one is not so developed - yet. They are the size of my hand! Below: The day after!

---
Monday the 10th of July
The latest photo of the "field walk" to the local village, well away from civilisation and with the possibility of seeing deer, pheasants and hares!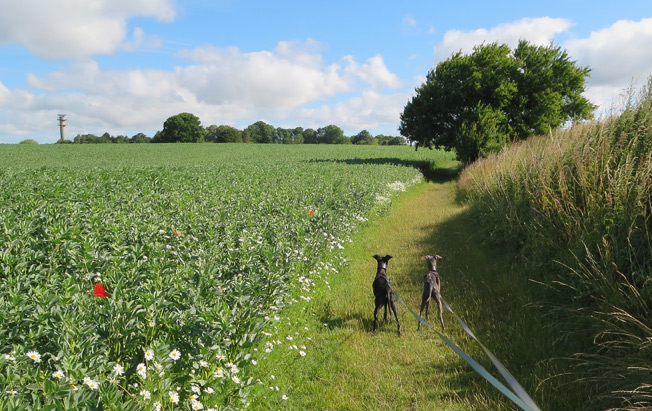 A closeup of the beans: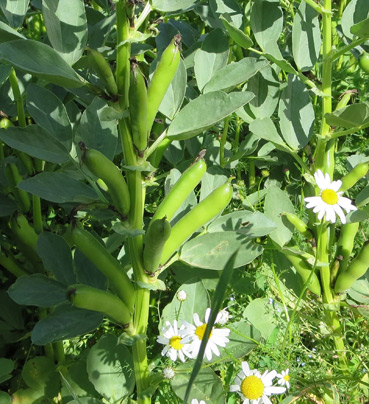 They talked about having a bench or two - much needed as it's quite a long way
- and at last there are three, each with a wonderful view!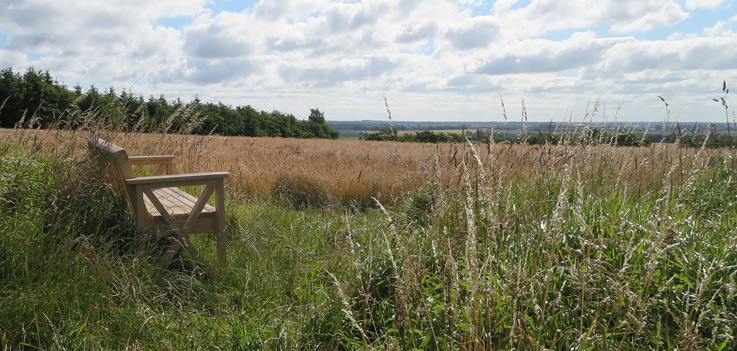 ---
Saturday the 1st of July
Undoubtedly the worst and coldest June I can ever remember. Just a handful of sunny days that vaguely resembled "summer", then as soon as you get your cardigan off, it blows cold again!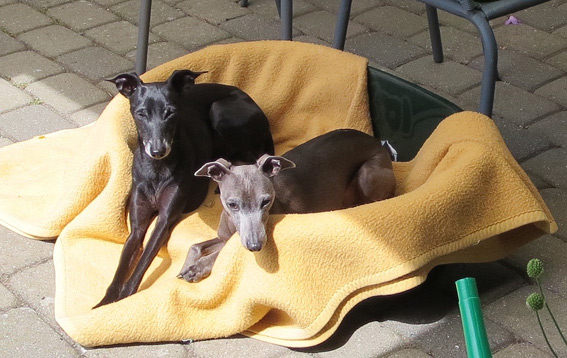 Here they are, both sunbathing. Usually Dasher has to give up, as being black, he quickly feels too hot.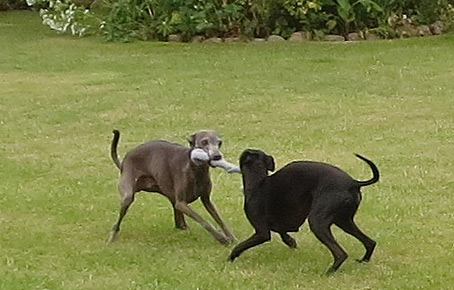 Playing in the garden with an old sock.



Above, I had to laugh as it is SO clear where the farmer's weed killer did NOT reach, him obviously taking care not to spray into the gardens of the houses right by - and so the poppies have had a field day, literally!
---
Sunday the 25th of June
When do we get summer? Only had a handful of great days and the rest are either dull, rainy and mostly a nasty cold wind blowing and wrecking all the blossom...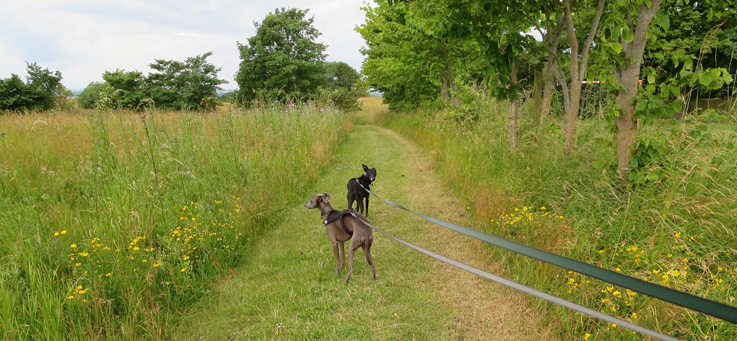 BUT, the strawberries are going mad as usual!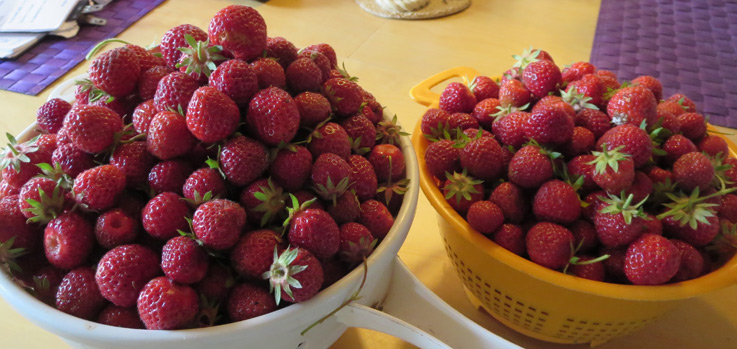 Friday the 16th of June
They never miss a chance to sunbathe!



Tuesday the 13th of June
Despite cold winds and un-summerly weather, the first strawberries were ready for eating today!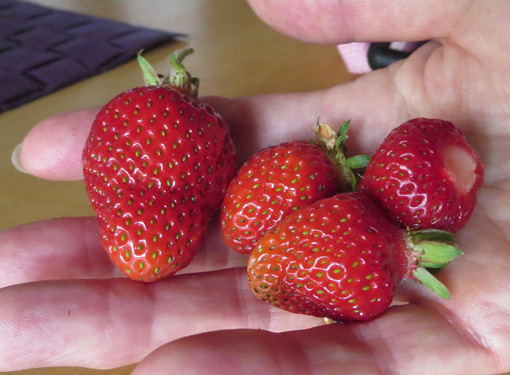 ---
Monday the 5th of June
Whilst I was in hospital for a few days last week having a major operation, Dasher and Solo were looked after by some good friends and their new Whippet girl "Fauna" of 11 months. (We have looked after each other's dogs for about 15 years). It went well apart from the fact that for over a day, Dasher tried non-stop to mate on Fauna, who was too young and inexperienced to say "NO!" properly and he thought, (loving all Whippets as he does), that THIS was the big moment he's been waiting for all his life! Poor Fauna could only get away from him by jumping on the garden table. Dasher doesn't jump on tables! Of course they also gave him "time out" in his cage. See her here, clearly depressed!!!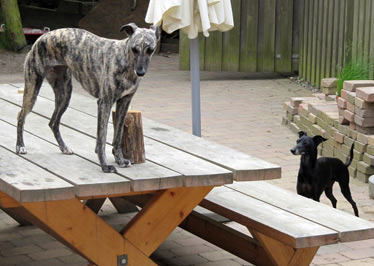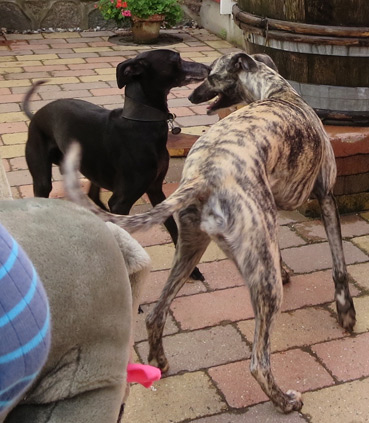 On the second day, Dasher was forced to accept, that this plan was NOT working out and so he started to ignore her! So then Solo, neutered as he is, surprised us all by taking over!!! (And he DOES jump up on tables!!!)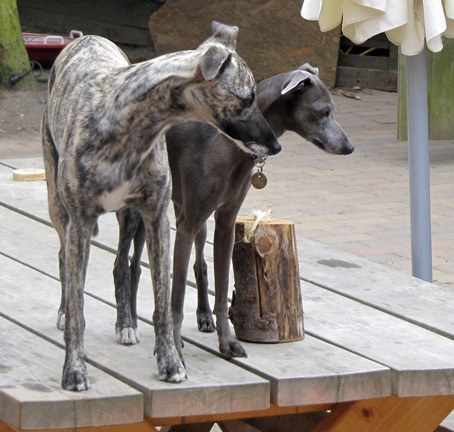 After a day, he too gave up and instead, he and Fauna became really good friends and played a lot together in the very large garden, taking it in turns to run around and be "hare".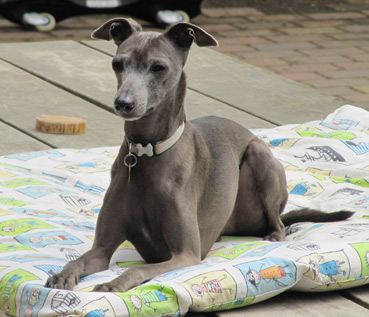 Solo on the table.
Out come some chocolate cream cakes plus goodies for the dogs: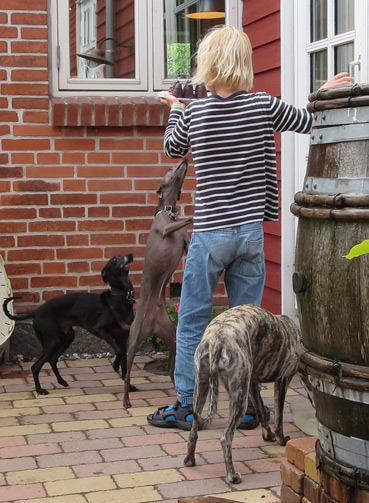 .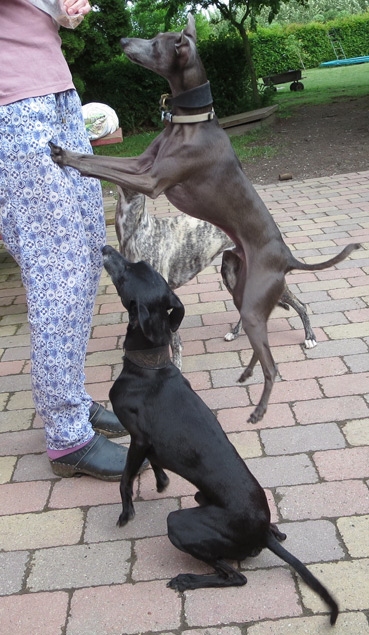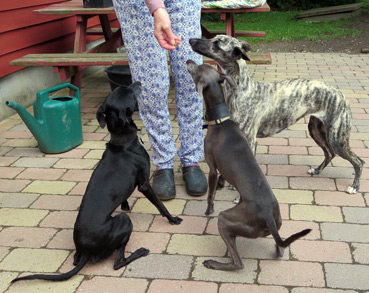 So everything is fine by the time we come to collect the two bandits a week later, but now Fauna is extra practised at jumping on the table, and combine that with her being a VERY loving dog, wanting to "kiss" everyone, we had some difficulty drinking our tea and coffee!!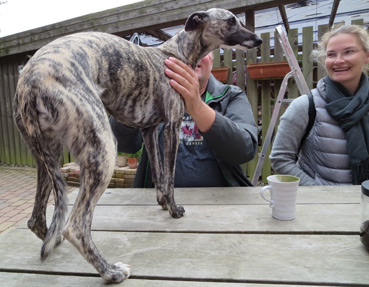 .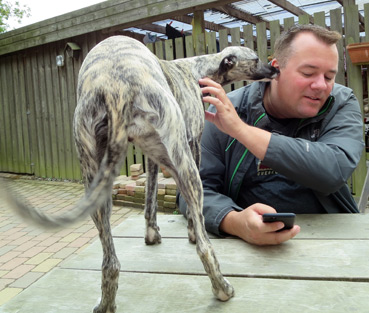 But she's so cute and loving, one cannot help but fall for her charm - and it's all part of the entertainment.
Then Solo gets up to check out the table. Right: On the way home in the car.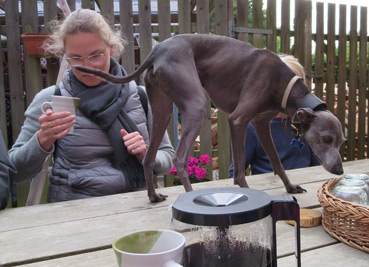 -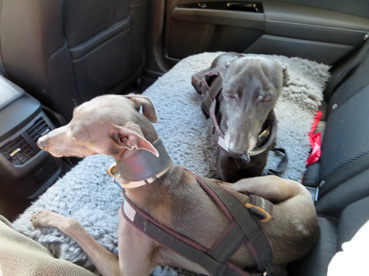 As we leave I get a lovely surprise present from Fauna!!! Full of extra delicious glutenfree products and treats for the dogs!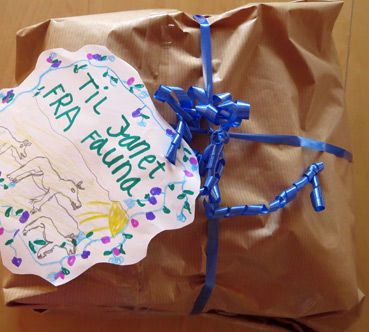 .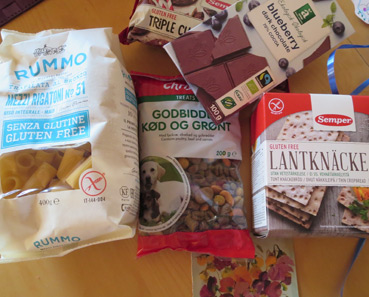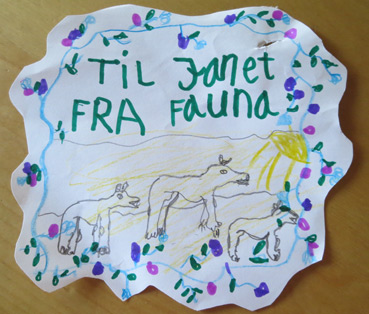 With a VERY pretty card, showing the three dogs in the sunshine, very well drawn Marius! I shall treasure it forever.
Thank you so much!
---
Friday the 2nd of June
An amazing rhododendron on our patio!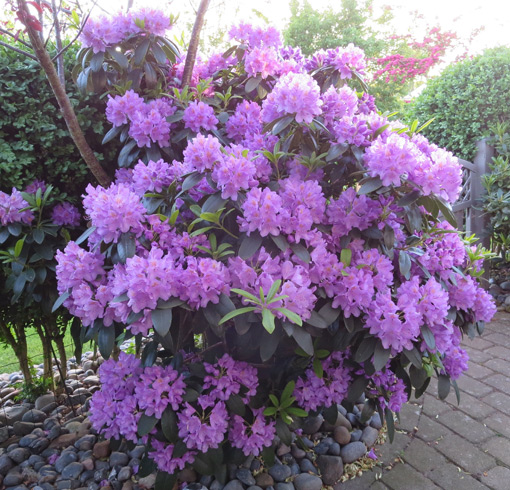 Monday the 29th of May
Pretty pom-poms of Alium light up before the lavender gets going!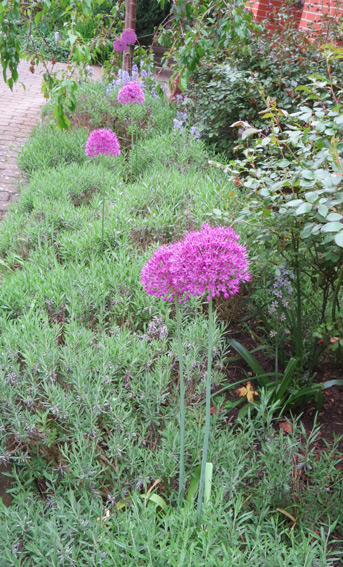 Saturday the 27th of May
Taken on a doggy walk, they want to check out the next field! (Giant windmills in the distance.)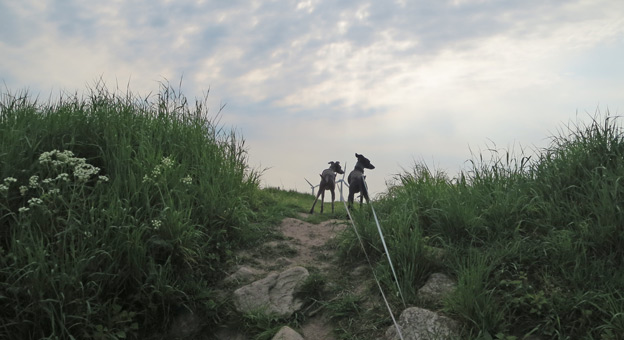 Below: It's lilac time, the whole of Denmark is smothered in blooms and the wonderful scent in the air...(The sea is in the distance at the end of this very high path!)



A VERY pretty petunia. It will grow enormous during the summer, hanging down from a basket of plastic.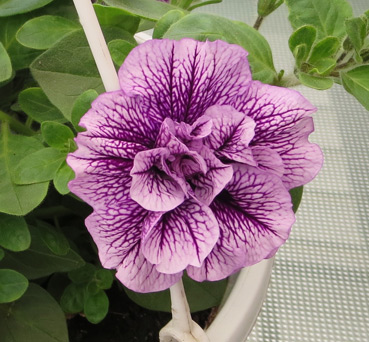 Friday the 26th of May
On a doggy walk, a bit of a hazy morning. The weather goes from freezing to sweating in hours... very mixed up!



The beans are struggling up in this cold weather.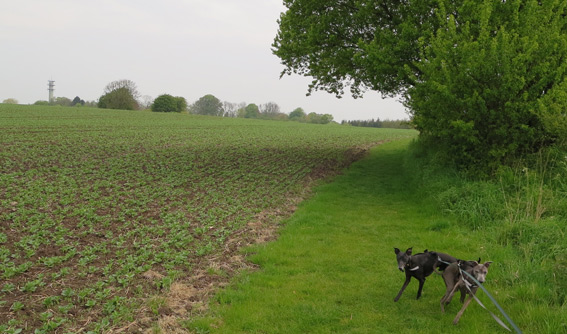 A close-up: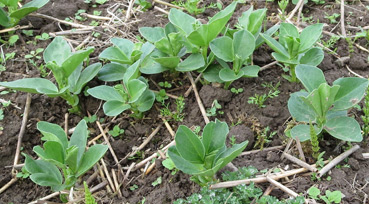 On another day!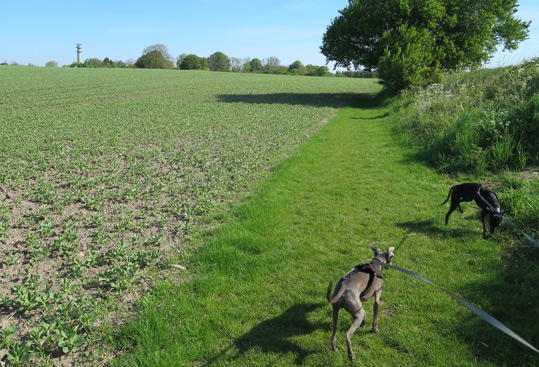 After the walk!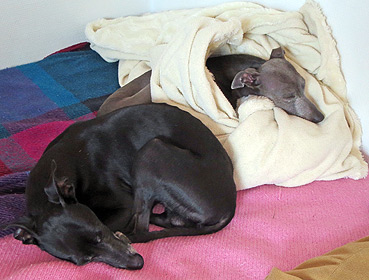 I cut the lawn!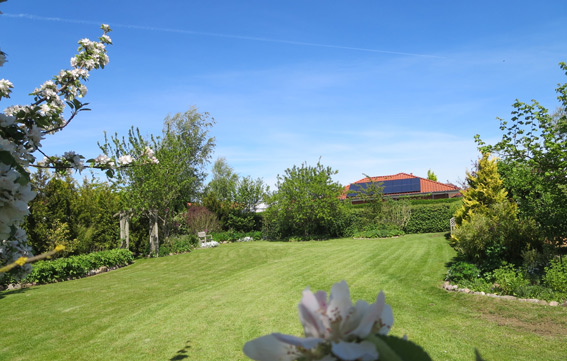 ---
Wednesday the 17th of May
Last Sunday, I had a really wonderful day out Lure coursing with friends at a fantastic place near the north coast, owned by two new Whippet friends! A kind Whippet friend drove me all the way - we had a whale of a time!



Below: Dasher travels on the floor between my legs.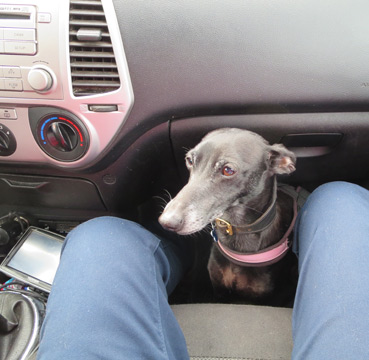 Below, my friend's lovely whippet Terry trying to figure out where we were going! Picture to right: His "wife" and "child" in the back with Solo, who can just be seen on the left!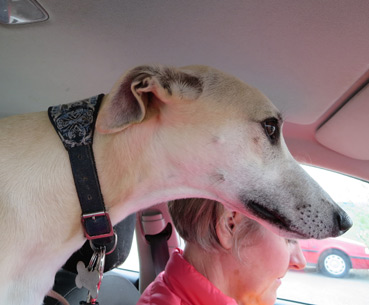 .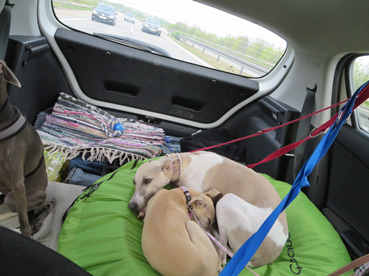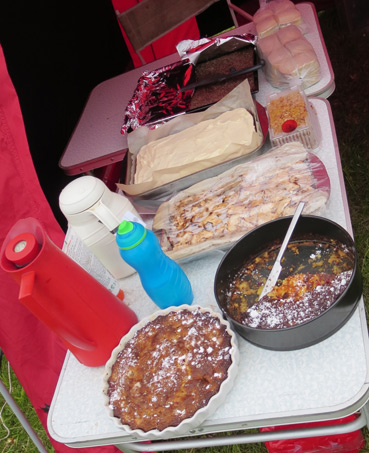 .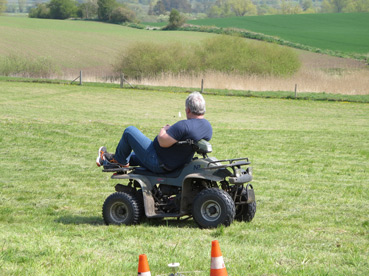 The cake table - and one of our atv drivers taking a break, so funny!

.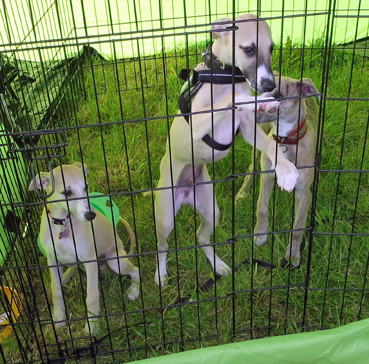 My friend with her Whippets and right: Two of her puppies with another, related, puppy who's a few weeks older. She had bought a new type of tent, that "pops up" and is ready in minutes! Amazingly large. All folds down to the "cushion" seen in the car above with two dogs sleeping on it!
I'll be making a video from the day as soon as I have the time.
---
Saturday the 13th of May
Hurrah! A clever whippet friend has cleared up the mystery with the curious "pea" plant with no tendrils!
It is a Broad bean! Read about it here:
wikipedia.org/wiki/Vicia_faba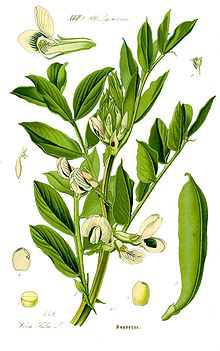 ---
Tuesday the 9th May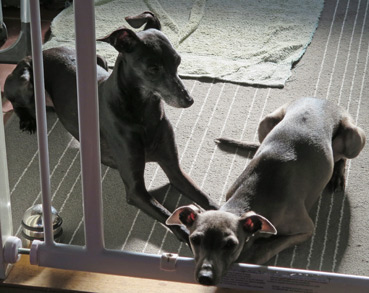 .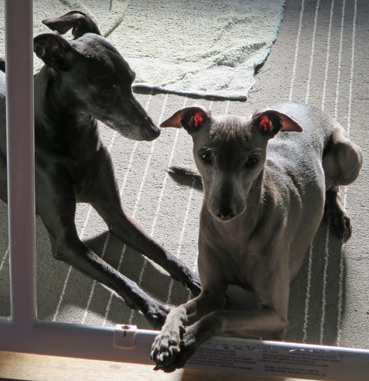 They'll sit anywhere in order to catch some sun rays. Then Solo daintily crossed his paws!
Our oldest son came yesterday and the dogs repeatedy jumped in the car - desperate to go somewhere like Lure coursing!!!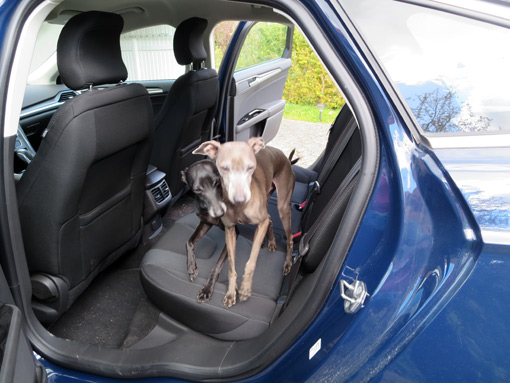 My lovely white rhododendron: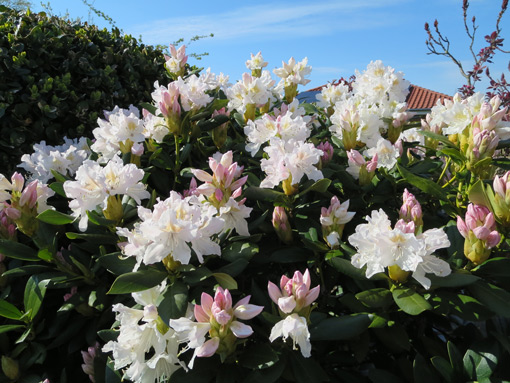 I stepped outside the door and surprised Momma Blackbird, who allowed me to fumble for my camera, get it out and take a couple of photos when she was only at arm's length! I moved away, so she could get on with her apple. She is amazing. You can even see her whiskers.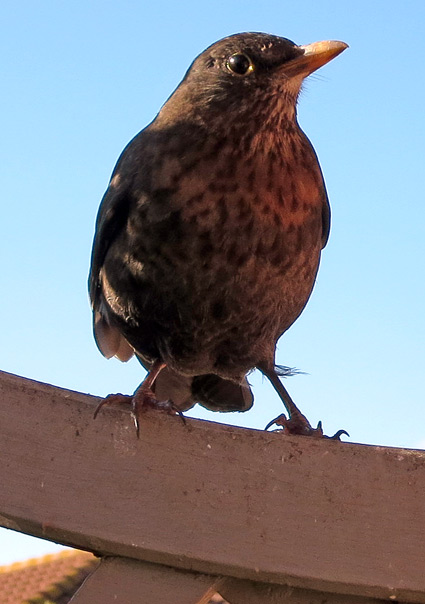 ---


Thursday the 4th of May
Hooray for Dasher, it is his 8th birthday today and a nicer, more loving Italian doesn't exist!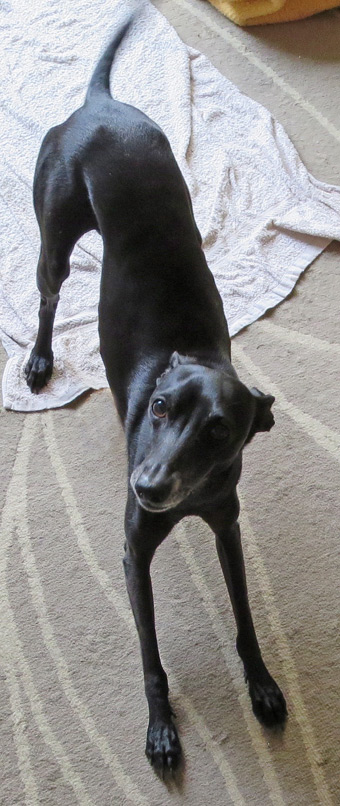 Sunday the 30th of April
The dogs waiting at the vet's for their yearly vaccinaton on Thursday - only I do it every other year, as required by the insurance company. All dogs must be insured in Denmark - and I have an extra health/accident insurance.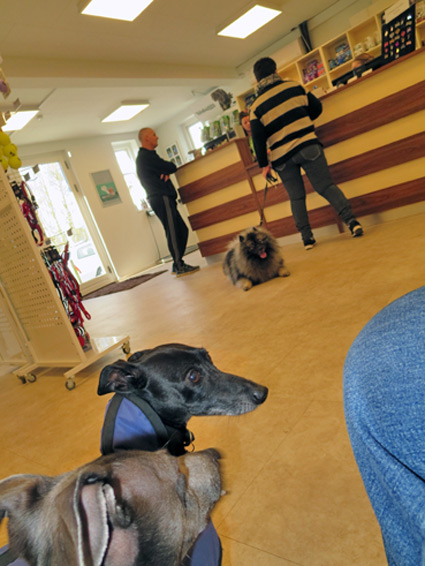 Our Japanese ornamental cherry tree is so fabulous at the moment, despite the cold.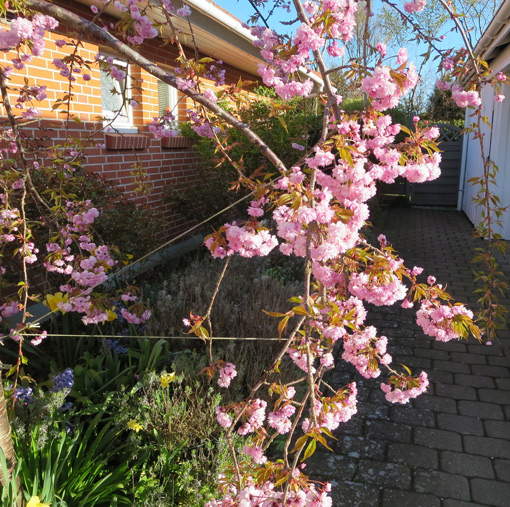 Momma Blackbird wanted her portion of sunflower seeds! She has to do all sorts of gymnastics to get down into the flower pot! I took this through my office window! I now have to buy apples specially for her, as we have run out of our own!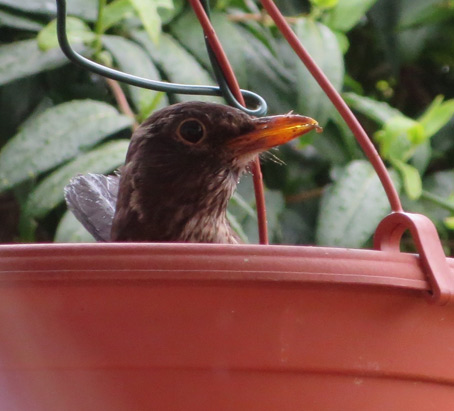 .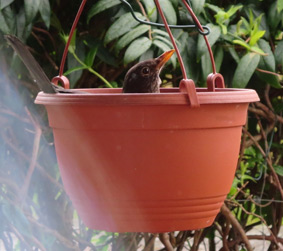 A sparrow checks out the food situation.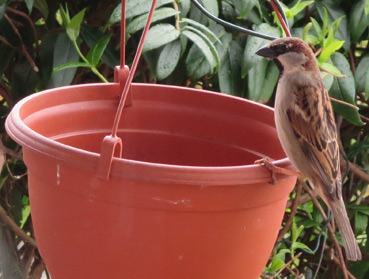 The field with the mystery seeds sown, that are now only about 5 mm up from the earth, due to the cold: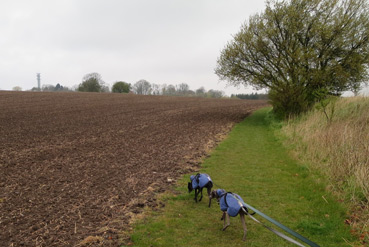 Here is the one seed that I stole and it has sprouted up in our warm house:



Looks like a pea, but so far, no tendrils.
---
Wednesday the 26th of April
A new bus driver story!
See the others here: www.sighthound.net/bus-stories.htm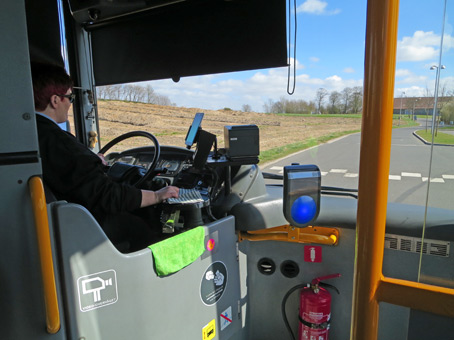 A driver who's a cleanliness fanatic?
The other day, I stepped up on my bus home while it stood for a quarter of an hour at the bus terminal, Slagelse.
It was a woman driver who laughed together with me over the two ticket inspectors who also got on with me, full of importance - but there was only me and one another passenger to check. A little tame.
She told us that the inspectors had learned to hide their car, because otherwise everyone could see their yellow car and knew in advance that they would be checked! We could easily speak as I sat in my usual seat up front.
We also discussed bus types, since today it was a very different design, namely a "Scania" from Sweden, she said,
While the busses I'm used to are made by Volvo. So I'm driving around in a Volvo normally !!!!
Sounds good, huh?
I learn something every day.
She got up to go outside for a smoke, and I saw that she had two washcloths, one hanging over the door and the other on top of the coin machine. Now that we were "good friends", I could cheekily ask her if she suffered from spring cleaning madness - or what ??? She laughed loudly and explained that while she was driving, she always held on to to the coin machine with her right hand, but because it rattled and was unpleasantly cold metal and not very nice to hold, she always put a facecloth on top! Much more comfortable!
Now I have seen other drivers who rested their right hand on their door, but she is a woman so not such long arms.
There is obviously not much need for the right hand! And quite rightly, she held her wash cloth for most of the journey.
I managed to take a photo without her discovering it. Quite a laugh!!!
---
Tuesday the 25th of April
Spot the Italian! He has crept under this himself - I haven't touched the blanket
- except I often re-fold them nicely when all bunched up.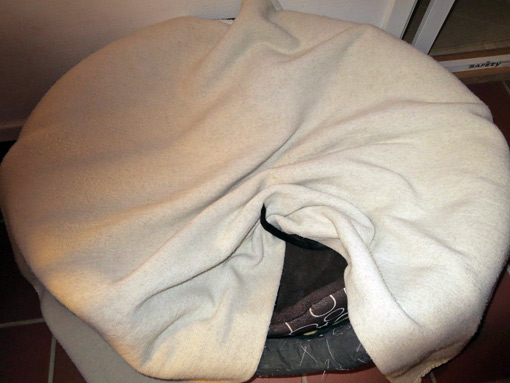 Sunday the 23rd of April
A tiny clip from a lovely day's Lure coursing on the 26th of March. Shows Solo with "girlfriend" Athena, who does all sorts of crazy short (and long!) cuts, (even crosses a tiny pond!!!), to beat Solo and get to the "hare"!!! She doesn't run "blindly" after it, but tries to be smart and figure out where it will go and place herself in the best position.
www.youtube.com/watch?v=dqeV0SzCsWU
---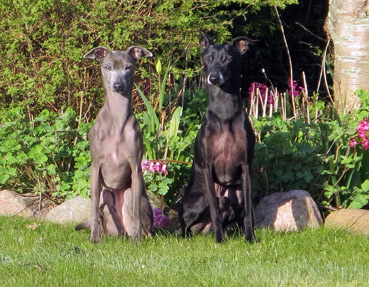 Solo and Dasher use the sun whilst waiting for me to finish gardening and go do their dinner!!!
---
Saturday the 15th of April
My little yellow Canary/Grey Singing Finch cross is 21 years old this month! No other Canary has lived longer than 17 years. Also he can see ok, normally the old ones get cataracts. But his wings are weak now,
so he lives on the lower branches in the voliere and hasn't the strength to fly higher..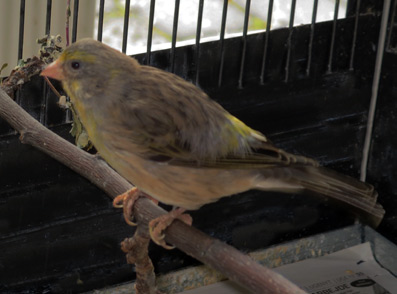 The dogs always have a piece of Chinese cabbage after dinner! They love it. (The white crispy stem.) Here is Solo wih his.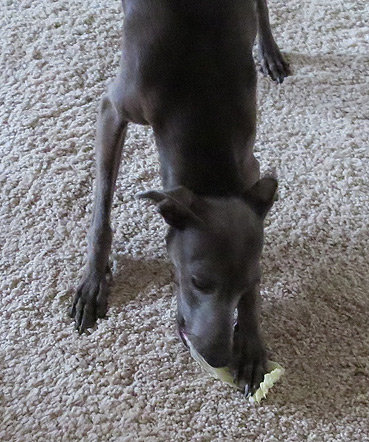 Below: Solo waiting for me to finish breakfast so we can go for a walk!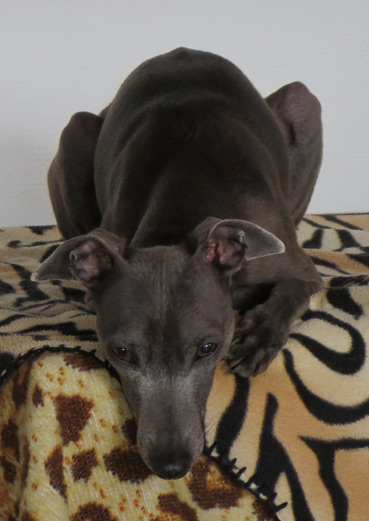 ---
Friday the 7th of April
The entire local school turned out for running, skating and on scooters. I was told it was Team Rynkeby Løb for sick children and the children were earning money by the run. Wonderful to see such energy!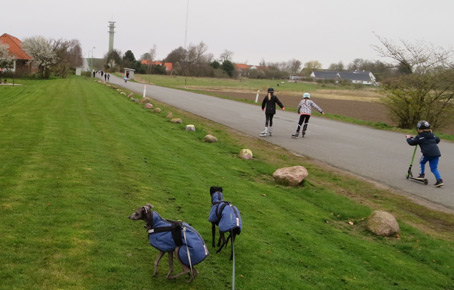 Thursday the 6th of April
The sun shines right through Solo's stomach skin!!!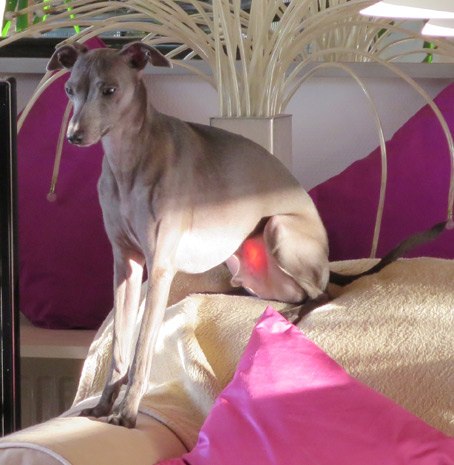 I spot a pretty Goldfinch in the Honeysuckle bush. First time in 9 years here. It's a new area, but wild life is gradually moving in!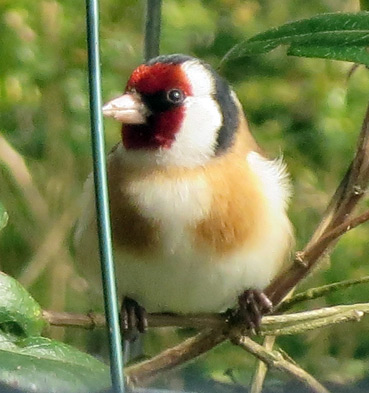 ---
Tuesday the 4th of April
At last the farmer has ploughed up and sown seeds in his barren and weed-killer filled field!
Huge flocks of seagulls are enjoyed all the worms now exposed!
As we walk, we drive them onwards.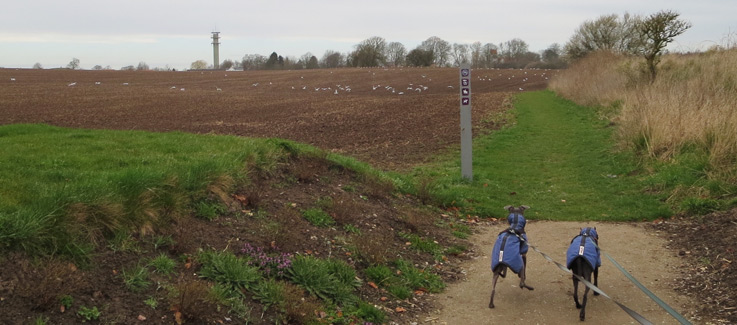 The farmer had a bit of an accident with the seeds - see here, I am wondering what they are? Bean-like yet not...I've taken one home and will see what it is. Will grow faster with me! A friend thought peas, but nothing like the peas I have ever seen - the mystery will reveal itself as the summer progresses.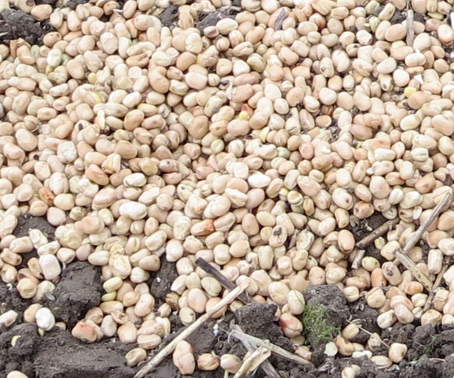 Solo asleep after the walk!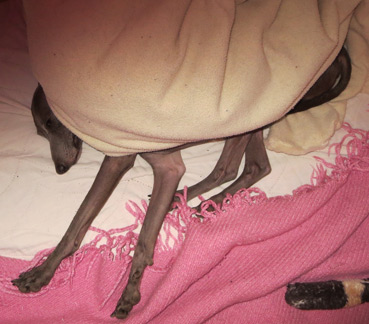 ---
Sunday the 2nd of April
Spring is in the air - or rather, on the ground, ha ha!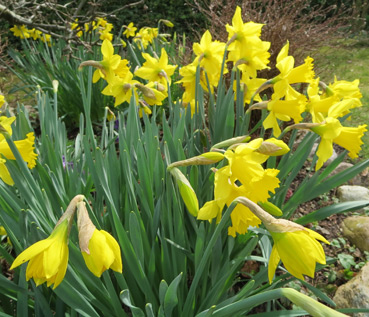 .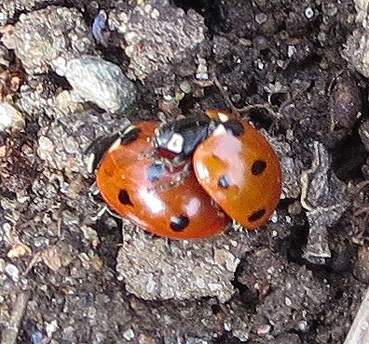 Saturday the 1st of April
Sunbathing!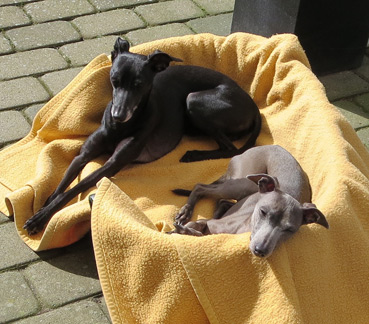 Yesterday, they enjoyed eating the new, juicy grass that's coming up now - so big delays on every walk from now on! Obviously a kind of dietry extra. All my dogs over the course of some 40 years have done this.
(Nu om dage får de selvf. hjerte og lunge orm fra denne vane!)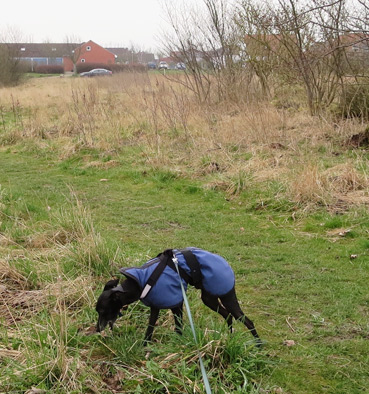 .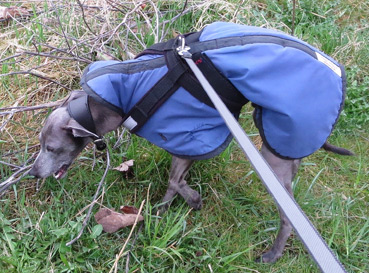 Below: A VERY rare shot of Dasher lying ON TOP of a blanket! They usually spend their whole lives underneath!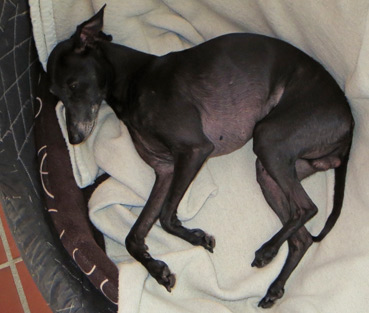 ---
Sønday the 26th of March
The year's first lure coursing! I had a wonderful day.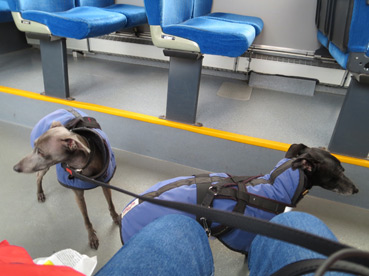 On the bus to the station. Then I got a lift all the way there, (Slangerup, my favourite venue,) with a kind Whippet friend.



Both Dasher and Solo love Whippets - and Dasher loves Salukis too.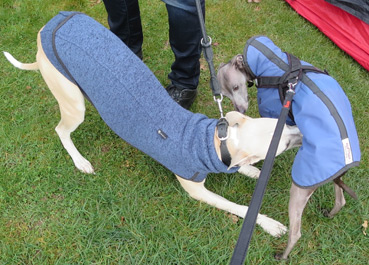 .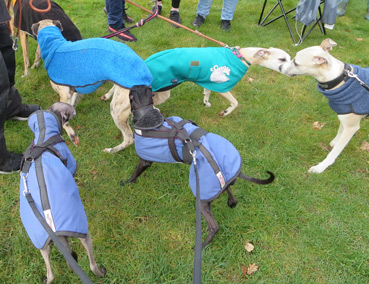 I didn't video film much, so I am not sure if I will make a film from the day or not!
---
Friday the 24th of March
Sunbathing!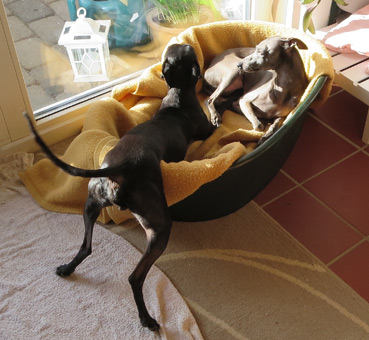 .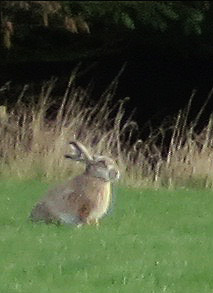 I spotted a hare sunning itself this morning!

Thursday the 23rd of March
Solo, who hates having a jacket or harness on, is debating whether to come to me or not before a walk! Gives in after 5 minutes of cajoling and a treat!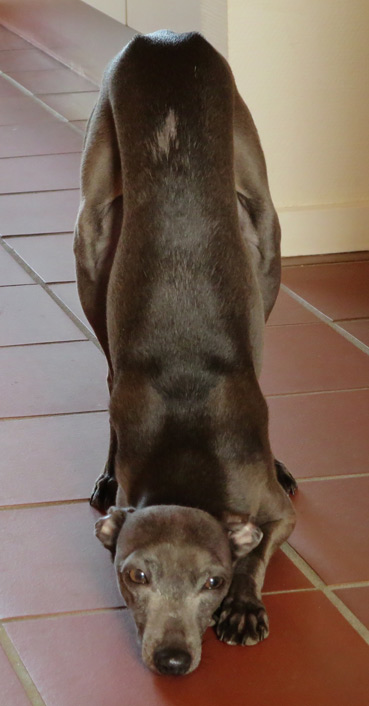 I open the back door and Momma Blackbird flies up from her apple and sits on the edge of the bicycle basket watching me. So I tell her to wait a minute, which she does while I get my camera out and take several shots! Then I step outside and walk away and she jumps down and continues eating!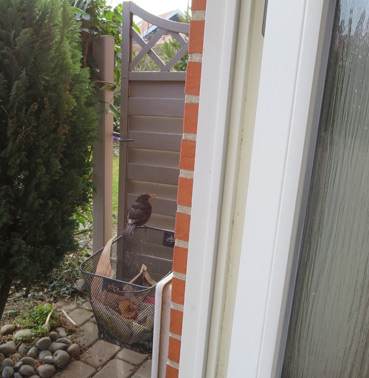 Posing for the camera!