The Pharaoh Hound
One's first impression of this breed is of elegance with well defined dry lines and of dog built for action. Good looking and with an alert appearance and of strength. They are very fast with free and easy movement and its expression is very keen and alert.
Pharaoh Hounds are very intelligent and fairly easy to train, although they need care and understanding, as they can tend to do things their own way and enjoy to lead their owners a merry dance! A Pharaoh loves to make trouble, action and wild games at the training area. They have charm in abundance.
Pharaohs are open and kindly by nature, always happy, ready for a game and very loving towards their family.
They mix well with children of all ages and enjoy their company and they can learn very quickly to get along well with animals who are family members. Pharaohs can be a little reserved with strangers and tend to want to take their time to get know guests, but once they are accepted, then they can expect a really warm welcome at every visit.
Pharaoh Hounds prefer to live very close to their family, lying in their arms, sharing the same sofa and generally needing to be included in every possible activity.
They tend to love their entire family rather than getting attached to just one or two persons, unlike so many other breeds. They love to be talked to and try to enter the conversation! They thrive in the best easy chairs and sofa and especially under the coverlets at night! They hate wind and rain, but love a quick fast sprint over some fields or open places, racing on a track or coursing. They do like and need plenty of daily activities.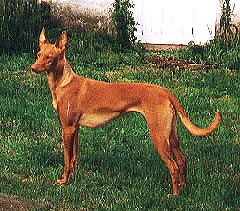 A Pharaoh Hound is excellent as a watchdog. They are very inquisitive and inspect the area where they walk every day in minute detail. Because of their good sense of smell, their keen hunting instinct plus their use of very excellent hearing, they really ought to have a large area fenced off where they can run around freely on a daily basis because even though they are devoted to their family and home, their hunting instincts can lead them astray and they can run off temporarily. They also love to dig. In fact it must be admitted that in the first couple of years of their lives, they can unwittingly be quite destructive. This urge soon wears off, so owners must just be very patient for soon they will loose all interest in examining the contents of every scatter cushion in the home! Pharaohs keep themselves very clean and they wash themselves and each other often. Pharaoh Hounds are fully grown at 2-3 years of age and can grow to be quite old, usually around 14- 15 years is not unusual. The ideal size is for males 56 cm and bitches about 53 cm.
The colour of the nose is rather unusual as it is not the usual black, but instead flesh coloured! The tone depends on the coat colour which varies from deep red to tan or sandy beige. The eyes also match the coat, so the darker the coat, the darker the eyes.
The eyes are oval, amber coloured and with an intense and intelligent expression.
The eyes are held very erect and are extremely mobile.
The tail is held high and in a curve when the dog is active. It can end in a white tip which is very desirable This is because when they hunt with their Pharaohs on Malta, (which is where the majority live nowadays), and the dogs are sent out to chase rabbits, it's easy for the owners to see their dog's white tail tips waving happily ahead in the long grass, especially if hunting in the gloom at dusk or sunrise.
The coat is short and glossy, soft and a pleasure to handle. Molting and loose hair is not something that one notices much.