Jackie Brown's run in the USA!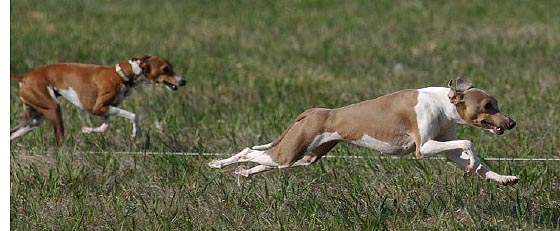 Picture above: Jackie Brown racing in April
Photos by Shot on Site - Dan Gauss.
Now... the draw for best in II.... by Teri Dickinson
Well the II was great fun as usual and 15 IG's took to the fields.
The coursing was EXTREMELY competitive, more on that later, but here's the summary: Teresa, Jesanne and Ray brought "Jackie Brown" who won the Open Stake Saturday to finish her ASFA FCh. "Mossimo" squeaked out a tough victory in FCh over "Paulie" and "Andy", but "Jackie Brown", the little Pocket Rocket, won the breed.
"Pete" was the Gillettte finalist, but he drew a Borzoi and a Rhodesian, so that combined with his "I'm a Field Cheater no longer competitive running style", made it a no brainer to let him sit out this year.
The Gillette was won by a fine running IB.
Sunday, "GoGo" won the open stake and "Mossimo" again prevailed in FCh, barely nipping out "Jackie Brown" and "Paulie". "GoGo" just ran out of gas in the breed run and "Mossimo" was a clear winner.
15 dogs competed. "Mossimo" drew into course 2, with a Pharaoh: "Sultan" and a Saluki: "Azeri". "Sultan's" owners had run before with a whippet and he was a good clean runner, so we thought he'd be fine with "Mossimo". "Azeri" lives in the Dallas area and is around IG's all the time at the trial and race meets and is also very focused, so Greg gulped hard and decided "yes" "Mossimo" would run with them.
"Jackie Brown" drew into a course with an Afghan: "Larson" and a Pharaoh: "Promise".
"Larson" belongs to our friend Rick Brown who also owns the AH "Pete" ran with in the Gillette and we knew he was safe, and used to being around IG's. "Promise's" owner, Jodi Lewis, is a big IG fan and owned Ch. Mira Peggy Sue years ago. She thought "Promise" would be fine as she lives with a Cirneco, but just to be a good sport, offered to run her muzzled. Pharaoh Hounds often run muzzled due to their tendency to bite the line! This is a very hilly field, and "Mossimo" took a hard left off the start (Field Cheater!) and had to turn around, find the other dogs and get back in it, but ran a great course after that. Most of the gallery couldn't see that early part due to the hill, but when the three topped the hill and "Mossimo" was running hard with the others so he got a nice round of applause.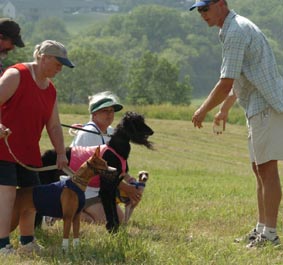 To make a long story short, when the time came to run... Greg, Jesanne and Teresa were nervous but ready to go....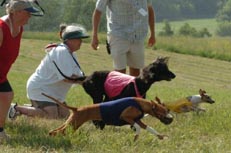 Then came "Jackie Brown". She got the jump off the line. I had made sure I was where I could see the first loop of the course and she did a great job hanging in there with the other two. Later, one of the judges Ellen Bonacarti, told us: "I had a big smile on my face watching that and couldn't wait to hear the crowd when they topped the hill."
They topped the hill and on a straight right in front of the gallery, then "Jackie Brown" PASSED the Pharaoh like it was standing still! The Pharaoh then turned and ran down into a valley, anticipating the next turn. "Jackie Brown" ran deep into the corner, but the Afghan cut it a little and as a result, "Jackie Brown" ended up behind. She had to cut the next corner to get back in it, and that's exactly what she did. She then powered up the hill and past the Afghan. At that point, there was a wicked turn back and "Jackie Brown" whipped around and went the other way, as did the Pharaoh, who had cut through the middle to get there. Then "Jackie Brown" passed the Pharaoh again, this time going downhill!
Ellen later said: "She just nailed that course. She passed them going uphill, she passed them going downhill. It was just phenomenal!"
"And the 2004 Best in International Invitational is.... JACKIE BROWN!!!!!!!!!!!!!"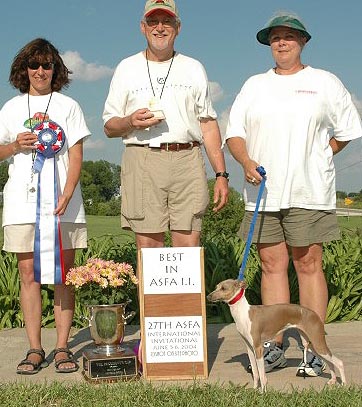 The place was pandemonium! Everyone was thrilled and thought she was the clear winner. Congratulations to Teresa Nail, Jesanne Rall and Sara Melichar and the ultimate pocket rocket: BII FC Jandia's Dashing Val dob Mann FCh.,SC .... alias "Jackie Brown"!
Teri Dickinson
(I bet you can hardly believe that the beautiful little dog in the picture just above, is the same wild "bunny-fiend #1" as the powerful runner pictured at the top of this page!!!)